For many years now, we have become used to FOX News using misleading labels to misidentify Republicans in political trouble as Democrats. One might think that it is understandable that a television network, even with a relatively sophisticated army of researchers, can occasionally make a mistake.
This sort of nonsense happens with alarming frequency on Fox News. Here's an example from an article via Crooks and Liars in 2009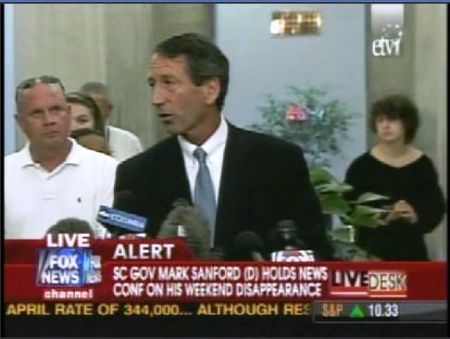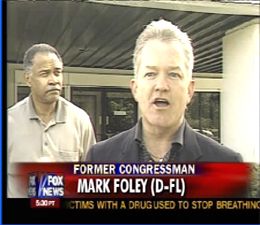 SHOCKING: Fox News Labels Disgraced Republican Mark Sanford -- A Democrat

I think it's just automatic now. When a high-profile Republican gets into trouble, Fox News steps in to mislead their sheep viewers by labeling them as Democrats.

Here's a short list of Fox's chyron hackery:

John McCain - Democrat

Joe Lieberman - Democrat

Arlen Spector - Democrat (when he was still a Republican!)

Mark Foley - Democrat

Media Matters also caught Fox listing a Democratic strategist as Bush's head of FEMA -- because his name happened to be Michael Brown. Oh, and we can't forget the time they announced Rep. William Jefferson's indictment using footage of Congressman John Conyers. They apologized to their audience, but never to Conyers personally.

I'm sure it was just an oversight, just like all the rest...riiiight. Have I missed any?

I have rarely seen or heard about such deliberate misidentification on either CNN or MSNBC. Earlier this evening, I watched Eliot Spitzer on CNN interview Senator Jim Inhofe (R-OK) on his cable tv show. I heard Inhofe describe the pictures that he and other lawmakers had seen of a dead Osama Bin Laden.
Here is the video of that conversation
:: ::
CNN posted an article about this interview on their web site

Republican Sen. James Inhofe told CNN's Eliot Spitzer on Wednesday he saw about 15 photos of bin Laden's body, most taken at the al Qaeda leader's compound in Abbottabad, Pakistan. Three were taken on a naval vessel from which bin Laden was buried at sea after the May 2 U.S. commando raid.

"Pretty gruesome" is how Inhofe described photos of brains hanging out of bin Laden's eye socket. The wound either entered or exited an ear, the Oklahoma senator said.

Many people have demanded proof that bin Laden was killed.

"That was him," said Inhofe, a member of the Senate Armed Services Committee. "He is gone. He's history."

Now watch the video. Here is what I heard Inhofe actually say in the first few seconds
The first twelve were taken in the compound right... is obvious it is right after the incident took place. So, they're pretty gruelling (gruesome?).

The other three were taken on the ship and it included the burial at sea. So, I would say this: three of the first twelve pictures were of Obama when he was alive.

Just an innocent mistake? I don't think so. I was waiting for Eliot Spitzer to correct Inhofe but it didn't happen. I distinctly remember when former Vice President Al Gore testified in 2007 before the United States Senate and Inhofe repeatedly referred to Gore as "Senator Gore." During that testimony, who can forget the memorable smackdown of Inhofe by the Chairwoman of the Senate Committee on Environment and Public Works, Senator Barbara Boxer (D-CA).
If it were anyone else other than wingnut and Climate Change denier Jim Inhofe, I'd say it was an innocent mistake.
I don't think it was.