Brief Thoughts on Occupy Atlanta and John Lewis
Commentary by Denise Oliver Velez
By now you have probably seen the video, or read news stories or blogs about Congressman John Lewis not speaking or not being allowed to speak, or his speaking being postponed, or showing up and being silenced or dissed, or not dissed at the Occupy Atlanta site.
Needless to say, he handled himself with class and continued to voice support after whatever occurred.
What has disturbed me are the online comments attached to many of the news stories.
Those from the right wing are predictably racist - no surprise.
What I am perturbed about are the negative comments that purport to be from occupiers or supporters.
They are all pretty similar - and essentially impugn Congressman Lewis' integrity, call him a corporatist sell-out, warmongering has-been yadda yadda.
I'm not going to bother copying them or printing them here.
Not even going to link to them.
I'm only going to give my opinion.
We have fought a long battle to get the black vote, and black representation. We are watching continuing moves from the right wing to disenfranchise black, latino, native american and asian voters.
Our battle is not over.
Now some of these young folks have the luxury, and privilege (via their ipads and iphones) to turn their backs on our long struggles and disrespect those who died, were jailed, beaten and repressed to get our foot in the door. Folks we've been proud to vote into office. Folks who paid plenty dues.
It pissed me off - so I'm doing a short rant.
This comment is really not about what did or didn't happen. It's about what I'm reading - and yes, I've read some of it right here.
It's about r.e.s.p.e.c.t (and the lack of it) or in Spanish, "falta respecto"
Or as a Native American commenter put it at theGrio
I am Ongwehonweh (the original people). we have inhabited Turtle Island for time immemorial and established a system where everyone and all life had a voice. I have been very excited to see this movement grow yet curious as to where Indigenous people fit into the picture.I have fought my whole life for the protection of my Earth Mother and all her inhabitants. In 2003 a small group of us filed charges at the United Nations against the United States for the continuing genocide of our people. I have NEVER been afraid to stand up, speak out and do the right thing! That being said, I was physically sick to see how a few people blocked John Lewis from speaking . You have a lot to learn about the land you are "occupying" and RESPECT! We were taught always to respect our Elders and listen to their voice as they have the wisdom of life experience that the young can not possibly know. Are you so new and insecure in your beliefs that you can not listen to an Elder speak, because you fear his job and his words might sway you from your beliefs? He has paid his dues and has much useful knowledge for you. Shame on you for this disrespect! I had planned on joining you after the harvest on my organic farm, but I must say that I am reconsidering after what I saw today! Oneh, Melissa Jacobs
Amen.
End of mini-rant.
-------------------------------------------------------------------------------
News by dopper0189, Black Kos Managing Editor
--------------------------------------------------------------------------------


-------------------------------------------------------------------------------
Attempts to curb a Washington, D.C., gas station mogul raise issues of money, power -- and race. The Root: So What If Joe Mamo Made $788 Million?
-------------------------------------------------------------------------------

When he was a 13-year-old braving northern-Midwest winters, Eyob "Joe" Mamo couldn't have imagined that he would someday control a mini-empire of gas stations on the East Coast.
In 1981 Mamo's father, Yenberber Mamo, who owned the Mamo Kacha bus company in Addis Ababa, sent Joe to a North Dakota boarding school to protect him from the communist regime that ruled Ethiopia. Now the commercial success of Joe Mamo, 44 -- founder, owner and CEO of privately held Capitol Petroleum Group, which controls 42 percent of Washington, D.C.'s gas stations -- is being questioned.
Mamo buys gas from oil refiners and sells it to the operators of the stations that he owns. A few of those operators say that Mamo has hiked their rent, the gas-delivery price and gas prices -- driving away potential consumers. District residents always complain that they pay more for gas than in the suburbs because of a mix of station location, taxes and other expenses. On Oct. 3, the street prices of a gallon of regular gas in the District and in adjacent Bethesda, Md., and Arlington, Va., neighborhoods were mostly comparable, with gas at $3.31 to 3.89 in Arlington and $3.05 to $4.29 in the District.
In response to the operators' complaints, D.C. City Council member Mary M. Cheh has sponsored antitrust legislation against Mamo's business "to break up what some members call a near monopoly of the local gasoline market."
Cheh says there will be increased competition in the District's retail gas market if fuel wholesalers, who would still be allowed to own retail stations, are prohibited from operating the stations or collecting the income associated with gasoline sales. But the Washington Post reported recently that the proposal has hit a solid wall.
The proposed law strikes at the heart of Mamo's business and bothers his supporters. Consequently, in a city where there is a dearth of sizable black-owned businesses, the attempts of Cheh, who is white, to persuade at least seven of the 12-member D.C. Council to support her potential law failed. The Post said that was "because of growing skepticism from mostly African-American council members concerned that the bill unfairly targets a successful black entrepreneur."
In an interview with The Root, Mamo said, "I broke through a racial barrier by becoming a fuel distributor for Texaco, Exxon and Shell, and there are fewer than 10 black distributors nationwide. The law that Cheh proposed also does not exist anywhere else in the United States, and we contend that it is unconstitutional."



--------------------------------------------------------------------------------



-------------------------------------------------------------------------------
Politicians, well-wishers and an Irish rock star packed St. George's Cathedral in Cape Town, South Africa, on Friday (October 7th) for a service filled with song and laughter in honor of Nobel laureate Desmond Tutu's 80th birthday. LA Times:
Tutu celebrates 80th birthday!
--------------------------------------------------------------------------------

It was the highlight of three days of celebrations for the retired archbishop, known as the conscience of South Africa, who was a leading voice against white minority rule and chaired the country's Truth and Reconciliation Commission.
But the absence of one invited guest put a damper on the week's festivities.
Tibet's spiritual leader, the Dalai Lama, canceled his trip to South Africa after the government failed to issue him a visa by Tuesday. He sent his birthday greetings in a video posted Friday on his office's website and planned to take part in a Google+ video Hangout to be shown at the inaugural Desmond Tutu International Peace Lecture on Saturday.
In the video message, the Dalai Lama said he missed his "mischievous brother" and was "very, very eager" to see him in person. But when there was no word on his visa application, he assumed the government must find the proposed visit "inconvenient."
"I'm quite sad," he said.
Critics suggested the South African government was reluctant to offend China, its biggest trade partner. A visibly angry Tutu accused officials earlier this week of siding with oppressors and warned that South Africans would one day pray for the fall of the governing African National Congress, just as they once prayed for the fall of the country's oppressive white rulers.
Few believed Deputy President Kgalema Motlanthe, who recently returned from a visit to China, when he said the visa would have been granted. But on Friday, Tutu stepped down from the pulpit to embrace Motlanthe, the South African Press Assn. reported.
"Thank you for coming despite some of the hiccups we have had," Tutu was quoted as saying, as Motlanthe smiled and bowed his head.
The audience, which included the musician Bono and former President Nelson Mandela's wife, Graca Machel, applauded and laughed. Archbishop Thabo Makgoba later led the church in singing "Happy Birthday."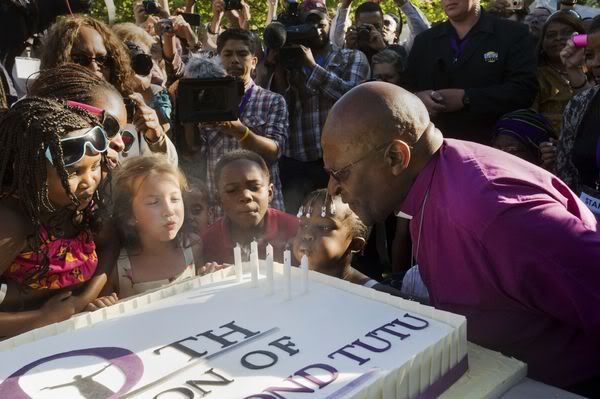 ----------------------------------------------------------------------
Report from Haiti. Race-Talk: Where's the money?
---------------------------------------------------------------------

Broken and collapsed buildings remain in every neighborhood. Men pull oxcarts by hand through the street. Women carry 5 gallon plastic jugs of water on their heads, dipped from manhole covers in the street. Hundreds of thousands remain in grey sheet and tarp covered shelters in big public parks, in between houses and in any small pocket of land. Most of the people are unemployed or selling mangoes or food on the side of every main street. This was Port au Prince during my visit with a human rights delegation of School of Americas Watch – more than a year and a half after the earthquake that killed hundreds of thousands and made two million homeless.
What I did not see this week were bulldozers scooping up the mountains of concrete remaining from last January's earthquake. No cranes lifting metal beams up to create new buildings. No public works projects. No housing developments. No public food or public water distribution centers.
Everywhere I went, the people of Haiti asked, "Where is the money the world promised Haitians?"
The world has moved on. Witness the rows of padlocked public port o lets stand on the sidewalk outside Camp St. Anne. The displacement camp covers a public park hard by the still hollow skeleton of the still devastated St. Anne church. The place is crowded with babies, small children, women, men, and the elderly. It smells of charcoal smoke, dust and humans. Sixty hundred fifty families live there without electricity, running water or security.
I talked with several young women inside the camp of shelters, most about eight feet by eight feet made from old gray tarps, branches, leftover wood, and pieces of rusty tin. When it rains, they stand up inside their leaky shelters and wait for it to stop. In a path in front of one home, crisscrossed with clotheslines full of tiny children's clothes, a group of women from the grassroots women's group KOFAVIV told us Oxfam used to help administer the camp but quit in May. When Oxfam left, the company that had been emptying the port o lets stopped getting paid and abandoned the toilets. Some people padlocked them and now charge a couple of cents to use the toilets, money most residents don't have. There is no work to earn the money for pay for toilets. The Red Cross has just visited the camp that morning telling them they would be evicted October 17. Where will they go, we ask? We have no idea they told us. Jesus will provide, they told us.


--------------------------------------------------------------------------------


-------------------------------------------------------------------------------
Following up on what Denise wrote last Tuesday more stats. Colorlines: Black America Is Moving South—and to the 'Burbs. What's It Mean?
-----------------------------------------------------------------------

The U.S. Census Bureau released findings from the 2010 Census this month that reveal a dramatic migration underway within black America. Over the past decade, hundreds of thousands of black people have relocated to the South and, around the country, have moved from the cities to the suburbs.
Nearly 60 percent of the black population now lives in just 10 states, six being in the South, with the black population in Florida, Georgia, Texas and North Carolina growing by more than 20 percent in the past decade. Overall, between 2000 and 2010, the percentage of the nation's black population living in the South grew (from 53.6 percent to 55 percent), while the percentage living in the Northeast and Midwest shrank (to 17 percent and 18 percent, respectively). The amount living in the West remained about the same (8.8 percent).
Much of this growth is due to black migration to the South from other regions of the country, according to the Brookings Institute. The numbers are clear: black people have been gradually migrating below the Mason-Dixon Line.
They're also moving from inner cities to suburbs. The proportion of the black population living in the biggest city of a given metropolitan area decreased in all 20 of the nation's largest metro areas in the past decade.
For example, the percentage of the Detroit-area's black residents living in the city of Detroit itself dropped by 16 percent. Other major cities home to large black populations, including New York, Chicago, Los Angeles, Washington, D.C., and Oakland, have all experienced large black population losses as well, as residents have left these places for suburbs or the South—or both. Notably, Southern metro areas top the list for national gains in suburban black residents.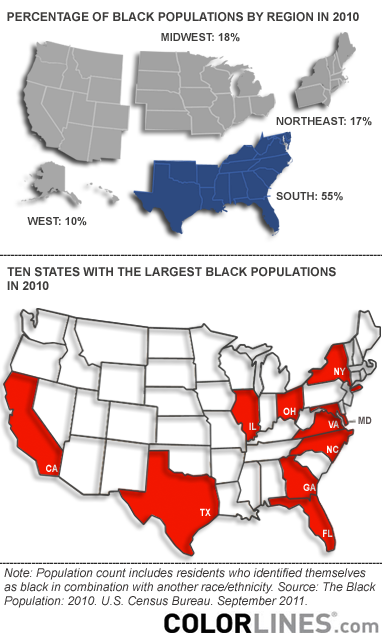 --------------------------------------------------------------------------------



-------------------------------------------------------------------------------
As the Occupy Wall Street protests hit day 24, people are beginning to see more and more sprinkles of color among the growing crowd of demonstrators. Black Enterprise: Should you care about occupy the hood?
-------------------------------------------------------------------------------

Not to mention the demonstrations are spreading outside of Manhattan's Financial District to Philadelphia, Los Angeles, Chicago, Dallas and other cities across the country. Despite the new additions, going to ground zero of many of these protests will likely place you in a sea of white faces.
It's this very reason that the sub-movement Occupy The Hood was born. It was started by two activist friends Malik Rhasaan, 39, from Queens, New York and Ife Johari Uhuru, 35, from Detroit, Michigan. What began as an awareness campaign to get people of color involved in Occupy Wall Street has caught on with media outlets such as BET, The Village Voice and Loop 21 documenting their story. Like the Occupy Wall Street movement, OTH is getting the word out via social media—which has proved to be quite successful. The OTH Twitter page has over 5,000 followers and their Facebook following is increasing with nearly 4,000 Facebook "Likes." They've even been in direct contact with political and academic heavyweights like California congresswoman Maxine Waters and Princeton professor Cornel West.



~~~~~~~~~~~~~~~~~~~~~~~~~~~~~~~~~~~~~~~~~~~~~~~~~~
Voices and Soul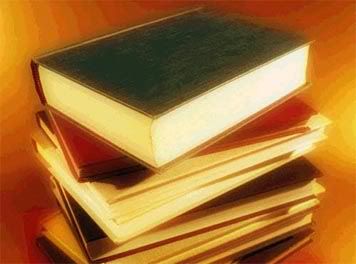 by Justice Putnam
Black Kos Poetry Editor
Poverty in America is nothing new; in fact is has been a component of the whole economic system. My mother was a single mom without a high school diploma, raising four children and before she married our dad, times were fairly lean. But we got by with love and a conscious effort to budget what we had. Compared to the other kids in the neighborhood, our christmas gifts were more than modest; but to us, the were the most important gifts a kid could ever get.
I experienced some devastating poverty in my early adulthood, but those experiences from my childhood seemed to prepare me for the dynamic to survive.
But I was lucky. There was a safety net that would catch me.
If it were to happen again; and I'm afraid it will, that net is not so secure.
Notes on Poverty

Was I so poor
in those damned days
that I went in the dark
in torn shoes
and furtiveness
to steal fat ears
of cattle corn
from the good cows
and pound them
like hard maize
on my worn Aztec
stone? I was.
~~~~~~~~~~~~~~~~~~~~~~~~~~~~~~~~~~~~~~~~~~~~~~~~~~~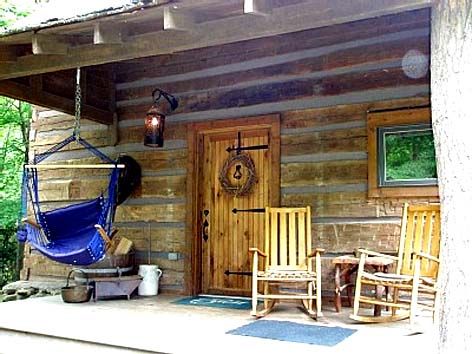 The Front porch is now open. Grab your favorite seat, sit and talk with us for a while.