One of the Too Big To Follow the Law Fail Banks, Citigroup has finally admitted (indirectly) that yes massive fraud was behind the 2008 meltdown and yes, the same company that received a taxpayer bailout of billions helped cause that meltdown.
Take a moment to let that sink in... If you are unemployed (possibly thanks to Citigroup's shenanigans) you'll have more time. For others, try to take a breathe as you work 2 jobs for less pay to pay off all those debts you incurred, like going to college and paying for your health insurance. OK debt slaves, or should I say bailout-ers, back to the story about how you got suckered.
From the SEC Press Office:
Securities and Exchange Commission today charged Citigroup's principal U.S. broker-dealer subsidiary with misleading investors about a $1 billion collateralized debt obligation (CDO) tied to the U.S. housing market in which Citigroup bet against investors as the housing market showed signs of distress. The CDO defaulted within months, leaving investors with losses while Citigroup made $160 million in fees and trading profits.

The SEC alleges that Citigroup Global Markets structured and marketed a CDO called Class V Funding III and exercised significant influence over the selection of $500 million of the assets included in the CDO portfolio. Citigroup then took a proprietary short position against those mortgage-related assets from which it would profit if the assets declined in value. Citigroup did not disclose to investors its role in the asset selection process or that it took a short position against the assets it helped select.

Citigroup has agreed to settle the SEC's charges by paying a total of $285 million, which will be returned to investors.
Let's take a look at what happened here.

(please continue)
First, to be completely clear, Citigroup is not technically admitting it did anything wrong. This allowance that the SEC constantly makes with firms, to not admit guilt, has already proven to be controversial as the Judge in the case questioned why there was no technical admission of guilt, from Bloomberg News:
Citigroup Inc.'s $285 million settlement with the U.S. Securities and Exchange Commission was questioned by a federal judge who asked both sides to justify the accord as fair.

U.S. District Judge Jed Rakoff, who in 2009 rejected a $33 million settlement between the SEC and Bank of America Corp., set a hearing on the matter for Nov. 9.

Citigroup, the third-biggest U.S. bank, agreed this month to pay the money to resolve SEC claim that the New York-based company misled investors in a $1 billion collateralized debt obligation linked to risky mortgages.

"Why should the court impose a judgment in a case in which the SEC alleges a serious securities fraud but the defendant neither admits nor denies wrongdoing?" Rakoff wrote in the first of nine questions he ordered the parties to address in the hearing.
But let's also be clear about this - Citigroup is not going to pay $285 million because it didn't do anything wrong.
So what does this mean?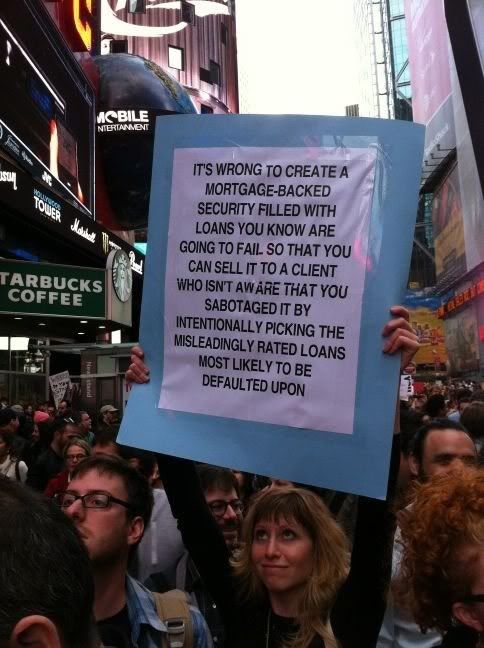 (Reporter who was fired from her job for Protesting - validated by the facts. h/t eXtina)
It means the critics were right. The financial crisis of 2008 WAS caused, at least in part, by fraud. Not a comedy of errors. Not an inability to understand complex derivatives. Not by government regulations or those damn poor people - but by FRAUD.
The Citigroup Settlement is the Smoking Gun.
According to the SEC allegations Citigroup mislead investors (aka clients) about how risky a collateralized debt obligation (CDO) was and then shorted (aka bet against) the very same CDO they just sold to clients without disclosing the risk.
So it's the equivalent of me selling you a car with bad brakes, not disclosing to you it has bad brakes, taking out insurance on the car, and then telling you "Take it for a spin on the highway"
This unethical activity exacerbated the subprime mortgage crisis making the consequences worse than they had to be, from the Financial Crisis Inquiry Commission (FCIC) Report:
We conclude a combination of excessive borrowing, risky investments, and lack of transparency put the financial system on a collision course with crisis. Clearly, this vulnerability was related to failures of corporate governance and regulation, but it is significant enough by itself to warrant our attention here...

We conclude there was a systemic breakdown in accountability and ethics. The integrity of our financial markets and the public's trust in those markets are essential to the economic well-being of our nation. The soundness and the sustained prosperity of the financial system and our economy rely on the notions of fair dealing, responsibility, and transparency. In our economy, we expect businesses and individuals to pursue profits, at the same time that they produce products and services of quality and conduct themselves well.
Citigroup has now essentially admitted its guilt in that unethical conduct that lead to the financial crisis of 2008. It is willing to payback $285 million to the clients it ripped off. But what about the American people?
Citigroup received from TARP alone $45 billion with a guarantee of $306 billion of its assets. That excludes any covert loans and benefits the Federal Reserve has given.
Beyond the taxpayer bailout, Citigroup has helped wreck the economy fostering 16% real unemployment or over 9% unemployment in the official measure. Not to mention the lack of confidence and trust that may never return and the dreams that have been crushed by the credit squeeze and recession Citigroup caused.
When will Citigroup pay for that?