A good man died after living a long and productive life. We should all be so lucky. Though many of you may not know the man's name you almost certainly know his work.
He was a writer, an artist, an editor and a publisher. He was a newspaperman. He was a founding father of the comic book industry. The poor son of an immigrant Jewish haberdasher, he was with his longtime partner Jack Kirby...likewise the son of poor Jewish immigrants...he was father to Adolph Hitler's arch nemesis, a full year before Pearl Harbor.
His name was Joe Simon. He was one half of the team that created Captain America. He was 98 years old.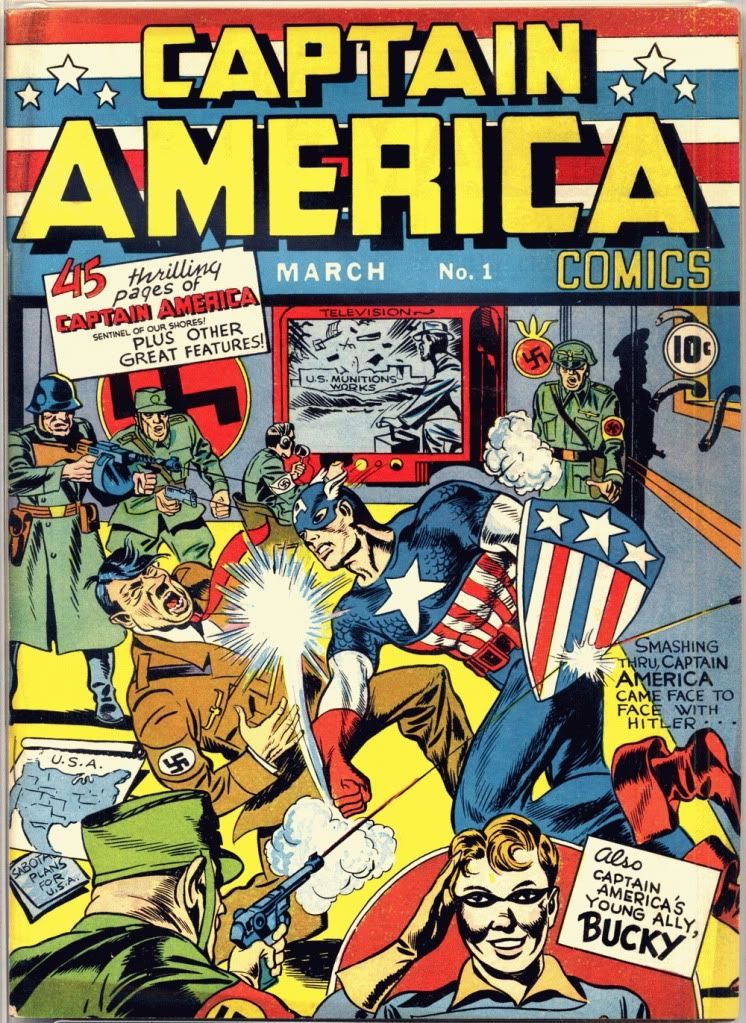 Captain America burst full grown into the world at the end of 1940, greeting Adolf Hitler with a sock to the jaw.
Joe entered more quietly, born October 11, 1913 in Rochester NY. To put that in historical context, the Titanic had sunk the year before, the First World War began the the year after, and Woodrow Wilson was President of the United States.
Joe's art career began in high school, where he was art director for both the school paper and the year book. His yearbook work became his first professional job when the rights to reuse the frontispieces he'd designed were purchased for $10 each by a pair of nearby universities.
Following high school graduation Joe went to work as a photo-retoucher and cartoonist for his local newspaper the Rochester Journal-American, before long moving on to Syracuse and working for several newspapers there. In 1936 he moved on to New York City.
It was in New York that Joe found work in the fledgling comics industry, just then making the transition from newspaper strip reprints to original material. After working for a while as a freelancer Joe landed a job as editor for Fox Comics, working for a colorful gent named Victor Fox, a man who by all accounts was the real life Colonel Blimp of the infant comics industry Inflated full of self-importance Fox dubbed himself the "King of Comics."
It was at about this time that a meeting that would reshape both Joe's life and the comic book industry took place. Another young artist, the former Jacob Kurtzberg, became Joe's partner and the Simon & Kirby team was born.
The debut of their most memorable creation Captain America, in December 1940 sold a million copies. That this star-spangled American icon was created by a couple of young Jewish kids at a time when being Jewish was a death sentence in much a Europe, and an impediment to advancement in much of the United States, is one of those remarkable little tidbits of history.
After about a year the duo moved on to greener pastures and better money at DC Comics, then the MGM of the comics industry, where they created the smash hit Boy Commandos, which during the war outsold both Captain America and Superman. (Superman likewise, by the way, the creation of a couple of poor Jewish kids. Perhaps it all says something about Depression era Jewish tiger mothers?)
But the war, which provided the inspiration for the Simon & Kirby team's greatest hits, soon split them apart. Joe went into the Coast Guard, where he produced promotional and instructional comics. Jack found far more hazardous duty as an infantryman in Europe, where he nearly lost his feet to frostbite.
Reunited after the war the partners continued their successful run, creating some of the earliest horror titles and inventing the romance comic with the smash hit Young Love.
By the middle 1950s, the industry flagging under the weight of low sales and self-censorship created by public pressure, Joe moved on to advertising and commercial art. Jack hung around the comics field for a while, and soon found new success at a little place called Marvel Comics, where he created or helped create basically every single character and concept upon which their modern empire is built, including a reborn Captain America.
Joe dabbled in comics from time to time, most notably creating Sick Magazine, one of the most successful and long-lived competitors to Mad. In later years Joe was recognized as one of the elder statesmen of comics, authoring a pair of autobiographies; the Comic Book Makers...http://www.amazon.com/... & Joe Simon: My Life in Comics...http://www.amazon.com/....
Also, a high quality reprint series from Titan Books, the Simon & Kirby Library is bringing much of Joe & Jack's great work into view for the first time in decades:
http://www.amazon.com/...
http://www.amazon.com/...
http://www.amazon.com/...
And to the New York Times best-seller list as well.
Joe's wife Harriet passed away 40 years earlier in 1971, and he is survived by his children Jon, James, Melissa, Gail and Lori.
I met Joe Simon once. Twice almost, but it was not quite to be. In 2010 I attended New York City Comic Con, where Joe was a special guest. I write comic books myself, though with considerably less than success than Joe. I feel it improper to link here, but behind my Daily Kos nom de plume is a man named David Lawrence, who has worked intermittently in the business for about 25 years.
In conjunction with the release of the Simon & Kirby Super Heroes Joe was to do a signing, though at 97 no one could say with certainty whether he would show up. While lesser lights drew long lines the crowd for Joe was sadly sparse. Shaking his hand and chatting for a few minutes was the highlight of my "career" and one of the great moments of my life.
This year I was again in line, and designated as the last lucky soul who would meet Joe and get an autograph. Joe ran out of steam just before he got to me, but I was happy to see the turn-out was so much better, and he seemed to be having a wonderful time.
Despite the fact that I write them I rarely read comic books today. Most of those I do read are graphic novel reprints of great tales from long ago, particularly stories by Joe & by Jack, separately and together. But those tales of my youth remain with me today, and I am a better person for what they taught me: not might makes right, but right makes might. And Captain America was an FDR Democrat, and maybe the greatest liberal of us all.
In a last small tribute, I link to a diary first posted 4 years ago, in the dark days of the Bush administration and its serial human rights abuses. It attracted little attention, and perhaps deservedly so, but it is all about the lessons Captain America, and men like Joe, taught me while growing up, and that live with me to this day:
http://www.dailykos.com/...
Thanks for the handshake, Joe. Thanks for everything.
8:09 AM PT: Well what do you know...I wake up to find I've hit the rec list. Thanks everybody, but I'm pretty sure the credit belongs to Joe.