I wrote a diary last night which detailed the case of a Texas grocery store manager falsely accused, convicted, and imprisoned in 1987 for the murder of his wife, Christine. With the help of the Innocence Project, persistence by his lawyers, and testing of DNA evidence which showed another man responsible for the slaying, Michael Morton was officially exonerated this afternoon by the legal system.
Upon his exoneration, Morton reflected back on his life in jail and the lost years which also deprived him of the opportunity to enjoy his son's childhood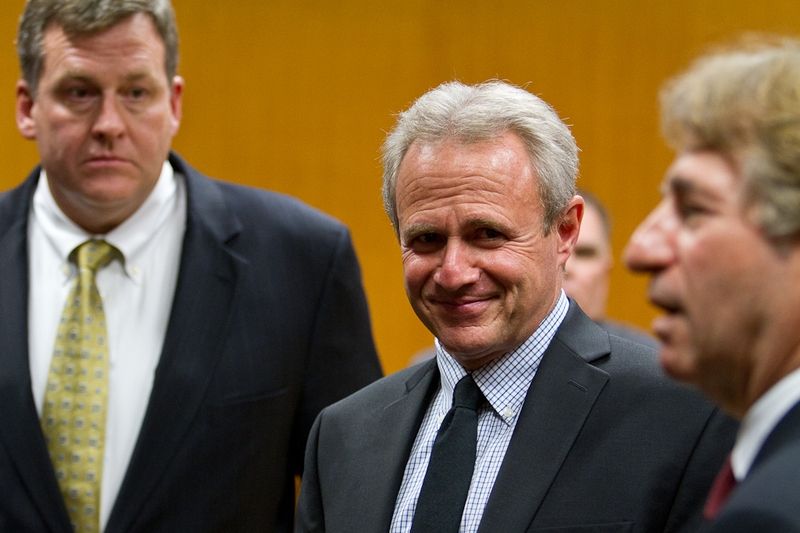 "This is a happy day, obviously," Morton said after the court proceeding, his voice quaking. "But let's not forget this was a horrible crime. My wife's brains were splattered all over the bedroom, the ceiling."
"A lot of people think I want a pound of flesh," Morton said. "Revenge is a natural instinct, but it's not what I'm asking for here. It's just accountability."
---
Michael Morton (above center) with one of his lawyers, John Raley, and Barry Scheck of the Innocence Project. Photo credit: Texas Tribune.
Although he is a free man, that's
not
where the story ends.
This afternoon, Morton's lawyers filed a scathing 138- page report plus exhibits (pdf files)and asked a state district judge to open an unprecedented inquiry against then-Williamson County District Attorney Ken Anderson who, in all likelihood, withheld critical evidence during the trial and engaged in unethical behavior. Anderson was appointed to his present position as a district judge in 2002 by Texas Governor Rick Perry (R-TX).
Judge Ken Anderson has repeatedly and vigorously denied any wrongdoing in this case. A bit of background on the case itself.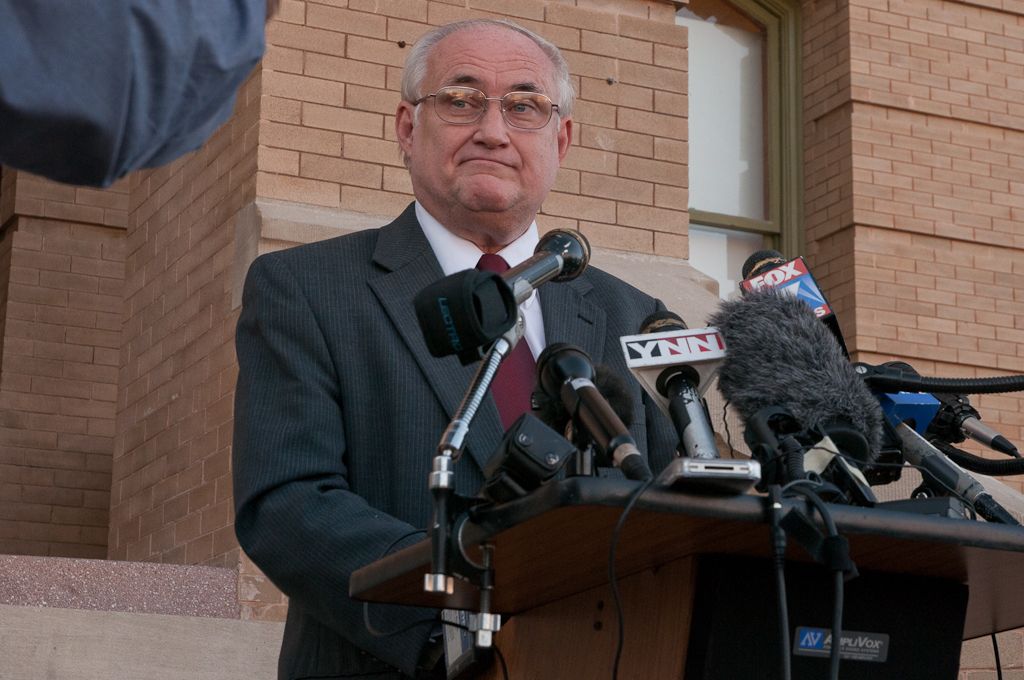 Morton had contended during his 1987 trial that his wife's killer must have entered their home after he left for work early in the morning. But Anderson convinced the jury that Morton, who had no criminal history, beat his wife to death in a perverted rage because she denied him sex the previous night. All the while, Morton's lawyers allege, Anderson was concealing evidence that pointed to just the scenario Morton described.
Morton was sentenced to life in prison. He pleaded with the court, beginning in 2005, to test DNA on a collection of evidence, including a blue bandana found near his home shortly after the murder.
---
Judge Ken Anderson making remarks about the wrongful conviction of Michael Morton. Photo credit: Texas Tribune.
What were the key findings in the report filed by Morton's lawyers? Several pieces of evidence were withheld by the prosecution and pointed towards his innocence
A transcript of a telephone exchange between Morton's mother-in-law and a sheriff's deputy indicated that Morton's son had seen another person (not his dad) attack and kill his mother.
DNA testing showed that a bandana found near Morton's house belonged to Mark A. Norwood, who was later arrested and charged with the murder.
Police reports based on interviews with neighbors indicated that a man in a green van had been seen several times near Morton's house.
After her death, Christine Morton's credit card had been used along with one of her personal checks cashed by someone forging her signature.
A lawyer for the Innocence Project made the following statement this afternoon
"We don't make allegations against a sitting official like this lightly," said Nina Morrison, an attorney with the New York-based Innocence Project that helped exonerate Morton. "We are asking for a court of inquiry because there needs to be a full and public investigation of the circumstances that we believe show a crime was committed in the prosecution of Michael Morton and continued for 24 years until the truth came to light."
If this inquiry moves forward, and significant changes are made in rules regarding the sharing and disclosure of evidence by prosecutors that could prove an accused person's innocence, then, it would be a major victory for those caught up in the justice system.