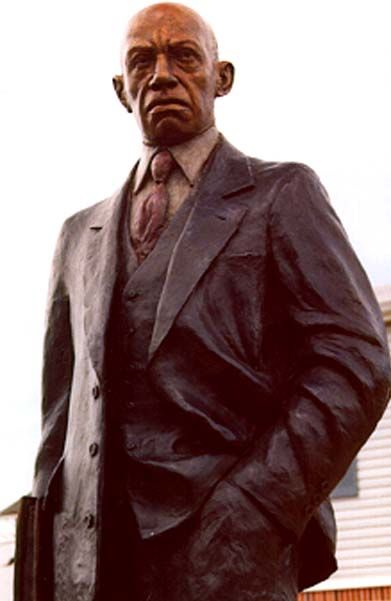 Honoring "The Father of Black History" Dr. Carter Godwin Woodson.
The statue pictured above stands on Hal Greer Boulevard in the town of Huntington, West Virginia, where
In 1891, work constructing the first school building for African Americans was begun. Douglass High School was named for U.S. abolitionist leader Frederick Douglass. Among the school's early graduates in 1896 was Carter G. Woodson, who became its principal four years later. Dr. Woodson became a noted teacher, educator and historian, and was one of the first blacks to be awarded a doctorate from Harvard University.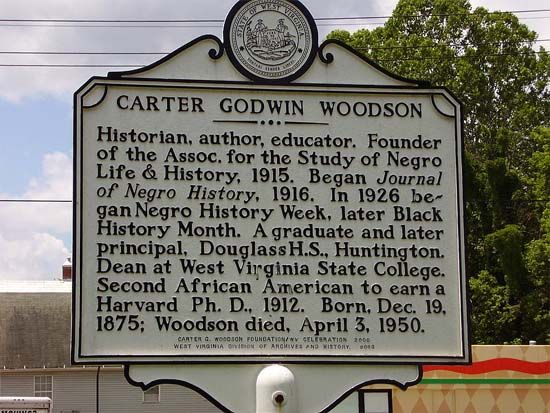 Since tomorrow is the first day of Black History Month, here in the US and in other parts of the world, it is important to remember that it was once only a week-and prior to that there was no national acknowledgement of the contributions of black folks to this county.
I realize that there are critics who insist we are post-history month, just as others insist we are post-racial. I strongly disagree, and assert that we are not even close to the time when special months or weeks or days will become unnecessary. Woodson's work is continued by the Association for the Study of African American Life and History (ASALH)
Known as the "Father of Black History," Woodson (1875-1950) was the son of former slaves, and understood how important gaining a proper education is when striving to secure and make the most out of one's divine right of freedom. Although he did not begin his formal education until he was 20 years old, his dedication to study enabled him to earn a high school diploma in West Virginia and bachelor and master's degrees from the University of Chicago in just a few years. In 1912, Woodson became the second African American to earn a PhD at Harvard University.

Recognizing the dearth of information on the accomplishments of blacks in 1915, Dr. Woodson founded the Association for the Study of Negro Life and History, now called the Association for the Study of African American Life and History (ASALH). Under Woodson's pioneering leadership, the Association created research and publication outlets for black scholars with the establishment of the Journal of Negro History (1916) and the Negro History Bulletin (1937), which garners a popular public appeal.

In 1926, Dr. Woodson initiated the celebration of Negro History Week, which corresponded with the birthdays of Frederick Douglass and Abraham Lincoln. In 1976, this celebration was expanded to include the entire month of February, and today Black History Month garners support throughout the country as people of all ethnic and social backgrounds discuss the black experience. ASALH views the
promotion of Black History Month as one of the most important components of advancing Dr.Woodson's legacy.
Though we tend to think of Black History Month in the context of the United States, I find it interesting to see how it affects young black people in other parts of the world.
Yesterday I received an email from my friend and compañera Kathleen Cleaver, who is heading to France to be the featured participant at Black History month celebrations there.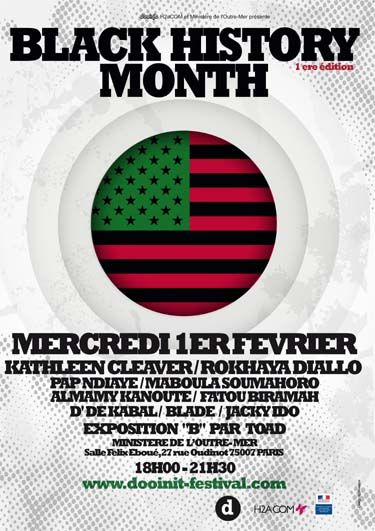 One of the other features will be a screening of a documentary short on the Black Panther Party which we should all view.
Shot in Oakland California in 1968 by French filmmaker Agnès Varda, it is particularly relevant to view in light of events taking place in Oakland today.
Though the narration is in French (but there is quite a bit of dialogue in English), one does not have to speak or understand French to comprehend this rarely seen footage.
Each week Black Kos strives to continue the legacy of Dr. Woodson. The events of today are the history of tomorrow, and we know all too well that there is still way too much of our past, and the past of other poc's that has never made it into the nation's textbooks and of our present that is rarely covered in mainstream media.
Until the time comes that this fact of life for us in the US changes-we will continue.

~~~~~~~~~~~~~~~~~~~~~~~~~~~~~~~~~~~~~~~~~~~~~~~~~~~
News by dopper0189, Black Kos Managing Editor
~~~~~~~~~~~~~~~~~~~~~~~~~~~~~~~~~~~~~~~~~~~~~~~~~~~



~~~~~~~~~~~~~~~~~~~~~~~~~~~~~~~~~~~~~~~~~~~~~~~~~~~
Van Jones! Ebony: Former Obama Green€ Advisor Talks OWS, Jobs and Why He Really Left the White House
-------------------------------------------------------------------------------

Today Jones, 44, is one who stands firm in his progressive politics—he does the work that makes changes in real people's lives. Of course, he has never joined a coven like Tea Partier Christine O'Donnell, but the Right, with their newfound love of witch hunting, continues to paint him as a Communist. Their proof? He named one of his sons after Amilcar Cabral, the anti-colonialist Guinea-Bissuan who lead his country to independence.

Jones' 2008 New York Times best-selling, The Green Collar Economy: How One Solution Can Fix Our Two Biggest Problems, does indeed read like a manifesto—but a completely rational one that provides a blueprint that pushes America towards a responsible future.
As President of "Rebuild the Dream," a hub for exchange between and action by progressive organizations, Jones has been fortifying the progressive Left for years, long before the movement spilled out into the street. His newest book, also called, Rebuild The Dream, out this March, imagines an America that makes good on its best promises.
Here, in an EBONY.com exclusive, the indefatigable Jones speaks more candidly than he has ever before about his White House departure, Occupy Wall Street and how his relationship to land guides his principles.


-------------------------------------------------------------------------
Five thoughts on why Jan Brewer should keep her fingers to herself. THE CRUNK FEMINIST COLLECTIVE: White Women's Rage
-------------------------------------------------------------------------

White privilege conditions white people not to see white rage. However, it makes them hyper-aware of Black threat. Newt Gingrich is white rage personified. And for it, he gets loads of applause. So is Jan Brewer, but usually we think of white rage in masculine terms. Gender stereotypes condition us not to see white women as being capable of this kind of dangerous emotional output. We reserve our notions of female anger for Black women. Such hidden race-gender logics allow Brewer to assert that she felt threatened, even though she was trying to handle the situation with grace. Now look back at the picture: who is threatening whom? Couple white rage with white women's access to the protections that have been afforded to their gender, and you have something that looks ironically like white female privilege. Yes (yes, yes), the discourse of protection is based upon problematic and sexist stereotypes of white women as dainty and unable to care for themselves, and yes, these stereotypes have caused white women to be oppressed by white men. But remember, gender does not exist in a racial vacuum. It is performed in highly racialized contexts, and history proves that what constitutes oppression for white women in relation to white men, dually constitutes privilege for white women in relation to Black men. (I'm not spoiling for a fight today, so anybody who feels uncomfortable with such assertions should probably go read some Patricia Hill Collins, Black Sexual Politics and then try again.) What I know is this: 100 years ago (less than, actually) a Black man even standing that close to a white woman would've gotten him lynched. (Seriously, I just discovered that even accommodationist Booker T. Washington was beaten in New York in 1911 for talking to a white woman.) And I know that if a Black woman had wagged her finger at Bush II or even Bill Clinton, we would have seen her faced down, handcuffed, with Secret Service swarming. When your race and gender grant you opportunities to be treated with dignities that others don't have or conversely, to heap indignities on those people, that is what we call privilege. Deal with it.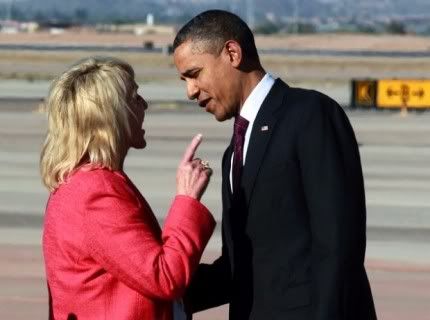 ~~~~~~~~~~~~~~~~~~~~~~~~~~~~~~~~~~~~~~~~~~~~~~~~~~~



~~~~~~~~~~~~~~~~~~~~~~~~~~~~~~~~~~~~~~~~~~~~~~~~~~~
Put good things into your body to get good results Colorlines: Bryant Terry's 'Inspired Vegan' Shows Healthy Food Isn't Just for White Folks
-------------------------------------------------------------------------------

Bryant Terry isn't interested in lecturing anyone. But he's still got plenty to say. For the last ten years the activist, cookbook author and chef has been a passionate advocate for sustainable food in the communities of color most likely to be isolated from healthy food options. His argument? White people didn't invent healthy cooking and sustainable eating. And the traditional foodways of people of color have the answers to the pressing food justice issues we're facing today.
These days Terry's interested in sharing the deep pleasures of healthy cooking and sustainable eating as a way to support grassroots organzing to increase poor folks and people of color's access to sustainable food. Healthy, sustainable food doesn't need to be snooty or tasteless, and in Terry's hands, it's neither.
With his latest book, "The Inspired Vegan," out this week from Da Capo Press, and a new web series called "Urban Organic," Terry offers inventive, easy, exciting ideas for integrating healthy, sustainable cooking into everyday life. He caught up with Colorlines to talk about his new book, and shared a recipe from "The Inspired Vegan" just for Colorlines readers, available at the end of the interview.
The revolution, Terry argues, will begin at people's kitchen tables. It might as well be a delicious one.


~~~~~~~~~~~~~~~~~~~~~~~~~~~~~~~~~~~~~~~~~~~~~~~~~~~



~~~~~~~~~~~~~~~~~~~~~~~~~~~~~~~~~~~~~~~~~~~~~~~~~~~
In America, Pete O'Neal was a man who fought for black nationalism in the 1960's. In a Tanzania village, he's been a champion of children. LA Times: Former Black Panther patches together purpose in Africa exile
--------------------------------------------------------------------------------

The fugitive shuffles to his computer and begins typing out his will. He is about to turn 71, and it is time. "My life," he writes, "has been a wild and wicked ride...."
All Pete O'Neal has amassed fits on two pages: A small brick home with a sheet-metal roof. A few road-beaten vehicles. A cluster of bunkhouses and classrooms he spent decades building, brick by scavenged brick, near the slopes of Mt. Meru's volcanic cone. Everything will go to his wife of 42 years, Charlotte, and to a few trusted workers.
He prints out the will late one Saturday morning and settles into his reclining chair to check the spelling. He signs his name. Then, to guarantee its authenticity, he finds an ink pad, rolls his thumb across it, and affixes his thumbprint to the bottom of the page.
"I think that'll do it," he says.
When last he walked America's streets, O'Neal was a magnetic young man possessed of bottomless anger. He was an ex-con who'd found a kind of religion in late-'60s black nationalism, a vain, violent street hustler reborn in a Black Panther uniform of dark sunglasses, beret and leather jacket. With pitiless, knife-sharp diction, he spoke of sending police to their graves.
This morning, he sits in his living room uncapping medicine bottles. A pill for high blood pressure. Another for the pain in his back and his bad knee. An aspirin to thin his blood. Time is catching him, like the lions that pursue him implacably through his nightmares, their leashes held by policemen.
He pushes through his screen door into the brisk morning air. A slightly stooped, thickset man with long, graying dreadlocks, he moves unsteadily down the irregular stone steps he built into the sloping dirt. He makes his way past the enormous avocado tree, past the horse barn with its single slow-footed tenant, Bullet, past the shaded dining pavilion.
His four-acre compound bustles with visitors, many of them preparing for a memorial service for Geronimo Pratt, a former Panther who died in his farmhouse down the road, his affairs untidy, his will unfinished, his death a sharp message to O'Neal not to put off the paperwork any longer.
Most of O'Neal's big dreams have faded over the years, or come to feel silly. Like beating the 42-year-old federal gun charges that caused him to flee the United States. Like the global socialist revolution that he was supposed to help lead. Like returning home to the streets of his Midwestern childhood. Like winning citizenship in his adopted African country, and the prize that's eluded him on two continents: the feeling of belonging somewhere.



(Barbara Davidson / Los Angeles Times)

Many of the young orphans gather round to watch, and lend their support, as Pete O'Neal has fresh ink applied to his fading black panther tattoo.
----------------------------------------------------------------------------
Black Brazilians are much worse off than they should be. But what is the best way to remedy that? Economist: Affirming a divide
---------------------------------------------------------------------------

In APRIL 2010, as part of a scheme to beautify the rundown port near the centre of Rio de Janeiro for the 2016 Olympic games, workers were replacing the drainage system in a shabby square when they found some old cans. The city called in archaeologists, whose excavations unearthed the ruins of Valongo, once Brazil's main landing stage for African slaves.
From 1811 to 1843 around 500,000 slaves arrived there, according to Tânia Andrade Lima, the head archaeologist. Valongo was a complex, including warehouses where slaves were sold and a cemetery. Hundreds of plastic bags, stored in shipping containers parked on a corner of the site, hold personal objects lost or hidden by the slaves, or taken from them. They include delicate bracelets and rings woven from vegetable fibre; lumps of amethyst and stones used in African worship; and cowrie shells, a common currency in Africa.
It is a poignant reminder of the scale and duration of the slave trade to Brazil. Of the 10.7m African slaves shipped across the Atlantic between the 16th and 19th centuries, 4.9m landed there. Fewer than 400,000 went to the United States. Brazil was the last country in the Americas to abolish slavery, in 1888.
Brazil has long seemed to want to forget this history. In 1843 Valongo was paved over by a grander dock to welcome a Bourbon princess who came to marry Pedro II, the country's 19th-century emperor. The stone column rising from the square commemorates the empress, not the slaves. Now the city plans to make Valongo an open-air museum of slavery and the African diaspora. "Our work is to give greater visibility to the black community and its ancestors," says Ms Andrade Lima.
This project is a small example of a much broader re-evaluation of race in Brazil. The pervasiveness of slavery, the lateness of its abolition, and the fact that nothing was done to turn former slaves into citizens all combined to have a profound impact on Brazilian society. They are reasons for the extreme socioeconomic inequality that still scars the country today.
In the 2010 census some 51% of Brazilians defined themselves as black or brown. On average, the income of whites is slightly more than double that of black or brown Brazilians, according to IPEA, a government-linked think-tank. It finds that blacks are relatively disadvantaged in their level of education and in their access to health and other services. For example, more than half the people in Rio de Janeiro's favelas (slums) are black. The comparable figure in the city's richer districts is just 7%.
Brazilians have long argued that blacks are poor only because they are at the bottom of the social pyramid—in other words, that society is stratified by class, not race. But a growing number disagree. These "clamorous" differences can only be explained by racism, according to Mário Theodoro of the federal government's secretariat for racial equality. In a passionate and sometimes angry debate, black Brazilian activists insist that slavery's legacy of injustice and inequality can only be reversed by affirmative-action policies, of the kind found in the United States.


~~~~~~~~~~~~~~~~~~~~~~~~~~~~~~~~~~~~~~~~~~~~~~~~~~
Voices and Soul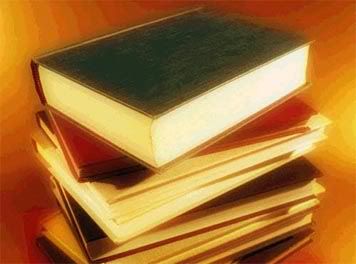 by Justice Putnam
Black Kos Poetry Editor
I dreamed I saw
Lucille Clifton last night
Alive
As you or me.
"Lucille, " I cried, "you're almost
Two years dead."
"I never died,"
Said she.
"From whence did you come,
My dear departed friend
And how did you arrive?"
"I came from Heaven Above," she said,
Upon Angel Wings and Cloud-hide."
Then she sat on the
Deck of a ship
Sang a song
Of Ask
And her tears filled the sea.
-- jp
slaveships

loaded like spoons
into the belly of Jesus
where we lay for weeks for months
in the sweat and stink
of our own breathing
Jesus
why do you not protect us
chained to the heart of the Angel
where the prayers we never tell
and hot and red
as our bloody ankles
Jesus
Angel
can these be men
who vomit us out from ships
called Jesus Angel Grace of God
onto a heathen country
Jesus
Angel
ever again
can this tongue speak
can these bones walk
Grace Of God
can this sin live
~~~~~~~~~~~~~~~~~~~~~~~~~~~~~~~~~~~~~~~~~~~~~~~~~~~
Welcome to the front porch!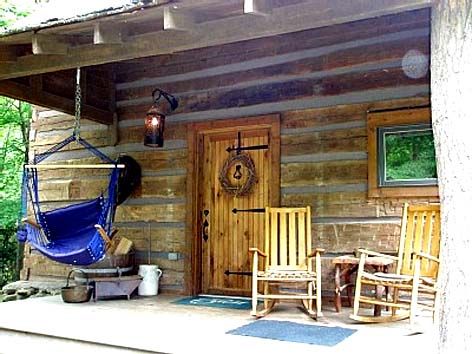 Front Porch Birthday cake today for Jackie Robinson - born in Cairo Georgia in 1919.
Front Porch History celebration: 1865
On this day in 1865, the 13th Amendment to the U.S. Constitution, officially ending the institution of slavery, is ratified. "Neither slavery nor involuntary servitude, except as a punishment for crime whereof the party shall have been duly convicted, shall exist within the United States, or any place subject to their jurisdiction." With these words, the single greatest change wrought by the Civil War was officially noted in the Constitution.