The Department of Defense has announced the loss of Pfc. Cesar Cortez, of Oceanside, CA, and Lance Cpl. Osbrany Montes De Oca, 20, of North Arlington, NJ.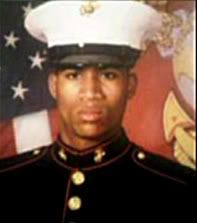 Lance Corporal Osbrany Montes De Oca was only 5'9" in height, but he stood tall as a three-sport athlete--basketball, football, and lacrosse--at North Arlington High School. Born in the Dominican Republic, he grew to young manhood in New Jersey, loved auto racing, and was devoted to his fiancee, Maria Samaniego.
A year and a half ago, just after his high school graduation, Osbrany and his twin brother, Osmany, enlisted in the Marine Corps. Shortly thereafter, their older brother Sandro enlisted as well. The three hoped to serve together, but they ended up in different units with different deployment schedules.
The twins both served in Afghanistan, Osmany's tour overlapping with that of his brother, who was serving in Helmland province when he was killed.
Explaining Osbrany's sacrifice, Sandro said:
"My brother was a warrior; that's what Marines are. He was tough."
The community has not forgotten its young son. Because of his love of racing, American Heroes, a Canadian-American auto team on its way to Daytona, plans to stop by his home and place a tribute photo of Osbrany on a car. The Nam Knights, a motorcycle tribute unit, also hopes to attend his memorial service, which will take place on Friday. Signs throughout the town remember him, and the fans at the high school basketball game stood in silence to mark his passing.
Peter Massa, the Mayor of North Arlington summed up the outpouring of the community's grief:
"Very often war is something we only read about in the newspaper or see on television. It takes on a dramatically more serious and personal impact when it touches our homes and our community. Our prayers go out to Cpl. Montes De Oca's family and friends."
Osbrany Montes De Oca is remembered, mourned, and loved by his fiancee, his mother, his brothers in the Corps and his younger brother Franklin, and family, friends, and neighbors throughout North Arlington and the world.
Merciful and compassionate God,
we bring you our grief in the loss of Osbrany Montes De Oca
and ask for courage to bear it.
--New Zealand Prayer Book
++++++++++++++++++++++++++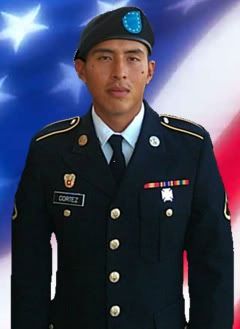 Private First Class Cesar Cortez only joined the Army last March. He became an Air Defense Artilleryman, and his first overseas service for the nation began only in December, when he deployed to Bahrain.
He passed away following a vehicle accident.
Cesar Cortez is remembered, mourned, and loved by his parents, a brother, and family, friends, and neighbors throughout Oceanside and the world.
Merciful and compassionate God,
we bring you our grief in the loss of Cesar Cortez
and ask for courage to bear it.
--New Zealand Prayer Book
++++++++++++++++++++++++++
Material for this memorials from, among others, North Jersey Record, and also here, Dominican Today, CBS New York.
Helping Our Troops
If you wish to assist our military and their families, please consider Fisher House, which provides a place to stay for families near the treatment centers for our wounded veterans.
When our veterans come home, many will need jobs. Please look at the programs of Veterans Green Jobs and Welcome Back Veterans to see if you can help out.

About the IGTNT Series

"I Got the News Today" is a diary series intended to honor, respect, and remind us of the sacrifice of our U.S. troops. Click here to see the series, which was begun by i dunno, and which is maintained by monkeybiz, noweasels, blue jersey mom, Chacounne, twilight falling, joyful, roses, SisTwo, a girl in MI, Spam Nunn, JeNoCo, Janos Nation, True Blue Majority, Proud Mom and Grandma, Sandy on Signal, CalNM, Ms Wings, maggiejean, racheltracks, ccasas, JaxDem, Ekaterin, TheFatLadySings, and Wide Awake in Kentucky. These diaries are heartbreaking to write, but are an important service to those who have died, and show our community's respect for them.
Fallen service members whose names have been released by the US Department of Defense will usually be diaried two days after the official announcement on the DoD website. This allows the IGTNT team to cover each person more fully, but still in a timely manner.
Please bear in mind that these diaries are read by friends and family of the service members mentioned here. May all of our remembrances be full of compassion rather than politics.