On NC-24, about 30 miles from Camp Lejeune, a large sign in front of the turkey coops in a large field says "Thank You For our Freedom".
A few months ago I made a pit stop at a fast food joint in Jacksonville, home of the Marine base, and grabbed an ice cream cone. While I sat down to eat the cone, I noticed a young Marine in uniform with his wife and 2 small children. It looked like he just came home. Whatever, his situation was, he was clearly reaching out to his wife and kids and was hard pressed for time. An older woman interrupted them saying "Thank you for your service". I remained silent, finished my cone and left.
I'm a conscientious objector in a Marine town. I struggle to find the right words to say and the right things to do to give thanks and show respect to our troops. I know that some things, like interrupting a family moment, just aren't right. I think there must be something a little classier than a sign of thanks in front of a turkey coop. With today's all volunteer army a few are asked to carry the burdens of the many, so most of us feel awkward and perhaps a little bit guilty. So what can we do?
I firmly believe that peace begins with me because I spent much of my childhood trying to control my rage. Peace is not something that just happens, especially for a kid with highly impulsive ADHD, Tourettes and PTSD who gets picked on and fights back. As I grew into my mid-teens I realized I could never be a soldier, a cop or someone involved in potential violence. The rage would come back, the impulsivity would be uncontrollable and bad things would happen. Personal peace came from seeking it minute by minute, hour by hour. It still does.
The Viet Nam war escalated as I approached graduation and draft age in the class of 69. I realized that the only way war will ever stop is by individuals like me saying no one person at a time. But that is not enough, because peace is not a state of not-war. Peace comes from working for fairness, justice and humanitarian principles which are expounded upon in the Sermon of the Mount, Matthew 25 and many other religious and secular texts. I was fortunate to receive CO status (though I never had to use it because I was the lucky winner of a high draft lottery number).
I quickly got to know a geology grad student who had just returned from Viet Nam after starting at Chapel Hill in the fall of 69. Only then did I have a clue of what a clusterfuck we had gotten into. All of us who were fortunate students with deferments owed it to the troops to do something to end the war. Peace wasn't going to break out spontaneously when so many people were profiting from the war at the expense of our troops and the people of Viet Nam. I joined anti-war protests and marched on Washington. The best thing I could do for the troops was to work to bring them home.
Forty two years later, driving down NC-24 "Freedom Way", with pawn shops, tire stores and strip joints on one side and Camp Lejeune on the other, freedom is apparently still just another word for nothing left to lose. President Obama has, as promised, brought home our combat troops from Iraq but they are still asked to do the impossible in Afghanistan. Only now they are asked to do it in deployment after deployment.
I don't expect anyone to agree with me politically, but I hope we can all agree on one thing that we owe our troops. Our troops obey civilian orders. We the people, who hire and fire the civilian leaders the troops obey, have the duty of citizenship. The vote, was won by sacrifice. We have the duty to use that vote to select civilian leaders who will deploy the troops for the public good, not private profit or political power. And if the troops are treated as pawns for the powerful we are obliged to protest.
One thing all of us can do for our troops is to let them know we haven't forgotten them when they are deployed. The best way to say "Thank you for your service" is to send them a piece of home when they are overseas. NFTT deserves our support because it helps maintain our troops' humanity in alien, often violent, conditions.
Netroots For The Troops Blogathon: February 20-24, 2012
---
Netroots For The Troops® is holding a blogathon this week to raise funds to send Care Packages to our soldiers stationed overseas. For the first time this year, we will also be sending Care Packages domestically to troops rehabilitating at Veterans Administration Hospitals around the country.
We are asking all of you to support our efforts and to also make a contribution for this worthwhile cause.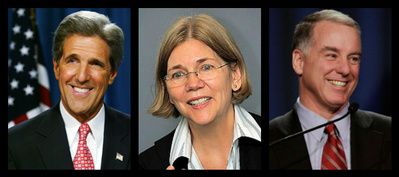 We are honored and delighted that Senator John Kerry (D-MA); Democratic Candidate for the United States Senate from Massachusetts, Ms. Elizabeth Warren; and former Governor Howard Dean (D-VT) will be joining us through this week. Many Kossacks will also be contributing their thoughts, ideas, and support during the week.
Over the years, many soldiers have sent letters to express their appreciation for these Care Packages and even posted thanks at Daily Kos

It was in the middle six months of my assignment in Afghanistan that the packages started arriving. I received an array of things from them… letters, candy, toothpaste, floss, baby wipes, razors, food, socks, books, dvd's. The list could go on and on. It was amazing. Netroots for the Troops was always there... The packages were a reminder that our country knows about our fight. Every day, because of their support, I knew that if it was going to be my last day, I would be remembered and I would be honored.

Please make a donation HERE. Thank you from the entire 2012 NFTT Team.