Until the 1970s, women's tennis had never been taken seriously by the men in charge of organizing this most genteel of sports. The modern, Open Era in tennis had became a reality in 1968 - and with televised competition popularizing its appeal - players were finally afforded the opportunity to make a living in the sport they loved. Even as the distinction between amateur and professional tennis players disappeared, there existed a huge disparity in the amount of prize money available to male and female players.
One woman bravely sought to change this gross inequity. She was more than just a great tennis player from Long Beach, California who had risen to the top of women's tennis in the 1960s. Winning all the major titles in her sport and becoming one of the best players ever was only a means to a larger end.
In a single, highly-publicized event that took place almost four decades ago, she struck an important blow for equality in women's sports. In doing so, she forced men to not only appreciate women in sports and reexamine their chauvinistic attitudes but, also, sought recognition for all the other contributions women had been making to society for centuries.
It was billed as "The Battle of the Sexes." Almost 48 million people would watch this tennis match on television.
---
The above painting shows lawn tennis being played in 1887, when the first official U.S. Women's National Singles Championship was held at the Philadelphia Cricket Club. Source: Library of Congress.
The Participants
---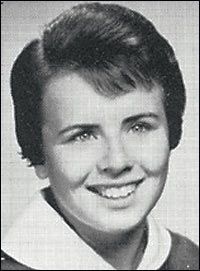 Billie Jean King came from a working class family in Southern California. Her father was a fireman, her mother a homemaker. As a young teenager, she had had shown great promise as a shortstop in softball but her parents wanted her to pursue "ladylike" activities. In discovering tennis on public courts, she found her passion. By age 17, she had won the first of her 39 career grand slam titles in singles, doubles, and mixed doubles. Pairing with Karen Hentze, King won the women's doubles title at the 1961 Wimbledon Championships.
When King graduated from high school, her parents did not have the financial resources to send her to either Stanford University or the University of Southern California. After attending California State University in Los Angeles (while working to support herself) and marriage, she was making enough money on the tennis circuit to financially support her husband (Larry King) through law school - even as creditors would only send credit card applications to them in her unemployed, student husband's name! Regardless of the facts, in those days a woman's worth was seen through the eyes of her husband.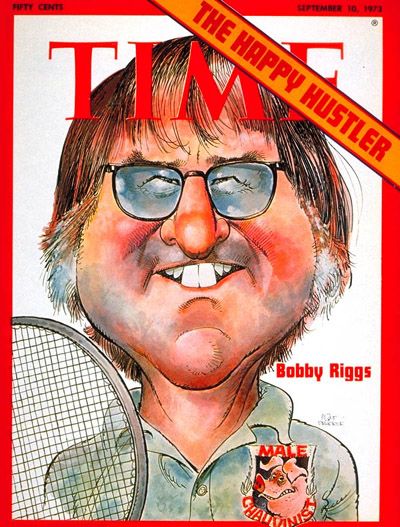 Just like Billie Jean King, Bobby Riggs also grew up in Los Angeles, California. As one of the top junior tennis players in the country, he honed his game competing against other tennis greats like Donald Budge and Jack Kramer. At a decided disadvantage against stronger players due to his smaller physical stature, he used his brains and wily court tactics to outwit his opponents. At the age of 21, he won the men's singles title at Wimbledon (the first of 6 grand slam titles) and was the number one ranked player in the world for three years in the 1940s - a period which also included his service in the military during World War II.
Riggs was a natural hustler and gambler who turned professional after the war. He had bet on himself to win the singles title and won over $100,000 in 1939 (worth almost $2 million today) at Wimbledon, where betting is legal. After a failed marriage and other attempts to make a living, it was as if he had found his calling. In this "60 Minutes" interview he gave to CBS reporter Mike Wallace in 1973, you can watch how Riggs made money in Las Vegas, Nevada and prepared for this historic match by taking unusually large doses of vitamins, sometimes taking over 400 hundred a day!

By 1973, big money was entering the world of professional tennis. Riggs came up with a plan to get a piece of the action. He first challenged Billie Jean King, boasting that even a retired male tennis player with declining skills could beat the best female players. She declined to take up the challenge. Riggs next approached Australian Margaret Smith Court who was then the top ranked player in the world. Court was apolitical but, also, had not been thrilled with the growing feminist movement (she would later become a conservative Pentecostal pastor) and approached this as just another exhibition match. King stressed to her that it was imperative that she defeat Riggs.
On Mother's Day in May 1973, Riggs easily beat an unprepared Court 6-2, 6-1 in a $10,000 challenge match, a victory that landed him on the cover of Sports Illustrated and TIME magazine. If Riggs could beat the best player in the world, surely, he thought, he could defeat others like King.
King knew that she could no longer avoid Riggs' goading. Importantly, at the time, she was also involved in a struggle to seek higher prize money for female tennis players

If Riggs's hustle had been a success before, it was a media sensation after Court's humiliation. Time put him on the cover. The pressure grew for King, who Riggs crowed was his next target. ("She's the Women's Libber Leader.") And King knew she had to take him on. The rest of the country - even the other women in the circuit - was beginning to think he might be right, that women were so inferior to male players that women's tennis was not a serious sport...

She and the other women on the tennis tour made less - ridiculously less - than the men. In 1970, King rebelled when she discovered that the Pacific Southwest Open was going to award the male winner $12,500 and the female winner $1,500. When the promoter refused to narrow the gap, King and eight of other top women players organized a boycott. They went instead to Houston, where Philip Morris offered to sponsor a tournament just for them. It would be the beginning of the Virginia Slims Tennis Tour.

Women's tennis began to catch on. (Its sponsor promoted its brand with a jingle that announced: "You've come a long way baby, to get where you've got to today. You've got your own cigarette now, baby. You've come a long, long way!") Some of the male players - particularly the less than stellar men on the tour - were outraged at the idea that the top women were getting both more money and attention than they were. Nobody was more vocal than Bobby Riggs, who loudly announced that women's tennis "stinks" and that the women themselves "belong in the bedroom and kitchen, in that order."

---

Larry Schwartz, "Billie Jean Won for All Women" - ESPN. Billie Jean Moffitt graduated from Long Beach Polytechnic High School in 1961. Photograph credit: MySpace. Bobby Riggs Cover credit: TIME magazine. Gail Collins, "The Battle of the Sexes" - History Now. "Ginny" was the logo and promotional image created by the Philip Morris Company to promote women's professional tennis and the Virginia Slims circuit. Sketch credit: Antique Tennis Collection For Sale.

The Pre-Match Publicity and Hype
---
By the early 1970s, change had been in the air in American life for well over a decade. As the 1950s started to wind down and with early baby boomers entering their teenage years, cultural seeds were being sown that would later come to define the anti-establishment and counterculture 1960s. From rock music to comedy to movies to television to literature, a kind of restlessness and rebellion was bubbling up amongst the country's youth. Television beamed images of a country in turmoil. Stories about civil rights marches, anti-war demonstrations, political assassinations, student sit-ins and riots, and a newly-found sexual freedom were all over the airwaves and in print publications. It was an era of unprecedented activism and change.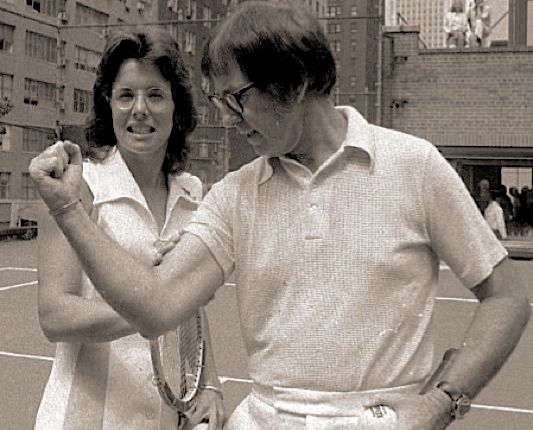 Why did this match take place when it did in 1973? Earlier that year, the most important of women's rights issues - the ground-breaking Roe vs Wade case affirming a woman's right to an abortion - had been decided by the Supreme Court of the United States. The year before, both houses of Congress had passed the Equal Rights Amendment. It called for equal rights for both men and women and was gaining momentum on its way to state legislatures for ratification. Title IX had also been passed by Congress in 1972 and provided for equal opportunity in education and sports for everyone regardless of gender although few associated the law with women's sports at the time. These issues favoring women's rights were being hotly debated by average people around the country in work places and in their homes - even as it attracted lots of detractors unhappy with these developments.
Weeks before it happened, just about every major news magazine and newspaper in the country would write extensive stories and speculate on the outcome. Among the major newspapers, only the Wall Street Journal picked King to win. It was against this background that the King-Riggs match would take place. Riggs himself would make outrageously sexist statements (Ware, p. 4) to gin up interest in the match. A few examples from the self-proclaimed defender of male chauvinism were:
"I plan to bomb Billie Jean King in the match and set back the Women's Lib Movement another 20 years."
"The best way to handle women is to keep them pregnant and barefoot."
"Women play about twenty-five percent as good as men, so they should get twenty-five percent of the money men get."
The stage was set for this historic Battle of The Sexes.

Author Susan Ware described the prevailing social and political climate in a book written about this encounter
On the evening of September 20, 1973, an estimated 48 million Americans tuned their television sets to an unlikely event: a tennis match between a twenty nine year-old, five-time Wimbledon champion at the top of her game and a fifty-five-year-old former tennis great long past his prime. Many people at the time sensed that all the hoopla surrounding this $100,000, winner-take-all "Battle of the Sexes" between Billie Jean King and Bobby Riggs was more than just a tennis match, although nobody could really say why. Was it because the country of sick of Watergate, inflation, and the energy crisis and wanted a diversion? Was the match a referendum on the new - to many, troubling - social movement called women's liberation? Was the circus atmosphere an example of media hype gone awry? In fact, the contemporary and historical significance of the match derived from the congruence of all three - a "perfect storm," as it were, in the history of sports, entertainment, and modern feminism.

In 1973 Billie Jean King was the right feminist in the right sport at the right moment in American history. What she proved that night in a courageous performance of physical prowess and nerves of steel that women did not choke, women were not frail and weak, women could face pressure and take it - live, on national television, with no second takes.

---

Susan Ware, Game, Set, Match: Billie Jean King and the Revolution in Women's Sports (pp. 1-2, 2011). Poster credit: Legendary Auctions. Billie Jean King is pictured above in a pre-match publicity photograph with Bobby Riggs. Photograph source: The Gilder Lehrman Institute of American History (AP).

The Battle of The Sexes: September 20, 1973
---
With a great deal at stake, Billie Jean King would not make the same mistakes that Margaret Court did. Unlike the previous match, this one would be played under rules for men's competition, i.e. it would be best of five sets match rather than the standard best of three sets format and one still in effect for women's tennis. King knew that this would be a test of endurance and trained rigorously for the match even as a cocky Bobby Riggs felt totally confident that he would easily dispatch her.
Opinion was split as to who would win. Contrary to the narrative in the media that men sided with Riggs and women with King, some did not know how it would turn out. A young Chris Evert expected Riggs to prevail, although years later she laughed about her youthful gnorance (Ware, p. 5). Gladys Heldman, the founder of the Women's Tennis Tour, asked, "What do we get if Billie Jean wins, 30 Senators?" Martina Navratilova would later say, "She was a crusader fighting a battle for all of us. She was carrying the flag; it was all right to be a jock."
King was focused on one and one thing only: defeating Bobby Riggs. She knew that she just had to win and played along with the silly antics (Collins, p. 2) employed by the event's promoters to garner publicity
King was hoisted aloft as she entered the court like the Queen of Sheeba on a platform carried by wanna-be Egyptian slaves lacking shirts. Riggs arrived that night via rickshaw, pulled by page six of the Victoria's Secret catalogue. And he was wearing that famous "Sugar Daddy" jacket. link

The event was very silly. Riggs was a clown, playing to the crowd. And that was in many ways the most important point of all. The women's liberation movement that had been fought out over the preceding decade had never been met by violent resistance, the way the civil rights movement had. It was met with ridicule, and if women wanted to win, they had to learn how to live with being laughed at, how to turn the tables and make their humiliators look like the butt of the joke.

King had to beat Riggs at tennis, but that would have been no victory at all if she failed to beat him at his own game, the battle of hype. She had to prove that women could stand up to people who made fun of them. Thus the extremely chintzy litter which a hesitant promoter brought out to King just a half hour before the big event, asking whether she might possibly want to use it to be carried onto the tennis court.

"God, that would be great," she said.

From the beginning, King satirized the moment as effectively as Riggs did.

---

Curry Kirkpatrick, "There She Is, Ms. America" - Sports Illustrated. Larry Schwartz, "Billie Jean Won for All Women" - ESPN. Photograph credit: Women's Voices for Change.

The highly anticipated match had captured the country's imagination. Over 30,000 fans packed the Astrodome in Houston, Texas with tens of millions glued to their television sets in 37 countries. Sportscaster Howard Cosell provided commentary on ABC television. It was quite a spectacle.
The pressure was intense on King to perform well but she relished her underdog role. She'd said before the match that "Up until now, I've always been the heavy. You know, I'm the leader. I'm responsible for women's tennis. For once, I'm the underdog. I love it." (Ware, p. 5) She was fully aware that a best of five sets match played under men's rules would be a test of endurance. She deliberately prolonged the points in every game and ran Riggs ragged all over the court. Soon, Riggs was worn out and could not keep up with King's long drives from corner to corner. He tired quickly. King could sense that victory was in her grasp
The day of the match dawned with all sorts of wonderful rumors: Larry and Billie Jean were getting a divorce. An Arabian sheik with a harem of 60 was flying in from Kuwait. Helen Reddy would sing at courtside. Sinatra was coming. Streisand was coming. Duke Wayne was coming.

That evening the reactions of the protagonist during their magnificently grotesque entrances foretold all. As Billie Jean rode above the multitudes, laughing and waving, she spotted actress Jo Ann Pflug going fairly berserk just below. "How do you like it?" shouted Pflug. "I love it," shrieked Billie Jean.

Minutes later, surrounded by all of Bobby's Bosom Buddies and half the cameras in the Western world, Riggs arrived. He was not laughing, not even smiling. "How's it going?" he muttered to nobody. "Where is she?" Bobby Riggs was actually tight, nervous, grim. He did not look like he loved it anymore.

---

Curry Kirkpatrick, "There She Is, Ms. America" - Sports Illustrated. Photograph credit: Sports Illustrated.

The match progressed pretty much as King had envisioned it. Her strategy had worked beautifully although there were several tense moments. She would win in three straight sets 6-4, 6-3, and 6-3.
See the below video for match highlights
Riggs broke King's service three times, once in each set, but every time she broke back in the following game. King won the first set when Riggs double-faulted at set point. She served a love game to win the second. At 4-2 in the third, Riggs took an "injury break" for hand cramps: he gulped pills and water and tried to get wind or new legs or a Sugar Daddy. Something, anything. But it was all over.

On the third match point - with most of the women jumping up and down in glee, most of the men morose and silent, with the gift pig fast asleep beside the court - an eerie wail came from out of the crowd, "Close him out, Sissy. Close him out."

Billie Jean Moffitt King did. Sissy closed all the pigs out.

---

Curry Kirkpatrick, "There She Is, Ms. America" - Sports Illustrated. In the above must-see video - Our World Fall 1973 Part 2 - go to about the 0.50 minute mark and you will see commentary, pre-game quotes, and actual highlights of the King-Riggs match for the next 4+ minutes. It is also interspersed with King and Riggs reminiscing good-naturedly many years later about the confrontation.
After the match was over, a chagrined Bobby Riggs offered his congratulations to Billie Jean King. "I
underestimated
you," the winded Riggs said. (Collins, p. 2) An editorial in the
New York Times
stated that "In a single tennis match, Billie Jean King
would do more for the cause of women than most feminists can achieve in a lifetime
." (Ware, p. 2)
It was certainly a seminal moment in the history of women's rights.

After it Was All Over
---
In the decades that followed this tennis match, Billie Jean King would not hold any grudges against nor harbor any ill-feelings towards Bobby Riggs for his chauvinistic behavior and belief in the inherent superiority of the male athlete. In fact, only a few weeks later, both of them appeared in another confrontation - this time in table tennis - while guest starring in an episode of the popular sitcom "The Odd Couple" (see video) on ABC television.
In an episode appropriately-titled "The Pig Who Came to Dinner," both Oscar (Jack Klugman) and Felix (Tony Randall) lose a bet to Riggs and then challenge him to a game of table tennis to win back their possessions. Of course, Billie Jean King rides to the rescue!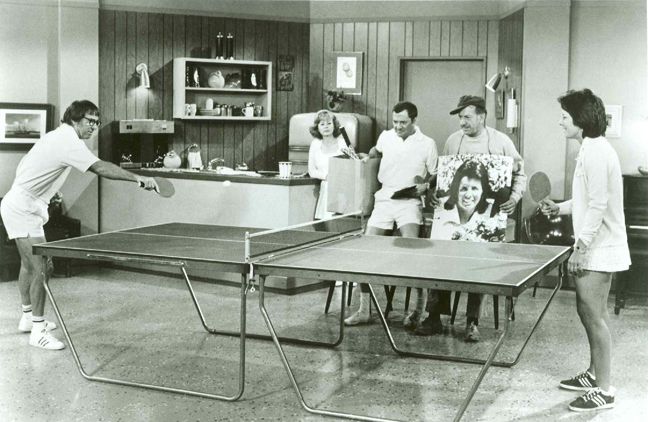 In the above photograph from
"The Odd Couple,"
Oscar and Felix try to intimidate Bobby Riggs by wearing Billie Jean King masks while she defeats him - again.
They would both go on to make several television commercials which mocked Riggs and his manly beliefs. Here are two commercials - one for Sunbeam Curling Iron Ad and another for Coca Cola.

The issue of unequal prize money for male and female tennis players would not be resolved for another 34 years. In 2007, the New York Times reported the following
The All England Club, which organizes the Wimbledon tennis championships, said today that from now on it will offer women the same prize money as men. The chairman of the club, Tim Phillips called the decision "good for tennis, good for women players and good for Wimbledon" (and besides, the men-women differential had shrunk to near insignificance over the years anyway).

As the Associated Press noted this morning, Roger Federer received $1.170 million as last year's men's champion, while the women's champion, Amelie Mauresmo received $1.117 million.

Wimbledon was the last holdout among the Grand Slam tennis tournaments in not awarding equal prize money to women across the board. The U.S. Open and Australian Open have paid equal prize money for years, and the French Open moved part-way to equality last year, making the prizes for the two singles champions the same.

---

"Serena Williams, Kim Clijsters exhibition recalls 1973's Battle of the Sexes" - Tennis Now. Photograph credit: Tennis Now. Tom Zeller, Jr., "And Only 34 Years After Billie Jean King Beat Bobby Riggs!" - New York Times. Sketch credit: Tennis Collectibles.
King and Riggs would remain friends over the next few decades and maintain personal contact. When his health was failing due to prostrate cancer in the mid-1990s, King wanted to visit Riggs but he did not want her to see him in a weak and frail condition. The night before Riggs died, King
called him
and told him:
"I love you."
Bobby Riggs died on October 25, 1995, in Encinitas, California. He was 77 years old.

An Inspiration for GLBT Activists and Women Everywhere
---
It's hard to think of another major athlete who did more to advance the cause of equality in sports for women than Billie Jean King. Her brilliance as a tennis champion gave her the moral authority for long-time social activism. Denied many sponsorship opportunities when she was outed as a lesbian in 1981 - an event that cost her millions in endorsements - she continued to persevere and, finally, prevailed over her opponents in her long struggle to win recognition for women all over the world
When Billie Jean King trounced Bobby Riggs in tennis's "Battle of the Sexes" in 1973, she placed sports squarely at the center of a national debate about gender equity... King's challenge to sexism, the supportive climate of second-wave feminism, and the legislative clout of Title IX sparked a women's sports revolution in the 1970s that fundamentally reshaped American society.

While King did not single-handedly cause the revolution in women's sports, she quickly became one of its most enduring symbols, as did Title IX, a federal law that was initially passed in 1972 to attack sex discrimination in educational institutions but had its greatest impact by opening opportunities for women in sports. King's place in tennis history is secure, and now... she can take her rightful place as a key player in the history of feminism as well... women's sports took off in the 1970s and demonstrates how giving women a sporting chance has permanently changed American life on and off the playing field.

---

Book review - Game, Set, Match: Billie Jean King and the Revolution in Women's Sports. Read more of Billie Jean's accomplishments outside the world of tennis. Photograph credit: Robert Edward Auctions.

Concluding Thoughts
---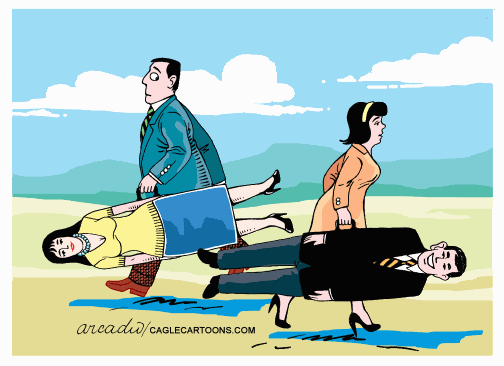 In any democratic society, progress is often maddeningly frustrating and excruciatingly slow. And, yet, societies change, old biases fade away, new attitudes emerge, systems evolve, people adapt, and progress is made - almost never without a challenge for as I once mentioned in this comment - and using a quote from Frederick Douglass to describe a brilliant new book with the same title, "Power concedes nothing."
The Rush Limbaughs of this world act as if they've never read history and frequently behave as if the country was frozen in time in the 1950s. Their testosterone-laden brains tell them that any rights that women have in this day and age were simply granted them at substantial cost to men like him. But for most people, time does not stand still; if anything, it marches on.
In some respects, Limbaugh's is an autocratic Hobbesian world of zero-sum game in which he is the sovereign. Hence, his condescending, boorish, and, often, hostile comments directed towards women. What this purveyor of hate does not understand that far from it, women like Billie Jean King had to forcefully confront entrenched male-dominated power structures to achieve some measure of equality. They have had to struggle mightily for decades at great personal sacrifice to achieve progress and they have absolutely no intention whatsoever of conceding these precious rights.

A Note About the Diary Poll
---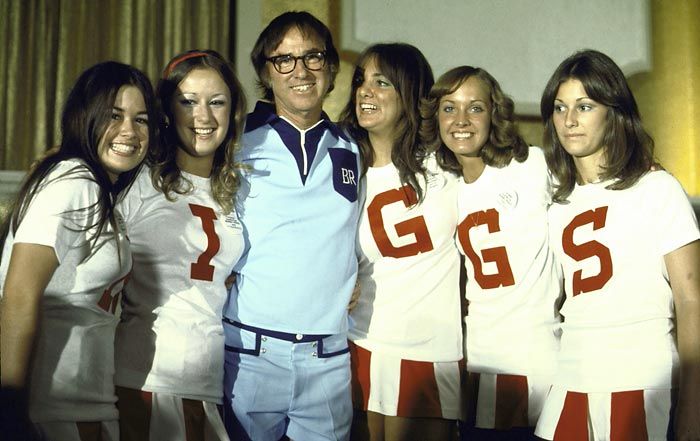 Most people excel in at least one thing in life. For some, it could be writing books, playing a musical instrument, composing songs, or perhaps even solving crossword puzzles. For others, it is engaging in a sport or activity which finds them in their element and fully comfortable doing so.
In my case, I've long had a love affair with racquet sports for I first started playing them at age seven. Put a racquet - any kind of racquet - in my hand and it feels as natural as Bill Clinton in front of a microphone. Tennis is only one of several racquet sports that I learned at a very young age and over the years, have had the good fortune of playing a few of these at a competitive level both nationally and regionally. Obviously, this intense interest also sparked my curiosity about the history of these sports.
The mentality that existed when Billie Jean King first challenged the national tennis hierarchy for equal pay is something that I have experienced first hand in several fairly exclusive clubs both here in Washington, D.C. and around the country - though my competitive days have been over for a few years. I could tell you dozens of stories but suffice it to say, it is an environment where you will find many 1%ers like Mitt Romney - perfectly pleasant, rather privileged, incurious men who are totally at ease practicing a phony kind of civility and rarely, if ever, forced to examine their core beliefs. Why would they? The system works for them and in their isolated world, that's all that counts. Proles, after all, are more a nuisance to be exploited or tolerated and in their way of thinking, of limited use to society.
Many years after he had retired from competitive play, I once met Rod Laver at a tennis club. Arguably the greatest male tennis player ever, he was filming a television commercial at the time with actress and comedienne Phyllis Diller. I had the thrill of my life when I hit a few tennis balls with him. A perfect gentleman, Laver cared deeply about his sport and the people involved in it.
Are you a tennis fan? And, how closely do you follow the major championships? Don't forget to take the diary poll.