Many would think that we're focused on the upcoming recalls in Wisconsin. We are - but it's not all about ol'Deadeyes. We have to put the state Legislature in play, and concentrate on the fall elections as well. The timeframe for collecting nomination papers to get on the fall ballot runs from April 15 to June 1.
Democracy is not a spectator sport. If you want to change government, you have to get involved. We're getting involved.
This Sunday, two candidates met with volunteers in Weitkamp Park in Hudson, Wisconsin. Diane Odeen, candidate for the 30th District Assembly seat currently held by Rep. Dean Knudson (R), and Pat Kreitlow, candidate for the 7th district Congressional seat currently held by Rep. Sean "I'm struggling on my $174,000 salary" Duffy (R), both gave short talks and sent volunteers out with clipboards to get signatures.
(Disclaimer - I am married to Diane Odeen and am working on her campaign as web/tech guy, photographer, videographer, and all-around go-fer.)
You can donate to either Diane or Pat's campaigns on their ActBlue pages, or go to their websites to contribute and/or volunteer:
Diane Odeen for Assembly ActBlue
Pat Kreitlow for Congress ActBlue
It was a nice day in Hudson, and a nice group.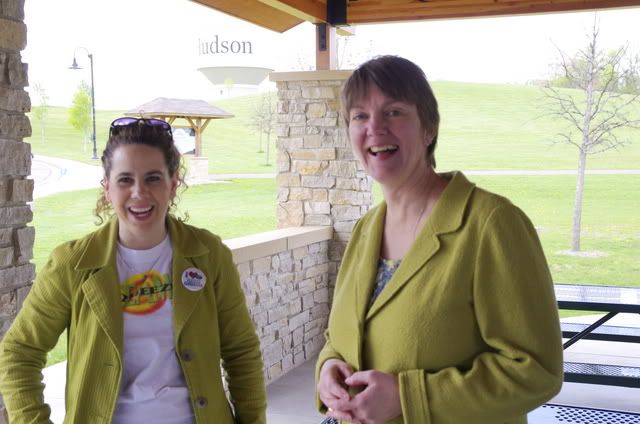 One of the first to arrive was Shelly Moore. You may remember Shelly. She ran against State Sen. Sheila Harsdorf in last year's recall election. She's an incredibly hard worker, and would have made a damned good state senator. Shelly is a teacher in Ellsworth, WI, but lives in River Falls, just inside of the 30th Assembly District. She's back to teaching theater and directing the school musicals, and is really, really proud of her former student Reed Grimm who appeared on American Idol this past year. Despite what some on the other side might be saying about the similarities between the two, they did not coordinate their outfits today.
Pat Kreitlow's has been very busy. He's doing a lot of traveling - his district is huge - essentially all of northern Wisconsin. Here he is talking with Diane shortly after his arrival:
A little about Diane. Her family has been in Wisconsin for something like six generations, settling near Black River Falls, Wisconsin in the 1850's. She grew up on the farm that had been in her family for over a century. After earning a Ph.D. in theater, she went to law school at 35. She is currently an attorney at Lommen Abdo in Hudson. Although this is her first run at elected office, she's been active in leadership in her church (United Methodist) and regional Rotary club.
Diane is a member of the 2012 class of Emerge Wisconsin. Emerge trains progressive women to be candidates for local office. This year's class includes many who are now running for the Wisconsin Legislature. I'm hoping that these strong women leaders can be profiled here in dKos during this upcoming election season.
This will not be an easy election. Although the district went for Obama (barely) in last election, the area has not elected a Democrat since the early 1980's. She's up against a first-term incumbent, Dean Knudson.
Pat Kreitlow is a former state senator from Eau Claire. Before his term in the state senate, he worked at several local radio and TV stations. He's a graduate of the University of Wisconsin - Eau Claire.
His election will not be easy, either. The republican party has made Sean Duffy's reelection a priority, both through the money they're throwing his way and the way they redrew his district. But Pat's a hard worker, and has been on this since last year.
After some time for cookies and hot apple cider, Pat and Diane each gave a short speech:
Pat's talk:

Diane's talk (introduced by Pat):

Afterwards was time for a group photo before the volunteers signed nomination papers and picked up clipboards for heading out into the field: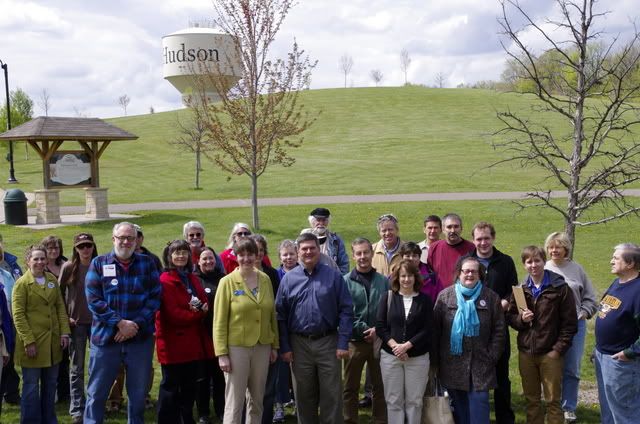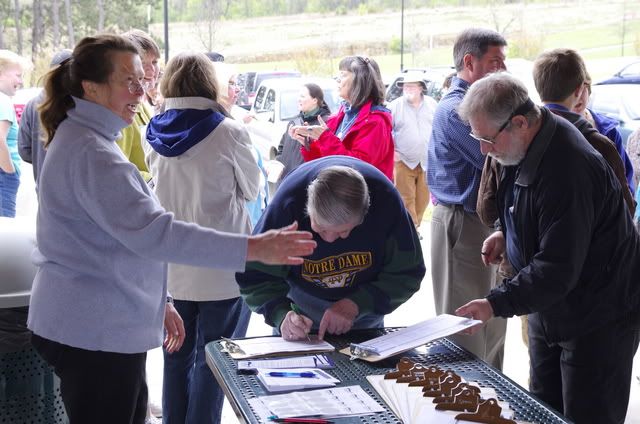 All in all, it was a pretty nice day. This is what Democracy looks like in Wisconsin - people getting out, meeting their neighbors and friends, and getting progressive candidates on the fall ballot.
Mon Apr 23, 2012 at 5:33 AM PT: Community spotlight! :-) Thanks.
I'm off to my state job, and we're kind of strict about campaigning on state time in Wisconsin (see Walker, Scott re: John Doe). So I won't be able to respond to any comments until the end of the workday.