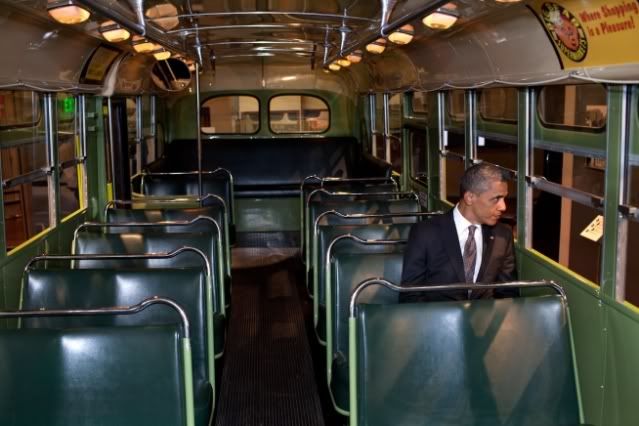 President Barack Obama sits on the famed Rosa Parks bus at the Henry Ford Museum following an event in Dearborn, Mich., April 18, 2012. (Official White House Photo by Pete Souza)
I know that most of you have probably already seen this photo from a couple of weeks ago, but I think it is so important and so thought provoking it is worth another look. There is not much I can say about something so extremely amazing that happened in our lifetime. Something that Democrats fight for and Republicans fight against, equality and freedom, can be easily taken for granted but is at risk of moving backwards in the wrong hands. I vote for for progress, so I vote for Democrats.

Jump on our bandwagon and follow I Vote For Democrats by clicking the orange ♥ at the top of this diary. Or better yet, write a diary about why YOU vote for Democrats and help us remind people of what is at stake.
3:53 PM PT: I have to run to my daughter's school, the science fair is tonight and she is in it. I really appreciate hearing everyone's perspective and thoughts, and will be back shortly. Thanks!