Firstly, a shout out to marleycat who alerted us to this in the first place


----------------------------------------


Remember in grade school, when your teacher started drawing intersecting circles on the chalk board, before you even knew what "intersecting" meant?
Well, don't feel bad if you don't remember, and don't even feel too bad if you still don't get them right.
Because, neither does the presidential campaign of one.....................Mitt Romney.
That's right, Harvard grad Mitt Romney, and his supposedly stellar staff of big-brained bozos..............................got it WRONG.
A Venn diagram is designed to show all possible logical relationships between a finite collection of sets. Put more simply, you label the left circle with one factor, the right with another, and the center with something that has the properties of both. I think Mitt was trying to use what's called an "intersection of two sets" diagram.
Like this:
And, well, he fucked it up big time.................


and that wasn't the only one they fucked up, either.
Mitt, this one demonstrates how the intersection diagram SHOULD work:
And now, some others have started a new meme, with some doozies like these:


Now, while these are, in fact, great examples, I think this community could probably top them.
Go here to make your OWN Venn Diagram, save it, and post it here




UPDATE: - More diagrams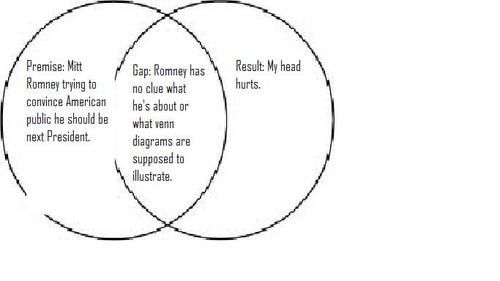 And lastly, a rather pretty, and non-political venn diagram for Steve Miller Band fans, done by The Angry Mathematician & Australian Numeracy Ambassador Simon Pampena (as far as I can tell):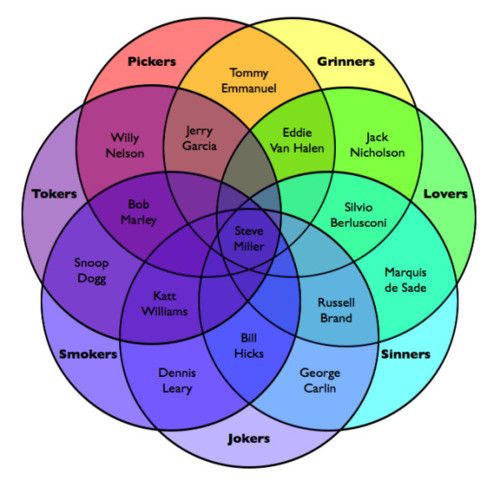 DISCLAIMER: I OWN NO RIGHTS TO ANY DIAGRAMS IN THIS DIARY. COULDN'T FIND ORIGINAL CREATORS.