I'm thrilled to be writing about Darcy Burner because Darcy is a fighter for many of the issues I think are most important. And she's my kind of fighter. She doesn't give up and she walks the walk. She's been with us on the war in Iraq, the war in Afghanistan, the war on workers, the war on voters, the war on women. Darcy is a sister for social and economic democracy.
But there is one issue that for me is the most important and that is the fight for a livable planet and the fight for our future. This is the most important issue of our lifetimes and we need someone with Darcy's values in congress. This is crucial because if all goes as well as it should in the next election Darcy will be in congress where she can use her new power to fight for a climate change and energy bill which will surely be a priority in the next congress.
Here in Darcy's own words is her position on climate change.
Darcy Burner
Date: Oct. 17, 2006
My position on global warming

With Dave Reichert's recent equivocation on global warming, I think this is a good time to make it absolutely clear where I stand on this important issue.

We have a moral obligation to leave our children, and those yet unborn, a world as vibrant and full of life as the one we were privileged to inherit. The fundamental problem presented by global warming is that it threatens to diminish the capacity of our planet to support the diversity and abundance of life we take for granted. This is a threat to our economy, our security, and the American dream.

"Global warming" is an innocuous-sounding name for what is really a very serious threat. Rising global temperatures mean far more than just shorter winters and longer summers. They herald changing precipitation patterns with potentially devastating consequences for the availability of drinking water, including here in the Northwest where we rely on melting snow to sustain us through the summer. They portend reduced fertility of the soils we depend upon to grow our crops and feed more than 6 billion people on our planet. They mean rising sea levels, which may ultimately threaten coastal cities and real estate. They mean more frequent, powerful, and destructive storms with devastating consequences, as we saw after Hurricane Katrina. They mean increased ranges and incidence of "vector-borne" diseases like west-nile virus, a disease that is showing up with increasing frequency, even in the Northwest. In short, rising temperatures threaten the climate stability that has nourished and sustained human civilization for over 10,000 years.

I believe the scientific debate on global warming is over. The overwhelming majority of the world's scientific community has determined that global warming is real, it poses a significant risk to civilization, and it is caused primarily by greenhouse gas emissions from burning fossil fuels for energy. This view is supported by the national science academies of all of the G8 countries - including the United States - as well as those of China, India, and Brazil. For the sake of ourselves and future generations, we must make an immediate and lasting commitment to reducing our greenhouse gas emissions.
[...]
Global warming is one of the greatest long-term, global challenges we have ever faced. Addressing it is going to require a sustained commitment across all sectors of our society: private enterprise, non-profit advocacy, and government. If elected, I pledge that I will bring that commitment to the US Congress, where I will be a strong advocate for harnessing sound science and the power of American innovation to address this challenge.
This was written in 2006. Was Darcy ahead of the curve or what? We need her commitment to our shared values in congress!
In order to run in the November election Darcy has to win the August 7th primary for Washington's 1st district. She needs our help and money to do this. Darcy has made the kind of enemies you want to have when she began work on a smartphone app which will make it easier for us to vote with our money and to recognize products that benefit our adversaries such as the Koch Brothers. So you know she's not getting any money from them or their buddies and that's a good thing.
So our own dear Sara R has thought of a way that we can not only contribute to Darcy's campaign but by contributing we enter to win a gorgeous handmade quilt made by Sara R. I have been ogling this quilt so maybe this will be my chance. Take a look at this magnificent quilt below! No sorry, pootie is not included.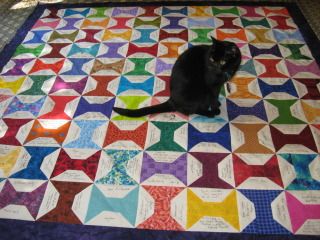 The entire month of July will be a quilt fundraiser for Darcy Burner, candidate for Congress, WA-01. There will be a drawing for the quilt signed in Providence at NN12 the first week in August. Everyone can get one chance per day, each and every day in July by EITHER donating $10 or more to Darcy Burner's campaign through this Act Blue page OR by writing a 50-word-or-less essay on this topic: How can we bend the arc of history more towards justice for all?. If we deem your essay to be on topic, it will count for a chance. Send essays to winglionquilts AT gmail DOT com with "Darcy Burner" in the subject line. To recap, earn an equal chance once a day every day in July by either donating or sending a short essay (one or the other). That means everyone who began at the beginning can have as many as thirty-one equal chances in this drawing. The first week in August, I will find a neighborhood child to do the drawing and someone will become the new owner of the quilt.



Quilt stats: It will be about 66" square, sleeved for hanging. The fabric is cotton, the batting a fine wool. I am quilting it by hand. It will be finished by the end of July.

Here are the quilt signatories:
TexDem
Sara R
Kitsap River
Charles CurtisStanley
Chris Loesch
Phyllis DeGrave
Monsieur Georges
Velo Vixen
Hawkwife
Abraham J. Bonowitz
CA Berkley WV
Ramara
Barbara Banoff
Leslie Simmons
Jessica Wainfor
Immy Humes
The Fat Lady Sings
Marcy Miranda
Ann Porter
Carol Neil
Malaka Gharib
Susie Kameny
Sandy on Signal
Bill Lusk
Charlie Harris
Macaela Gardner
Flamingogirl
Paul Krugman
Martin Garcia
Lefty coaster
Samuel Skurkovich
Krista Brewer
Markos Moulitas
Hunter
Ken Schider
Sharon Saltzberg
Nancy St. Germain
Carl Farmer
Angelajean
Susan Gardner
Brian Loper
Betsy Cazden
Catherine Casas
Erika Martinez
Marcy Chong
Faith Gardner
Pamela Mackey
Shirley Koegel
Andy the Cat
Mimi Marziani
Sonrisa
Cheryl Krauss
Ann Savage
Paula Dove-Jennings
Megan Secatore
Jee Fedele
Dominique French
Dennis Travares
Mark Musho
Hayden
Erin Hofteig
Bill in Portland Maine
Common Sense Mainer
Canilo Viveiros
Sean Kitchen
SSMIr
Marta Turnbull
Navajo
Grace
Priscilla Cruz
Shayan Zdrisavi
Nomandates
Jodie Evans
Glitterscale
Nik Swiatek
Sam Schoeburg
Rachel Gordon
Jamie McGonnigal
Brillig
Mik
Laura Clawson
EK Hornbeck
Hannah Resseger
Alan Grayson
Arjun Jaikumar
Kari Fulton
Terilee Edwards-Hewitt
Alisa Roost
Linda Lee
Luan Tatum
Karen Bradbury
Kate Coyne McCoy
Elena Perez
Triciawyse
Steve Dondley
Katie DeCarlo
Diane Palmer
Eric Packer
Cheryl McLeod
Chacounne
Keesha G
Oke
Greyhawk
Meteor Blades
Rep. David Cicilline
Sen. Sheldon Whitehouse
Charles Patenaude
Tool
Cynthia Kain
Mike Ertel
Emberlyn
Transactivist
Patrick St John
David Braun
Una Spenser
San Mateo DFA
Evan Leeson
Moody Loner
Erin souza
Jeana Brown
Sen. Jeff Merkley
Maria Luz Torre
Olive Niccoli
Nancy Peckenham
Matt Bors
Yasuragi
Benis Binion
LaToya Egwekwe
Peregrine kate
NW Terri D
David Gusick
Vicky Rateau
Marcia Robbins
Eric Thut
Molly D
CJ
Adam Skoog
Brandon Silverman
MsSpentyouth
Jay Lustgarten
Onomastic
Mommy Pooka
The momcat
Lilian Molina
Robyn Carmichael
Ed Tracey
Suzanne Turner
Erika Boulware
Amy Ziering
Joan Brooker
N in Seattle
Malik Rhasaan
Kafi Rouse
Poe
42
gizmo59
Regan McCarthy
4Freedom
Scottie Thomaston
Jo Lux
Arenosa
Megan Lickley
Polisigh
True Blue Majority
Kelly Lincoln
Eclectablog
The left neck chick
Tarryl Clark
Little Loner
Nancy Green
JoAnn Schwartz
Side pocket
Dev Tobin
Brian Swinehart
Andrew Hubbs
Don Rhodes
Belinda ridgewood
Winglion
Cedwyn
Winkk
Commonmass
Terri Foster
April Pederson
Loggersbrat
Katrina Gamble
Lightbulb
Jennifer Miller-Smith
Vec
Gina Fesmire
Clytemnestra
Contribute to Darcy Burner here!
I will match all recs with $.50 cents each.