Over at Reddit, luxvi posted that mitt romney has been buying twitter followers.
He is buying thousand by the minute, most don't speak English or are computer generated... all this in the midst of all the #Aurora tweets and #theatreshooting ones... Is he so unlikeable he had to buy followers?
A quick check of the link reveals that it indeed appears that rmoney may have purchased countless followers with similar computer generated names and email addresses.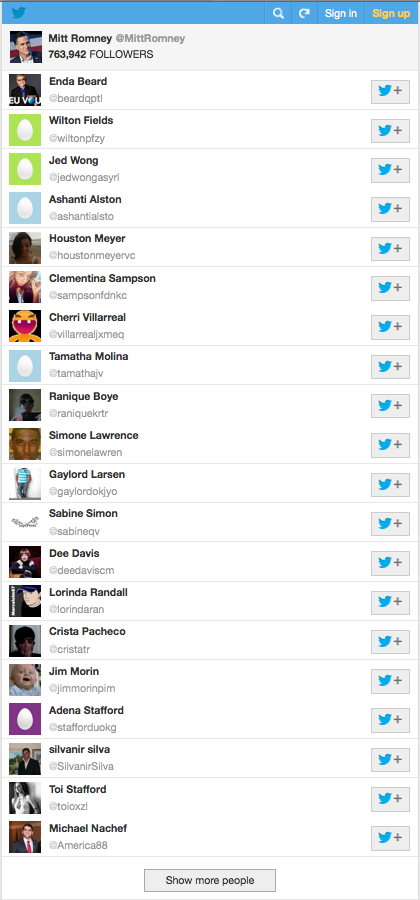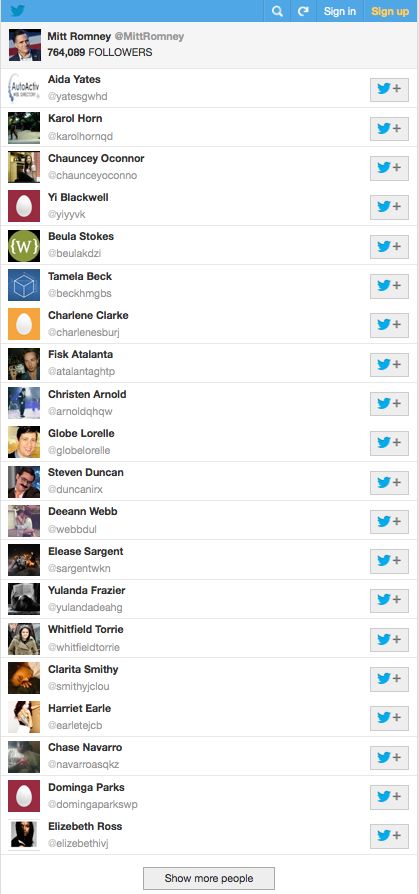 Comparing a few profiles, it's easy to see they are all fake! Look at how "Buela Stokes" and "Tamatha Molina" profiles are similar:


Notice they have no tweets and follow the same few "people?"
There are some profiles with tweets -- some of which make no sense and/or are in other languages. I'd put them up here, but I'm kind of burned out on photobucket now. They're easy to find if you want. Just click through dick romney's "followers."
Recently there were a few blurbs about how romney is losing the twitter race. However, neither mentions that the vast majority of mitt romney's twitter followers appear to be bought. Kudos to luxvi for digging a little deeper.
It's possible that these additional "followers" are being generated by hackers, but I wouldn't put it past the romney campaign to buy them, or even hack them. After all, romney is the guy who flew his own supporters in to the NAACP convention for his speech.
The only thing that isn't fake about mitt romney is that he wants your money.
BTW, I was recently inspired by a faux news interview with the romneys to fool around with imovie '08 and piece together this fun little 60 second spot:


Job killer and offshore financier, mitt romney, needed something to divert the public's attention from his bain/taxes/offshore accounts problem. He got it in a way that nobody but crazy gun nuts could have hoped for. I hope he takes the opportunity to stop being a phony asshole, at least for a few days.