The other day in DKE, Jacoby Jonze said that Senator Joe Manchin of West Virginia "runs as a Dem, but acts like a Repub" and asked "what part of the Dem big tent does he fit under?" These kinds of questions are common about Democrats like Manchin, who has the worst party unity score in the Democratic caucus for this session, but they underestimate just how "well-sorted" the Senate is. Manchin's positions aren't mine, but overall, he votes more like Sherrod Brown, Barbara Boxer, or even Bernie Sanders than he votes like any Republican (according to OpenCongress), and even when he's voted against a majority of the Democratic caucus, it isn't always from the right. Party matters. I'll give more details below.
Averages:
I used OpenCongress to look up how often every current Senator has voted with Joe Manchin, and I made it into this chart: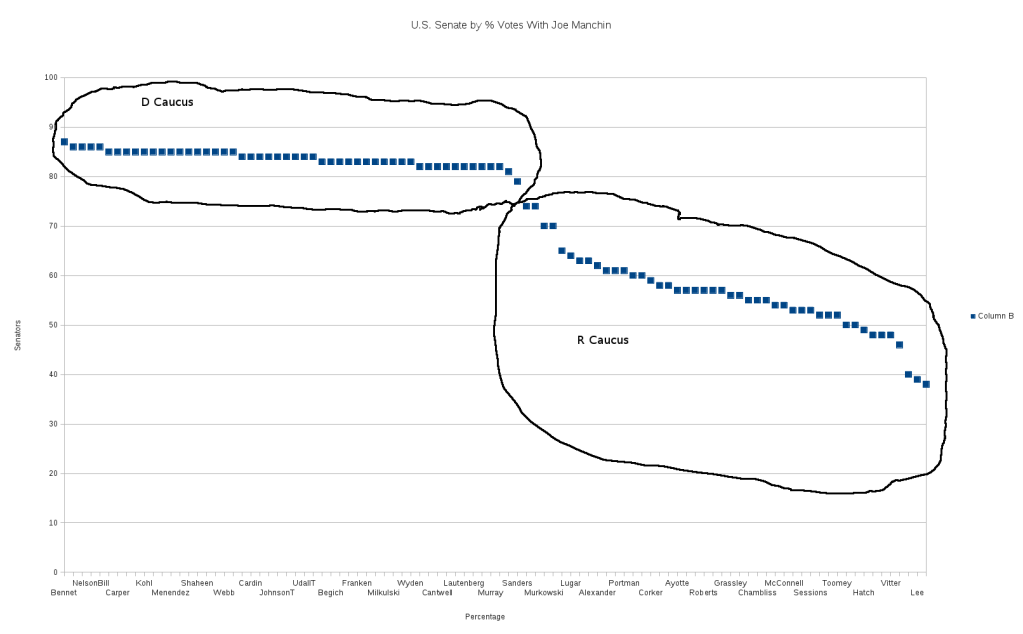 As you can see, Manchin has indeed voted with every member of the Democratic caucus more often than he's voted with any member of the Republican caucus. Within the Democratic caucus, Manchin's voted most often with Michael Bennet, as OpenCongress points out, and he's voted least often with Bernie Sanders. And within the Republican caucus, Manchin's voted most often with Scott Brown, and least often with Jim DeMint. (OpenCongress says Mike Lee in their summary, but if you check both, it says DeMint.)
For a bit more information, Manchin's voted most often with:

Michael Bennet
Bob Casey
Kay Hagan
Bill Nelson
Jon Tester
and he's voted least often with the Democrats
Bernie Sanders
Tom Harkin
Barbara Boxer
Maria Cantwell
Dick Durbin
Dianne Feinstein
Frank Lautenberg
Pat Leahy
Carl Levin
Patty Murray
Harry Reid
But Manchin and Bennet have voted together 87% of the time, and Manchin and Sanders have voted together 79% of the time--that's not that big a difference.
(By the way, I think this is also a warning against evaluating Senators based on stereotypes about their backgrounds and personas. I might have thought that Bennet was an Ivy League corporate moderate, while Manchin was more of a rural populist moderate. And perhaps they are, but Bennet is still apparently Manchin's closest match.)
Manchin has voted most often with the Republicans:

Scott Brown
Susan Collins
Lisa Murkowski
Olympia Snowe
John Hoeven
Dick Lugar
Thad Cochran
Mark Kirk
and least often with the Republicans:
Jim DeMint
Mike Lee
Rand Paul
Jim Risch
Tom Coburn
Mike Crapo
David Vitter
Orrin Hatch
James Inhofe
Ron Johnson
Broadly speaking, Manchin votes with moderate Democrats more often than he votes with liberal Democrats, and Manchin votes with moderate Republicans more often than he votes with conservative Republicans.
But Manchin only voted with Scott Brown 74% of the time. He's still closer to Bernie Sanders than he is to any member of the Republican caucus.and he's far closer to Sanders than he is to most Republicans.
Manchin with the Democratic Caucus:
But perhaps these averages are overlooking important issues. Not all votes are created equally, after all.
Let's continue to rely on OpenCongress and look at the "hot button issues" where Manchin has differed from Republican Whip Jon Kyl.
They include cloture on the "Zadroga 9/11 Health and Compensation Act", cloture on the DREAM Act, the Ryan Plan, the recent tax cut, and the Violence Against Women Act reauthorization--along with any number of appropriations bills and authorizations.
(Kyl abstained on the student loan vote, but since it was Manchin and every other Democrat except for Jim Webb against every Republican, I'll include in anyway.)
Those aren't minor issues, to say the least.
Some other examples I found:
Manchin voted for cloture on the American Jobs Act.
He opposed a "joint resolution relating to the disapproval of the President's exercise of authority to increase the debt limit", although he supported a later one, for some reason.
He opposed an amendment by Kelly Ayotte "To prohibit the use of funds for the prosecution of enemy combatants in Article III courts of the United States."
He backed cloture on a bill "to eliminate unnecessary tax subsidies and promote renewable energy and energy conservation" and did the same on another bill "to amend the Fair Labor Standards Act of 1938 to provide more effective remedies to victims of discrimination in the payment of wages on the basis of sex, and for other purposes."
Only Susan Collins and Olympia Snowe agreed on the first one, and four Democrats opposed it. (Elsewhere, I see that called the "Repeal Big Oil Tax Subsidies Act", so this might be about coal vs. oil, or it might be a populist streak, or Manchin might just be opposed to environmental regulation.) Only Harry Reid broke party lines on the second, presumably for procedural reasons.
Manchin also backed cloture on "A bill to provide for teacher and first responder stabilization"--unlike every Republican, Ben Nelson, Mark Pryor, or Joe Lieberman.
Manchin opposed cloture on "A bill to authorize the conduct of certain lease sales in the Outer Continental Shelf, to amend the Outer Continental Shelf Lands Act to modify the requirements for exploration, and for other purposes". 5 Republicans broke party lines there: Jim DeMint, Mike Lee, Richard Shelby, Olympia Snowe, and David Vitter voted with every Democrat against every other Republican. (Weird.)
Manchin also opposed cloture on "A joint resolution providing for congressional disapproval under chapter 8 of title 5, United States Code, of the rule submitted by the National Labor Relations Board relating to representation election procedures", and only Lisa Murkowski broke party lines there.
I don't know exactly which other bills and amendments had Manchin voting with most Democrats against most Republicans, but based on the above averages, there are likely quite a few more.
Manchin against the Democratic Caucus:
Again relying on OpenCongress, I've looked up every roll call where Manchin--who was only elected recently--voted against a majority of the Democratic caucus, not counting votes where he abstained. These are really the only votes where Manchin might be "acting like a Republican" instead of "acting like a Democrat". (Many people on this site might disagree with Manchin on some of the bills where he voted with most Democrats--but that's a separate issue.)
I counted 72 such votes, some (but not all!) of which I'll discuss below. By the way, my lists of Senators who voted with or against Manchin aren't always exhaustive, but you can click through to learn more. (Note: I consider Lieberman and Sanders to be Democrats--at least for these purposes--but I don't think OpenCongress does, so it's vaguely possible there "should" be a few more votes in here.)
Even in these votes, where he was voting against most Democrats, Manchin wasn't always voting with the Republicans, either. (Some bills attract the support or opposition of a majority of both parties.)
And even when Manchin was voting with most Republicans against most Democrats, he still wasn't always necessarily opposing the Democratic caucus "from the right" in any obvious way, and sometimes he was joined by Democrats you might think of as liberal. (Party unity scores and things like DW-Nominate work great on average, but individual votes can have different, and interesting, patterns.)
A simple example of the first kind of vote--and an issue that might not be precisely left/right--is trade. Manchin opposed the free trade agreements in Panama and Korea. The former bill was supported by every Republican, and the latter bill had only one Republican opponent--Olympia Snowe. Most Democrats also backed each bill, but Manchin was joined in opposition to the Korea bill by the likes of Pat Leahy, Bernie Sanders, Sherrod Brown, and both Senators from Rhode Island, Jack Reed and Sheldon Whitehouse.
For another example of the first kind of vote, Manchin backed Bernie Sanders' amendment mandating the labeling of GMO foods. 22 Democrats and both Dem-caucusing independents backed this amendment, along with one Republican, Lisa Murkowski. Manchin voted with the likes of Barbara Boxer, Ben Cardin, John Kerry, Frank Lautenberg, Jeff Merkley, and his colleague from West Virginia, Jay Rockefeller.
Manchin backed an amendment to the STOCK act by Sherrod Brown "To prohibit financial conflicts of interest by Senators and staff". All but five Republicans opposed this amendment, as did a majority of Democratic Senators, but Manchin was joined by (among others) Richard Blumenthal, Al Franken, John Kerry, Jeff Merkley, and both Mark Udall and Tom Udall.
In an odd vote, Manchin opposed the Reid/McConnell substitute on the payroll tax cut deal--along with Pat Leahy, Bernie Sanders, Mark Kirk, and a few of the most conservative Republicans, and he opposed a post office reform bill, along with Max Baucus, Ben Cardin, Barbara Mikulski, and a smattering of mostly conservative Republicans.
As for the second kind of vote, Manchin voted in favor of an amendment by Tom Coburn "To end lending schemes that force taxpayers to repay the loans of delinquent developers and bailout failed or poorly planned local projects." I don't really know what that means, but I do know that, while every Republican may have backed that amendment, so did Barbara Boxer, Sherrod Brown, Tom Harkin, and Tom Udall.
Manchin also voted "to limit [farm] subsidies for millionaires", along with, among others, Sherrod Brown, Carl Levin, Robert Menéndez, Jeff Merkley, and Barbara Mikulski. But he opposed "phas[ing] out the Federal sugar program"], like most Republicans, but also like Dick Blumenthal, Sherrod Brown, Dick Durbin, Jeff Merkley, Jack Reed, Sheldon Whitehouse, and Ron Wyden.
On other issues, Manchin's position was more intuitively conservative, but he still voted with significant numbers of Democrats. For example, Manchin twice opposed amendments relating to the importation of prescription drugs from Canada. Most Republicans opposed those amendments, but so did Frank Lautenberg, Dan Akaka, Kirsten Gillibrand, and Dick Durbin, at least.
Manchin opposed a Gillibrand amendment "To strike a reduction in the supplemental nutrition assistance program and increase funding for the fresh fruit and vegetable program, with an offset that limits crop insurance reimbursements to providers." But that might have been about the offset--other Dems opposing the amendment included Dick Durbin, Al Franken, and Mark Udall.
Do I always agree with Manchin? Of course not. For example, Manchin voted for some kind of Balanced Budget Amendment to the U.S. Constitution. I think that's one of the worst ideas there are--but even then, Manchin was voting with the likes of Michael Bennet, Richard Blumenthal, Sherrod Brown, Kirsten Gillibrand, Mark Udall, and Ron Wyden, and against nearly every Republican. (Each of those people have a lot of explaining to do as far as I'm concerned!) Manchin also voted for another Balanced Budget Amendment resolution, joined here by every Republican, but also by Michael Bennet, Sherrod Brown, and Mark Udall.
He backed the Blunt Amendment, along with Bob Casey and Ben Nelson.
And Manchin--who famously shot the cap-and-trade bill in one of his first campaign ads--is indeed particularly conservative on environmental matters.
Perhaps the clearest example of this is when he voted in favor of an amendment by Mitch McConnell that would "prohibit the Administrator of the Environmental Protection Agency from promulgating any regulation concerning, taking action relating to, or taking into consideration the emission of a greenhouse gas to address climate change." Only three other Democrats went along with Manchin, while Susan Collins opposed the amendment.
For another example, Manchin voted to approve the Keystone XL pipeline. Even then, he was joined by 10 other Democrats, although I don't think any of them are known as liberals. He also backed an amendment "To provide for an extension of the Draft Proposed Outer Continental Shelf Oil and Gas Leasing Program 2010-2015."
Manchin voted against an amendment by Wyden that would "ensure the expeditious processing of Keystone XL permit applications consistent with current law, prohibit the export of crude oil produced in Canada and transported by the Keystone XL pipeline and related facilities unless the prohibition is waived by the President, and require the use of United States iron, steel, and manufactured goods in the construction of the Keystone XL pipeline and related facilities with certain exceptions."
(Oddly, those two links give different accounts of John Kerry's vote--hopefully I can trust OpenCongress!)
In any case, Democrats voting with Manchin on that last amendment included Dan Akaka, Michael Bennet, Kirsten Gillibrand, Pat Leahy, Mark Udall, and both Senators from Rhode Island.
Manchin also supported Tester's "swipe fee" amendment--along with Dan Akaka, Michael Bennet, Kirsten Gillibrand, Barbara Mikulski, and Chuck Schumer. And he opposed a Feinstein amendment "To clarify the applicability of requirements for military custody with respect to detainees." I don't know the details, but Sanders, Lee, and Paul supported the amendment, and Joe Lieberman opposed it. (There were a number of other detainee-related votes that Manchin dissented on.)
Having looked at most of these votes, it's possible Manchin takes a particular delight in "outsider-y" bills that would stick it to government bureaucracies or to the administration in particular. For example, Manchin voted to ban "czars", and he was one of 12 Democrats to vote "To extend the STOCK Act to ensure that the reporting requirements set forth in the STOCK Act apply to the executive branch and independent agencies." He voted for a DeMint amendment "To enhance accountability and transparency among various Executive agencies". We might also classify his votes on Senatorial conflicts of interest (above) in this category. Manchin was the sole Democrat to back a Chuck Grassley amendment "To ensure accountability in Federal grant programs administered by the Department of Justice" and he was also the only Democrat to support a resolution in favor of term limits.
Manchin also opposed the Bush tax cut extension back in 2010 (which is what that vote is according to the "vote comparisons" page). Then again, so did Joe Lieberman, Jim Webb, Ben Nelson--and Russ Feingold.
And sometimes Manchin didn't have much of any company. He backed a "joint resolution disapproving a rule submitted by the Environmental Protection Agency relating to the mitigation by States of cross-border air pollution under the Clean Air Act". Only Ben Nelson went along with Manchin there, and six Republicans voted against it. Similarly, Manchin voted for a resolution "Relating to the disapproval of the President's exercise of authority to increase the debt limit". Only Nelson was with Manchin there, and Scott Brown was opposed.
Manchin was the sole Democrat opposing the rest of the caucus on a few bills. I counted 9, and I'll list them briefly here if I didn't get to them above.
He opposed cloture on the payroll tax deal, repeatedly, and also opposed an amendment by Mary Landrieu on that deal.
He backed an amendment "To eliminate the organic certification cost share assistance program", and he voted for an amendment "To improve the program of value-added agricultural producer grants."
He opposed cloture on a judicial nominee, " Andrew David Hurwitz, of Arizona".
He backed cloture on "A bill to facilitate job creation by reducing regulatory uncertainty, providing for rational evaluation of regulations, providing flexibilities to States and localities, providing for infrastructure spending, and for other purposes."
And, back in 2010, he opposed cloture on what seems to be a defense appropriations bill, of all things--possibly because it included the repeal of DADT.
Conclusion:
I don't expect Manchin's voting record to have many fans on a site like this. (I'm not a fan of it.) He's often fiscally conservative, and backs some "outsider-y" reforms that I think are bad ideas. He's really, really opposed to environmental regulation.
But, depending on the details and on your opinions, some of his "outsider-y" votes might not be inherently conservative. I imagine a lot of people on this site will support Manchin's positions against free trade agreements, for example.
And votes like these are really more the exceptions than the rule. Manchin's voted with the majority of the Democratic caucus hundreds of times. (It's possible that this session, for whatever reason, encouraged Democratic unity in a disproportionate way.)
Perhaps Manchin will eventually switch parties--anything's possible. It's possible that, should he switch parties, his voting record will become much more conservative. Yglesias, I think, used to point out how Jim Jeffords went from being a moderate Republican to a liberal member of the Democratic caucus, and how Richard Shelby went in the other direction.
That, I think, is just another way of stating my main point--party matters. Manchin is a fiscally conservative, anti-environmental-regulation Democrat. If you're fiscally liberal or you think environmental regulation is important--which you probably do--you probably won't like that, quite reasonably.
But Manchin is still a Democrat, and the difference between any Democrat and any Republican is still, on average and overall, more powerful than the often significant differences within the Democratic caucus. He might not act like your kind of Democrat, but he's not really acting like a Republican, either, at least as far as his voting record goes.
Note: When searching around for a link for my introduction, I saw this link by Brendan Nyhan to a study about how "bill co-sponsorship patterns were found to have three to five dimensions." That suggests an interesting approach to looking at people like Manchin beyond their voting records--but for another time.