Lawton Chiles famously said that Bill Clinton "knows how to speak cracker", and Clinton's drawling persona and successful performances in the 1992 and 1996 Presidential elections have contributed to his image as a kind of avatar of Appalachia--a politician whose ability to woo the "white working classes", as they are nearly inevitably described, has become legendary.
This legend was still powerful in 2008, when Hillary Clinton's success among so-called "beer track" voters was said to owe much to her husband's successes, and it's still powerful today, when I feel like pundits are constantly speculating about what folksy idioms and charming arguments Bill Clinton might have been using to secure those "white working class" voters that Barack Obama is said to have trouble with.
No one has ever accused Mike Dukakis of knowing "how to speak cracker". He didn't do very well in 1988, and is remembered as a kind of prissy "bloodless suburban reformer", as Mark Schmitt wonderfully put it. So I crunched the numbers on where Clinton improved on Dukakis the most, both in 1992 and 1996, and I think Clinton's legendary "bubba" abilities are a partial myth. Just a partial myth--he indeed did well in Florida, Georgia, Louisiana, and in his home state of Arkansas. But he also did well in California, Illinois, Michigan, New Hampshire, Pennsylvania, and Ohio--oh, and not the parts of Pennsylvania, Michigan, and Ohio you're probably thinking of. Let's learn more.
Introduction:
My data set was a lovely spreadsheet of Presidential results by Congressional District courtesy of David Nir. Images of the districts are mostly from OurCampaigns, with the timer set to the appropriate year, unless I've said and linked otherwise.
Unfortunately, Ross Perot's performances make things difficult to work with. Here is a chart of the change in Democratic vote share vs. the change in Republican vote share from 1988 to 1992 (the two years are rounded differently, but whatever, although this might make some of the "on the list"/"off the list" distinction a little arbitrary):

As you can see, there really isn't any correlation at all. In other words, you get (somewhat) different districts if you look for where Bill Clinton improved the most on Mike Dukakis than if you look for where Bush lost the most ground.
This makes it likely (I think?) that Perot took more from Clinton in some areas and more from Bush in others.
Some perspectives do have Clinton doing well in the South. For example, many Southern districts had some of the most favorable trends for Clinton if you look by the change in Democratic vote share--but some of the least favorable trends if you look by the change in Republican vote share. I don't really know how to make sense of that.
Now, unfortunately, several states changed their districts by 1996--including in Texas, Georgia, Louisiana, and Florida. This guy counts 26 changed districts, but I think he was a little too lax. I'm omitting all 7 from Louisiana, the 13 redrawn Texas districts, Florida's "3rd, 4th, 5th, and 6th" (as the Harvard guy said), and all of Georgia's 11 districts other than the "5th, 7th, and 9th districts".
(I'm now questioning whether I should have included GA-05--it changed a little, and if I include it, maybe I should have included GA-06, which also changed a little, or LA-02. Still, I don't think that matters too much. My angst is mostly because I wanted to compare the 105 best 1996 districts with the 105 best 1992 districts, which is arbitrary anyway.)
That leaves 403 districts. Here's the same chart for those 403:

As you can see, it's much more linear, which means it's much easier to tell where Clinton improved the most on Dukakis in 1996. The districts where Clinton gained the most relative to Dukakis were also the districts where Dole lost the most relative to Bush, more or less.
1992 vs. 1996
Fortunately, you get pretty similar stories looking at the two cycles, in my opinion.
As you can see, the change in Democratic two-party share from 1988 to 1992 is quite well-correlated with the change in Democratic raw vote share from [edit] 1988 to 1996. (Again, these are only those 403 districts.)
Indeed, if you wanted to look at the top-ranked 105 districts by each measure--again, among my marginally-arbitrary 403 districts--62 districts would be on both lists, enough to identify most of the regions we'll be looking at. That means there are 43 top-ranked districts by the 1992 metric that we won't be looking at. Nearly all of these are in states that we'll be looking at anyway, so I'll note them when they appear.
Aside from that, if we were focusing on 1992, we'd have to include a few districts in Missouri--the suburban MO-02 and MO-03 and the rural, and Arkansas-bordering, MO-08--as well as the two districts that made up Nevada at the time, and Vermont's at-large district There was also much more of Tennesee.
Summary:
Despite the similarities, I think the 1996 data is a little less "messy" (and arguably it helps my point a bit more), so that's what I'll be using in the below maps.
[edit:] To be clear, the below maps use Clinton's raw vote share compared to Dukakis'.
We'll be looking at the hundred districts outside of Georgia and Louisiana where Clinton's 1996 vote share improved the most on Dukakis' 1988 vote share. Actually, we'll look at a few more than that, since there isn't a cutoff at 100. Rather, we'll look at all 105 districts where Clinton's 1996 vote share improved by at least 7.8 points from Dukakis' in 1988, although sometimes I'll round that off when I'm discussing it.
We'll also look at some of the 96 districts (again, of these) where Clinton's vote share in 1996 was actually less than Dukakis'.
When I refer to the 1992 "best" list, I mean that Clinton's share of the two-party vote improved by at least 9.8 points over Dukakis', but those won't be on the maps.
One of my points will be that some political trends have continued and some haven't.
For example, two of the three districts in the currently red-trending West Virginia make our "worst" list: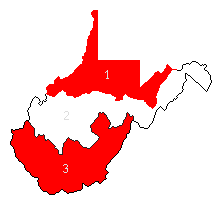 As did three of the (then) six districts in the currently blue-trending Colorado: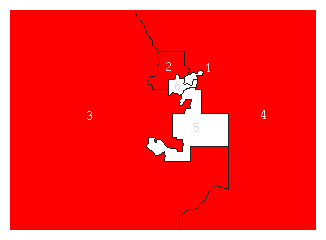 Only Arkansas, Arizona, California, Connecticut, Delaware, Florida, Georgia, Illinois, Massachusetts, Maryland, Maine, Michigan, New Hampshire, New Jersey, New York, Ohio, Pennsylvania, South Carolina, Tennessee, Texas, and Virginia have districts on the 1996 "best" list.
They mostly form a few contiguous "clusters"--contiguous even across state lines--and where it's relevant I'll try to talk about the differences between the 1988-1992 list and the 1988-1996 list.
But here are some general notes:
1. A great many of the districts fall along the greater "Acela corridor" , or what the Census has called the "several stretches of continuously built-up area, especially evident from Petersburg, VA to Lewiston, ME". (Possible h/t to David Jarman for that link.)
2. In fact, we'd have the entire Boston/Washington corridor--and stretching on into Portland, Maine--except for a few breaks in Maryland, Connecticut and Rhode Island.
3. Many of Clinton's very biggest improvements were in heavily Hispanic districts. In fact, at least 4 of the 5 districts with the largest "Clinton 1996-Dukakis 1988 score" fit that description:

1. NJ-13 (Hoboken/Newark)
2. IL-04 (Chicago earmuffs)
3. FL-21 (outer Miami)
4. FL-21 (Alcee Hastings' district)
5. CA-33 (East Los Angeles)
4. Dukakis famously over-performed in rural areas like Iowa, but I hadn't realized just how badly he under-performed in urban areas, and/or how much those areas have changed politically. The Duke lost districts like PA-03 (Northeast Philadelphia), IL-05 (North Chicago), MI-13 (Ann Arbor), MI-16 (Detroit), and MD-08 (Montgomery County)--all of which made our list. I'll also be noting these below.
Since I can go in whatever order I want, let's start with...
Pennsylvania:
No, I'm not using the "U.S. Election Atlas" reverse color scheme, and I didn't accidentally use Barack Obama's numbers.
In 1996, Clinton improved on Dukakis the most in the Philly districts of PA-01 and PA-03 and in the suburban Philly districts of PA-07 and PA-13. Dukakis lost all of these except for PA-01, even losing PA-03, which seems to be basically entirely contained in Philadelphia! He lost PA-07 by 28 points and PA-13 by 20 points.
But in 1992, Clinton won PA-03 in a landslide, won PA-13 by 4 points, and only lost PA-07 by 4 points. (He also narrowly won PA-08, which made the 1992 list but not the 1996 list.) And by 1996, Clinton won them all, along with PA-08.
Meanwhile, those western PA districts--PA-04, PA-09, PA-12, PA-14. PA-18, PA-20, PA-21? The ones where Hillary Clinton cleaned up in the primaries and where we've all had to listen to endless crap about how terrible it is for Democrats that they nominated an Ivy League lawyer like Barack Obama instead of, uh, Bill or Hillary Clinton?
Yep--in 1996, Clinton actually lost ground relative to Dukakis in all of them, and they were all among Clinton's 100 worst districts relative to Dukakis nationwide. Most of them were probably among Clinton's worst districts relative to Dukakis in 1992 as well. And in this case, the loss sometimes even extended to decreased margins of victory. For example, Dukakis carried PA-04 by 18 points and carried PA-12 by 10, when Clinton only won them by 5 and 6 points respectively.
In fact, in 1996 Clinton lost more of Dukakis' vote share in PA-04 than in any other district in the country.
Just in case you were wondering what it looks like. Clinton held steady at Dukakis' 44% in 1992 but got 52% in 1996--enough for a decisive win.
New Jersey:
Yep. The whole damn state of New Jersey--all 13 districts--ends up on our list. As I noted above, Clinton's single biggest 1996 gain relative to Dukakis in the country was in NJ-13, on the Hudson River across from New York City. Most of these districts didn't make the 1992 list, except for the suburban Philly districts of NJ-01, NJ-02, and NJ-03.

New York: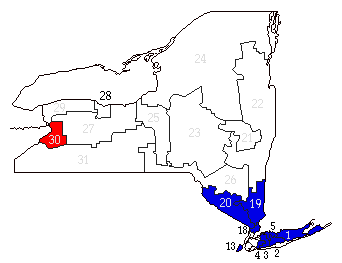 New York puts a full 16 districts into our 1996 list. Basically, in 1996, Clinton notched significant improvements over Dukakis in all of "downstate" New York, except for the Manhattan districts of NY-08, NY-14, and NY-15 and the African-American Brooklyn district of NY-11. Many of these districts didn't make the 1992 list, although the Long Island ones did. NY-14, for some reason, would have barely made the 1992 list but not the 1996 list.
Connecticut:

My home district might be among the least "bubba" districts in the country, and, between demographic changes and boundary changes, it was even less so back in 1996. But in that election, Clinton went from Dukakis' 16-point loss at 42% to an 11-point win at 51%. (Clinton got 42% in 1992, too, but that was enough to only lose the district narrowly.) It wouldn't have made the 1992 list, but CT-02, covering the eastern part of the state, would have.
Illinois: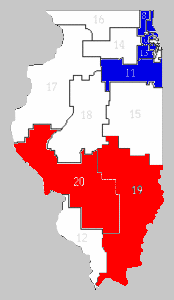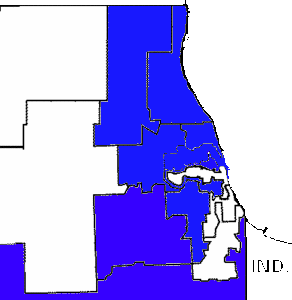 Chicagoland and especially outer Chicagoland went strongly in the Democratic direction. The districts IL-03, IL-04, IL-05, IL-06, IL-08, IL-09, IL-10, IL-11, and IL-13 all made the 1996 list.
Of these districts--basically all of Chicagoland except the majority-black parts--Dukakis only carried IL-04 (the notorious "earmuffs" Chicago district) and IL-09 (the Sid Yates "lakefront liberal" district). Somehow, Dukakis actually lost IL-05, which isn't even Chicagoland! It's the Rosty/Blago/Rahm/Quigley North Chicago district! The Duke got killed in IL-03 (Lipinskiland) and IL-10 (Mark Kirk's territory), losing both of these very different districts by identical 22-point margins.
In 1992, Clinton flipped IL-03, IL-05, and IL-11 (the southernmost district). In 1996, Clinton kept all those and added IL-10.
But Clinton lost ground in the "downstate" districts of IL-19 and IL-20 in 1996, although oddly IL-19 made the 1992 "best" list.
Virginia and Maryland: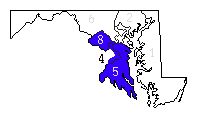 (Unfortunately, I'm having trouble finding the relevant map for Virginia, which redrew its districts after 1996.)
Yep--the D.C. suburbs were definitely emerging by 1996. MD-04, MD-05, and MD-08 all made the 1996 list, as did the NoVA districts of VA-08, VA-11, the Virginia Beach-based VA-02, and--more narrowly--VA-01 and VA-07, which connected NoVA to the Richmond and Virginia Beach regions.
Dukakis lost MD-05(by 16 points!) and MD-08, but Clinton won all three in 1992 and again in 1996. By 1996, he was winning MD-05 by 10. (Ben Cardin's MD-03--more of a Baltimore-centered district--made the 1992 list but not the 1996 list.)
Dukakis also lost all five Virginia districts. Clinton only carried VA-08 in 1992, narrowly losing VA-11, but he won them both in 1996. He never won VA-02, but Dukakis lost it by a monster 32 points, and Clinton managed to close the gap to 4. (Or, to be more consistent, he went from Dukakis' 34% to 44% by 1996.) Clinton never won VA-01 and VA-07 either--they're pretty far down the list--but he did improve on Dukakis' vote share by 7.8 points in each one by 1996.
Massachusetts:
Dukakis' home state effect apparently couldn't trump the Democratic trend in his state, as six of Massachusetts' districts land on our 1996 list. Dukakis actually lost MA-05--the Northern, Lowell-based district--and he only narrowly won MA-03 (the Worcester-based, Rhode Island-bordering district) and MA-09. MA-09! Downtown Boston, South Boston, and Milton! (And some more suburbs.) That was only a 52/48 Dukakis district. But Clinton carried them all with ease in 1992 and 1996.
Only MA-05 made the 1992 list--perhaps a "hangover" after initial Dukakis home state effect wore off.
New Hampshire and Maine:
Clinton's 1996 over-performance continued up the "northern corridor" from Massachusetts into New Hampshire and Maine. Dukakis lost both districts in New Hampshire by at least 24 points, but Clinton managed to slightly improve on his vote share even in 1992, winning NH-02 and narrowly losing NH-01. Clinton had big improvements in both by 1996, and easily took both districts.
Meanwhile, ME-01 was a very strong Perot district, but Clinton did go from Dukakis' 44% to 52% in 1996. (ME-02 made the 1992 list.)
Ohio: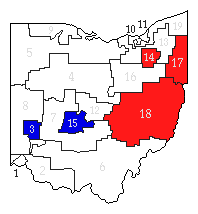 No, I didn't switch the colors for Ohio, either. Clinton actually lost ground, relative to Dukakis, in OH-14, OH-17, and OH-18, in 1996. It was narrow, but his vote share was smaller in all three of these seemingly Bubba-loving districts. Of course, I should say that Clinton did win OH-18 by 12 points, while Dukakis lost it by 4--both with about 48% of the vote, though. (Clinton's 1992 two-party vote share improved on Dukakis' by notably small amounts in OH-01, OH-11, and OH-19, but those might be Perot flukes.)
Meanwhile, Ohio might be the quintessential "Clinton Democrat" state, but Clinton had a huge improvement in the quintessential "Obama Democrat" area: Columbus. Dukakis only managed 34% in OH-15, losing by 32 points, but in 1996, Clinton got up to 44%, and only lost by 4. Even in 1992, things were headed that way--OH-15 would have made that list too As for the Dayton-based OH-03, Dukakis lost it by 16 points, but Clinton managed to carry it by 9 points by 1996.
California: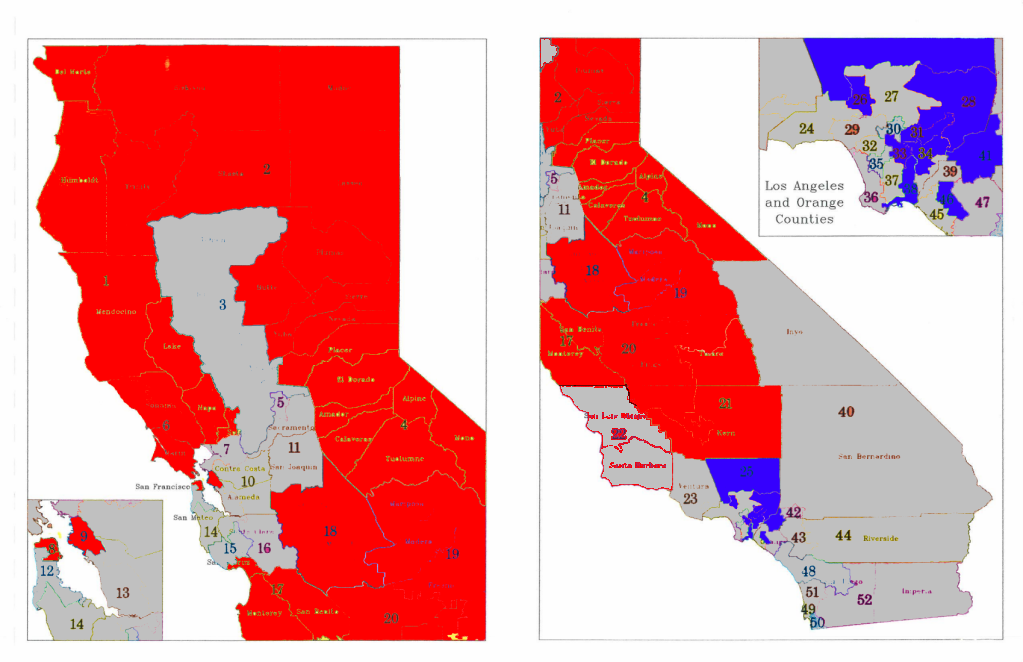 (For additional detail in the Los Angeles area, I used this map from the "Rose Institute of State and Local Government".)
This is one of the most interesting states so far, with numerous districts on both our "best" and "worst" 1992 and 1996 lists, and even some that were on the "best" for one year but the "worst" of the other.
First, the best: The story here is all in SoCal and mostly in Los Angeles County, as the districts CA-25, CA-26, CA-28, CA-31, CA-33, CA-34, CA-38, CA-41, CA-46 all trended Democratic. Dukakis, for example, lost the Long Beach-based CA-38 by 12 points, but Clinton won it by 11 in 1992 and by 17 in 1996. Clinton even managed to win Bob Dornan's district in Orange County, CA-46, in 1996.
On the other hand, Clinton's 1996 vote share was lower than Dukakis' across much of Northern California.
Nearly half--21 out of 43--of the top-ranked 1992 districts that missed our 1996 cutoff are in California. Most of them are also in Southern California and, as it happens, they cover much of SoCal that the 1996 districts don't: The Ventura County-based CA-23, the Los Angeles County districts CA-24, CA-27, CA-29, and CA-36, the San Bernadino County-based CA-40 and CA-42, a few more O.C. districts like CA-45, CA-47, the San Diego/Imperial districts CA-49, CA-50, CA-51, and CA-52, and the Riverside district CA-44. I don't know exactly why these districts seem to have "bounced back" by 1996, but SoCal, in general, was probably trending Democratic.
Most of the rest of the 1992 districts that missed the 1996 list are in the Bay Area--CA-06, CA-07, CA-10, CA-13, CA-14--while CA-15 and CA-17 run down the coast to Santa Cruz and Monterey counties.
Florida: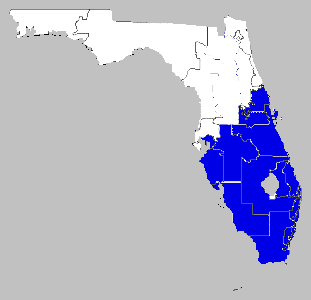 Clinton improved on Dukakis throughout Florida in both 1992 and 1996. In 1996, the biggest improvements were in the Miami districts: FL-21 and FL-23, as I noted above, as well as in Carrie Meek's FL-17, FL-19, FL-20, FL-18, FL-22, and FL-16.
Bill McCollum's Orlando-area FL-08 had a marked improvement as well, and--farther down on the list--the famous "I-4 region" continues to make appearances with Orlando-area districts like FL-07 and the Tampa-based FL-11.
A few northern (or perhaps Southern) Florida districts would have made the 1992 list--the "panhandle" FL-02, and perhaps Corrine Brown's FL-03, and FL-05 on the north Gulf Coast if we let them in (they're not on our list since they were redrawn later).
Michigan: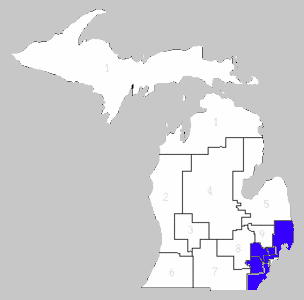 Following the patterns we've seen, Clinton improved on Dukakis throughout Detroit and outer Detroit.
Of the blue districts, Dukakis only carried the heavily African American Detroit district MI-14. He even lost Lynn Rivers' Ann Arbor district MI-13 and John Dingell's MI-16! (Dukakis must have been a really lousy fit for these kinds of districts.)
But Clinton won both easily in 1992, albeit without improving on Dukakis' vote share by much, and also flipped MI-12 (Sandy Levin's district).
And by 1996, Clinton managed to carry every one of the blue districts. He particularly improved on Dukakis in the Northwestern "peripheral" districts of MI-11(then represented by Joe Knollenberg), as well as in David Bonior's MI-10 and in MI-12.
Meanwhile, the Indiana-bordering MI-06 and MI-07 made the 1992 list but not the 1996 list.
Arizona: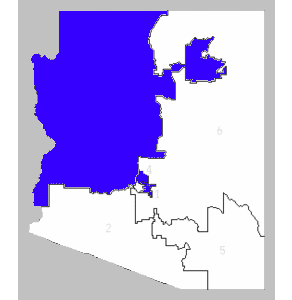 Yes, Arizona, and in fact, the three districts on our list--AZ-01, AZ-03, and AZ-04--correspond to some current swing areas. AZ-01 at the time was very similar to the current AZ-09, at least superficially (the population might have changed significantly), and AZ-04 wasn't too far from some of the swingier legislative districts. AZ-03, on the other hand, was probably the most rural district we've seen so far.
Dukakis lost all three by at least 30 points. Clinton had similar vote shares, but much closer margins, in 1992. By 1996, Clinton was able to nearly tie AZ-01 (losing by about half a point), to get within 4 points in AZ-04, and to get within 7 points in AZ-03.
Arkansas: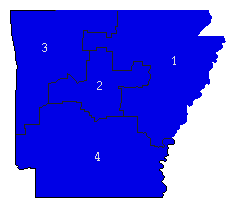 No surprise that all four of the districts in Clinton's home state end up on our list.
Tennessee:
TN-08 and TN-09 border Arkansas, and Tennessee is of course Al Gore's home state as well, and both districts had marked improvements from 1988 to 1996. While Dukakis only won TN-09 61/39 and lost TN-08 42/58, Clinton won them 66/30 and 48/43 in 1992 and 71/26 and 51/44 in 1996. Meanwhile, most of "middle Tennessee"--TN-02, TN-03, TN-04, TN-05, TN-06--made the 1992 list but not the 1996 list.
Texas: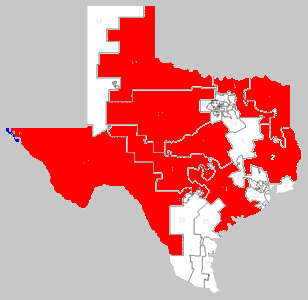 Notably, the absence of Lloyd Bentsen seems to have mattered a bit more in Texas than the absence of Mike Dukakis mattered in Massachusetts.
TX-16--El Paso--had one of Clinton's strongest improvements over Dukakis by 1996. Dukakis won it 53/47, but Clinton won it 51/35 in 1992 and then 63/32 in 1996. But Clinton's 1996 vote share was lower than Dukakis' across much of the rest of the state--outside of San Antonio, Dallas and Houston metro areas. He even under-performed Dukakis' vote share in the Austin-based TX-10. (The Dallas-based TX-30 might have made the 1992 list though.) Even more of Texas would probably be colored red if not for the redraw.
South Carolina:
This one's kind of random, but Dukakis lost SC-02 31/69, and then Clinton "only" lost it 36/52 and then "only" lost it 41/54. It might be a fluke--but it also made the 1992 list.
Louisiana:
(Parish map from here, election results from here.)
While I flatly refuse to make these maps for any other states, I'll make one for Lousiana given the difficulties of its mid-decade redistricting. The colors are as above--in blue parishes, Clinton in 1996 improved by at least 7.8 points over Dukakis, and in red parishes, Clinton lost ground.
I'm no expert on Louisiana geography, but Clinton's strong 1996 performance in the "downstate" areas around Baton Rouge and New Orleans might fit in with Clinton's improving performance in urban areas. For example, LA-02 seems to have changed very little--it's another district I might have included--but Dukakis won it with 66% of the vote, and Clinton later won it with 78%.
The northern area borders Clinton's home state of Arkansas (as jncca pointed out to me about the state) and they're less white. The 1992 boundaries of LA-05 covered much of this area. LA-05 had Clinton's greatest 1988-1992 vote share improvement in the state, so again, this is probably where he had the greatest appeal relative to Dukakis.
(Note: These are Georgia's 1992 districts.)
I really don't want to make a county map for Georgia, but suffice to say that Clinton vastly improved on Dukakis' two-party vote share in nearly the entire state in 1992, and only GA-05, GA-06, and GA-11 (the home districts of John Lewis, Newt Gingrich, and Cynthia McKinney) were below the level of over-performance of the other "best" 1992 districts. Clinton's greatest 1992 over-performances were in GA-07, GA-10, and GA-09. (GA-07 barely missed the 1996 cutoff.)
I'm not sure about 1996, though. Of the relatively constant districts, Clinton probably over-performed the most in GA-05 and (if you include it) Newt Gingrich's GA-06! After all, Dukakis got 25% of the vote there, to Clinton's 33% by 1996.
Where else did Clinton do badly in 1996?
Aside from where we've seen, Clinton's 1996 vote share was lower than Dukakis' in much or all of Alaska, Iowa, Idaho, Kansas, Minnesota, Montana, North Dakota, Nebraska, Oklahoma, Oregon, South Dakota, Washington, Wisconsin, and Wyoming.
He also lost ground in much of rural Missouri (although not in the Arkansas-bordering MO-08), in the Western Indiana district of IN-07, in two districts in North Carolina, in NM-03, and in UT-03.
Many of these are rural districts and states where Dukakis might have been over-performing in the first place.
Conclusion:
Despite the variances between 1992 and 1996 and the confusing role played by Perot, Clinton's greatest improvements over Dukakis in either cycle almost certainly included Phoenix, the Los Angeles area, Delaware, Mid-Florida and South Florida, Chicagoland, the D.C. suburbs of Maryland and Virgnia, outer Detroit, New Hampshire, the Philadelphia suburbs in Pennsylvania and New Jersey, Long Island, and Columbus.
The stereotypical "Clinton-esque" areas where he did well were mostly either in Georgia or in or around his home state of Arkansas, and/or in Al Gore's home state of Tennessee. And whatever that was in the South Carolina district.
I think this tells a pretty coherent story, and it's not the story you seem to usually hear about Bill Clinton's strengths and weaknesses.
My goal isn't to bash Bill Clinton, but to try to work against the Clinton Myth.
That's the myth, I think, that says (implicitly) that there's something wrong with Democrats winning with coalitions of urban and suburban voters and ethnic minorities, and that if only Democrats can nominate the right kind of candidate--usually a Southern and/or rural white guy who's a moderate on, at a minimum, social issues--then they could charm the so-called "white working class" voters back into the Democratic fold.
The former kinds of voters are called "wine track" and the latter kinds of voters are called "beer track", even though sometimes people define these things so the "'white working class' is more affluent than the rest of the public".
And Clinton is the archetype.
The problem? Clinton might not have even done that himself. Where he improved on Dukakis the most was, instead, mostly in urban areas, inner suburbs, the Acela corridor, and Hispanic areas--even though Dukakis was the suburban candidate and Clinton was the Appalachian candidate.
You might be thinking "but Xenocrypt, it wasn't Clinton's fault that Dukakis benefited from the farm bust and that Perot might have played better in some areas, and anyway, these districts had long-term trends, and you can't expect Clinton to have stopped that".
And you'd be right! As I put it to jncca, economic circumstances and long-term trends seem to be more powerful than a candidate's profile and "fit". Bill Clinton was an extremely skilled politician, and maybe he did know how to "speak cracker", but whatever he was saying wasn't enough to significantly improve on Mike Dukakis' Appalachian performance, and he even lost ground in some quintessentially "Clinton Democrat" areas.
And even if you think this was Perot--and some of it might have been, I'm not really confident that I can answer that--here's DCCyclone, back when I raised this issue about Clinton's performance in, ironically, Georgia (so I might have been off-base there):

There's a lot of mythology about Clinton's appeal to voters. People have a strange amnesia that this is a guy who got 43% and then 49% in his two national elections, and his performance with whites never exceeded Obama's. There is an assumption that Clinton did better than Obama with blue-collar whites, but I've never seen anyone offer any evidence in support of that.

It's nice to argue that Clinton would've done better in both elections had Perot not been on the ballot, but that doesn't go very far since Clinton still was an explicitly rejected option both times. And especially when he was a supposedly popular incumbent in '96, there was no reason he shouldn't have been able to break 50%.
I've been arguing a lot with DCCyclone lately, so I'll end on that note of agreement.
4:53 PM PT: By the way, regarding 1992, I plugged Dukakis' vote share, Clinton's 1992 vote share, and Perot's 1992 vote share into a multivariate regression (rounded to the nearest integer) and got:

Clinton[t] = + 19.6633148340918 + 0.794878473293714Dukakis[t] -0.662281762618Perot[t] + e[t]
using my trusty
Wessa.net
. (Wessa P., (2008), Multiple Regression (v1.0.26) in Free Statistics Software (v1.1.23-r7), Office for Research Development and Education, URL
http://www.wessa.net/...
)
And if you look at where Clinton over-performed in 1992 relative to that equation...it's basically the same story yet again.
Arkansas, Phoenix, Long Island, Georgia, the D.C. suburbs of Maryland, Nevada, California and especially Southern California, CT-02, Delaware, Florida (and a lot of it South Florida), Chicago, MA-05, Maine, MI-06, MI-07, MI-14, the districts I mentioned in Missouri, New Hampshire, the Philadelphia suburbs in PA and NJ, Columbus, Vermont, middle Tennessee. NC-12 is a new addition, though, and a nice "bubba" district. TX-06 and TX-30 in the Dallas area. WA-09--another suburban district.
Where did Clinton under-perform this regression? We haven't talked as much about Clinton's weak 1992 areas, so I might write that up another time. But it includes the rest of Connecticut (a Bush home state effect?) and, yes, West Virginia.

5:18 PM PT: Whoops. NC-12 is obviously not a "bubba" district. I was thinking of NC-11. NC-12 is the notorious Mel Watt district. I should also be a bit more specific about what I meant. I looked at the 100 districts where Clinton over-performed the regression line by the most. The New York districts on that list included the Long Island districts NY-01, NY-02, and NY-05, but also the NYC districts of NY-06, NY-08, and NY-09.
5:31 PM PT: I should add that the "regression line" approach for 1992 and the "two-party vote share" approach are very highly correlated, so we're not gaining all that much. Why that is--another time.
6:54 PM PT: A sketchy regression I tried on 1988-1996 might take most of the D.C. suburbs off the list, but add CT and RI. Again, pretty similar stories overall.
8:54 PM PT: I don't know if the 1996 regression keeps those districts in Ohio red, though. I might have to take another look from that perspective sometime.