I've got deja vu. A few years back a hurricane went over my house. The eye went over my house and the storm did nothing to my home. It was only a category 1 storm. We had rain. We had winds of less than 110 MPH. Amazingly, we kept power for the whole ordeal.
The next day I went to a Miami Dolphins game and most of us were more focused on the non-existent storm than how the Dolphins did that day. (The Dolphins won 17 -14 over the Tampa Bay Buccaneers.) I remember it being fairly cool and a little windy for a stadium that reaches 108 degrees of stagnant air inside Stadium from August to the first week of October.
The people near where I sat were concerned about Katrina gaining strength over the Gulf of Mexico. We were grateful we didn't get hit hard, but realized the storm wasn't done yet. Our worst nightmares played out over the following weeks with 2 more deadly storms (Rita and Wilma) rounding out the deadly 2005 hurricane season.
I'm sitting here in my Florida room, looking out my back windows at my Areca's gently swaying in the breeze. It's over cast and cooler. An occasional gust of wind blows through without much energy. This nothing of a storm for me has killed 7 people already in Haiti and 3 more people are missing in the Caribbean. This deadly storm isn't deadly for Miami/Ft. Lauderdale.
My hurricane preparations were mostly completed last May at the start of the hurricane season. I didn't disassemble my gazebo - I put in extra lag bolts. I didn't put up my shutters, but I lowered the big one across the back of my house. I already have water, batteries, cereal, sandwiches and soup enough for 2 storms. We gassed up on Friday. I'm looking at this storm with persistent winds of 65 MPH and gusts of 75MPH and I'm not scared. My outer walls are 12" thick. My shrubs are trimmed. I'm settled in for 48 hours of rain and 30-40 mph winds. People up the West Coast of Florida will probably have a rougher ride.
As you can see from the graphic below, the storm's eye is still about 150 miles away from Hollywood, Florida and it's not likely to get any closer. There's an evac order in Dade County for mobile homes (not Broward), but Turkey Point, the nuclear power plant is still open. My gym is still open, so are restaurants. Some schools are closed tomorrow, many are still going to be open.
The West coast of Florida is a different story. Ft. Myers, Sanibel and other West Coast communities are going to get wet, but the pictures aren't showing a lot of wind either. So far as hurricanes go, this storm is going to be ok for Florida, but deadly for other areas.
I like this site, because I get the weather images I want with no drama or bunk. A track just gives you an idea of where the storm could go, and after ....I don't know....10 years or so; you get an idea of how these tracks are spot on and when the computer model is confused. That's when a look at a infrared satellite over visiable clouds image is helpful.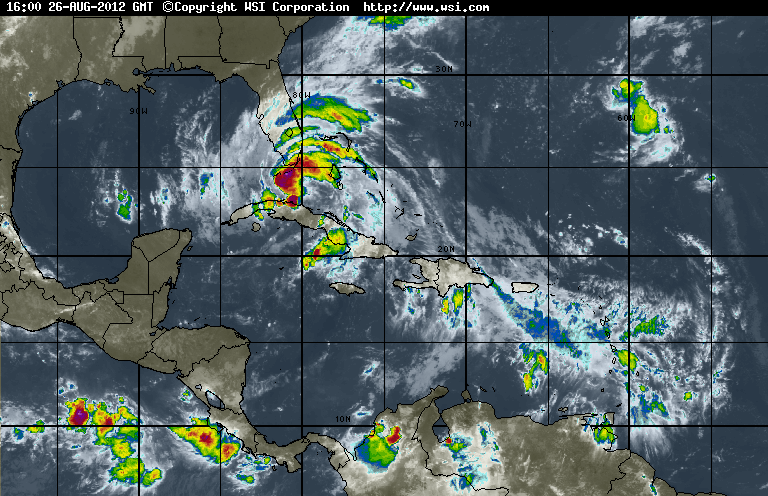 If this storm had open, warm water instead of high mountain ridges in both Hispanola and Cuba, we'd be looking at a different storm. Thankfully, this one isn't looking very organized. It isn't a solid clump of clouds. Things could be a lot worse for South Florida. As it is, it's going to be a wet day for anyone visiting the theme parks in Orlando and I suspect the electric parade could be cancelled this evening. If those blue, green yellow and red bands coalesce into a solid mass (which requires open, warm water) this storm can get very nasty indeed.
Still, these two images aren't a full story, so I look at the Atlantic Analysis.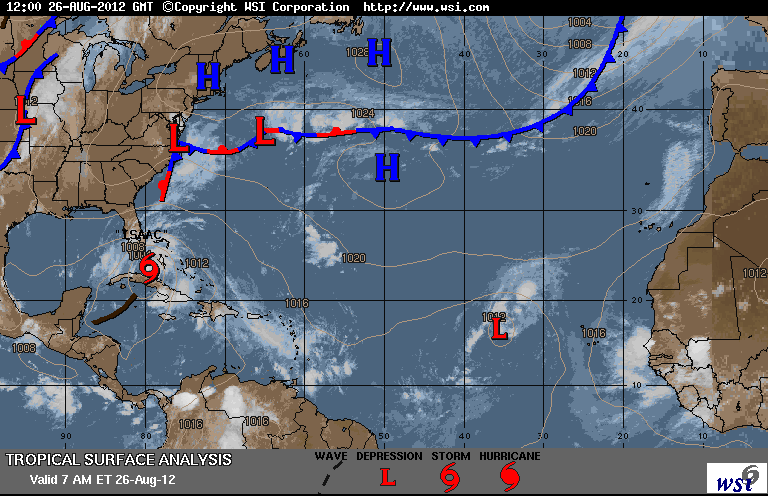 A meterologist will cringe at this description, but for our purposes I'm going to go with; Highs, "H"s tend to repel storms (for lack of a better description) while Lows, "L"s draw them in. Those lows over the Carolinas and the other Southern States won't repel Isaac. It's going in somewhere between NOLA and Port St. Joe, Florida and at this point, the track says closer to NOLA.
So, South Florida is dodging a bad storm again. The West Coast of Florida is going to be teased as the storm goes North. If the storm stays partially on ground as it goes North, the storm won't be able to strengthen. If the center of the storm gets solidly over the Gulf of Mexico and can churn over those waters....Isaac will strengthen and wreak havoc on the Gulf Coast.
As much as the GOP would like to have their convention in Tampa this week, the best thing (aside from the unlikely occurrence of the storm dissipating entirely) for the Gulf Coast states is for this storm to hug the land as it goes North, so it won't strengthen. So far, this storm is (lucky for us) a bit of a drizzle.
I'll add updated graphics the rest of today, so we can get an idea of the changes.
The new infrared over visible cloud image shows the start of an eye - that's not good. The storm log also showed a Northern uptick of .2 (longitude) to a Western swing of 1.5 (latitude) that means this storm traveled about 103 miles West and about 14 mile North since 11 am today. This storm is moving at about 17-18 MPH. (There's no change to the surface analysis.)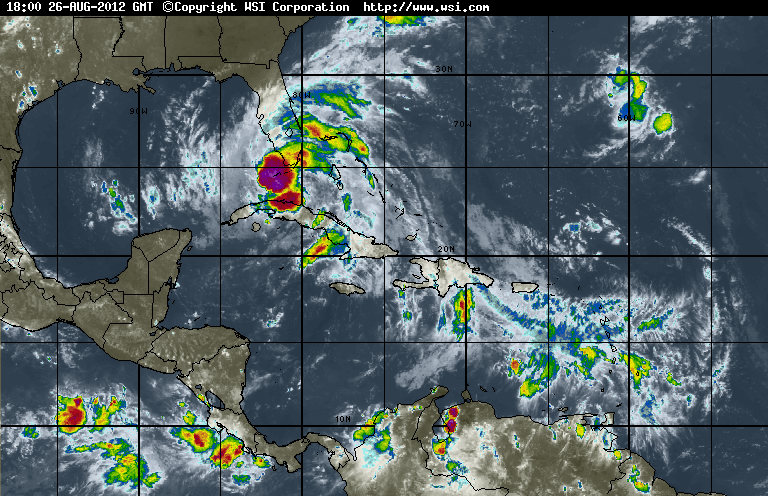 The track still shows close to NOLA, not good. The only good news is the wind speeds are still at 75 MPH and below - we're still a Tropical Storm and not a Hurricane.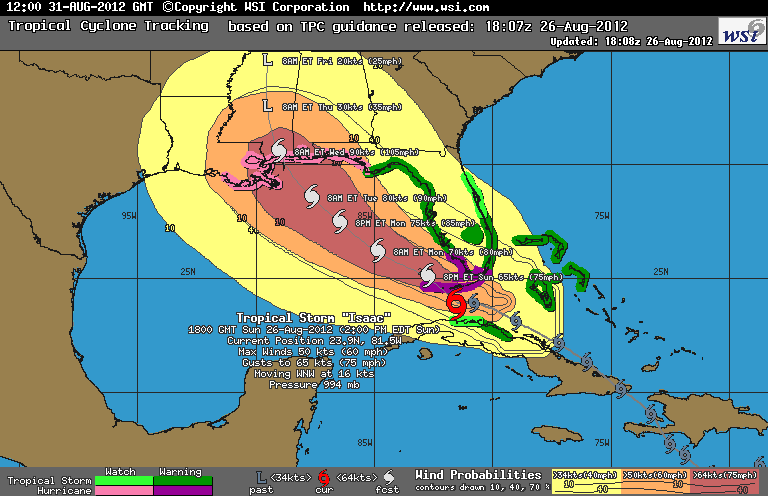 The 5 pm infrared image shows an eye forming. That's not good and the eye is over open, warm water. This storm is strengthening. I'm not as worried about the buildings in NOLA as I am their levees. The updated storm log shows the storm has moved 55 miles West and 20 miles North since 2 pm. This storm is moving at about 18 MPH.
I should have a new track any minute now. The biggest problem with my weather site is that they have a 30-40 minute lag behind NOAA, but I like their images better. The track has more information on it and it's easier to read. The track is showing the storm slowing down it's forward movement which means it can churn over the water longer and get stronger.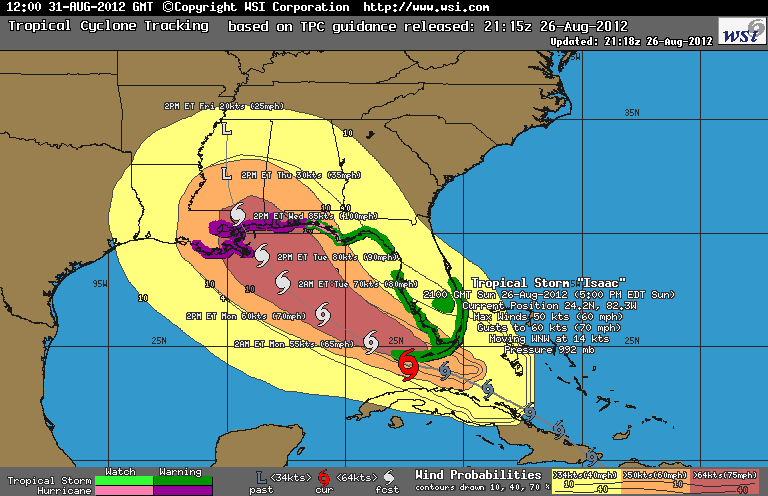 Ok, we had cabin fever. It wasn't blowing or raining, so we went out to eat. It was a good thing we did because the restaurant was dead and we gave a server an unexpected $12 on tip our meal - I've never felt so catered to in a chain restaurant. During dinner we had a minor blow and some rain. Nothing bad, but worse than this morning which is weird because the storm is farther away....until you realize we are now getting the nastier part of the storm. The streets are empty like 3am empty for Hollywood Florida. (Thank you all for staying home.) Anyway, we have the 8 pm update. The eye is trying to become visible, but not yet, which is good news.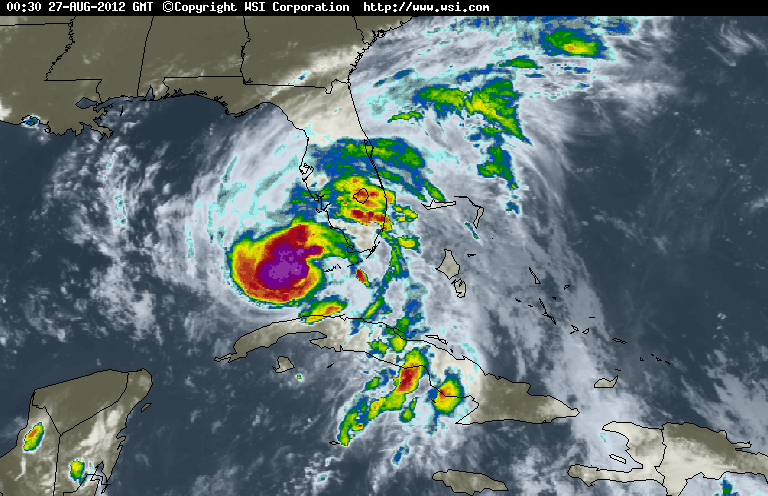 The track is still bad news for NOLA. Isaac is moving slower at about 15 MPH and is still a storm not a hurricane. This probably will change by tomorrow 8-11 am as the bulk of this storm is now over open water. Gulf coast please get your act together. This won't be good for you.
One last thing, according to the storm log, Isaac went South 7 miles and West about 21 miles. Isaac is now moving at about 15 MPH - not fast - giving it plenty of time to build strength.
The 11pm update shows Isaac strengthening, but not moving a lot. That isn't good. The positive part of this image is that the storm seems to have 2 sections. one over land and the other over sea. That leads to a weaker storm. I'm still waiting for the track. The updated analysis comes tomorrow around 7 am EST.
The 8 am track shows the storm has moved a total of 324 miles West and about 180 miles North since 11 am yesterday. Isaac dipped below reporting strength overnight, but restrengthened this morning.
.
The infrared shows the storm lost a chunk of itself over Florida that reduced it's strength.
This will be my last update. I have to work this afternoon and won't be able to update the charts every 3 hours like I did yesterday.
Thanks for the rescue.