Vietnam has taken a step forward in regards to the rights of transgender and intersex people. It has been revealed that Pham Le Quynh Tram is the first person in Vietnam to legally have her change of sex recognized.
Although identified as transgender in the article from Vietnamnet, medical tests in 2006 revealed that she had high levels of female hormones and female characteristics to "his" sex organ. When she had gone through puberty, she had grown breasts, which she had tried to hide by overeating.

After high-school, she studied at two universities at the same time: the HCM City Economic University and the HCM City Banking Institute. She began surfing Internet and making friends online. Thirsting for being a woman, she used a woman nickname and a beautiful girl as her avatar. She chatted and fell in love with a Vietnamese man in the US. Tram has never met him but he is the most influential person in her life.
We chatted and emailed each others. I told him my problem. He was sympathetic with me and encouraged me to seek my true sex.

----Tram
Doctors advised her to go to Thailand for gender reassignment surgery, which she did in 2008.

My family was very poor so I did not have money to go to Thailand. I quit study to work.
She worked as a math, physics and chemistry teacher at prep centers for university entrance examination in HCM City. She used to work 20 hours a day. She raised $250,000 in two years.
I did not tell my family about the surgery when I left Vietnam because I was afraid that I might die in Thailand.
Returning to her home town in Binh Phuoc province in 2009, she applied for permission to change her sex and name on her personal identification papers. That has been granted.
But transgender people in Vietnam are trying to improve the lot of their lives more generally (i.e. not only for those who can prove a degree of intersex and not only for those who have had surgery).
The Viet Nam News page shared the story of Tran Ngoc Ly, 21, for some background. In the story we learn that Vietnam has about 170,000 transpeople among their citizenry.

When a transgender person grows up, they enter into a psychological crisis trying to figure out who they are, while facing discrimination from others at school or in public places because of their differences.

--Dr. Pham Quynh Phuong, Institute for Studies of Society, Economy and Environment
That's not so much different than here in the good ole U. S. of A. Neither is the fact that recent surveys in Hanoi and Ho Chi Minh City show that a large portion of transpeople in Vietnam have experienced persecution.
Ly used to try to hide her gender identity by pretending to be a boy. However, by doing so, all she felt was irritation and depression. Her increasingly subconcious feminine actions and lifestyle choices eventually revealed her gender identity to her high school peers, which Ly describes as the "darkest period" of her life.

Ly recalls the times she had dirty water poured on her and had her test papers and textbooks thrown away by the other kids. She had no friends and couldn't ask anyone for help, not even her teachers whose prejudices made them think Ly had mental problems.

As a result, Ly decided to give up on her study, however, her parents forced her to return to school. They assumed Ly was merely lazy and failed to notice her situation.
But Ly found support on the Internet to pull her through. She even gained enough courage to come out to her parents.
At first, my mother threatened to commit suicide while my father insisted on taking me to hospital to treat my disease.
Life in the family has gotten better since that rough start and her parents now accept her as their daughter.
In the American tradition it is also very difficult for transpeople to obtain employment, so many earn their living through prostitution or performing at funerals. Vietnamese transpeople also have difficulty accessing health services, so many self-treat with hormones and other medicines obtained on the street.
Ly works for the benefit of her community, organizing performances to disseminate knowledge about transpeople to members of the society at large.

We don't beg for their pity, only a fair assessment.

--Tran Ngoc Ly
Sounds familiar.
Experts say it should be legal for transgender people to alter their gender.

According to Phuong, it is necessary to make amendments to decree 88, which regulates redefinition of gender to ensure transgender people have the right to sex transformation surgeries and make changes related to gender in legal documents.

An official from the Ministry of Justice says, like all citizens of the country, the rights of transgender people are always respected, and that related laws are under review to make them more feasible and suitable. However, this is a long process that takes time and effort.
We are like birds. In the cage, the birds still sing. But when the birds are freed from the cage, they sing more. In that case, why not let us be free, too?
--Tran Ngoc Ly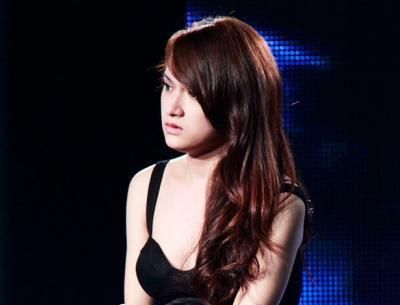 Now Huong Giang, 25, of Hanoi, a finalist on Vietnam Idol, has come out at a transwoman live on national television. Asked by Judge Nguyen Quang Dung if she had previously auditioned for Vietnam idol, Giang hesitated for a few moments before telling the world that she had previously auditioned under the male name of Nguyen Ngoc Hieu. There is also more here.

I really appreciate young people who dare to be true to themselves and other people. Whatever you do, you take responsibility for it.
Asked why she decided to change sexes, Giang responded:
I've got passion for singing and every single change in my life is for art. I didn't change to win love or any kind of happiness. I think this is the real me and I have to change to be myself onstage.

--Huong Giang
Since you once joined this competition, I feel more admiration for you because you were not good in the previous contest. And with such a change, from appearance to voice, I think you did a thing that not everyone can do.

I know you had been afraid of revealing something true about yourself, but we all respect the truth and see no reason for you to avoid the path that you've chosen.

--Quand Dung
There is video of the event, of course in Vietnamese:
For other LGBT people Giang added:

People were born in different circumstances. It doesn't matter how you were born, the point is what you can do with what you were born with. Honestly, I just want to say that destiny is what you can change and don't accept the life that others give you.