This diary was inspired by Melissa Harris-Perry's show on Saturday on MSNBC. If you have not seen it, you can see it here.
NBC newscaster Tom Brokaw has spent much of the past decade writing about the "Greatest Generation", the men and women who fought the Second World War. Fewer and fewer of these veterans remain, and those who do are mostly in their 90s. There is, however, another Greatest Generation whose ranks are thinning by the year. These are the men and women, many of them really just boys and girls, who fought and died for our civil rights, including the right to vote, in the 1950s and 1960s. I would like to pause to remember some of them tonight and suggest that you can honor their sacrifice by making sure that you and everyone you know get out and vote.
The honor role of the Civil Rights movement certainly starts with Rosa Parks who is recognized as the "mother of the modern-day civil rights movement." She refused to give up her seat on a Montgomery public bus to a white male in December of 1955. Her actions led to a boycott of the city bus system that lasted for 381 days. Mrs. Parks, a symbol for all of us, passed away in 2005.
We also remember the sacrifice of three young activists, James Chaney (21), Andrew Goodman(20), and Michael Schwerner (20). In June of 1964, the car in which these three civil rights activists were riding was overtaken on a rural road by members of the Klan. The three men were beaten and shot, and their bodies were buried in an earthen dam.
One of the bravest living members of the greatest generation of the Civil Rights movement is Congressman John Lewis. He joined the Freedom Rides in 1961 while he was still a student at Fisk university. From 1963 to 1966 he served as the Chair of the Student Nonviolent Coordinating Committee (SNC). In 1965, civil rights activists including Rep. Lewis organized a march for voting rights from Selma, Alabama to the state's capital in Montgomery. On "Bloody Sunday", March 7, 1965, Alabama state troopers advanced on the marchers with clubs, whips, and tear gas. Congressman Lewis's skull was fractured. He was one of 58 people who were treated for injuries on that day. The violence helped spur the passage of Civil Rights Act of 1965.
We should also honor the memories of the four little girls who lost their lives in the bombing of the 16th Street Baptist Church in Birmingham, AL. A white man was seen getting out of a car and placing a bomb under the steps of the church on September 15, 1963. The church had been a meeting place for civil rights leaders, including Dr. Martin Luther King. When the bomb exploded, four young girls who were attending Sunday School at the church were killed. They were Denise McNair (11), Addie Mae Collins (14), Carole Robertson (14) and Cynthia Wesley (14). An additional 23 people were injured in the bombing. Two of the suspects in the case, Thomas Blanton and Bobby Frank Cherry, were not indicted for this crime until 2000. Blanton was finally convicted of murder in 2001, and Cherry was convicted of attempted murder in 2002.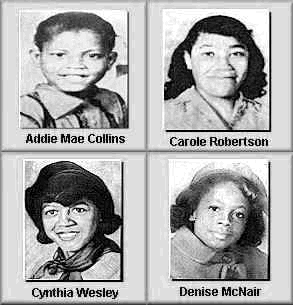 No tribute to the fallen heroes of the civil rights movement can be complete without the inclusion of Dr. Martin Luther King. Dr. King organized the Montgomery bus boycott and led the Southern Christian Leadership conference (SCLC). His Nobel Peace Prize biography states that:

In 1957 he was elected president of the Southern Christian Leadership Conference, an organization formed to provide new leadership for the now burgeoning civil rights movement. The ideals for this organization he took from Christianity; its operational techniques from Gandhi. In the eleven-year period between 1957 and 1968, King traveled over six million miles and spoke over twenty-five hundred times, appearing wherever there was injustice, protest, and action; and meanwhile he wrote five books as well as numerous articles. In these years, he led a massive protest in Birmingham, Alabama, that caught the attention of the entire world, providing what he called a coalition of conscience. and inspiring his "Letter from a Birmingham Jail", a manifesto of the Negro revolution; he planned the drives in Alabama for the registration of Negroes as voters; he directed the peaceful march on Washington, D.C., of 250,000 people to whom he delivered his address, "l Have a Dream", he conferred with President John F. Kennedy and campaigned for President Lyndon B. Johnson; he was arrested upwards of twenty times and assaulted at least four times; he was awarded five honorary degrees; was named Man of the Year by Time magazine in 1963; and became not only the symbolic leader of American blacks but also a world figure.
As we all know, he was assassinated in Memphis on April 4th, 1968. He was only 39 years old.
We must honor the sacrifices of these heroes, and we can do it by making sure that we get out and vote. We cannot let those who would suppress our votes win. Here are some things you can do to make sure that your vote counts.
1. Check that you are registered to vote.
2. Be aware of the voter ID requirements in your state, and make sure that you have the appropriate ID. Help your friends and relatives get the appropriate ID, and be willing to take your elderly friends and relatives to the polls.
3. Vote early if you have an early voting option in your state.
4. Polling places in Democratic districts are often understaffed. Stay in line. If you are at the polling place by the closing time, you have the right to vote. I was the last person to vote at my polling place in NY in 1972. I had cut out of an archaeology lab to take Amtrak and the LIRR home to my polling place in Long Island. I arrived about 3 minutes before the polls closed.
5. I you know that you are registered and your name does not appear on the voting roles, get a court order allowing your to vote. I had to do this in Philly in 1976.
6. If you cannot get to the polls, request an absentee ballot. In NJ, the deadline to request an absentee ballot is on or before October 30, 2012, via mail. In person requests are due by November 5, 2012, at 3:00 pm. You must return your absentee ballots by 8pm on election day in NJ. Check the requirements for your state.
Voting is a right, not a privilege. Right now if looks like President Obama is winning. We must remember 2000. Do not let the Romney team win by suppressing your vote!
Link to Transcripts and Documents.

Donate to re-elect Obama/Biden through ActBlue:
ObamaNightlyNews for Obama/Biden 2012.

Buy Obama/Biden gear at the Obama 2012 Store.

Volunteer at Obama For America to help register voters and participate in GOTV events. And check with your state Democratic Party office to find volunteer opportunities.

Share two sites that help voters in each state:
Gotta Register generates a voter registration form for your state; Gotta Vote explains how to vote early, how to find your polling place, and what to bring when voting in each state. Voters can also download convenient checklists with all of that information and sign up for voting-related reminders.

Obama Nightly News posts every night at 9:00 ET, 6:00 PT