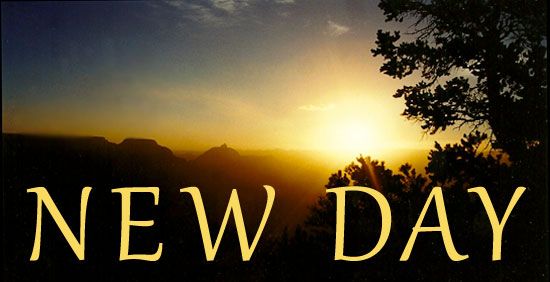 Every day is a new day and with that, a new opportunity.
EVERYONE is welcome and please join us each morning at 7:30 AM PACIFIC
to tell us what you're working on, share your show & tell, vent, whatever you want...
...this is an open thread. Nothing is off topic.



As you all know, smileycreek and I live is a small primarily "red town" in the foothills of the Sierra Mountains. It has a fair amount of what I'd describe as "extreme Tea Party" folk. They meet every Thursday at our recently revamped community park and don't even consider themselves as part of the Tea Party any more.

The Tea Party "wants their country back" claiming the Constitution is no longer being followed while being destroyed by an administration that is, at the very least, socialist in their view. They like the first 10 Amendments but wish to do away with all the others. As we all know, it got rolling along soon after President Obama was elected with the help of FOX NEWS and Americans for Prosperity. So overall, the Tea Party isn't really as grass roots as claimed.

Believe it or not, the folks in our local Tea Party are actually a grass roots group which has concluded it is too liberal in it's beliefs. So they changed their name to the "Federalist Party" because they want to go all the way back to the Federalist Papers becoming the foundation for America...not the Constitution.

These folk mostly dominate the conversation in our local newspaper by way of letters written to the paper and by being the persons chosen to write the "guest editorial" of the day. Our local paper does allow the Democratic view to be expressed as well, but less frequently. Certainly the overall feel of the paper has a strong slant towards the far right views of the the GOP.

John Birch folk are for real here. They moved here in the 1960's...had and still have a fairly strong presence which flourishes to this day in our little mountain town.

So, by now it has become obvious that Myth Romney is destroying his own campaign without any help. Even our local die-hard right wingers can see the reality of the RMoney campaign. Desperation, agitation and anger by that group about that situation is apparent now in our fairly insulated little town. They are vocal and pontificate a lot. Some are starting to act it out in little ways beyond the letters they write to our local newspaper or their rants at the check out stands in stores.

I have an Obama 2012 bumper sticker on my car. I also have a little window sticker that says, "Compassion is Revolution," and another small window sticker that says, "Amend 2012 - Only People are People."

Normally, I've felt it's been just fine for me to drive around my little town with these messages on my car. In the past few days however, I've noticed something new as I drive around town. Occasionally when I am at a stop light, the vehicle that ends up behind me (often a truck or SUV in our neck of the woods) keeps inching closer and closer until almost right up to my bumper. It is obviously purposeful and invading "private space." Even in our vehicles, we all have that feeling when someone gets way too close to our rear bumper. And when I look through my rear view mirror I see looks of anger and disdain looking right back at me. I've had my Obama 2012 bumper sticker on since April, and this phenomenon hadn't been happening until recently.

I was inspired to write about this today due to a small event that happened yesterday while I was driving down to Chico to my office. An SUV came up behind me at a stop light, then inched closer right up to my bumper...rolled back...changed lanes (I was in the left lane. He moved to the right lane at an intersection where both lanes can turn left). He then actually took off just before the light changed to green. He did so to be able to then get in front of me...then hit his breaks forcing me to do the same. He had two big window stickers on his rear window. One read, "Romney Right." The other read, "NOT NOW," with both "O's" being Obama's 'O." He also had one bumper sticker that read, "Don't ReNig." Clearly he was reacting to the Obama 2012 bumper sticker I had and did what he did to make sure I would clearly see the messaging on his SUV.

I assume we may all be experiencing some interesting behaviors by folks where we live, since the Romney campaign has become a disaster. My experience, I'll assume, is on one end of that spectrum because I live in such a small and insular town dominated by Republicans. I hope others live in areas where there is a buoyancy in the feeling being experienced now.





How does it feel now where you live, since the "47%" Myth Romney video was released? Does it feel different in any way from a couple weeks ago?





I'm listening.

~~~
Latest Updates on Kossack Regional Meet-Up News Below the Fold
COMMUNITY BUILDING UPDATES:
Let's build communities!

Every region needs a meat-space community like SFKossacks.
We take care of each other in real life.
I urge YOU to take the lead and organize one in your region.
Please tell us about it if you do and we're here for advice.
~
THINK GLOBALLY, ACT LOCALLY

ALERT!

NASHVILLE IS CURRENTLY ORGANIZING DEBATE WATCH PARTIES: See this diary, HEY NASHVILLE! Who wants to have a debate watch party? by Patrick is Lucky to vote for dates and sign up.

For a permanent place in Nashville events Kosmail ZenTrainer, founder of Nashville KosKats.


ALERT!

BALTIMORE IS CURRENTLY ORGANIZING DEBATE WATCH PARTIES: See this diary, Next Baltimore Kossack meetup by sreeizzle2012.

To join Maryland Kos send sreeizzle2012 a Kosmail.


:: Regions Organizing! ::
NEW GROUPS IN THE PROCESS OF ORGANIZING:

Portland, Oregon Area: Kosmail: Horace Boothroyd III to be included in the group.

Cleveland and Northeast Ohio Area: Kosmail: GenXangster

~~~
These are the groups that have started since * NEW DAY * began. Please Kosmail navajo if you have started a group before that.
NEW GROUPS LIST:

• California Central Valley Kossacks
Organizer: tgypsy

• New England Kossacks
Organizers:
Clytemnestra (Connecticut, Massachusetts and Rhode Island)
Common Sense Mainer (Maine, New Hampshire and Vermont)

• Houston Area Kossacks
Organizer: Chrislove

• Kossacks in India
Organizer: chandu

• CenTex Kossacks
Organizer: papa monzano Current diary: Meet-up Planning Take 1

~~~
ESTABLISHED GROUPS LIST: (List will grow as we discover them)

• SFKossacks Founded by navajo, Formed: May 2, 2005, More than 80 members

• Maryland Kos Founded by timmyc, Formed: Feb 23, 2011, More than 54 members

• New York City Founded by Eddie C, More than 58 members

• Baja Arizona Kossacks Founded by buddabelly, Formed: Feb. 13. 2011, 90 members

• Three Star Kossacks Founded by maryKK, Formed: Apr 8, 2011, 46 members

• Nashville KosKats Founded by ZenTrainer, Formed: Jan 30, 2012, 28 members

• Virginia Kos Founded by JamieG from Md, Formed: May 3, 2011, 67 members

• Kos Georgia Founded by pat208, Formed: Feb 13, 2011, 18 members

~~~
:: Events Currently on the Books for ALL Kossacks ::



Monday, October 1st
NYC MEET-UP

TIME: 6:30 PM
LOCATION: The Three Monkeys
236 W 54th St., between Broadway and 8th Ave.
(212) 586-2080
UP ON THE DECK!

HOST: Sidnora

Send Sidnora a Kosmail to RSVP.

RSVPs:
1. sidnora
2. plf515
3. clenchner
4. Cherry the Tart
5. Laura Clawson
6. Arjun Jaikumar
7. It's the Supreme Court, Stupid
8. blue jersey mom
9. rubyr
10. MBNYC
11. Ian Reifowitz
12. kathny
13. kathny's friend
14. kathny's friend


Maybes:
casperr
Torta
mconvente
Belinda Ridgewood


Latest diary about this event: 10/1: NYC Meetup on Deck!

EVERYONE is welcome!
~~~
Saturday, October 13th

Cheers & Jeers Meet-Up

TIME: 1:00 - 4:00 PM
LOCATION: Margaritas Mexican Restaurant
775 Lafayette Road
Portsmouth, New Hampshire

HOSTS: Common Sense Mainer and Bill in Portland Maine

Send Common Sense Mainer an email at cuckolds04103@gmail.com to RSVP. (He prefers his email listed.)

Affirmative RSVPs thus far:
1. Common Sense Mainer
2. Bill in Portland Maine
3. Clytemnestra
4. polisigh
5. Brillig
6. Mik
7. K1
8. K2
9. Simple
10. fennster
11. commonmass
12. GreenMountainBoy02
13. Sadiesue
14. rick deville
15. bouidi08
16. bjedward
17. mayim
18. debbie in ME


Maybes:
1. kestrel9000
2. nhox42
3. lorelehi
4. cailin ard
5. knautical knots
6. Linda
7. paulitics
8. moody loner
9. mommyp00ka
10. jarbyus
11. DamselleFly
12. BobBlueMass
13. radical simplicity
14. Not the Username I Wanted
15. lurker
16. annieli

Latest diary about this event: New England Kossacks Meet up.

~~~
Friday, October 19th

SFKossack Red Carpet Rollout for Dave in Northridge

TIME: 1:00 PM
LOCATION: Yank Sing
Rincon Center
101 Spear St.
San Francisco

HOST: navajo
Send navajo a Kosmail to RSVP.

RSVP LIST:
1. Dave in Northridge
2. navajo
3. Lorikeet
4. Steveningen
5. jpmassar
6. kimoconnor
7. norm (Maybe)
8. MrNavajo
9. remembrance
10. Glen the Plumber

11. Dharmasyd
12. boatsie
13. side pocket
14. FogCityJohn
15. Kamakhya
16. Frugal Granny
17. madhaus (maybe)
18.
19.
20.
~~~
Monday, October 22nd

DAILY KOS HQ: SFKossacks watch the final Presidential Debate Party

TIME: 5:00 PM Pacific
LOCATION: Daily Kos Office
Berkeley (address will be given to RSVPs by Kosmail)
5 min. walk from Ashby BART

HOSTS: Markos and navajo
Send navajo a Kosmail to RSVP.

RSVP LIST:
1. Markos
2. Susan Gardner
3. Kaili Joy Gray
4. Faith Gardner
5. Will Rockafellow
6. Meteor Blades
7. navajo
8. citisven
9. Glen the Plumber
10. jotter
11. kimoconnor
12. jpmassar
13. norm
14. precinct1233
15. Ebby
16. lineatus
17. ceebee7
18. Dharmasyd
19. madhaus
20. [anonymous]
21. [anonymous]
22. remembrance (maybe)


23. paradise50 (maybe)
24. Jeff in CA
25. Kamakhya
26. side pocket
27. Mary Rickles
28. mwk
29. boatsie
30. shanikka (maybe)
31. shanikka's DAH (maybe)
32. mber
33. Cathie
34. The Awful Truth
35. Lorikeet
36. dksbook
37. mr. dksbook
38. The dksbook's SIL
39. Pluto (maybe)
40. cooper888
41. GotMooned
42. Raven Brooks
43. Navi Ganancial
44. Melissa

~~~

DailyKos readers who live and/or work in New England
(Connecticut, Maine, Massachusetts, New Hampshire, Rhode Island, and Vermont)

TENTATIVE DATE: Saturday, November 10th
New England Kossacks MEET-UP

TIME: TBD
LOCATION: Plymouth, MA
Address TBD

HOST: Clytemnestra

Send Clytemnestra a Kosmail to RSVP.

Everyone is welcome!

We will be collecting donations for the Native American Netroots project Okiciyap at this Meet Up.

RSVPs:
1. Clytemnestra
~~~
Saturday, November 10th
Northern California Central Valley Kossacks Potluck Lunch

TIME: TBD
LOCATION: Kestrel's home
There will also be a pre-meet up birding adventure at Yolo Bypass Wildlife Area.

HOSTs: tgypsy and Kestrel

Send tygypsy a Kosmail to RSVP.

Everyone is welcome!

RSVPs:
1. tygypsy
2. Kestrel
3. Sally Cat
4. Mr. Cat
~~~
Send navajo a kosmail if you post a diary about an event so we can update our round-up.
~~~
Okay. Floor's open.
Tell us what you are doing on this NEW DAY?