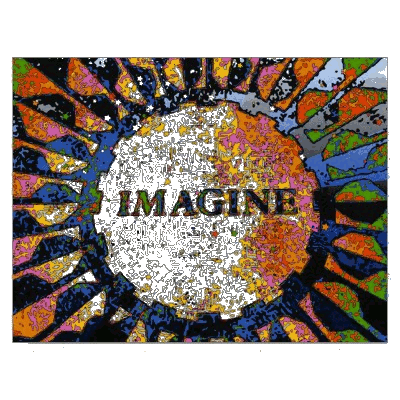 Welcome! "What's Happenin'?" is a casual community diary (a daily series, 8:30 AM Eastern on weekdays, 10 AM on weekends and holidays) where we hang out and talk about the goings on here and everywhere.
We welcome links to your writings here on dkos or elsewhere, posts of pictures, music, news, etc.
Just about anything goes, but attacks and pie fights are not welcome here. This is a community diary and a friendly, peaceful, supportive place for people to interact.
Everyone who wants to join in peaceful interaction is very welcome here.
---
Good Morning!
A Christmas hat is place on a MQ-9 reaper at the 62nd Expeditionary Reconnaissance Squadron, Dec. 16, 2011. The MQ-1 and MQ-9 were both dressed for a group photo embracing the holiday spirit. (U.S. Air Force photo by Senior Airman Corey Hook via DVIDS)
"My father was asleep in the hujra as usual after a normal day, and I was studying
nearby. . . . I had liked studying in the hujra, because it is peaceful and quiet. There was
nothing different about our routine in the prior week."

"[When we got hit], [m]y father's body was scattered in pieces and he died immediately, but I was unconscious for three to four days. . . . [Since then], I am disabled. My legs have become so weak and skinny that I am not able to walk anymore. . . . It has also affected my back. I used to like playing cricket, but I cannot do it anymore because I cannot run."

"I have two younger brothers, who are both unemployed, and I don't have a father and I
am disabled. I have been completely ruined. . . . [My brothers] can't go to school,
because I can't afford to support them, buying their books, and paying their fees. They
are home most of the day and they are very conscious of the fact that drones are
hovering over them. [The presence of drones] intimidates them."

"If the drones had not become routine and my father had not died and I hadn't lost my
leg, today I would have completed my MA in Political Science." Waleed explained, "I
can't dream of going back to college."

~ Waleed Shiraz, 22, was pursuing a Bachelor of Arts in Political Science and
taking various foreign language courses before he became disabled. -- "Living Under Drones" (PDF)
---
Zombie ~ The Cranberries


But you see, it's not me, it's not my family
In your head, in your head they are fighting
With their tanks and their bombs
And their bombs and their guns
In your head, in your head, they are crying

Drop in
any time
day or night
to say hello.

---
News and Opinion
Don't assassinate me, bro.
What the drones protest march in Waziristan aims to achieve
Sports star turned politician Imran Khan and civil rights lawyer Clive Stafford Smith will highlight US drones' innocent victims

The British civil rights lawyer Clive Stafford Smith and international cricketer turned politician Imran Khan will begin a peace march on 7 October into Pakistan's Waziristan region. Their aim is to highlight the plight of innocent people killed or injured by US drones.

Smith took the precautionary measure of writing to President Obama and his CIA director, David Petraeus, informing them about the march. In the letter, he requested that the president ensure the names of him and the other marchers would not be on the weekly kill list the president reviews, along with security officials, in the White House situation room. Smith wrote:


"Please remember that you and I are both lawyers from the same tradition, and it would be unseemly (as well as being both illegal and upsetting for my family) if you were to authorize my assassination."
South Waziristan rally: Imran vows to go ahead with anti-drone march

ISLAMABAD: Pakistan Tehreek-e-Insaf (PTI) chief Imran Khan on Thursday insisted a planned "peace march" to South Waziristan would kickoff on October 6 despite security fears and doubts over whether the authorities would allow it.
[ ... ]
Imran, who plans to lead a convoy from Islamabad to South Waziristan on the weekend to protest against US drone strikes, said that no one could stop the peace march, adding that President Asif Ali Zardari would be directly responsible for any untoward situation.
"Drone strikes are a crime against humanity. The whole world will be told how drones are destructive and counterproductive through this march," Imran told a news conference here, adding that the Taliban had given their agreement through intermediaries in the tribal areas.
From The Nation, in Pakistan.
Drone attacks must end

Meanwhile, there has been an encouraging development on the issue. A visiting American delegation that promotes peace handed over a letter to the American embassy at Islamabad urging an immediate halt to the drone strikes in compliance with American and international laws. The head of the delegation Anne Wright representing Just Foreign Policy handed over the letter signed by 52 highly respected personalities including, writers, professors, a Nobel laureate and film producers to US chief of mission Richard Hoagland. In addition to this, another document signed by 3,000 US citizens seeking end to these raids was given to him. While there is every likelihood this appeal, as all previous ones, will fall on deaf ears; but the calls for them to end continue and are growing in volume.
Imran Khan: I will order air force to shoot down drones
Imran Khan has promised to order the Pakistan Air Force to shoot down American drones if he takes power in a general election due in the first half of next year.

He has emerged as a serious contender for power after a decade and a half in the political wilderness since retiring from cricket and is now one of the country's most outspoken critics of America's use of unmanned aircraft.

In an interview with BBC Radio 4's Today programme, he said the attacks were pushing young men in the arms of Taliban recruiters.
[ ... ]
"At first I will strive to convince the US to stop these attacks but if they refuse to do so I will ask our air force to shoot down drone intruders," he said.
"It is totally counterproductive," he said. "The [idea] that it is only killing al-Qaeda is a myth," he said. "The people will tell you that the vast majority of people killed are either innocent civilians or some sort of low-level militants."
UN IP group tells Pirate Party: You can't even watch
One report says pirate NGO barred by request of US, France, and Switzerland.

In Germany, the Pirate Party has sent a candidate to a state senate; in Sweden, the party has actually elected members of the European Parliament. But whatever its successes, the Pirate Party still won't be able to sit in on proceedings of the World Intellectual Property Organization (WIPO), a UN body that sets international rules for trademarks, copyrights, and patents. (WIPO also resolves certain disputes over who should control Internet domain names).

In a closed-door session yesterday, WIPO officials approved several groups for observer status, butdelayed ruling on the Pirate Party's application. The delay will be until at least 2013, and comes despite the fact that the WIPO director-general recommended approval. The application came from Pirate Party International, a non-government organization that represents the major European pirate parties (political parties themselves can't apply.)
Lehman brokerage, Europe units settle $38 billion of claims

(Reuters) - The brokerage unit and a European unit of the former Lehman Brothers Holdings Inc said Friday they have agreed in principle to resolve litigation over $38 billion of claims, a step toward allowing customers and creditors some of their money. [ ... ] In March, the Lehman parent company emerged from bankruptcy protection after 3-1/2 years in Chapter 11.
Nutter apologizes to woman punched by officer at parade

Mayor Nutter on Thursday extended a personal apology to the woman who was "cold-cocked" by Philadelphia Police Lt. Jonathan Josey in an incident that was captured on a cellphone video and gained national notoriety this week.
[ ... ]
Nutter said he fully supported Ramsey's decision to fire Josey, who on Wednesday was suspended for 30 days with the intent to dismiss. Josey is a 19-year veteran of the department who was assigned to the Highway Patrol Unit.

John McNesby, president of Fraternal Order of Police Lodge 5, has said that the union would appeal the decision and that he was optimistic that Josey would get his job back.
U.S. Jobless Rate Declines to 7.8%; 114,000 Jobs Added

The unemployment rate in the U.S. unexpectedly fell to 7.8 percent in September, the lowest since President Barack Obama took office in January 2009, as employers took on more part-time workers.

[ ... ]

The unemployment rate, derived from a survey of households, was forecast to rise to 8.2 percent, according to the survey median. Estimates ranged from 8 percent to 8.3 percent.

[ ...]

The so-called underemployment rate -- which includes part- time workers who'd prefer a full-time position and people who want work but have given up looking -- held at 14.7 percent
---
Blog Posts and Tweets of Interest
The Evening Blues - 10-4-12
The President Agreed With Mitt Romney on Social Security in the Debate
If I Never See You Again
Gone to The Biscuit
Ten Years Ago Congress Began Debate Over the Iraq War Congressman Dennis Kucinich
In search of the Afghanistan war
Daily Kos member and Wreck List guildie under attack by Maine GOP for playing World of Warcraft



---
CRANBERRIES - WAR CHILD
War child, victim of political pride
Plant the seed, territorial greed
Mind the war child
We should mind the war child
---
We believe in fighting with another purpose -- waging peace.
While we will write and debate about many topics on our new site, one that will always be in sharp focus is the issue of war and peace.
"Like any other people, like fathers, mothers, sons and daughters in every land, when the issue of peace or war has been put squarely to the American people, they have registered for peace."
~ Paul Robeson