Yeah, yeah, yeah. I know that Rep. Darrell Issa seems almost unbeatable to you Kos people and yes, the 49th district. Yes, the district is red and not blue and it's not what you guys consider a real race, unlike the Congressional races happening elsewhere in California where Democrats have a great chance at unseating Rep. Dan Lungren and Rep. Brian Bilbray of all people.
However, something to keep in mind: Darrell Issa has been getting A LOT of bad press lately and that is not working to his advantage. Whether or not you think the CA-49 race is winnable, Issa's credibility is going down fast, faster than Chris Christie's ability to be bipartisan with President Obama in the effort to clean up Hurricane Sandy (which by the way is becoming very strong and surprisingly effective.
Here's a bit of information you might want to know about Darrell Issa. Strong in-depth article by Bloomberg:
Issa's Barrage of Allegations Triggers Campaign Disputes
By Laura Litvan - Oct 31, 2012 9:00 PM PT

Republican Representative Darrell Issa has many questions he wants President Barack Obama's administration to answer: Why wasn't more security outside the Benghazi consulate? Is the White House encouraging federal contractors to flout the law by not sending pre-election layoff warnings to workers who may lose their jobs to spending cuts?

Was Medicare funding manipulated to hide the effect of reductions on senior citizens until after the election? Where are the rest of the documents he demanded on "Operation Fast and Furious?"
Enlarge image Issa's 'Onslaught of Allegations' Primes Election-Year Disputes

Representative Darrell Issa summoned his committee back to Washington for an Oct. 10 hearing into the Sept. 11 attack on the U.S. consulate in Behgazi, Libya, that killed Ambassador Chris Stevens and three other Americans. Photographer: Joshua Roberts/Bloomberg

Issa, 59, is chairman of the House Oversight and Government Reform Committee, a panel whose investigative mandate gives him room to roam with such inquiries. His fellow Republicans praise his questions as incisive. Many Democrats dismiss them as a partisan effort to help Republican presidential nominee Mitt Romney defeat Obama on Nov. 6.

"When I look at the timing of the Libya hearing and all this other activity around the election, I think it becomes blatantly clear that this is an effort to boost the chances of Governor Romney," said Representative Elijah Cummings of Maryland, the oversight panel's top Democrat. "It's just an onslaught of allegations."
By the way, don't you guys see how stressed and worn out Darrell Issa looks in this picture. It seems like this year he's been on fire most of the time but seems to be overworking himself to the point where he's loosing it. I don't know what's going on in his head.
Yep, Operation Fast and Furious. We know now that U.S. Attorney General Eric Holder has been cleared of any wrongdoing or blame thanks to the department's own Inspector General. You'd think this would stick with Darrell Issa. NAH, it doesn't.

Republicans on the committee call Issa a determined watchdog facing off against an executive branch centered on helping to re-elect Obama. Issa's spokesman, Frederick Hill, didn't respond to multiple e-mail and phone requests to interview Issa.

"They're criticizing us for playing politics," said Representative Jason Chaffetz, a Utah Republican who heads the committee's national security subcommittee. "What would be political would be if we didn't do our jobs because there's an election."
Darrell Issa is a determined watchdog? A watchdog of what? Partisan B.S.? Where was Issa when the War in Iraq was being done? Where was Issa when the Republicans were bringing up huge amounts of debt to the U.S. budget during a time when NO Republican (except maybe Ron Paul and Lincoln Chafee) was criticizing the party for being rubber stamps to President Bush's administration. Watchdog, oh sure: For ensuring the GOP is the party that talks out of its butt and claims its conservative when he's really about self-centered "conservatism." Give me a break!
And for Jason Chaffetz, my god, he's Darrell Issa's wingman. If the two were ever at a peace conference and chatting with women figures, they would be worse than the Roxbury Brothers on SNL. I don't think any chics would dig their ideology, especially considering Issa didn't allow Sandra Fluke to testify in the hearing on contraception earlier this year.

Election Season

While most House members are campaigning to keep their seats during Congress's pre-election break, Issa has focused on lobbing pages of pointed questions in letters to Obama and his administration. Issa won his last election with 63 percent of the vote and has raised $2.1 million in his re-election race against a novice Democratic challenger, Jerry Tetalman, who had raised $113,000 by Sept. 30.

Issa summoned his committee back to Washington for an Oct. 10 hearing into the Sept. 11 attack on the U.S. consulate in Benghazi, Libya, that killed Ambassador Chris Stevens and three other Americans.

A State Department official, Eric Nordstrom, testified that he had raised concerns about security for U.S. personnel in Libya and was turned down when he requested that a detail in Tripoli extend its stay in the country. That and other testimony shed light on the attacks, Chaffetz said.
Again, Mr. Issa and Mr. Chaffetz, where's your real fire? Why aren't you investigating the real corruption, like in Wall Street or big banks? Ahhh, I understand, those guys are supporters of your campaign contributions. Nevermind!
See, this is why Jerry Tetalman is running: He's actually authentic and real whereas you bozos are caught so much in your own ideology, you don't care what anyone else thinks unless they're supporting you!

'Exploit a Tragedy'

Democrats said they were denied access to a key witness and to documents, and that the hearing was designed to emphasize an issue Romney is using in the effort to damage Obama's credibility on foreign policy.

"Was this nothing but a blatant attempt to embarrass an administration and to exploit a tragedy?" Representative Gerald Connolly, a Virginia Democrat who serves on the committee, said in an interview. "You bet."

Issa isn't the only example of an assertive oversight committee chairman with a partisan bent. Representative Henry Waxman, a California Democrat who headed the panel when Republican George W. Bush was president, investigated waste and fraud in the Iraq reconstruction effort and whether the White House use of Republican National Committee e-mail accounts violated a law requiring preservation of presidential records.

Representative Dan Burton, an Indiana Republican, deluged the administration of President Bill Clinton with subpoenas when he ran the committee.
Yes, Dan Burton. He may be a great advocate for the autism awareness community but we're glad he's leaving Congress soon. Isn't he retiring?
Unusually Aggressive

Issa's actions are unusual because of the flurry of activity in the weeks before an election, said Joel Aberbach, a political science professor at the University of California at Los Angeles who has studied congressional oversight.

"I don't think it's common with the aggressiveness that Issa has exhibited," Aberbach said in an interview.

Issa's multiple inquiries are natural considering he's examining what he sees as the administration's pre-election maneuvers, said Michael Franc, vice president of government relations at the Heritage Foundation, a Washington policy center often cited by Republicans.

"Issa believes the administration is systematically using all the tools in the president's toolbox to further his re- election chances," Franc said in an interview. "Some of those investigations may show that was the case. In other cases, he may drill a few dry holes."
Yes, Darrell Issa believes the Obama administration wants to further its re-election with this whole Libya situation and the Fast & Furious situation. Blah, blah, blah, blah, blah. So Mr. Issa, whatcha going to say now considering that New York Mayor Michael Bloomberg has endorsed President Obama for re-election and that your own keynote speaker at the Republican National Convention has praised Obama's efforts in helping him handle the aftermath of Hurricane Sandy? "Um, I don't know! I still want to hold Obama's feet to the fire!" Yes, Mr. Issa, we know you do. We know you do. Feels good, doesn't it?
'Step Away'

A Lebanese-American born in Cleveland, Issa was twice charged with auto theft as a young man. The charges were dropped both times. He made his fortune from an electronics business selling the Viper, an anti-theft device for automobiles. His is the deep voice that warns, "Please step away from the car."

Issa is among the wealthiest members of the House, according to the Center for Responsive Politics, a nonpartisan research group in Washington. He reported a net worth of $195.4 million to $700.9 million in 2010, when the center last identified the richest lawmakers.

Elected to the House in 2000, Issa attracted attention on the oversight committee before he became its chairman last year. In 2010, as the panel's top Republican, he grilled Treasury Secretary Timothy Geithner about his role in the $182 billion bailout of insurer American International Group Inc. (AIG)
Let's see: You put the blame solely on Tim Geithner but you don't investigate former President Bush Treasury Secretary Hank Paulson, the one who ordered the bank bailout in the first place? Hmmm, gee, I wonder why?
'Corrupt' Administration

Three days before Republicans took control of the House on Jan. 5, 2011, Issa appeared on CNN to declare Obama's "one of the most corrupt administrations."

Under Issa, the panel and its subcommittees have held more than 190 hearings on such topics as Obama's $831 billion economic stimulus, the Dodd-Frank financial overhaul and the effects of greenhouse-gas emissions.

Until the Libya hearing, Issa's highest-profile probe was his investigation of the "Fast and Furious" operation intended to track guns illegally flowing to Mexican drug cartels. Issa suggested the operation, which resulted in some illegally purchased firearms from the U.S. winding up at crime scenes in Mexico, might have been intended to boost prospects for tougher gun laws.

The House followed Issa's panel in citing Attorney General Eric Holder for contempt of Congress after the administration refused to turn over documents the lawmaker sought by subpoena. While the Justice Department says it provided more than 7,600 pages of documents, Obama asserted executive privilege in withholding papers describing internal Justice Department discussions after the operation.
HAHAHAHAHAHAHAHAHAHAHAHAHA. HAHAHAHAHAHAHAHAHAHAHA. Oh my god, Mr. Issa, you're killing me in laughter. President Obama's administration most corrupt in history? Oh my god, you are killing me! So funny! NOT!
Seriously man, how can someone who win the Nobel Peace Prize be corrupt? Did you not even know what happened in the previous Bush administration? "Uh duh, they were fine." Um no, they weren't!

Medicare, Defense

On Medicare, Issa has said the administration may have misused bonus funds to delay the effects of budget cuts on senior citizens until after the election. On layoff notices, he wants to know about the administration's role in persuading defense contractors led by Lockheed Martin Corp. (LMT) to drop plans to warn workers their jobs may be lost if automatic cuts start in January.

Some of Issa's tactics have left openings for his critics.

After he and Chaffetz released 166 pages of State Department communications on Libya that were labeled "unclassified but sensitive," Democrats said the Republicans failed to black out the names of Libyans who were working with the U.S., exposing them to danger.
Geez, where did you get your information from? Rush Limbaugh? Alex Jones of Infowars.com? Bozo the Clown? WHO?!
Identifying Libyans

"In their rush to make news they've exposed Libyans who were working side by side with America," Senate Foreign Relations Committee Chairman John Kerry, a Massachusetts Democrat, said in a statement.

The Libyans identified in the documents worked in jobs where they would interact with Westerners anyway, Issa said in an Oct. 20 statement.

"Obama administration officials and their surrogates are clearly reeling from revelations about how the situation in Benghazi was mishandled and are falsely politicizing the issue in a last-ditch effort to save President Obama's re-election effort," Issa said.

Issa produced a backlash in February when he convened an all-male panel to discuss contraceptive coverage for women as part of Obama's health-care legislation. He refused to hear Sandra Fluke, a student at Georgetown University Law School in Washington who Democrats proposed as a witness. She went on to become an Internet sensation -- and a speaker at Obama campaign events -- after she was attacked in crude terms by radio host Rush Limbaugh.

Chaffetz, the committee Republican, said Issa should be praised for his persistence by Democrats who chanted "Work! Work! Work!" on the House floor when Republican leaders put the chamber in recess for the election season.

The Democrats "can't have it both ways" by complaining, he said, as Issa keeps working away.

To contact the reporter on this story: Laura Litvan in Washington at llitvan@bloomberg.net

To contact the editor responsible for this story: John Walcott at jwalcott9@bloomberg.net
Aye, Mr. Chaffetz, were you on the train when they handed out brains? Seriously man, when you say the Democrats can't have it both ways by complaining, do you think we're stupid?
Anyway, enough of the article! Now is time to channel your frustrations and help Jerry Tetalman hold Darrell Issa's feet to the fire. Believe me, Tetalman is THE best candidate that California's 49th Congressional District has ever had. It's possible he may not win this election cycle but that doesn't mean it cannot happen. Tetalman is not going down without a fight and darn it, if you guys are so busy getting pissed at Darrell Issa, where's the fire in your belly for progressive causes? Are you going to let the lame DCCC and DNC and pollsters determine who is truly a great candidate?
Nah, didn't think so. Good! Now on to work! Now is the time to start taking action! Behold the fundraising plea!

ONLY 6 DAYS TO GO!
View it in your browser.
COUNTING DOWN...
First of all, WOW.

Our grassroots supporters are flooding the GET OUT THE VOTE! program with contributions, and we are SO close.

We're only $4,887 away from reaching our goal!

Our ads will make a difference, but the dollars are tight. And every single dollar you give is going to fund them. So let's do this!

Will you help us reach our goal by contributing $25, $50, $100, or the most you can give today? Click here:

https://secure.actblue.com/...

Thank you in advance for your generosity, our campaign has been humbled by your past and continued support.

Team Tetalman
Follow on Twitter https://twitter.com/...
Friend on Facebook https://www.facebook.com/...
Copyright © 2012 Jerry Tetalman for Congress, All rights reserved.

Our mailing address is:
Jerry Tetalman for Congress
300 Carlsbad Village Dr. #4 Ste 108A
Carlsbad, CA 92008
Come guys, shake up the 49th district! Shake it! Shake it! Shake it! I know there are a lot of Republicans but come on, are you going to let them have a strangehold over a district located in a cool area by the sweet California beach shores? I mean, DUDE, I totally don't want to surf man and have to find out nutty conservatives are going to take away my board man. That's totally uncool!
Here are the voices of the 49th district:








And here are some pretty good videos of pro-Tetalman supporters!
Sandra Fluke at Planned Parenthood Rally in San Diego:

And some radio ads:
Sandra Fluke Radio ad:

Nurses Unio Radio ad:

And of course, the man himself, Jerry Tetalman:
Tetalman at U.S. Postal Worker Protest at Darrell Issa's office in Vista, CA:

Tetalman at Planned Parenthood Rally in San Diego:

Tetalman on San Onofre (he doesn't want the nuclear plant to be reopened):

Tetalman at News Conference on Darrell Issa's anti-environmental policies:

People have asked me: Is Jerry Tetalman committed to the long term progressive cause for the 49th district not just in this election but after it? Is Tetalman going to simply give up fighting if he looses this election and not run again in 2014?
The answer: Yes on the first question, no on the second one. From talking to Tetalman myself (and I did speak with him on the phone several weeks ago for an interview), I can tell you that without a doubt Tetalman won't give up after this election. Believe me, he IS a fighter. He's been doing this activism since he was in the 1970's when he was in Ohio and protested against the Vietnam War. It's in his BLOOD.
If Tetalman loses on November 6th, no worries! It's not the end of the world! He'll get some rest, ease down after all the campaign, go back to work and live life a little. Then of course, people like myself on Kos and others will come back in 2013 and draft Tetalman to run again for Congress. There's a high percent chance he WILL in the worst case scenario. I mean, Tetalman out of all the candidates in the Democratic primaries in the 49th District (and there were three of them including him) got 33% of the vote. He's even fought longer on the issues than Dennis Kucinich and even Tetalman is like Kucinich except more calm and diplomatic (and more experienced on the issue of piece. He's no ordinary 49th District Congressional candidate and we're going to make sure he gets in Congress, whether in 2012 or in 2014!
I mean, REALLY, how can you not support a man who has appeared in Bali with Desmond Tutu and has been active in a number of peace conferences around the world? Shoot, if Tetalman is elected, he'll need to be guaranteed a seat in the House Foreign Affairs Committee. He'll be a real asset there!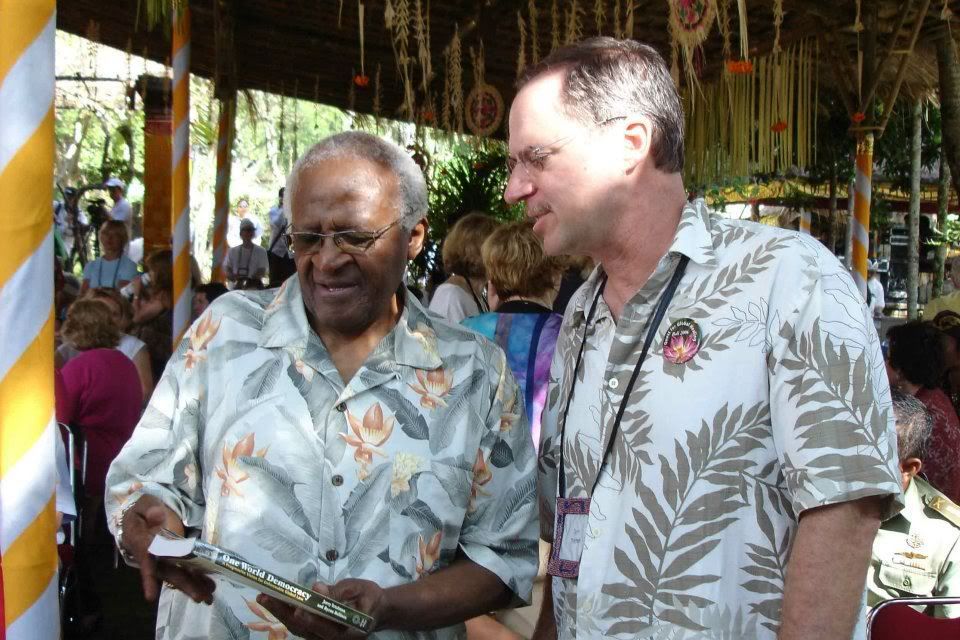 Now guys, the following:
Jerry Tetalman for Congress:
http://jerryforcongress2012.com/...
Donate:
https://secure.actblue.com/...
Volunteer:
http://jerryforcongress2012.com/...
Now get to work!