Elise Foley reports the first wave of exit polls show Latino voters are making up 10% of the overall electorate, a new record, and up from 7.4% in 2008 according to Exit Polls: Latino Voter Turnout Up.


Experts predicted record Latino voter turnout this year, and according to exit polls, they were right. CNN reported that Latino voters made up 10 percent of the overall electorate in early exit polls.

Latinos made up 7.4 percent of the overall vote in 2008, according to Pew Hispanic Center, and helped propel President Barack Obama to victory. Last time around, Obama won 67 percent of the Latino vote, and it's possible he'll win an even larger percentage this year. A tracking poll released Monday by Latino Decisions found that 73 percent of those voters support Obama, versus 21 percent who support Mitt Romney.

Elise Foley wrote an earlier article predicting this in Latino Vote Poll Trackers Predict Record Turnout

The weekly tracking poll found 87 percent of Latino voters say they are almost certain they will vote, including 8 percent who already voted early.

"The poll shows that this year we can anticipate record participation among Latino voters," ImpreMedia CEO Monica Lozano said in a press release. "However, Latinos are also realistic about what it will take to make real progress on the issues they care about, especially given the lack of cooperation among our elected representatives in Congress."

Enthusiasm also increased among Latino voters -- a good sign for the president -- and now 45 percent say they are more enthusiastic about the 2012 election than they were in 2008, according to the poll.

Like most other polling on Latino voters, this new poll shows an advantage for President Barack Obama. Seventy-three percent of Latino voters say they trust Obama and the Democratic party to improve the economy, whereas 18 percent say the same of Republican presidential nominee Mitt Romney and his party.
This portends good news for Democrats.
4:49 PM PT: Gaze upon these plots from Pew Research from a few months ago and imagine the vast transformative potential and power of the Latino vote for future elections if we can boost participation rates in the way we may be seeing the tip of an iceberg here so far tonight!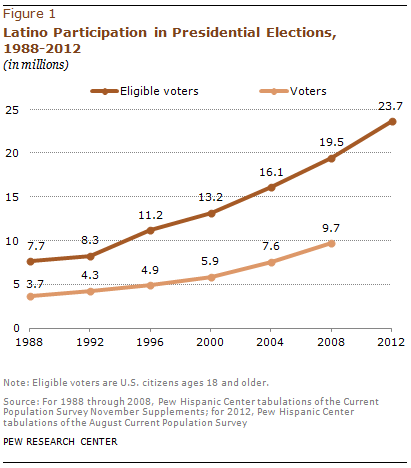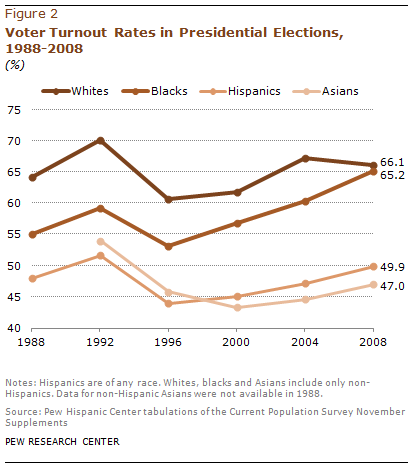 This last dubious plot was from many months ago, which we can see has already been repudiated in many ways, but gives you insight into some of the assumptions that may be part of some of the Republican models and soon to be dashed hopes are built on, that you may be able to pick out of garbage bins by tomorrow morning. Ha, ha, ha!