I'm sure there were many hugs on the way to President Obama's re-election on Tuesday, but I didn't start really noticing them until the Democratic National Convention when this embrace happened.
Big Dog hug
Paul Begala, who was a White House counselor to President Clinton, told the Wall Street Journal:

"It's quite a testament to President Obama and his team that they're letting the Big Dog run," said Mr. Begala, using Mr. Clinton's nickname. "It's nothing but good for Obama.
By my reckoning, that epic Democratic presidential hug was the catalyst for an avalanche of hugs on the campaign trail. The next thing I knew, it seemed like the Obama-Biden team was on a non-stop hug campaign for the next two months.
Bear hug
After the convention was over, Obama went to Florida to campaign. There he got a big lift from Scott Van Duzer when the registered Republican and owner of the Big Apple Pizza gave him a bear hug. Obama said he wanted to make at an unscheduled stop at the restaurant because "Scott has been doing unbelievable work out of this pizza shop in promoting the importance of donating blood."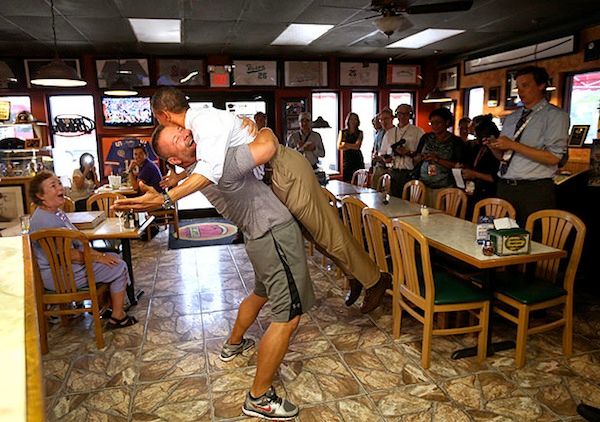 According to the
pool report
, this is how the two men's exchange went:
"Scott, what's going on man," Obama shouted as he came through the door. "Scott, let me tell you, you are like the biggest pizza shop owner I've ever seen."

He approached Van Duzer who stands 6-foot-3 and weighs 260 pounds. "Everybody look at these guns," he said, pointing to Van Duzer's monstrous pectoral muscles. "If I eat your pizza will I look like that?"

The two men laughed. They embraced. Van Duzer lifted Obama a good foot off the ground.

"Look at that!" Obama exclaimed once back on firm ground. "Man are you a powerlifter or what?"
After the news of the bear hug, Van Duzer's shop was targeted for a
boycott
. "People are saying a lot of bad things and boycotting my restaurant," Scott Van Duzer, said. "There's no middle line anymore, and that's exactly what's wrong with our country right now."
Tearful hug
Obama's campaign schedule brought him a few days later to Colorado, where he met Ricky Watson who gave the president a hug in thanks for ending DADT. Watson was kicked out of the Air Force 25 years ago for being gay. After he hugged and thanked the president, Watson wiped tears from his eyes.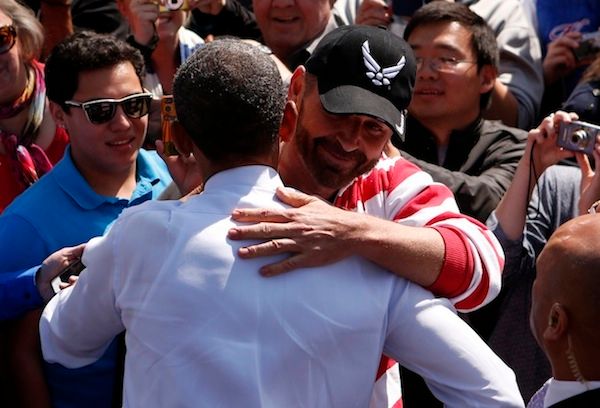 Thankful hug
Vice President Joe Biden also was out on the campaign trail giving hugs of support. In "Keep the faith," an October 3 post on the campaign's website, Zara Rahim, Digital Content Director at Obama for America, relayed this meeting.

Standing at the back of a packed high school gym as Vice President Biden finished speaking in Ft. Myers, Florida, on Saturday was 15-year-old Kobe Groce. He cradled a "Forward" sign, hoping to get the Vice President to sign it for his brother, Kaelin. After unsuccessfully trying to make it to the front of the event, a staff member asked if he could help. Kobe told his story, and the staffer left for a moment and came back, saying simply: "The Vice President would like to meet you."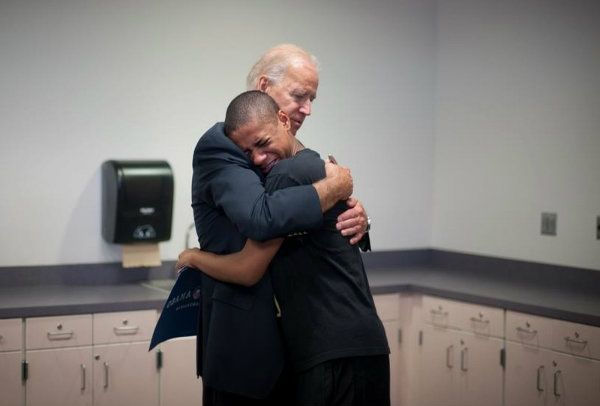 "I had this impulse to hug him, so I did. And I cried. I think I even got tears on the Vice President's suit jacket! … I am hugging the man who will help me and help our President move forward," Groce said.
Groce and his family have been helped "tremendously" by the administration's policies.
"My older brother uses Pell Grants and college loans to be able to afford school, and I'm thankful for that. I want to be able to go to Florida State University one day, and now I know I don't have to worry about being able to afford it. Life would not be the way it is today if they hadn't taken office four years ago."
Comfort hug
In the aftermath of Hurricane Sandy, Obama and Gov. Chris Christie of New Jersey met a tearful Donna Vanzant, the owner of the marina that had been hit hard by the megastorm.
John Aravosis transcribed some of the video of the encounter:

Obama: How are you? Are you okay? (Obama comes closer and gives her a hug.) It's tougher here. We're gonna help you, we're gonna help you get it all together, all right? I promise, promise. You're gonna be okay. Everybody's safe, right?

Vanzant: (nods).

Obama: That's the most important thing, then we're gonna get this whole thing set up. I got my guy Craig (Obama, still hugging woman, yells for Craig Fugate, Federal Emergency Management (FEMA) administrator).

Craig: Yes sir.

Obama: This is the owner of the marina, right here. I wanna make sure that she knows that we're gonna immediately make sure that she gets the help she needs to get this all back together again.

Vanzant: (Voice breaking, President still holding her) Thank you, thank you.
Boss hug
On the day before the election,
Bruce Springsteen joined Obama
for a campaign rally in Madison, Wisconsin.
The New Jersey rocker opened the rally with "No Surrender," and also played tracks including "The Promised Land" and "Land of Hope and Dreams" for a crowd of around 18,000. "It's crunch time now, the president's job, our job, yours and mine – whether you're a Republican, a Democrat, an independent, rich, poor, black, brown, white, gay, straight, soldier, civilian – is to keep that hope alive," Springsteen told the crowd.
Writing at Slate, Ron Rosenbaum credits
Springsteen for helping Obama win
. "Springsteen's contribution to Obama's victory has been, I believe, underrecognized and underappreciated," he wrote.
I was stunned by the fateful confluence of Sandy and Christie and Bruce and Barack just days before the election—a confluence that may well have decided the election…

Chris Christie who claims to have attended 100 Bruce Springsteen concerts… He's an emotional guy whose sense of urgency about the plight his coast faced must have been shot through, somehow, with a Springsteenian sense of the perilous beauty and tragic aura of the devastated boardwalk towns. And then we learn that Obama got Bruce Springsteen—who'd previously been standoffish with the GOP gov—to call Chris Christie from Air Force One. After which a jubilant Christie confessed that when Bruce had hugged him during a brief meeting at a Sandy telethon—before Bruce went back on the road with Obama—Christie had gone home and wept!
Love hug
With the campaign stops over and the votes being cast, this "soul-stirring" photograph of the President and First Lady captured the nation's mood on election night.

On 11:15 p.m. Tuesday evening, President Obama's campaign team posted a single photo of him hugging first lady Michelle Obama on his Facebook and Twitter accounts, along with the words "four more years." The race had just been called, and the photo provided a quiet, simple epilogue to a grueling campaign. Then it went viral, breaking every social media sharing record on the books. As of this posting, the image has been liked 4,065,608 times and shared 562,961 times on Facebook, and retweeted 794,331 times on Twitter, making it the most popular image ever posted to both sites.
"I love the subliminal messages it sends about modern male-female relationships and how the Obamas' union is a marriage of equals," Jenice Armstrong wrote at the Philadephia Daily News the next day.
Victory hug
The Chicago Sun reported how the president's re-election victory was received at campaign headquarters. "The song 'How you like me now,' blared over the speakers at Obama's election night headquarters. People hugged and danced. Some kicked in a chorus line. Joy reigned."
Five minutes of celebratory hugs broke out at McCormick Place in Chicago once Ohio was declared won by Obama, Progress Illinois reported.
Then at 10:13 p.m. MSNBC called Ohio for Obama. The screen flashed that Obama was re-elected as president. CNN followed five minutes later.
'Twist and Shout' blared through the sound system.
For at least five minutes people screamed, danced, jumped in the air and hugged.
And when the President and Vice President arrived with their families, there were more
victory hugs
, CBS reported.
It was well after midnight when the president, vice president and their families hugged and waved to supporters from the stage at McCormick Place in Chicago, after Mr. Obama declared victory in his re-election campaign.
Hugs win!