Burned out from an election? Like indie music - even when it comes during 156mph winds? Then join me with a quick trip to Iceland Airwaves 2012 - a festival that began as a one-off event at the tiny Reykjavík Airport but evolved into "the hippest long weekend on the annual music-festival calendar" (Rolling Stone) and an "unbelievable zest for music and celebration" (Pitchforkmedia). And this year it most definitely did not disappoint!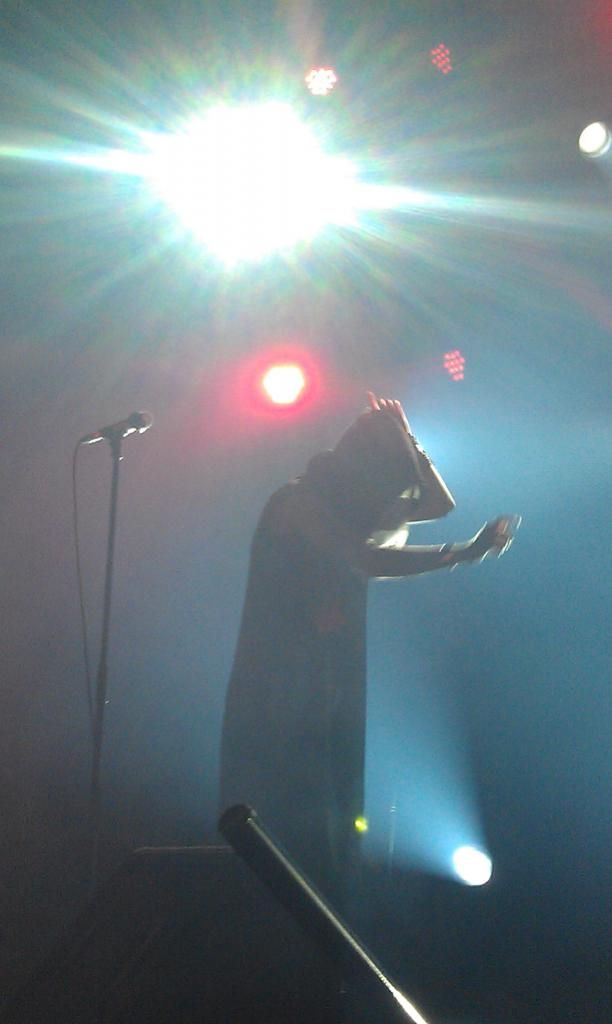 (Above: Bloodgroup performs at Harpa / Silfurberg)

Not long after Hurricane Sandy struck the US east coast unleashing devastating damage, a less destructive but far windier storm struck Reykjavík, Iceland, in the middle of the annual Iceland Airwaves music festival, blowing around the people walking between concerts and waiting to get into venues. At the peak on Friday in the middle of the festival, people were tossed around like toys by gusts exceeding 70m/s (156mph) while waves crashed ashore:

And it didn't lower the spirits one bit. :)
What is Iceland Airwaves? Well, for one, it's intimacy. You're often right next to performers, whether it's a peaceful mix of violin, acoustic guitar, and light drums in a coffee shop while you eat a chocolate muffin: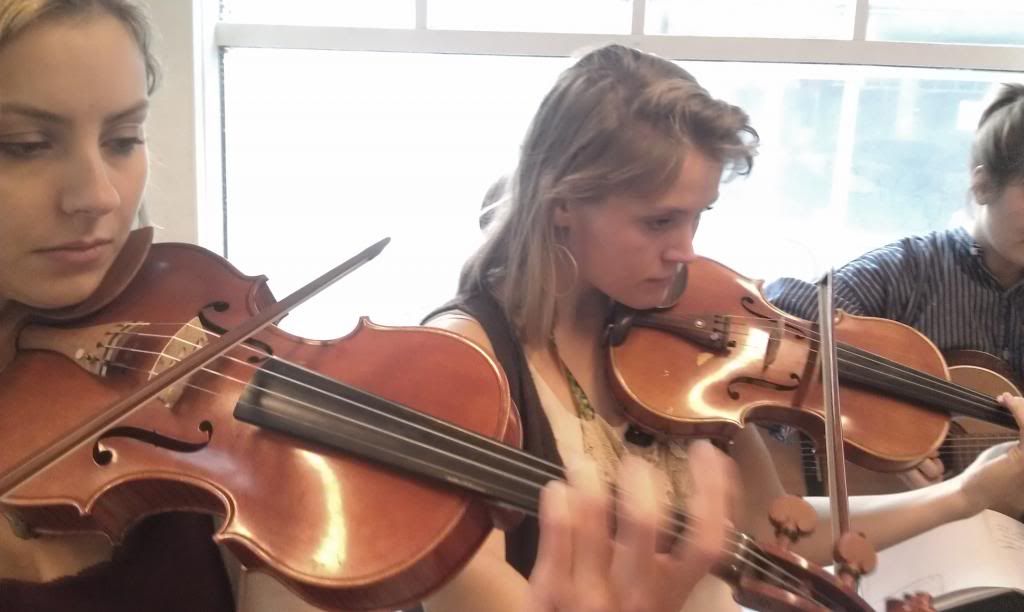 (Above: Ósk plays in Glætan)
... or a man in tattered black clothing skulking through fog and bright lights, slathering himself in paint and screaming into the microphone right next to you:

(Above: LEGEND plays at Faktorý)
Of course, some venues were a little more intimate than others, as I was to found out at the Inspired by Iceland venue with one of my favorite artists, Jónas Sigurðsson:

Jónas Sigurðsson: Live from the Little House of Music from Inspired By Iceland on Vimeo.
(Above: Jónas Sigurðsson treats me like part of the band. Jónas currently has the number one slot on the Icelandic charts with the song "Hafið er Svart")
Even if you're not familiar with the Icelandic scene, there were bands you're probably famiiar with, like Of Monsters and Men:

(Above: Of Monsters and Men fires off confetti in Harpa / Silfurberg)
.... who nonetheless seemed to love breaking the fourth wall:
Of course, Iceland's most popular musician worldwide (if number of views of their most popular video on Youtube counts) was there, too. Björk? Well, she was there, but I'm not talking about her. Of Monsters and Men? Same as above. Sigur Rós? Again, present but without the YouTube popularity of this one singer. Sóley.
Who? Yeah, she's unknown in America but is huge in Germany ;)

(Above: Soley, who in her rush to set up after arriving late, tried to fix the incorrectly-connected live wires on her sound system, telling the audience, "If I die... I love you all!")
Even Reykjavík's mayor (a standup comedian most famous for walking around in crazy outfits) did a series of comedic duets:

(Above: Jón Gnarr sings a cheerful song about cancer as part of the duet "Kleópatra")
A nice couple of chaps saw me sitting on the floor during that concert and invited me up to their table: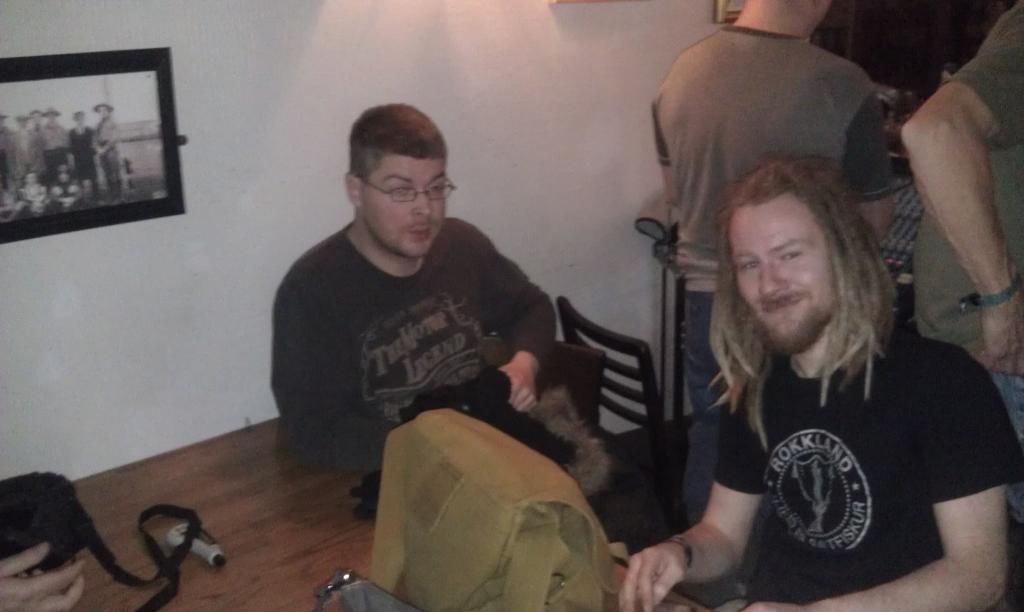 I'd see them a couple hours later when they performed a kick-arse blues rock concert that I went to:

(Above: The band Contalgen Funeral performs at Iðnó)
People here start to recognize you pretty quick. The saxaphone player from Kiriyama Family (a band who half its members are just teenagers) chatted with me for several minutes before their main concert, and the lead singer on stage thanked me for dancing between songs.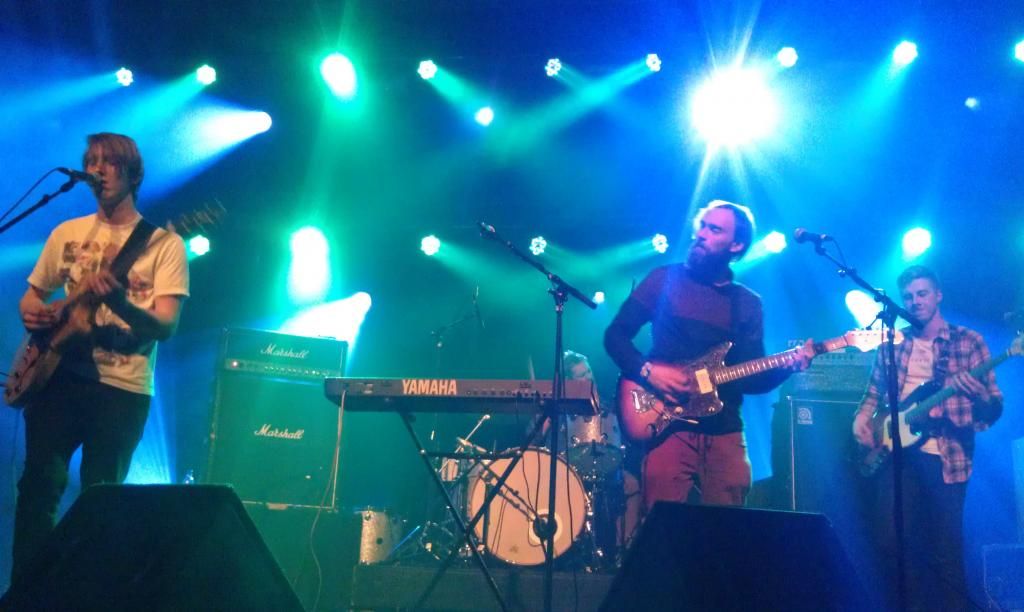 (Above: Kiriyama Family performs at Harpa / Northerljós)
Harpa served as a venue for some of the biggest concerts, even in the beautiful glass/mirrored common areas.

(Above: Tilbury rocks outside the Kolabrautin restaurant in Harpa)
But venues were pretty much everything you could picture in the city, from churches...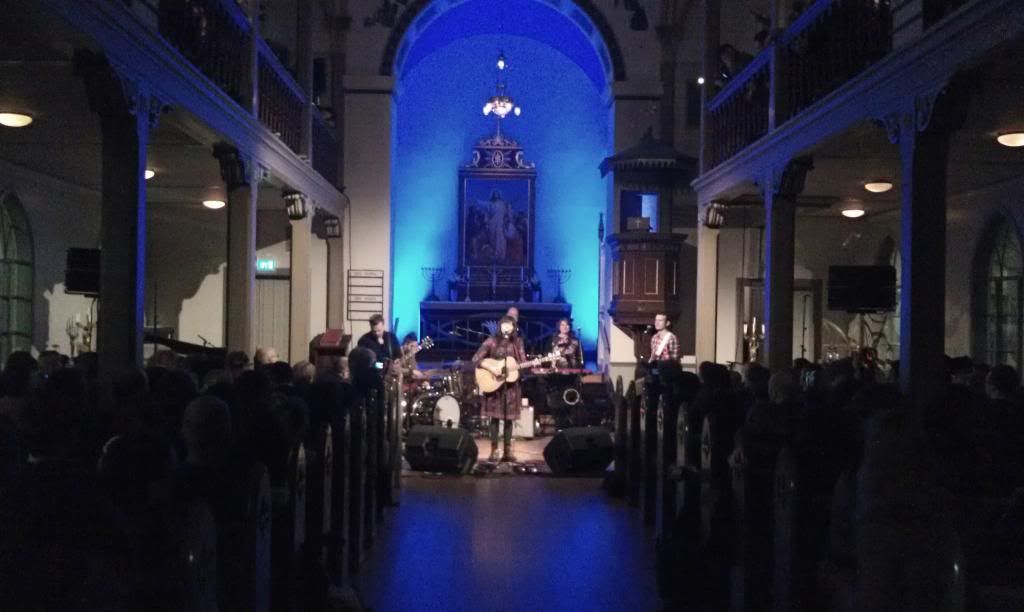 (Above: Lay Low plays at Fríkirkjan)
... to tight reading rooms at book stores:

(Above: Útidúr at Eymundsson)
While most of the best music in my opinion was from Icelandic bands, the many international bands sure put up a good fight. British rockers The Vaccines even took up the Icelandic spirit, speaking Icelandic on stage and referring to themselves as "Bóluefnin" (the Vaccines in Icelandic). Of particular fun was Chinese dance/pop group Nova Heart, who brought the world's smallest drummer with them:

(Above: Nova Heart clearing out after playing at Sirkús)
Their music was somewhat similar to that of Icelandic group Sykur, whose lead singer has both seemingly limitless energy on stage and a seemingly limitless wardrobe of unusual clothes at home.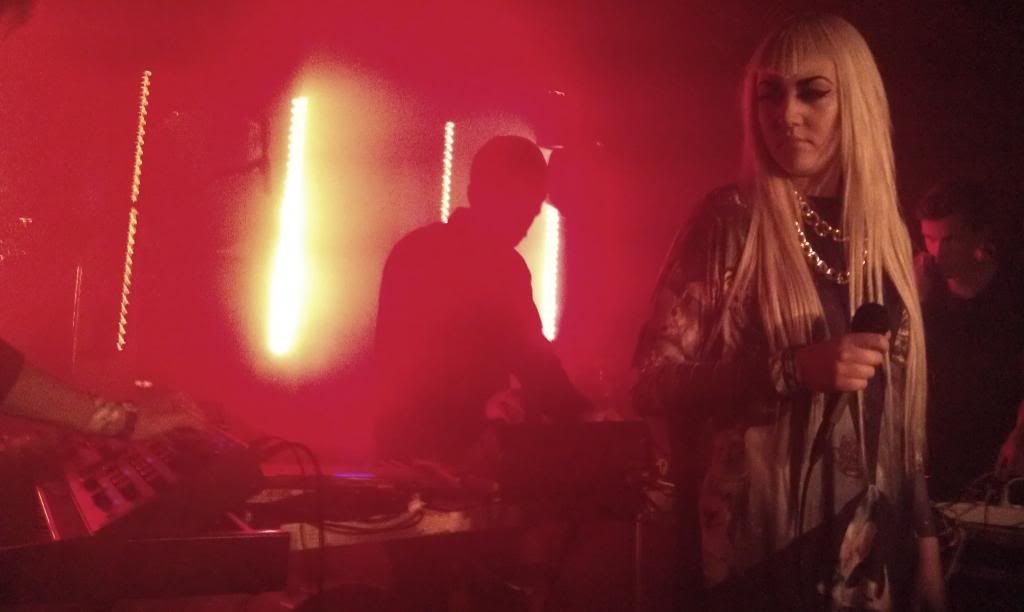 (Above: Full disclosure: the mother of one member of Sykur works in the building next to me, for the same company :))
Music styles ranged from the "educational death metal" of Skálmöld:

(Above: The lead singer? He's a kindergarten teacher.)
... to a cloud of twisting ambient sound, moving between relaxing and scary while a girl in a weird necklace dances around like a troll while chanting about high frequency spirits:

(Above: Kira Kira plays at Harpa / Kaldalón)
Others tried mixing "creepy" with "funny", like troubadour Svavar Knútur with his song about a guy trying to ask a girl to marry him while he's slowly turning into a zombie and wanting to eat her: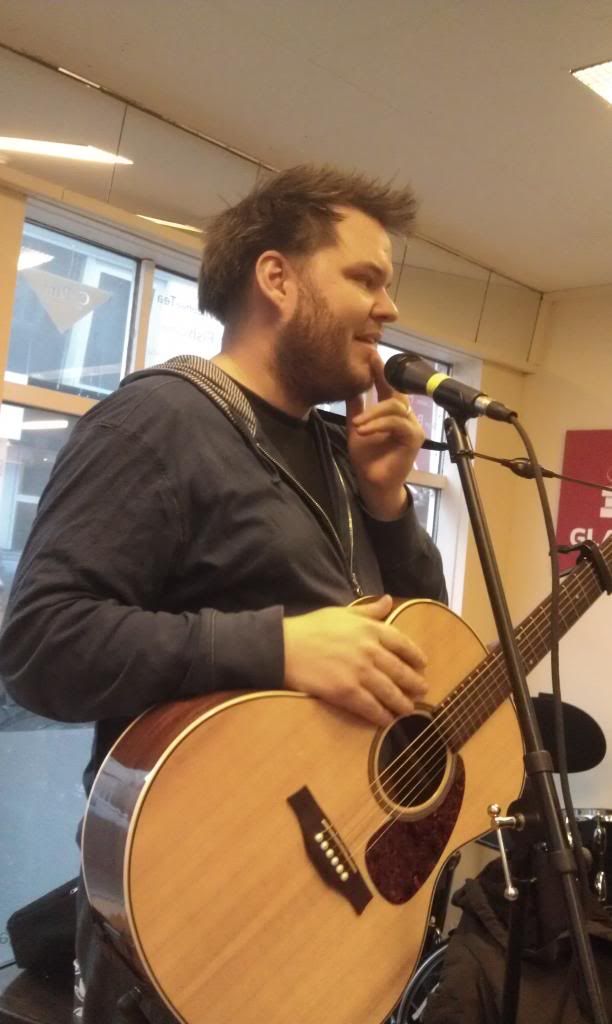 (Above: Svavar Knútur at Glætan)
Other mixes of styles were things like Agent Fresco's combination of "boy band" and "death metal band", with angelic singing between hard rock and screaming: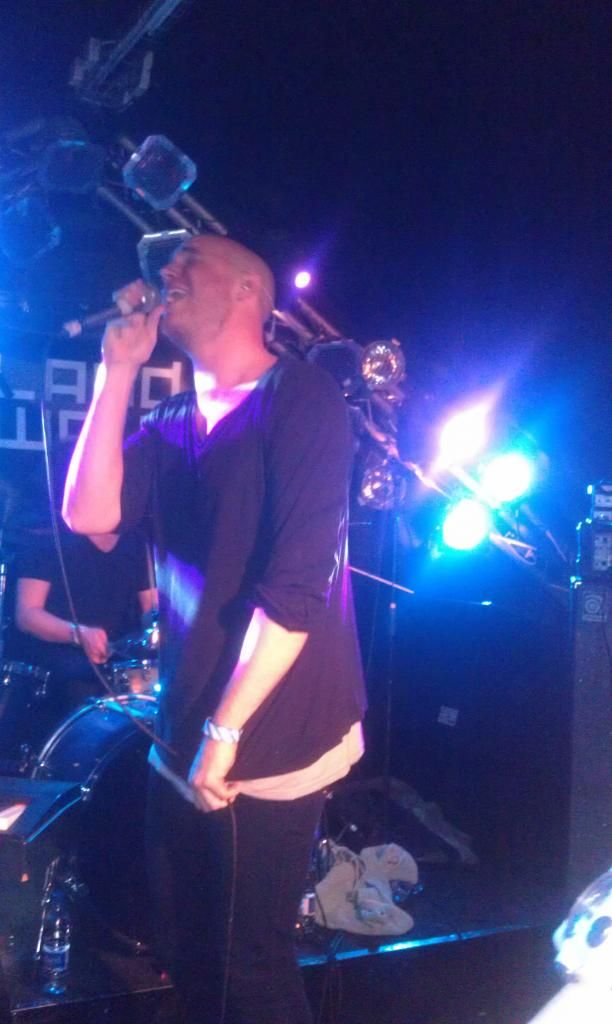 (Above: Agent Fresco at Gamli Gaukurinn)
Or Ásgeir Trausti, who mixes regular singing and falsetto while being supported largely by a reggae band playing upbeat rock.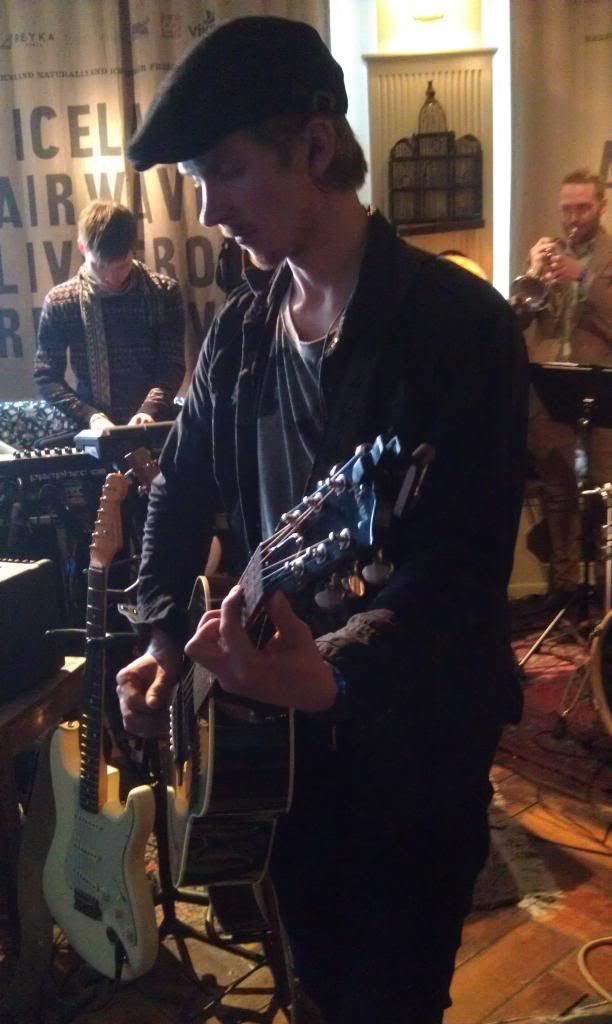 (Above: Ásgeir Trausti at Kex hostel)
But, of course, if there was any one band who brought most people to Airwaves this year, it was none of the above. It was the incomparable Sigur Rós, whose music aroused my interest in Iceland to begin with (and I was not the only one).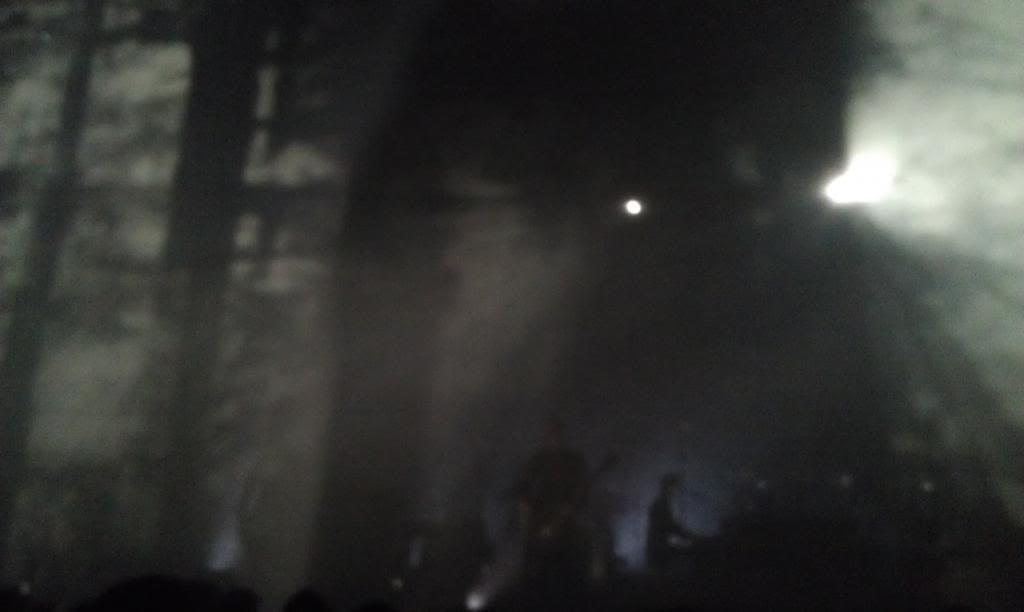 (Above: The concert begins with the band performing behind a screen onto which various moving images are projected)

(Above: The screen then drops, revealing the band and an increasing light show)

(Above: The music builds and builds along with the display)
Finally, Jónsi throws his bow into the audience and walks off stage. The crowd shouts for more while workers get on stage and start taking down equipment - but asute observers note that there's also some pieces being set up. The band walks back on stage, takes up places... and a song like none ever heard before strikes up: the new Brennisteinn ("Sulfur")

I find myself dancing my heart out. But soon Brennisteinn fades into Popplagið, a song I refer to as "my catharsis", a song that I only let myself listen to during times of emotional release. I could not tell you what the light show was like during Popplagið, because I wasn't there, at least mentally. I was in the music. And I cried. And in what seemed like forever on one hand and just a heartbeat on the other, it was over, and the crowds spilled out.
But that didn't stop me from heading over to get some final dancing out of my system with Boogie Trouble and Sometime ;)
All in all, I hit about fifty concerts, a tiny fraction of the total. I danced on top of tables to rock. I bobbed my head to shoegaze. I swung my hair at metal and relaxed to classical. If you ever want a good excuse to come see Iceland and music from around the world, plus the best of what the local Icelandic scene has to offer, I strongly recommend dropping on by.
And don't let cat-5 wind gusts keep you indoors! ;)