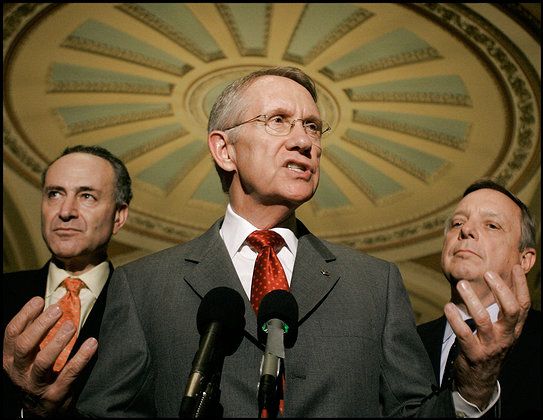 Feel the wrath!
I never cared for Scott Brown, and neither does Harry Reid. After losing his senate race to Elizabeth Warren last week, Brown wasn't willing to close the door on any open office in the very near future. Particularly in running for the other Massachusetts seat, which will almost certainly be open, as President Obama is likely to tap Sen. John Kerry for either Secretary of Defense, or Secretary of State.
Yesterday in a press conference, Brown went on about "bipartisanship", just like he touted in his failed re-election senate race.

"I'm hopeful ... when I heard Sen.-elect Warren say that she plans to be working in a bipartisan manner," Brown said, adding a rebuke for his own party, as well.

"We need to be a larger-tent party. I'm a pro-choice, moderate Republican. There's a vanishing breed here," Brown said. "I'm hopeful that we'll be a more tolerant, open-minded party. I plan to continue to play a role of some sort. I don't know what yet."
Today
, Harry Reid was having none of it, and got a chance to respond. Reid went on to scoff and dismiss Brown's notion of bipartisanship, calling it a "big joke" and a "travesty". I couldn't agree more. After words Reid really went in to more detail in which Scott Brown failed to be "bipartisan" on.
"I saw during the campaign his plea for bipartisanship. That is a big joke. It's a travesty," Reid told reporters. "He was one of the most partisan people that's ever served here."

"He could have saved Citizens United," Reid said, referring to a bill that would have required corporations to disclose their independent-group spending on elections. "He could have been the 60th vote on that and many other things. So I don't need a lecture from him on bipartisanship. He should go look in the mirror."
Not to mention he voted for the cockamamie nonsense "Blunt-Rubio" amendment, as well as voting twice against the Paycheck Fairness Act. Also the countless others you could see
here
As far as the possibility of him running for Kerry's seat, when it becomes open. Harry Reid showed no concern, and said the following:

"We feel very comfortable -- if, in fact, something does happen -- we feel comfortable about Massachusetts," Reid said. "I think that I've already told you how I feel about Scott Brown."
Right on!