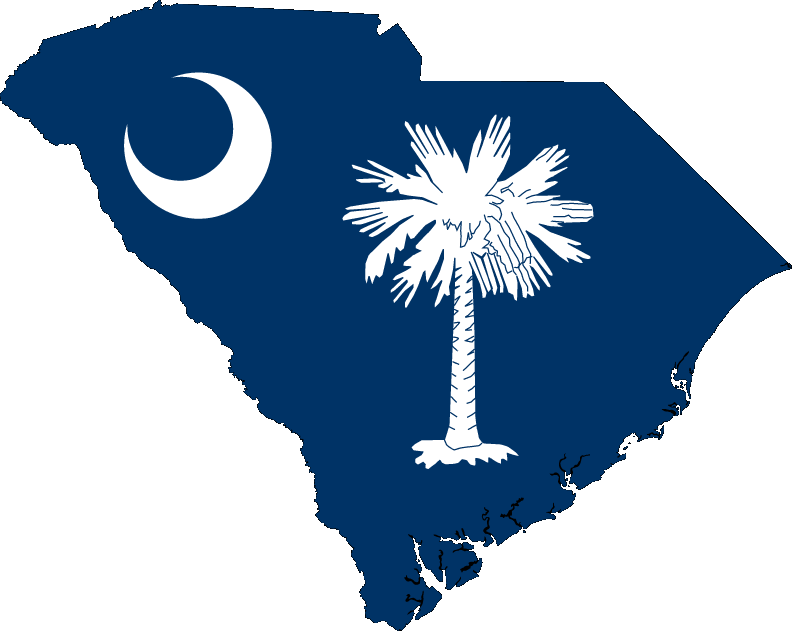 South Carolina politics has not been covered much thanks to wall to wall reporting of the presidential election and other 2012 races, but there have been some very interesting things happening down in "the Moon Tree state," as I call it, over the past two years.
Of course we all know Nikki Haley, Sarah Palin's hand-picked governor of South Carolina, who has traveled the country campaigning for Mitt Romney and other tea party Republicans. She's been billed as a "rising star" in the GOP and she was mentioned as a possible VP pick for Romney this year. Why - is it because she's dramatically improved the economy or quality of life in South Carolina? No, it's because she's a female and she's not white.
But her status as a tea party darling may stop on the other side of South Carolina's borders. Her tea party supporters were upset when she endorsed Mitt Romney before the South Carolina primary (which he lost by a huge margin, if everyone remembers; he later went on to become the nominee and lose the national election). She has also hilariously pissed off the Republican leaders of the South Carolina General Assembly:
This recent article I found in a local South Carolina media outlet sums up the situation nicely:

Politics is a game of addition, normally. Politicians work to keep the support of their base and, at the same time, win new supporters.

Not so with S.C. Gov. Nikki Haley, critics say. In the two years since her election, the first-term Republican has turned that adage on its ear, playing a game of subtraction.

Critics say Haley has adopted an insular management style, surrounding herself with a small group of 20-something former campaign staffers, led until recently by a young chief of staff, with limited state government experience. She also employs an "us vs. them" mentality against her perceived foes.

The result?

Read more here: http://www.thestate.com/...
The whole article is worth a read. The most important point though, in my opinion, is her alleged "us vs. them" mentality. This is the same mentality Sarah Palin and the most conservative forces in the Republican party have about politics. Nikki Haley has chosen not to be the governor of all South Carolinians, but to use the governorship to make a name for herself and be as conservative as possible. In doing so she has made herself an enemy of all SC Democrats and many SC Republicans.
In addition to the ethics problems and political problems Haley has faced over her term, a new problem has developed over the past few weeks, involving the breach in cyber security at one of South Carolina's government agencies. This is not Nikki Haley's fault directly, but it can indirectly be blamed on the inefficiencies of Republican policies in South Carolina over the past decade.
In this year's legislative elections, Mitt Romney's coattails brought GOP legislators into supermajorities in neighboring Georgia and North Carolina; but South Carolina Republicans did not have the same success. South Carolina Republicans gained one seat in the state senate, but only because long time Democratic Sen. Dick Elliot retired, making his seat in heavily Republican Horry County an automatic gain. There were a couple of key races in South Carolina that showed the Republicans' weakness.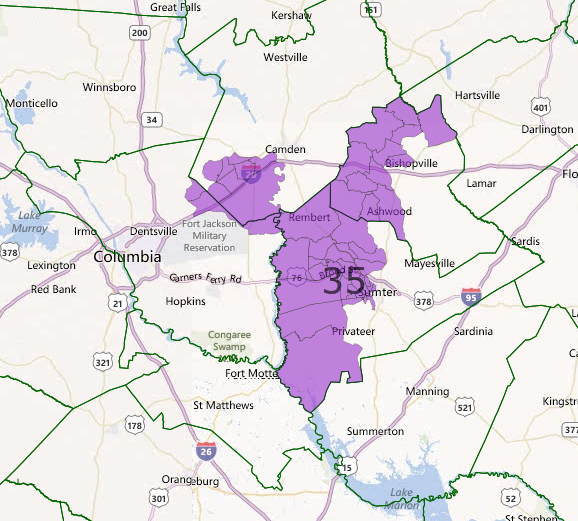 One key race was in South Carolina's 35th Senate District, which you see above. Before redistricting, the 35th was a heavily Democratic district based in Sumter. Republicans redrew it with an arm into the heavily Republican Columbia suburbs, which actually makes this seat Republican leaning (John McCain and Mitt Romney got about 52% here). Republican legislators hoped to gain a seat here, as the popular Democratic senator from the 35th district was retiring and it was an open seat. Nikki Haley even made a stop in Sumter to campaign for Republican Tony Barwick. However, Barwick went on to lose the open 35th district by a margin of ten points to Democrat Thomas McElveen.
Another key swing race was in the 78th House District, where an incumbent Republican was defeated. The 78th district is a 50/50 swing district in Columbia. While 50% Obama certainly is a Democratic district in the low country - it isn't in Columbia. Democrat Beth Bernstein based her campaign on opposition to Nikki Haley and won this swing district by twelve points.
Then we have the 27th Senate district: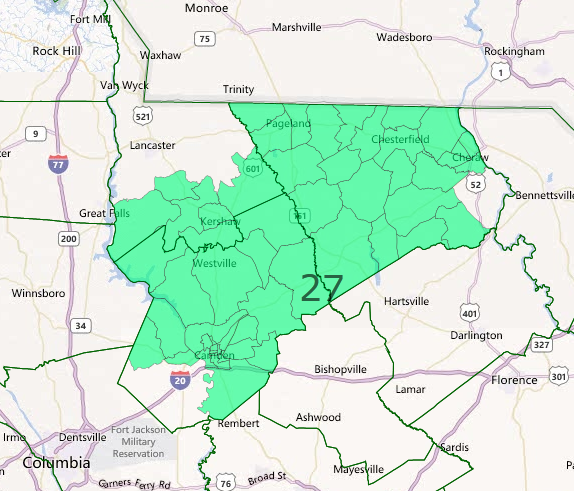 This district was not competitive; it was won by Democrat Vincent Sheheen, who was unopposed for the second consecutive election. At 55% McCain/Romney, it is the most Republican district in the state to be held by a Democrat and a mirror image of the state itself. Sheheen was a candidate for governor in 2010 and will likely be again in 2014. He is one of Haley's loudest critics in the state, and the fact that no one can challenge him, even in a district this conservative, must speak to his political strength.
The state legislature is so gerrymandered, it's hard to tell which party came out ahead. The vast majority of incumbents ran unopposed in safe districts, and the 35th Senate District and 78th House District were literally the only competitive races in the state, both of which Democrats won. Every incumbent Democrat that stood for re-election was re-elected.
I don't know how the 2014 elections in South Carolina will turn out, but I think South Carolinians are finally starting to realize how destructive Republican policies have been.
Republican governor Mark Sanford cut government to the bone. And if you can believe it, even after Mark Sanford was finished, Nikki Haley found even more government to cut. She cut teacher pay, the very small SC arts program, medicaid, and so much more. She even cut domestic violence centers, which was a move so outrageous that even the Republican legislature overrode the cuts by a vote of 111-0. Governor Haley continues the centuries old South Carolina tradition of pretending federal laws don't exist by refusing to consider setting up a state run insurance exchange or federal-state partnership to implement Obamacare, just as her predecessor, Mark Sanford, refused to take billions of dollars offered to South Carolina to build up it's crumbling infrastructure by the stimulus program in 2009. Nikki Haley brags about cutting government, cutting public workers and cutting taxes in South Carolina. Yes, the low gas prices are nice when you're driving through SC but is that really something to brag about when you ALREADY have the lowest tax burden and government spending in the country in almost every area? Why did the SC Department of Revenue get hacked? Because Republicans wanted the cheapest government administrative costs they could possibly have. As State Sen. Vincent Sheheen put it, "Nikki Haley is trying to turn South Carolina into a third world country."
I also find this article funny. It says that since Romney has lost, Haley won't get a cabinet job and she'll actually have to try to make South Carolinians like her for the next two years. It's speculative but it's probably true. This woman wants a future in national politics. I can only hope Democrats will deny that to her by defeating her in 2014. Vincent Sheheen is considered the best chance South Carolina Democrats have had to retake the governorship in a long time - seeing as he lost very narrowly in 2010 even though Republicans had a great year nationwide and Jim DeMint won by 35 points down the ballot. And he represents a Republican-leaning district, where he is very popular - that's the ideal candidate to win a state like SC. It looks like Sheheen is considering a run, so if he does run, Democrats across the country need to support him because you know Nikki Haley will raise huge sums of money from teabaggers around the country. I'm only an hour from SC and I love SC - I go there all the time - so this race is personal to me.
Republicans will control 10/11 governorships in former Confederate states next year and for the first time in history, all 11 state legislatures. Scary thought. We need to win some back.
I'll keep everyone posted.