Just when you thought you were safe away from the Bush family, a member of the family has now all of a sudden gotten the brass to file to run for office.
No, it's not George W. Bush.
No, it's not Jeb Bush.
It's George Prescott Bush.
Wait, wasn't George P. Bush the late father of former President George H.W. Bush and the more moderate Republican back in the day when it was hip to be a moderate Republican in Congress?
Pardon me. No, that was Prescott Sheldon Bush, the late U.S. Senator from Connecticut. Prescott Bush, if you know your history, was strongly pro-choice and a big ally in helping President Dwight Eisenhower's Interstate Highway System, a model for major infrastructure improvement then in the 1950's and a motivator for President Barack Obama in working with Democrats in Congress to pass the American Recovery and Reinvestment Act in 2009. Prescott Bush even fought against McCarthyism.
Yes, back during Prescott Bush's days, he was a sane Bush although he had his skeletons. As director of the Union Banking Corporation (before he became U.S. Senator), he was accused of being a Nazi sympathizer as the bank was holding the gold in support of leaders in the Nazi Party.
However, we're no longer in Prescott Bush's years and we're no longer talking about him.
Instead, we are talking about George Prescott Bush, the son of former two-term Florida Governor Jeb Bush.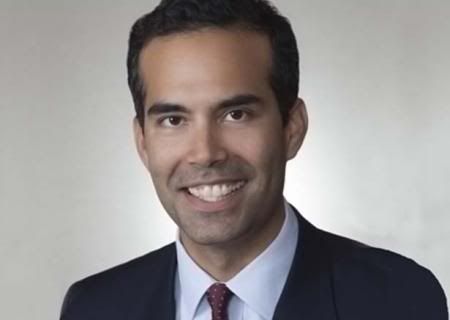 Behold, the annoucement per Politico:
The state of Texas may get another George Bush on the ballot.
George Prescott Bush, the son of former Florida Gov. Jeb Bush and the nephew of former Texas governor and ex-President George W. Bush, has filed preliminary paperwork to run for office in the Lone Star state in 2014. That leaves the new Bush poised to become a key face in the next generation of Republican politicians.
This is worth noting. George Prescott Bush is poised to become a "key face" in the next generation of Republican politicians.
I'm really not sure what this means other than to say George P. Bush is can and will run for higher office than even the one he's planning to run for now. It's in the blood for the Bush family. Given the election of Barack Obama to the Presidency not once but twice, the barrier for a man of mixed race or a non-Caucasian ethnicity has been broken and George P. Bush will be able to run in a future campaign for President of the United States. He's a bit older than the legal minimum age to run for presidency. Hell, why doesn't he run now?
Wait, he needs experience. No, not LOADS of experience but just Barack Obama level experience.
Yeah, right.

Bush, a 36-year-old attorney — who's served in Afghanistan in the U.S. Navy and helped with the GOP's Hispanic outreach in Texas — is both a promising politician on the Texas stage and a young Hispanic voice in a party that is figuring out how to mend its image with the country's growing Latino population.
Last week, Bush's father emailed supporters a fundraising missive, stating that his son is most likely to seek the office of Texas land commissioner in 2014, which is widely seen as a stepping stone to bigger and better things.
Trey Newton, a political strategist for Bush's campaign, said no firm decision has been made on which office Bush ultimately will seek, but that land commissioner is certainly on the list.
"Absolutely, he is looking at the Land Commissioner office," Newton said. "He's drawn to the agency, he's studied the agency and he likes the agency."
A promising politician, sure. OH YES, George P. Bush is being noted as a promising politician. Not a person who can make a difference in people's lives but a promising "politician." Gee, who knew?
One thing us Kossacks cannot do. We cannot call George P. Bush... Wait, let's just get rid of the George Bush name and just call the guy Prescott.
Ok. That's better. Anyway, back to what I was talking about. One thing us Kossacks cannot do is call Prescott a chickenhawk or a draft dodger. Prescott served in Afghanistan in the U.S. Navy so obviously he's got the right moves. He's more George H.W. Bush than George W. Bush. Obviously he's not a fool.
And Prescott is the son of mother who is a naturalized citizen from Mexico. That and being the son of the brother of the man who is the worst U.S. President in history adds a bit of mix into his background.
And really, what better way to reach out to the Cuban, Hispanic and Latino community than to have a Bush who happens to be apart of your own color?
Also, it appears that Prescott did marry his law school classmate, Amanda Williams, in Kennebunkport, Maine. Isn't that where George H.W. Bush and Barbara Bush live?
SEE? Prescott is George H.W. Bush lite after all. Maybe his model isn't Dubya but H.W. himself. Check this snapshot out per Politico: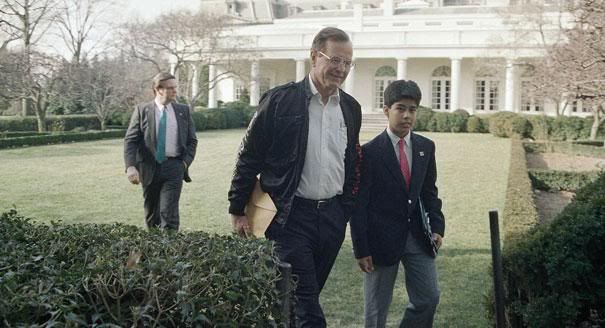 There is Prescott walking with George H.W. Bush as he was just recently inaugurated as President of the United States in January 1989. Doesn't he look cute? hahaha
Ok. Enough of that. Now moving back to today where Prescott is now a grown adult.
God, the actual ability of Prescott to reach out to the Cuban, Hispanic and Latino community. I can just imagine Prescott saying:
"READ... MY... LIPS... NO-NEW-UNWARRANTED-ATTACKS-ON-HISPANICS-IN-REPUBLICAN-PARTY"
Now given Prescott is a man of color, he does have a lot to deal with as being the next generation of stars in the Republican Party.
On the other hand, Prescott is quite the expert when it comes to being on the issues:
If there is any question about his politics, Bush started at today's forum by quoting Ronald Reagan: "Some of the most dangerous words you'll ever hear in your life are, `Don't worry, I'm from the government, I'm here to help."
So then, Prescott, why do you want to be Land Commissioner in Texas?
"Governor Romney is a known job creator — I think people have an impression of Bain Capital as this big, bad organization," he said. Once people get to know his record, he said, "People will see that we're on the winning side."
Given Bain Capital's recent controversies with being anti-worker, Prescott will certainly have an uphill battle in winning over the Hispanic community as a lot of Hispanics are heavily pro-union, even certain conservative Hispanics. He is right though that Bain Capital is this big, BAD organization. Oh it's bad alright.
As for Mitt Romney being a known job creator? Eh, that certainly helped him with his run for presidency this year. AHEM It helped him with his defeat earlier this month.

It ultimately "comes down to family values, job creation and the growth of our economy," George P. Bush said. "These are issues that our party does fairly well on… I think we win on those discussions."
HAHAHAHAHAHAHAHAHAHAHAHAHAHAHAHAHAHAHA. Oh man, I'm cracking up. This kid is 36 years old, he's been around long enough that he can't bother to catch up to what a number of credible economists are saying about the improving U.S. economy these days and why Obama's efforts in stopping the tide of economic downturns have worked and are enabling the U.S. to grow.
Let's see:
Ohio adds 100,000 jobs this past year
http://choosecincy.com/...

Ohio ranks as the fourth-best state in the country for growing jobs in the past year, adding 100,000 new jobs as of June, according to a Bizjournals.com report.

Forty-four states and the District of Columbia managed to expand their employment bases during the past year, according to the latest figures from the U.S. Bureau of Labor Statistics.

Leading the way is California, which had hemorrhaged more than 1 million jobs between 2007 and 2011. California launched a significant turnaround by adding 279,100 nonfarm positions between June 2011 and the same month in 2012.

Three other states have added at least 100,000 jobs since mid-2011: Texas (up 231,800), New York (up 136,900) and Ohio (up 100,000). The first two states weathered the recession in fairly good shape, while the latter is starting to pick itself off the floor after experiencing heavy industrial losses.
GM adds 800 new jobs in June 2012
NEW YORK (CNNMoney) -- General Motors announced plans Friday to add a third shift at its SUV plant in Arlington, Texas, as the company continues to ramp up production after deep cuts during the financial crisis.

The additional shift will keep the facility running around the clock, and will generate roughly 800 additional jobs, GM (GM, Fortune 500) said.

The Arlington plant produces Chevrolet Tahoes and Suburbans, GMC Yukons and Cadillac Escalades. GM said demand for full-size SUVs remains "stable," though sales of the Escalade, Yukon and Tahoe are down so far in 2012 versus last year.
GM to add 1,500 information tech jobs in Michigan
(Reuters) - General Motors Co said on Monday it will create 1,500 jobs at a new software development center in Michigan as part of the U.S. automaker's previously announced plan to shift information technology work back into the company.
GM said it will hire the software developers, database experts, analysts and other IT positions over the next four years for the office in Warren, Michigan. It is the second of four software development centers GM plans to open, following one it announced last month in Austin, Texas.

In July, the Detroit automaker said it would reverse years of outsourcing IT work. GM now outsources about 90 percent of its IT services and provides the rest in-house, but it wants to flip those figures in the next three to five years.

The IT overhaul is spearheaded by GM Chief Information Officer Randy Mott, who outlined the plan to GM's 1,500 IT employees in June. The former Hewlett-Packard Co executive believes the moves will make GM more efficient and productive.
Florida adds 4,200 construction jobs in 12 months:
http://www.bizjournals.com/...

Construction employment in Florida increased slightly from September 2011 to September 2012, the Tampa Bay Business Journal reports.
Florida added 4,200 construction jobs, an increase of 1.3 percent, according to an analysis of Labor Department data by the Associated General Contractors of America.

The data showed that 22 states, plus the District of Columbia, added construction jobs in the past 12 months, while 28 states lost construction jobs.

Texas added the most construction jobs at 32,800, and Alaska lost the most, 2,400
Oh and this coming from the reddest state in the U.S. Companies in Oklahoma are planning on adding 1,000 new jobs in the energy industry:
Seven northeastern Oklahoma companies, most of them in the energy industry, may gain up to a total $30 million in payroll tax rebates if they follow through on creating more than 1,000 jobs over several years, the state's Quality Jobs Program announced Friday.

NGL Energy Partners LP, New Dominion LLC, Gunnebo Johnson Corp. and Nemaha Oil & Gas Operating LLC, all based in Tulsa, joined Phillips 66, Apache Corp. and Piping Enterprise Co. as the latest enrollees in the state incentive program.

Phillips 66 and Apache are based in Houston but have significant offices in Bartlesville and Tulsa, respectively, while Piping Enterprise is in Sand Springs.

Apache Corp., one of the nation's biggest independent oil and gas producers, is eligible for up to $5.5 million if it adds 75 jobs at its Tulsa offices. The Houston-based company announced plans to expand its Tulsa regional headquarters after acquiring 254,000 net acres in the liquids-rich Anadarko Basin earlier this year.

"Since January we've already hired about 119 people, most of those in Oklahoma," said Rob Johnstone, central region vice president for Apache, which has maintained a Tulsa office since 1955.

"Oklahoma has already made itself the easiest state in the United States to operate to drill wells," he said. "The Oklahoma Quality Jobs thing is another incentive on top of that."

The energy boom is lifting Oklahoma economically, but Johnston warned that the state's elementary and secondary education system desperately needs attention to help attract "quality" jobs.
Now how can Prescott argue that the Republican Party is really credited for the rise in number of jobs being added in states that I just mentioned? Sure, all the above states cited in the articles have Republican Governors but is it REALLY their doing?
I think Prescott has some explaining to do.
In the meantime, we can take a look at Prescott's shot to fame: