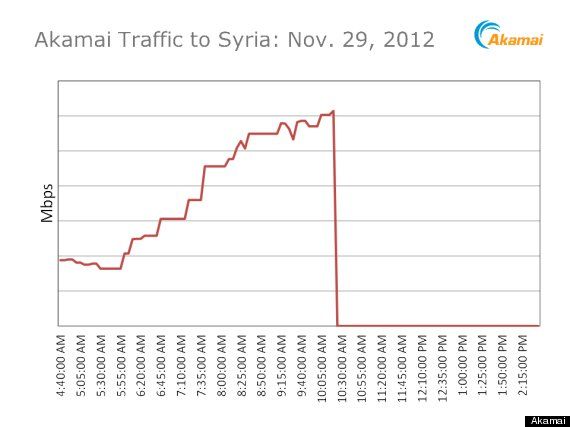 All internet service into and out of Syria mysteriously ceased on November 29, at 10:26 a.m. UTC, reports Catherine Smith, of Huffington Post, in Syria's Internet Reportedly Shut Down (UPDATES). Syria is in a civil war. The Government is blaming "terrorists, while the rebel forces suspect the government is about the launch a major offensive against them.

"In the global routing table, all 84 of Syria's IP address blocks have become unreachable, effectively removing the country from the Internet," reads a post on the company's blog, published on Thursday morning.

When this occurs, Internet traffic coming into and going out of the country stops. The government of Egypt during the Arab Spring uprisings in early 2011 implemented an unprecedented crackdown on the Internet, ordering the nation's Internet service providers to cease international communications.

Activists and authorities in Syria also told the AP on Thursday that cell phone networks and landlines were also unavailable in parts of the capital.

"The government has previously cut phone lines and Internet access in areas where regime forces are conducting major military operations," reports the AP.

Catherine Smith also has provided a number of updates including a corroboration by internet provider Akamai of internet provider Renesys' earlier report. Akamai also provided the plot replicated at the top of this post showing the total black out at 10:26 a.m.
Ms. Smith also reports that the hashtag #SyriaBlackout is being used by tweeters to discuss the outage.

10:26 AM PT: Reuters reports rebel forces are engaged in an intense battle with forces loyal to President Basahr al-Assad near the airport near Damascus.




(Reuters) - Syrian rebels battled forces loyal to President Bashar al-Assad just outside Damascus on Thursday, restricting access to its international airport, and the Dubai-based Emirates airline and EgyptAir stopped flights to the Syrian capital.

A rebel fighter who identified himself as Abu Omar, a member of the Jund Allah brigade, told Reuters that insurgents fired mortars at the airport's runways and were blocking the road linking it with the capital. ...

Syria's minister of information said "terrorists" were responsible, a pro-government TV station said.

The past two weeks have seen rebels overrunning army bases across Syria, exposing Assad's loss of control in northern and eastern regions despite the devastating air power that he has used to bombard opposition strongholds.

The intense battles have now apparently closed access to the airport and the internet connections may have been cut as part of the battles. Some phone connections are available so additional reports may soon clarify what going on.

10:49 AM PT: The BBC offers the longest article yet, and provides this additional clues.

The exact method being used to cut off the internet in Syria is unknown, one security expert said, but there are clues.

"It looks like they are using the same approach as Libya did," explained Rik Ferguson, vice president of security research at Trend Micro.

"Requests for Syrian addresses are simply timing out - so it's likely to be 'blackholing' or even breaking connections physically by cutting cables or switching things off."

Blackholing is a tactic which involves sending internet traffic into a dead end - rather than its intended destination.