I live on The Rock, as we locals sometimes call our home: Lopez Island in the San Juan archipelago, northwest Washington state. Down at the rugged south end, plate tectonic activity has created a dramatic cleft which now contains both a sheltered bight and a narrow freshwater wetland. It is a special place for us, a tiny beach tucked under soaring rocky cliffs, edged by forest and Watmough Bay.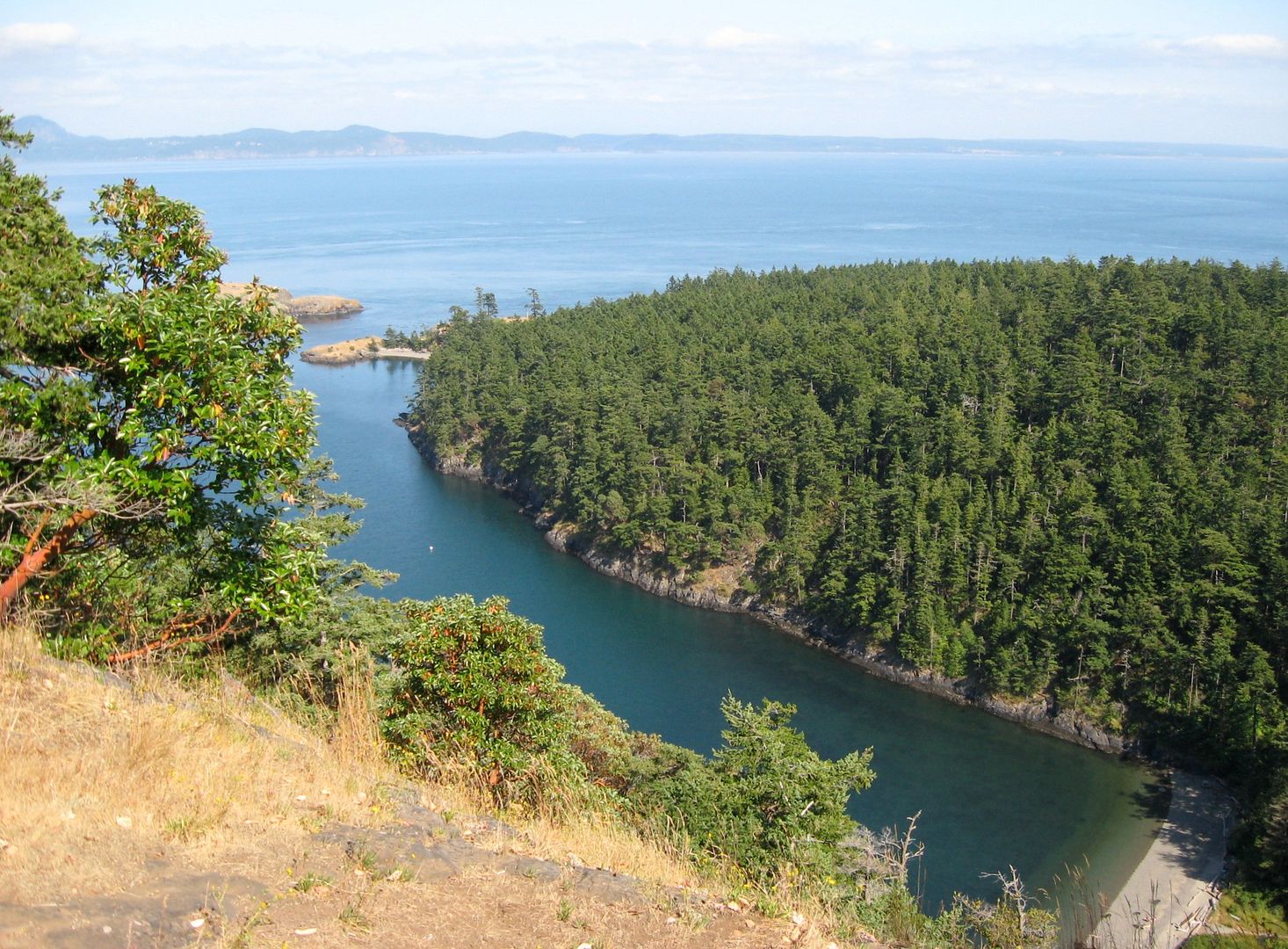 I'm standing on the summit of Chadwick Hill in this photo,looking southeast across the bay. It's almost 500 feet straight down from here.

Here's an aerial view looking northwest. Here you can see the wetland fringed by deciduous native fruit trees. The road goes on out to a few residences on the headland.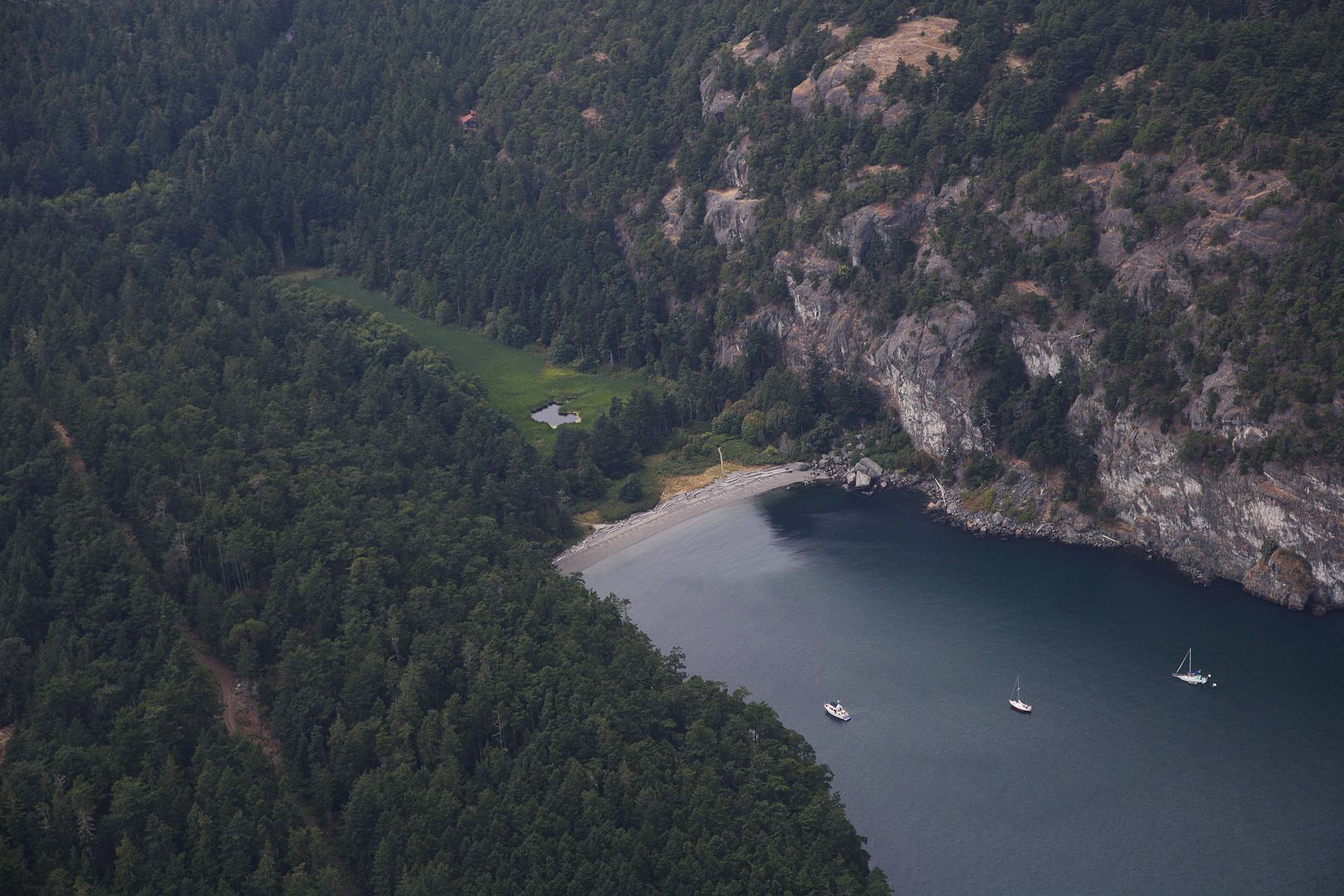 Geologically, the San Juans are a melange of terranes pushed up in slanted layers about 100 million years ago, carried in on the Juan De Fuca plate as it has collided into North America. It's a mad mix of rock types formed in wildly different times and settings, rammed together in subduction high pressure, wedged, thrusted, sheared and faulted, but you'd never know it gazing the gentle forested slopes and fields that cover most of the island. Even under vegetation, thick deposits of glacial sediment left by the last Ice Age have hidden the bedrock most everywhere except at the south end.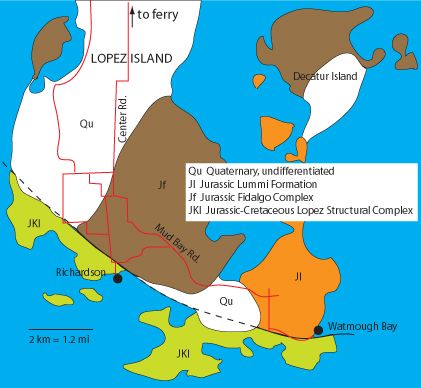 As you can see in this USGS topo map, the bay is very shallow for a long way out. The bottom is covered with eelgrass, which makes it a valuable nursery site for juvenile salmon and other creatures. It also means it's a great spot to anchor a boat, so to prevent eelgrass destruction by dragging anchors and chains, we now have permanent buoys of a type that uses a secondary float to keep chain off the bottom.
Take a drive down the island, past bucolic fields and stretches of woods, then turn off onto a recently paved side road (the paving....that's another tale).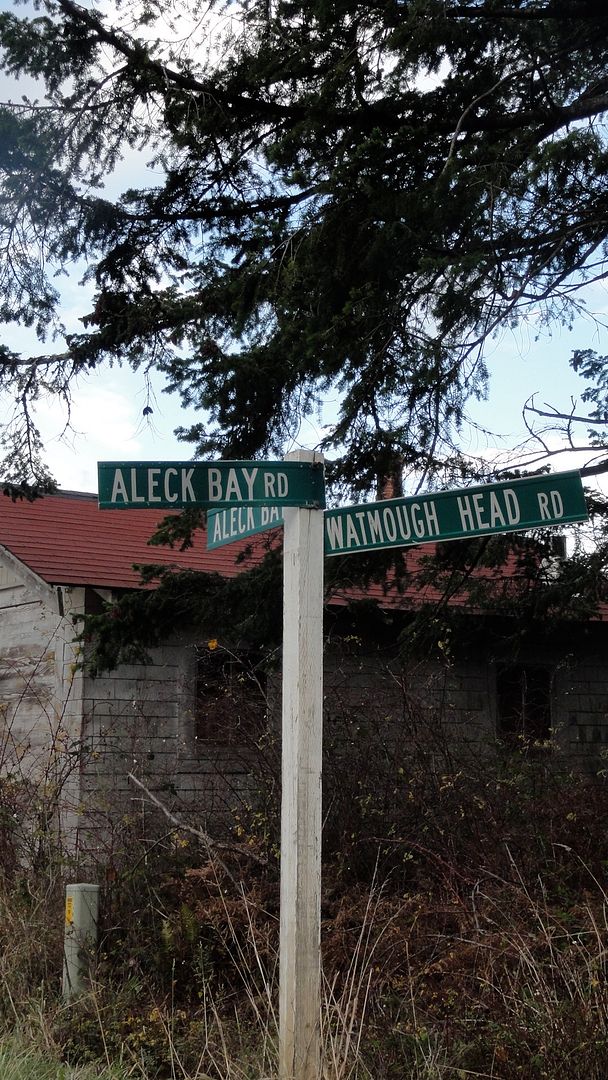 Continue past glimpses of the sea across private property, through the woods, to a small dirt parking area in the shade of Douglas firs, redcedars, and red alders. A signpost chronicles the successful effort to preserve the area, an arrangement among the Bureau of Land Management, private land owners, and local preservation organizations. Many of us donated money and time to make this happen. It is now public property, managed by the county Land Bank. Most Lopezians do not have waterfront property; this is one of a few places we have access to the sea.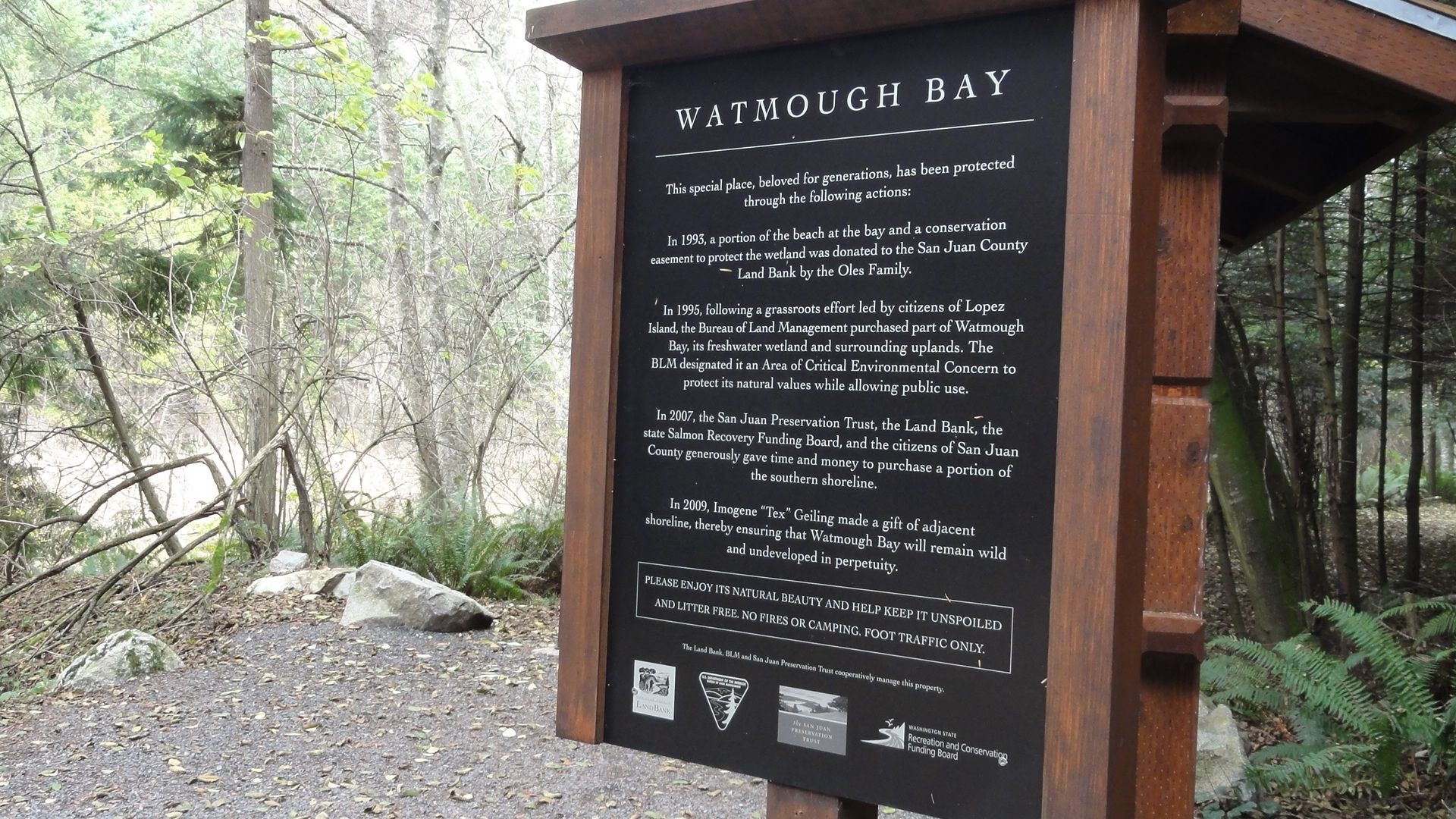 A short walk in the trees surrounds you with wet microclimate understory.
(all these pics are taken at various times of year...)
It's generally pretty dry at this end of the island, averaging 18" precip/year, in the rainshadow of the Olympic mountains. But the long marsh on your left saturates the soil. Sword fern, mosses on downed trees, elderberry, mushrooms, skunk cabbage and native blackberry vines contrast with the salal, bracken and snowberry uphill to your right where it's dryer.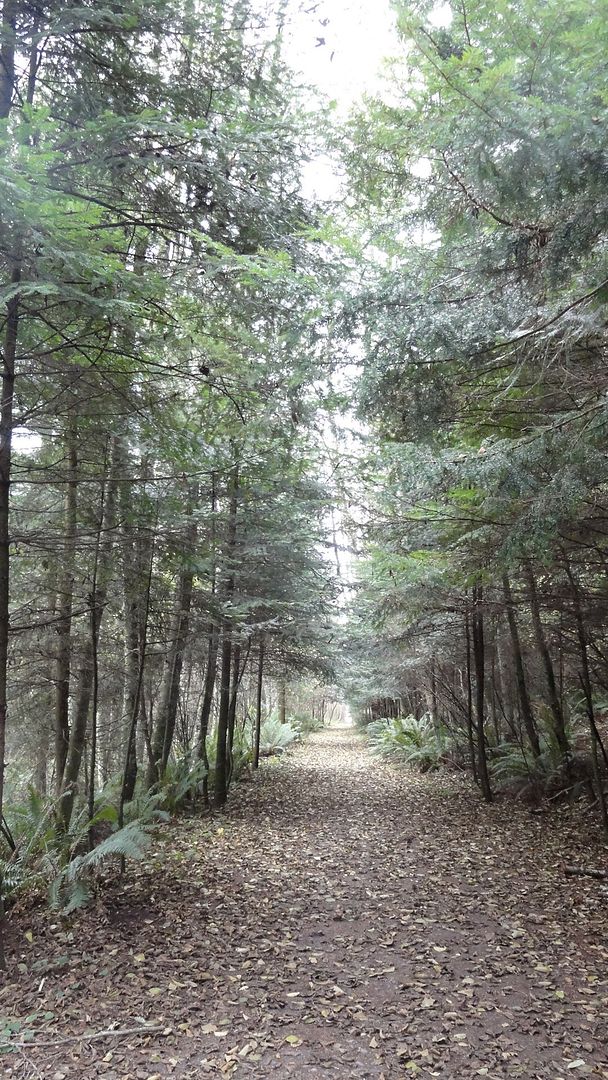 Strike off the trail toward the marsh, clambering over old mossy limbs. You may see banana slugs or a rough skinned newt. Plenty of mushrooms.

rough skinned newt (Taricha granulosa)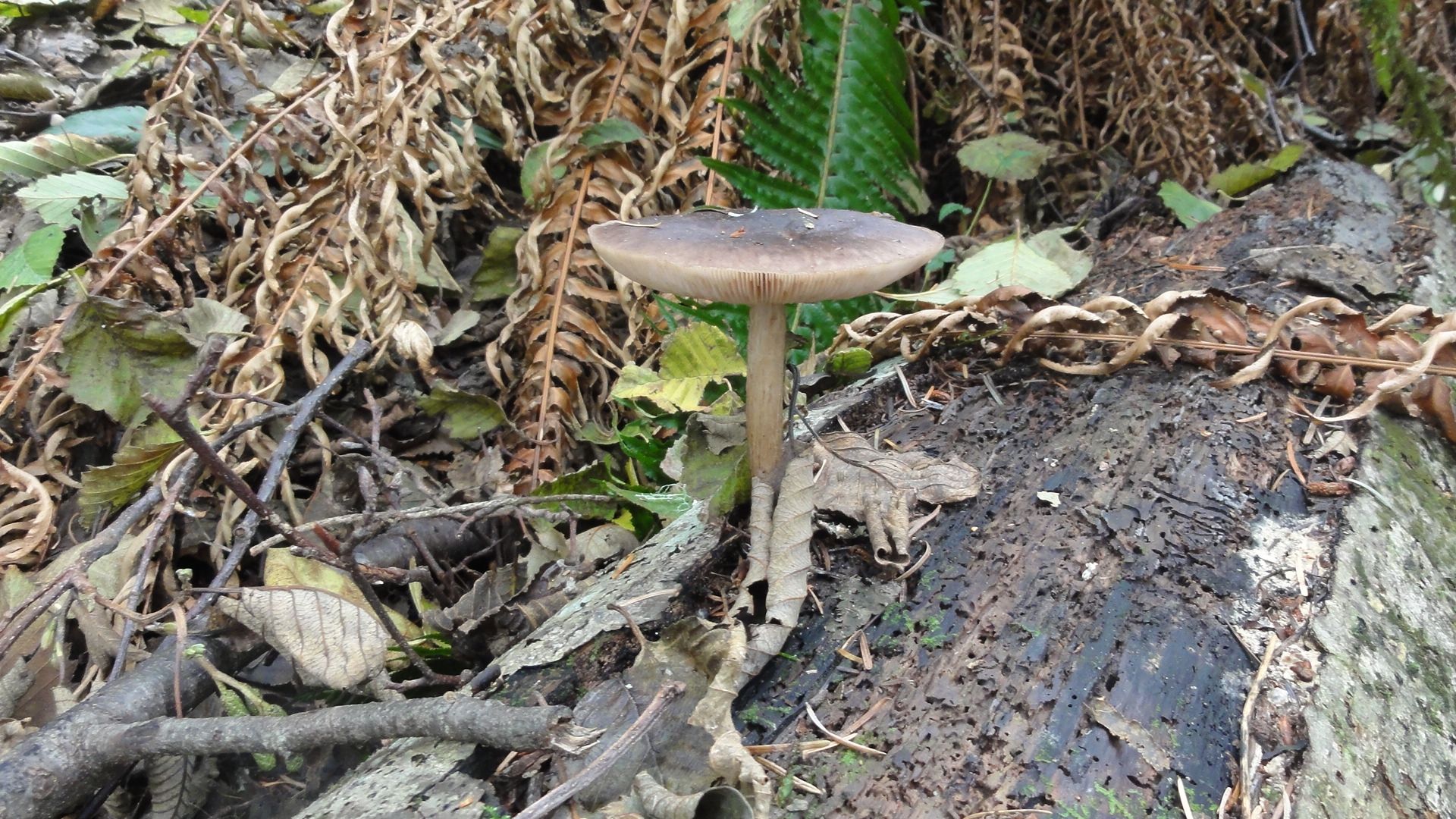 The trees end abruptly at a sea of cattails (Typha latifolia), with sedges along the margin. Watch your step: the water parsley and duckweed hide water that will come up to your knees. In summer it's busy with redwing blackbirds, swallows, marsh wrens calling and darting about. In winter it's quieter, but ducks feed in areas of open water. Plenty of aquatic vegetation and invertebrates make this a rich ecosystem year round.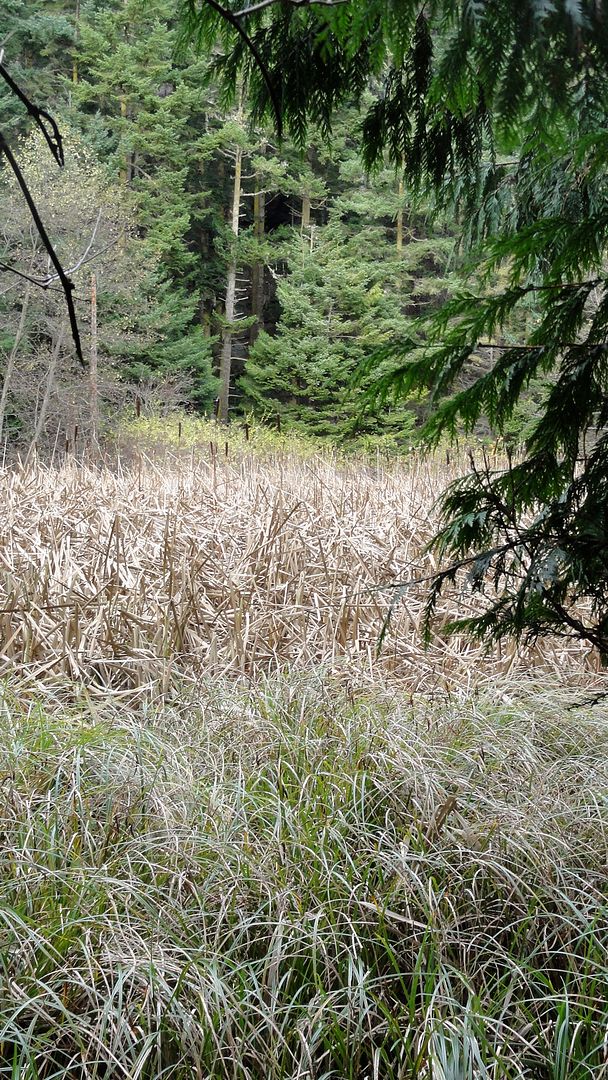 The trail ends at the beach where the sky opens and you look up up and up: sheer cliffs rise 466 feet from the bay. This is Chadwick Hill, second highest point on the island.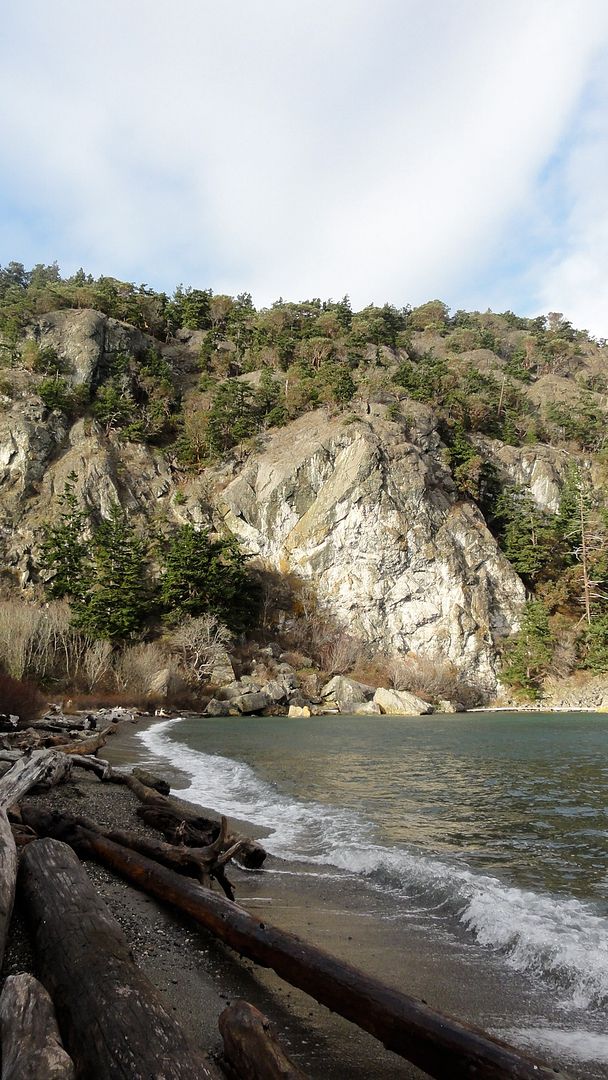 But only on one side. The other end of the beach is a modest tree shrouded slope that's only half as high in elevation.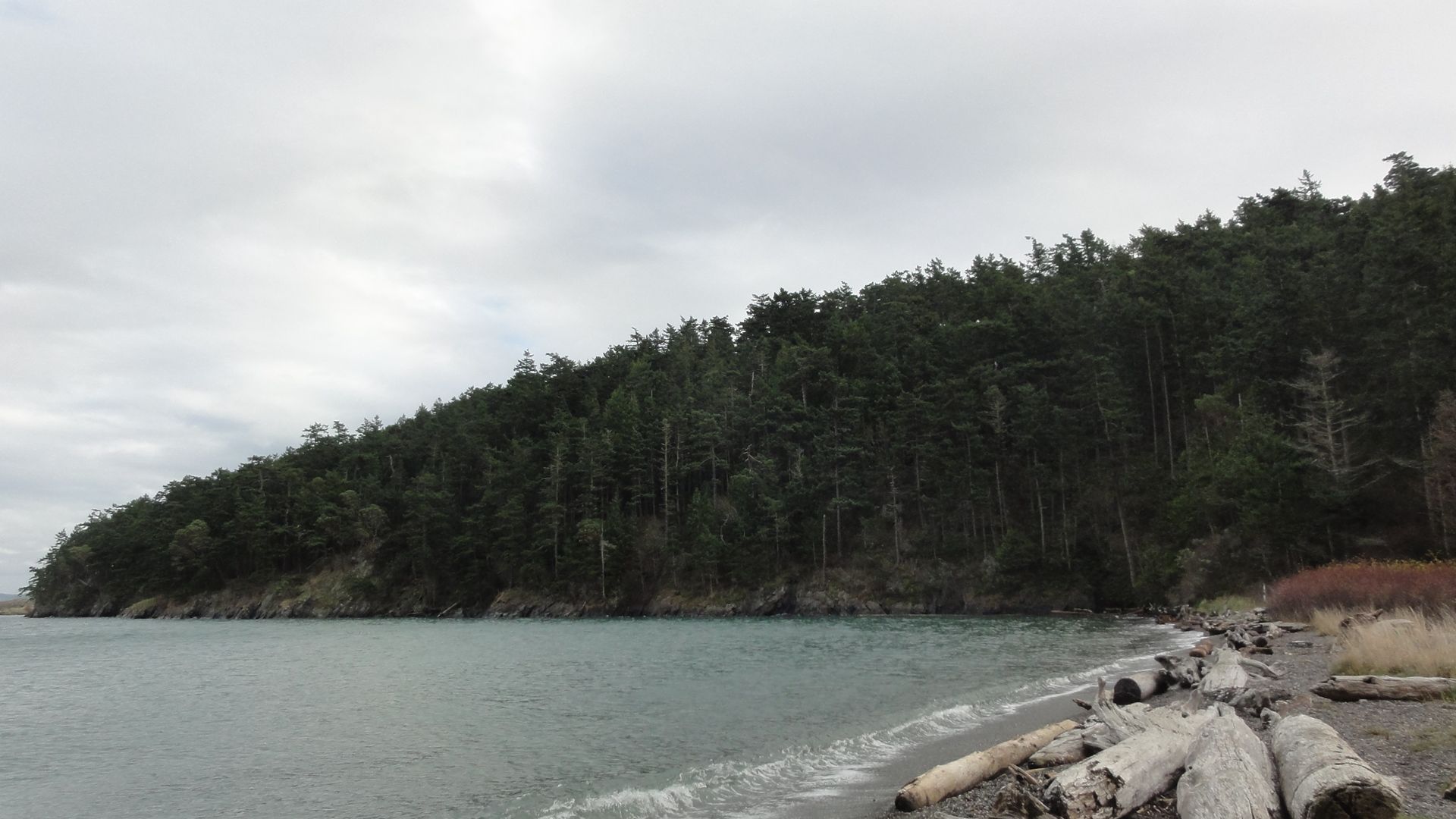 The beach and wetland mark a fault line between two entirely different terranes. On your right, to the south, Watmough Head is a wedge of black mudstone, tipped nearly 90 degrees, formed from marine sediments some 150 million years ago at the beginning of the Cretaceous. This rock is relatively soft and has eroded, leaving wonderful flat jet-black skipping stones on the beach.
To the north, the cliff is igneous rock, 180 million years old. It is composed entirely of pillow basalts, the rounded forms that solidify when liquid magma extrudes like toothpaste into seawater and instantly cools, the weight then compacting the "pillows" into a solid mass. Look closely at this boulder and you can see the rounded outlines of the pillows.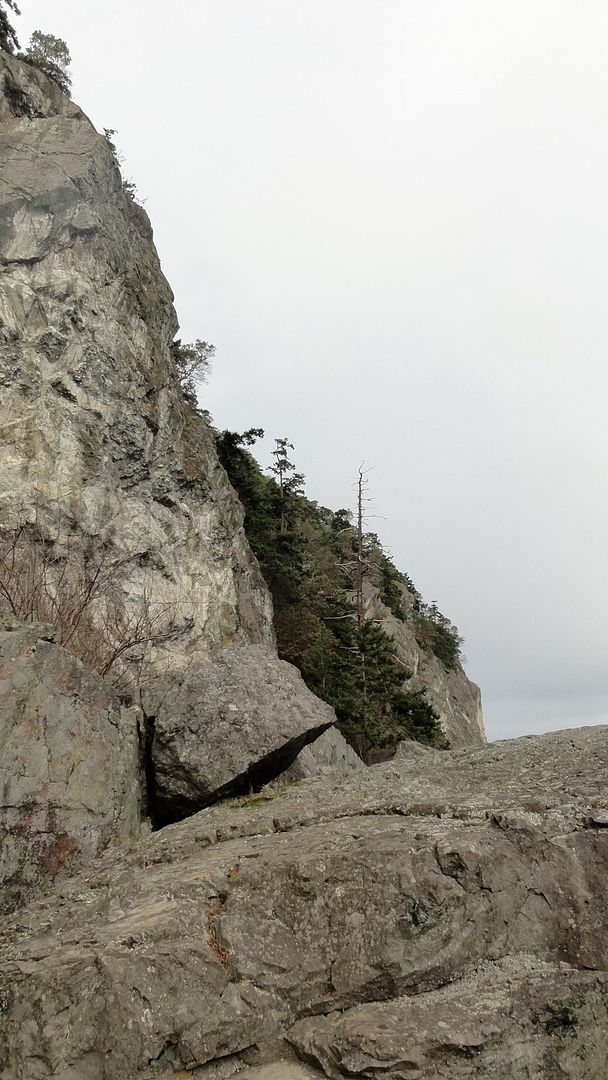 This igneous Jurassic-period terrane has been partly metamorphosed by high pressure, and cracked, streaked now with white veins of quartz. Over time, big chunks have fallen away, so there's a pile of huge boulders at the base of the cliff. Other sections of cliff look ready to come down, but the scale of time is deceiving. Take a look at this historical photo of "Old Man Merk's farm" on this beach, taken in the late 1880s. Every crack in the cliff, and every giant boulder at its base is the same, 130 years later. Our human history is as fleeting to this cliff as the generations of water bugs in the marsh are to us.
Merk fenced this barrier beach, kept a cow and sold butter. Originally known as Merk's Mountain, it was later named Chadwick's Hill after a more prominent settler who lived nearby. Our place names have a variety of origins. Besides the Spanish explorers in 1791, later British and American mappers labeled features visible fom sea, sometimes conflicting, a confusion for cartographers. The American mapper, who was a War of 1812 history buff, named Watmough after an officer who served in that war (he also named the island Chauncey, after another war hero - thankfully that name did not stick!).
The barrier beach is a natural feature, formed by longshore sea currents pushing glacial sediment up into a berm that is high enough to dam and store precipitation runoff behind it. The beach, with a shallow bay on one side and the freshwater cattail marsh on the other, was a favored spot for local Straits Salish tribes. There is a substantial old midden in the beach (covered now after several archeological digs) that contains great numbers of shells and bones. The Straits Salish ate well. 60 species of birds alone were identified, both marine and terrestrial. Interestingly, that included Sandhill Crane, a species no longer found in the islands (and rarely elsewhere west of the Cascades). Today lots of diving ducks, mergansers and cormorants frequent the bay. I've seen harbor seals there too. Peregrine falcons nest on the cliffs, and eagles are common, mostly soaring. Turkey vultures too, in summer.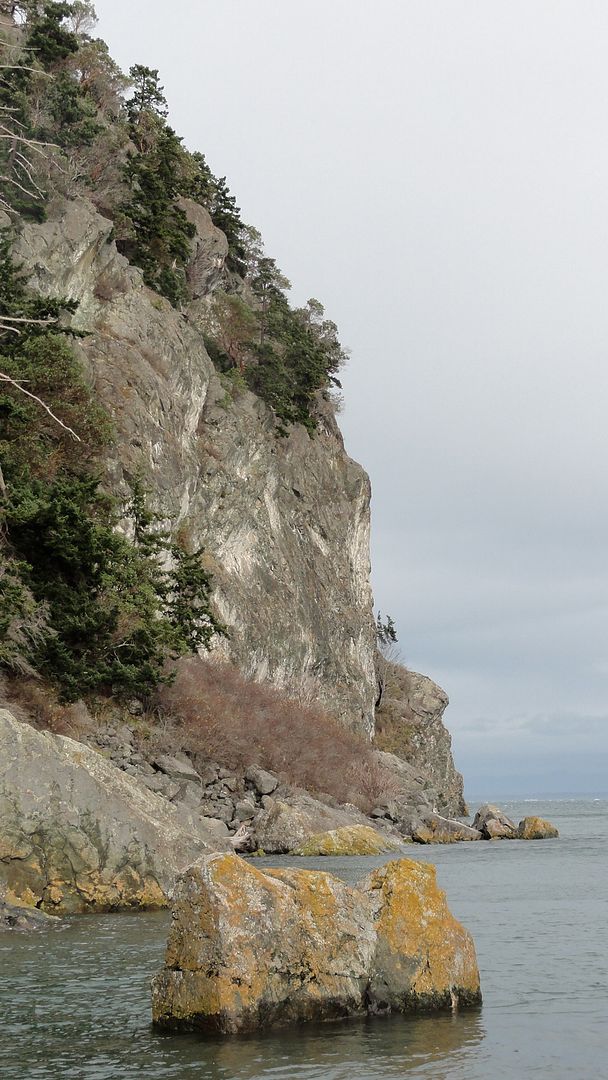 Glacial deposit makes up most of the beach stones, carried here and dropped from far away. There's a tremendous variety. You might find agates here.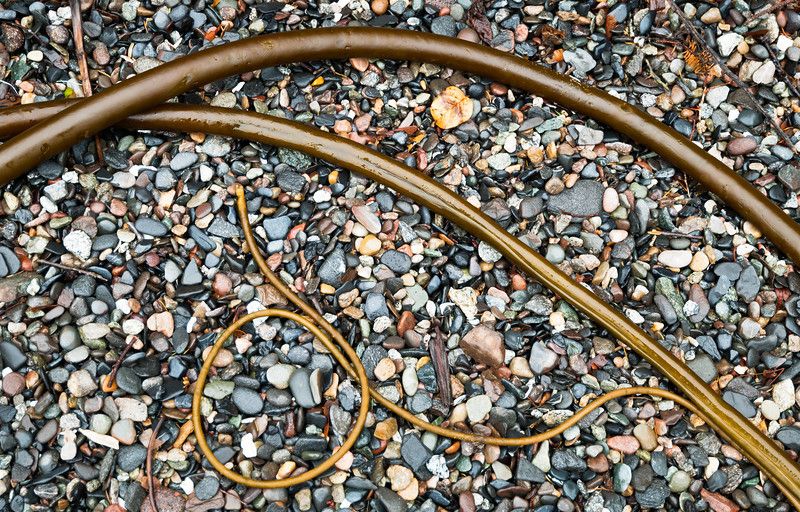 There is a small grove at the base of the cliff with an odd mix of trees: redcedars and Douglas maples. Cedars like their feet wet, but this kind of maple likes a dryer soil. I suspect the cedars' roots extend right into the marsh. Two of them are old, and appear to be in the same location in the Merk's farm photo.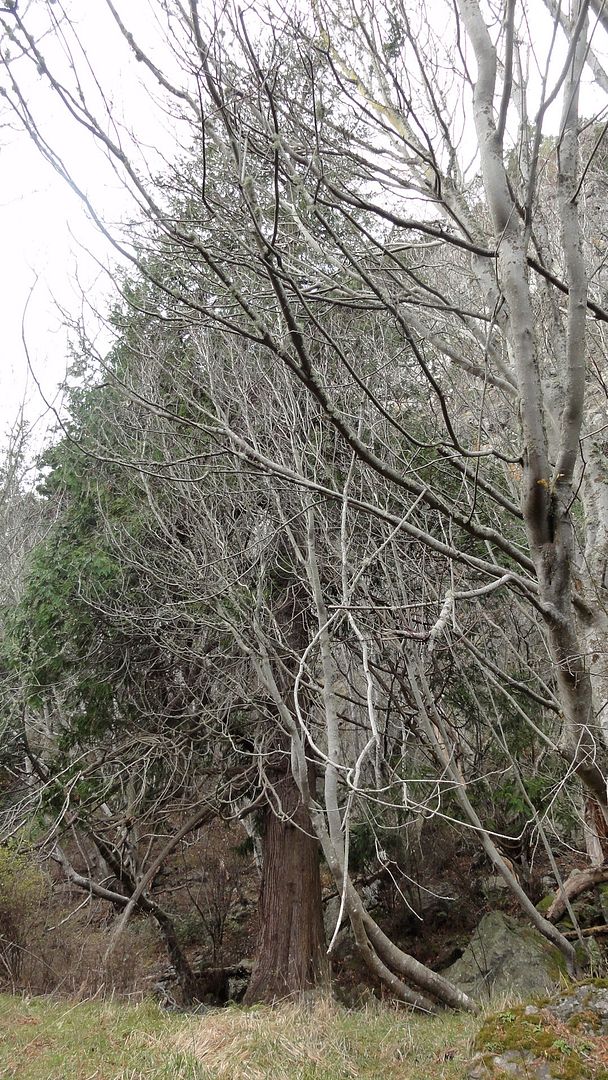 winter maples and cedar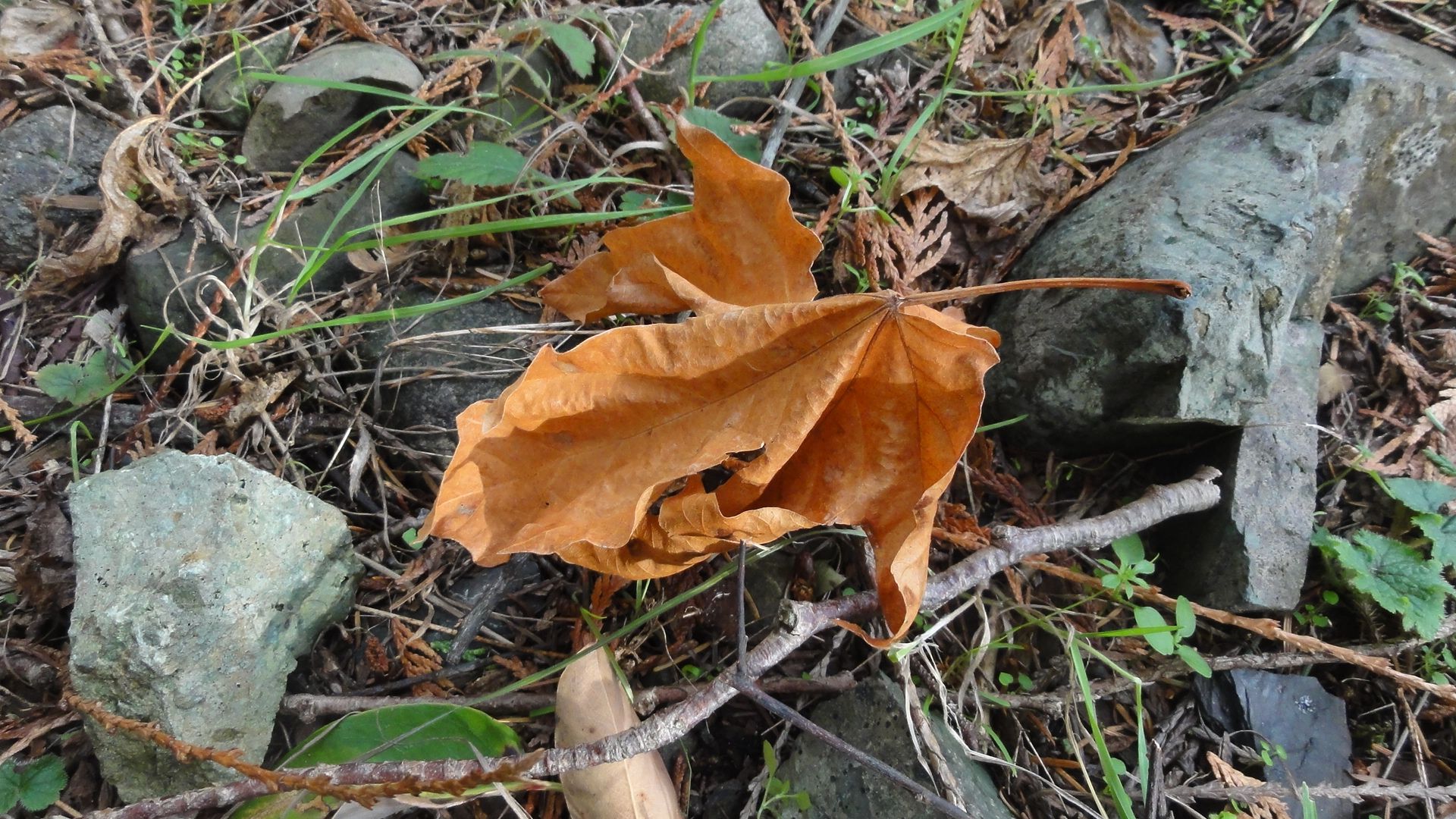 Douglas maple leaf (Acer glabrum)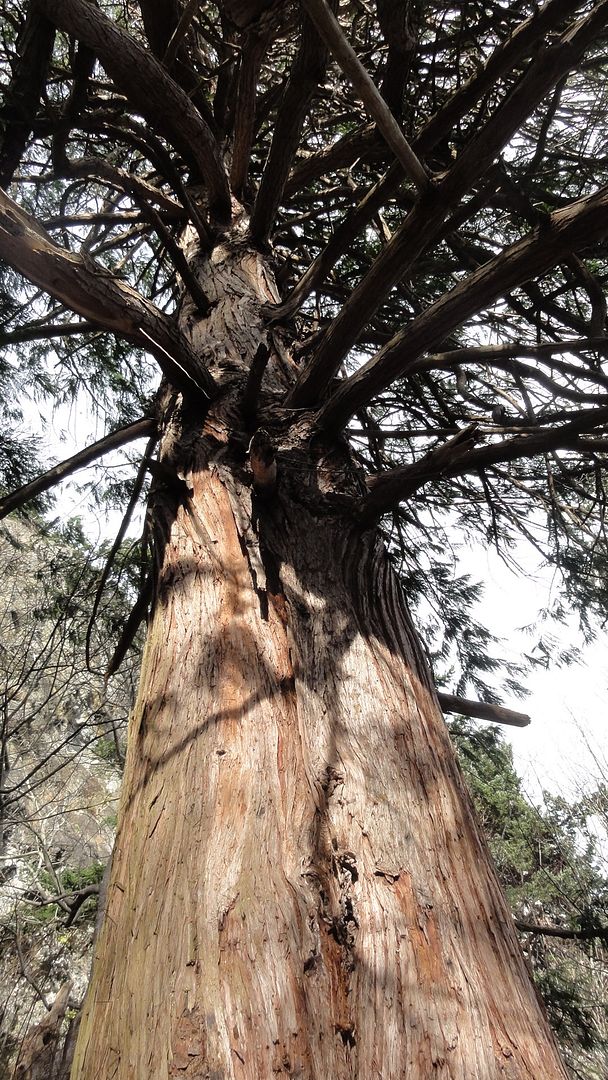 old cedar (Thuja plicata)
Other signs this is very well-drained ground are the salmonberry, oceanspray and Oregon grape understory.


Satyr anglewing (Polygonia satyrus) on oceanspray (Holodiscus discolor)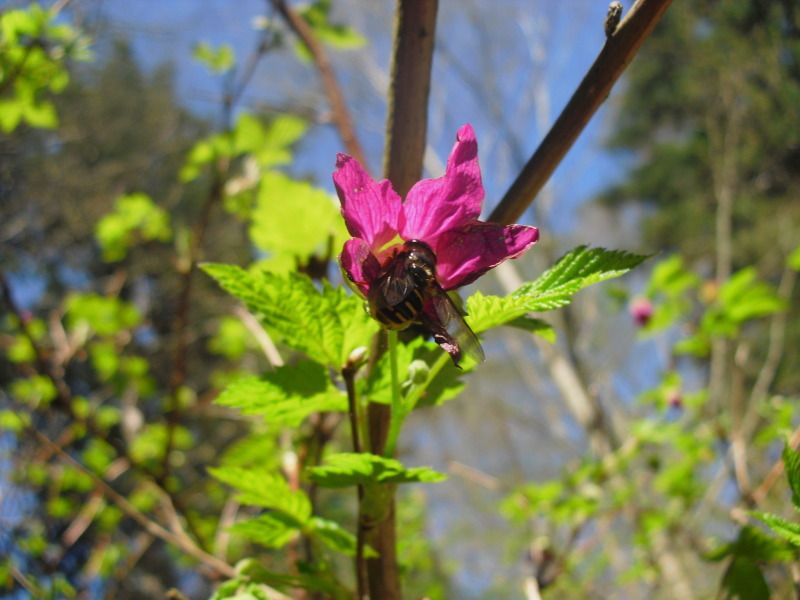 Bee feeding in a salmonberry blossom (Rubus spectabilis)
The marsh from this vantage, showing Merk's landward fenceposts:

From a little higher you can see the areas of open water. This is about as close as you can get to them.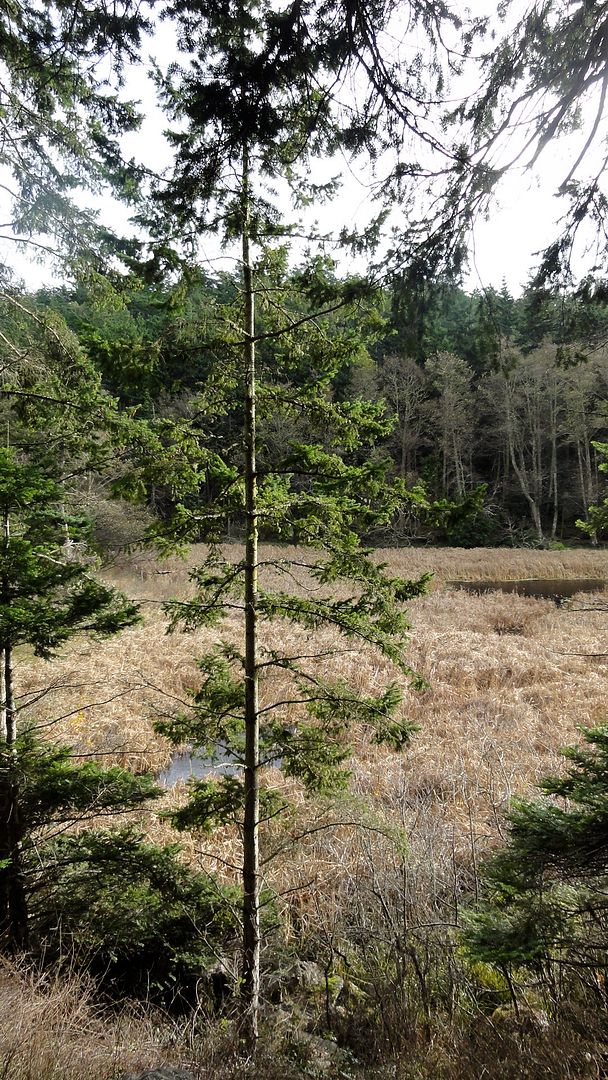 Pacific madrona roots wedge into crevices of solid rock, and are abundant on the steep side of the fault line, even the sheer vertical faces.
There is a path of sorts you can scramble up to the top of Chadwick Hill, but it's been a long time since I did that. The madronas and salal are excellent handholds if you do.
An easier path accesses the summit from the gentler north side, an hour's pretty walk through forest, also public land. This spot at the top of the hill, with its vista across the bay and wetland, and out to sea, is very special to many islanders. Some celebrate the Solstice here.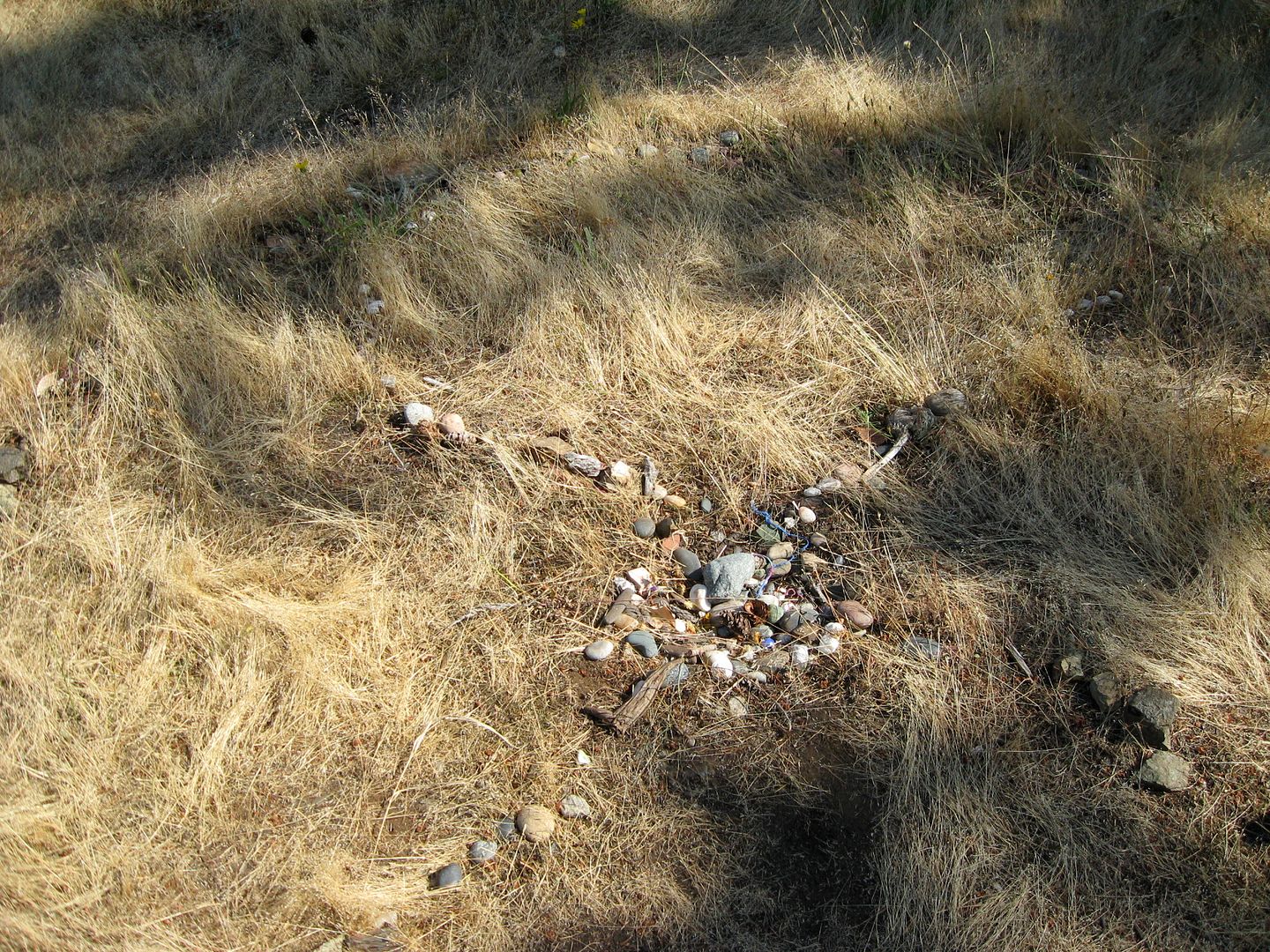 That flat spot at the top of the cliff in the photo below? That's where I'm standing in the very first picture. It's a glorious place to appreciate the drama of this special place.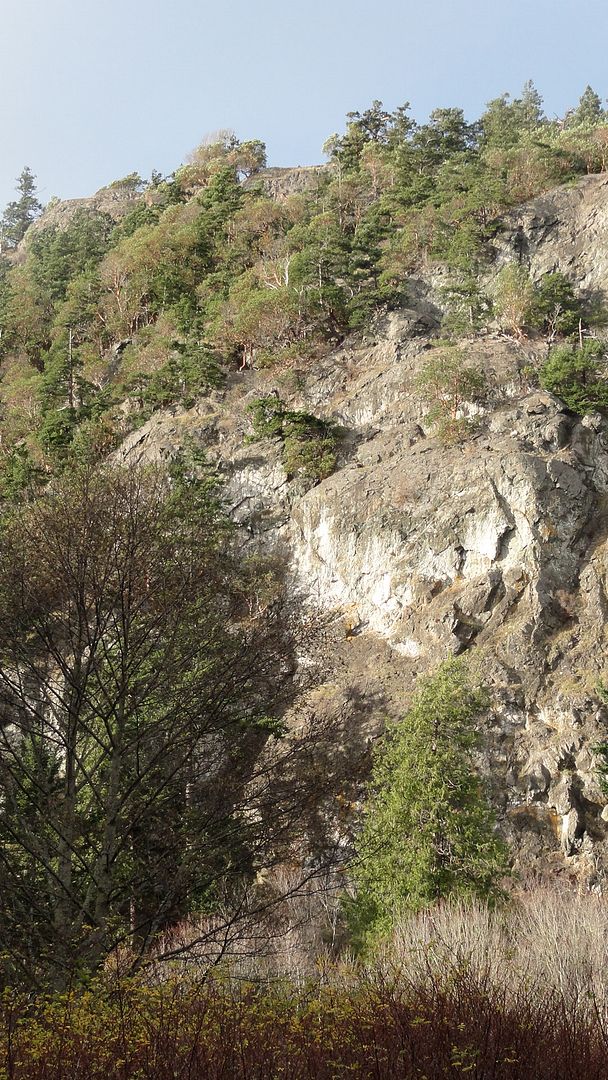 References for more detail:

One archeological dig
http://myweb.facstaff.wwu.edu/....
Most recent dig
http://faculty.washington.edu/....
Local geology
 http://books.google.com/....