Or more precisely the Insurers' Insurers do. The Re-Insurers.
Their long-run trend numbers are in. And the insurance forecast calls for pain.
Emotional and Economic Pain. Lots of it.

Swept in by a Hurricane, Climate Change Returns to Washington
by Brandon Keim, wired.com -- Nov 9, 2012
[...]
A recent report by German insurance giant Munich Re put the U.S. weather disaster bill at $1 trillion since the early 1980s, with climate change as a main driver. While the economy is still the top priority among U.S. voters, climate's economic impacts are more evident than ever.

"€œWe all need to come to terms with the cost of climate change,€" wrote the editors of Bloomberg.com in a recent editorial.

North America most affected by increase in weather-related natural catastrophes
Munich Reinsurance, Press release; munichre.com -- 17 October 2012

For the period concerned -- 1980 to 2011 -- the overall loss burden from weather catastrophes was US$ 1,060bn (in 2011 values). The insured losses amounted to US$ 510bn, and some 30,000 people lost their lives due to weather catastrophes in North America during this time frame. [...]

The study was prepared in order to support underwriters and clients in North America, the world's largest insurance and reinsurance market. Using its NatCatSERVICE -- with more than 30,000 records the most comprehensive loss data base for natural catastrophes -- Munich Re analyzes the frequency and loss trends of different perils from an insurance perspective. [...]

The Head of Munich Re's Geo Risks Research unit, Prof. Peter Hoppe, commented: "In all likelihood, we have to regard this finding as an initial climate-change footprint in our US loss data from the last four decades. Previously, there had not been such a strong chain of evidence. If the first effects of climate change are already perceptible, all alerts and measures against it have become even more pressing.€" Hoppe continued that even without changing hazard conditions, increases in population, built-up areas and increasing values, particularly in hazard-prone regions, need to be on Munich Re€'s risk radar. All stakeholders should collaborate and close ranks to support improved adaptation. In addition, climate change mitigation measures should be supported to limit global warming in the long term to a still manageable level. "€œAs North America is particularly exposed to all kinds of weather risks, it especially would benefit from this", added Hoppe.
[...]
much larger image
-- Source: Munich Re
datasets page
.

Hurricane Sandy Alters Calculus of Climate Change
by The Editors, Bloomberg.com -- Nov 5, 2012
If the worst Atlantic storm in U.S. history holds an economic lesson, it is this: We all need to come to terms with the cost of climate change.
[...]

Therein lies an opportunity. Once a cost is recognized, investments to reduce it suddenly make economic sense. Expenditures can be profitable as long as they are smaller than the losses they prevent. This kind of cost-benefit analysis is a major driver of innovation. [...]

Vast Market

The potential market is vast. In a recent report, the insurer Munich Re estimated that from 1980 to 2011, weather-related catastrophes cost an inflation-adjusted $1.06 trillion in North America alone, an average of more than $34 billion a year. What'€™s more, the losses have been rising in a long-term trend consistent with models of climate change. It's reasonable to assume they will keep growing: The sea levels and water temperatures that contribute to weather disasters will increase even if the world gets serious about combating global warming today.
[...]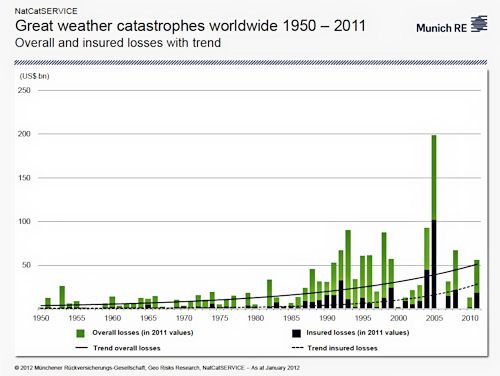 much larger image
-- Source: Munich Re
datasets page
.

The potential market is vast.
So are the very real costs -- of doing nothing.

Business as usual, is rapidly becoming Business of the 'New Normal'.
Insurers' Insurers know the real score. And it calls for pain. The numbers don't lie.
Only the Businesses who ignore them do ...