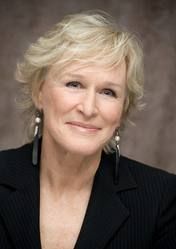 May I call your attention to a helpful post by Glenn Close who writes A Message on Sandy Hook and Mental Health Awareness, to help improve our understanding and empathy of mental health issues which affect 1 in 4 of every Americans.
She tells us as an actress she frequently has to imagine herself:

"walking in the shoes of other human beings ... seeing what they see, hearing what they hear, feeling what they feel. But when I try to imagine what the Sandy Hook families are experiencing, my mind stops at what feels like a breaking point, and that it is ... so easy to let our thoughts sink to a place of rage, terror and despair, but I choose to take my memories about all that was and is good, beautiful and fearless about my child and to add them to our collective memory -- to everything that connects us.

She also has a nephew with schizoaffective disorder, and has talked about what it is like to struggle with mental illness, and expresses concern about how easy it is, at a time like this, to objectify, and further stigmatize those with mental illnesses in ways that are not accurate, compassionate, or helpful.

A tragedy like Sandy Hook can tend to solidify people's fears and prejudices about mental illness. So it is of vital importance that we, as a community, re-dedicate ourselves to eliminating the stigma that affects 1 in 4 people in our country. We must educate ourselves about mental illnesses, starting with "the big four" -- schizophrenia, bipolar disorder, serious depression and post-traumatic stress -- and talk openly. We must be aware of the dangers that can occur when someone goes undiagnosed as well as the very real possibilities for recovery -- be aware of the fact that the earlier someone seeks treatment, the better their recovery will be. Life, love, fulfillment and dignity are possible.

She advocates improved care for mental illness, which Tom Insel, Director of the National Institute of Mental Health (NIMH), tells us acounts for "30 percent of all medical disabilities!" But, these are often among the first budgets cut in the nation-wide cuts being made to state Medicaid programs.

Glenn Close speaks for Bring Change 2 Mind in asking everyone to join her in these actions steps.

Ask 10 people to take the pledge and commit to our principles.
Share your story -- it will help others to find their voice
Talk openly and listen closely when needed
Practice empathy and save your judgment
Be aware of your language -- words can perpetuate stigma
Support the Change A Mind Campaign by introducing it to your community
With your passion and commitment, person-by-person, family-by-family, community-by-community, we will change minds and lives.

I'm of reminded of the Gandhi quote I've used as my sig line for quite a while, "the means is the ends in the process of becoming." In this context, I'm thinking we are not likely to achieve a reduction of violence and greater compassion and respect for life, and one another, by striking out with angry reactions or unfounded suspicions against all those with "mental illness," or issues. I am not a doctor or professional health care worker, but I know of no evidence to suggest that those with mental health issues are more likely to be violent than those with none. We should be cautious not to create such unhelpful suspicions, or greater stigmatization, such that we cause people to be less likely to seek help.
One FBI profiler on CNN reported that they do not yet have a sufficiently accurate profile to predict who may break down and commit massacres. So demanding that all people with mental illness be identified in public databases, so transportation workers "can keep an extra eye on them," as one notorious conservative pundit has done, is not helpful, nor likely to make us safer, but rather spreads ignorance, fear, and stigmatization.
We all need to raise our awareness about the many different kinds of illnesses that exist under the umbrella term, mental illness, or we risk the danger that uninformed pundits, or other people will demand that we brand a red M on the foreheads of the 1 in 4 people with mental illness who are not more apt to be violent than others. Sadly, I remember 40 years ago, one family in our neighborhood had a member that got cancer, and our of fear many of the mothers did not let their children play with children from that family for fear they might "catch it." What a tragic and ignorant shame that unfounded fear like this makes our social morbidity worse, not better, and leads to greater and unnecessary suffering.
We are more likely to become a less violent and more loving society by finding ways to react with greater compassion, empathy, love, effectiveness, and helping one another move in healthier and more positive directions based on improved knowledge and understanding. I recommend this thought provoking post by Glenn Close as a start.