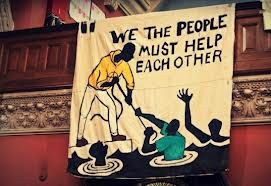 Remember when that huge @ss storm hit a huge area of the East Coast and spread mayhem and disaster? Guess what. All is not miraculously well there it seems, even though it has dropped off the msm radar.
We still need your help! The crisis isn't over. The recovery effort is just getting started. We still need volunteers to help in area affected by Sandy. Please register as a volunteer to join us!

The Ascension Church in Greenpoint is up and running for volunteer orientations, central comms, and dispatch. Contact 347-770-4520 for more information.
Yes, as their plea states, still many pressing needs for people whose lives have been wrecked by Sandy. Here are a few specifics:
Urgent needs at our main distribution centers:

➦
The Ascension Church (Greenpoint HQ)

The Ascension Church in Greenpoint is up and running for volunteer orientations, central comms, and dispatch.…
Updated Feb 6, 3pm

➦
St John's Episcopal Church (Bay Ridge Kitchen)

VOLUNTEERS NEEDED: Our kitchen in Bay Ridge at St. John's Episcopal Church still needs volunteers every day.

We are still feeding over one thousand people per day and need people willing to cook, prepare food, and drive the food to communities still in need.

Drivers are especially needed on Saturday, December 29th despite the (likely) poor weather. If you have a car that you feel safe driving with in slush and snow, please stop by the Church at 461 99th Street, Brooklyn, New York 11209. Please feel free to email us at sandybayridge@Interoccupy.net or call us at (347) 465-7430.…
Updated Dec 28, 4pm


➦
Philadelphia - TWU Local 234

Safety equipment & muck-out equipment: OSHA P100 FACEMASKS, waterproof boots, waterproof work-gloves, hazmat suits and/or heavy-duty overalls, tarps, waterproof plastic bins, pry-bars, garbage bags, headlamps/flashlights, and batteries.
Construction equipment & personal appliances: drywall, floorboards, lumber, joints, insulation, wiring, hot water heaters, refrigerators, dish-washers, gas or electric ranges/ovens, newer-model personal computers, electric wheelchairs, & generators.…
Updated Jan 3, 4pm
➦

St. Margaret Mary Church School

URGENT NEEDS: DeHumdifers, Fans, Sponges, Goggles, #P100 Filters for Resiprators, Moldex, Gloves, Brushes & Hand Warmers…
Updated Dec 30, 2am
Occupy Sandy is a coordinated relief effort to help distribute resources & volunteers to help neighborhoods and people affected by Hurricane Sandy. We are a coalition of people & organizations who are dedicated to implementing aid and establishing hubs for neighborhood resource distribution. Members of this coalition are from Occupy Wall Street, 350.org, recovers.org and interoccupy.net.

Follow us:  
Contact us:

Info: OccupySandy@interoccupy.net

Press: SandyPress@interoccupy.net

Medics: SandyMedics@interoccupy.net
Coordinators' Hub
You can help us organize Sandy Relief. To see upcoming meetings, find useful links and resources, or submit web content, visit the Coordinators' Hub.
I feel their pain. Having experienced hurricane aftermath on Galveston Bay first hand am putting this post up in hopes that more assistance will go their way.
Climate Change and 350.org
Kudos to everyone working boots on the ground with Occupy Sandy. What an awesome, giving win!
Thinking about the long run we can also put in time and treasure into 350.org and contribute to help build the global movement to solve the climate crisis.
Perhaps Mayor Bloomberg could do what Seattle's Mayor did recently. :)