A hero left us yesterday.

Photo credit: The Birmingham News/Tamika Moore
James Hood, one of two African American students determined to attend the whites-only University of Alabama, has died at age 70.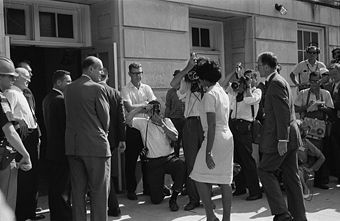 In 1963, Mr. Hood and Vivian Malone defied Alabama's racist governor George Wallace, and a racist power structure and populace, to avail themselves of the right to a public college education.
It was a time that people growing up today can't even begin to imagine. It was the year of George Wallace's rancid speech pledging fealty to "segregation now, segregation tomorrow, segregation forever."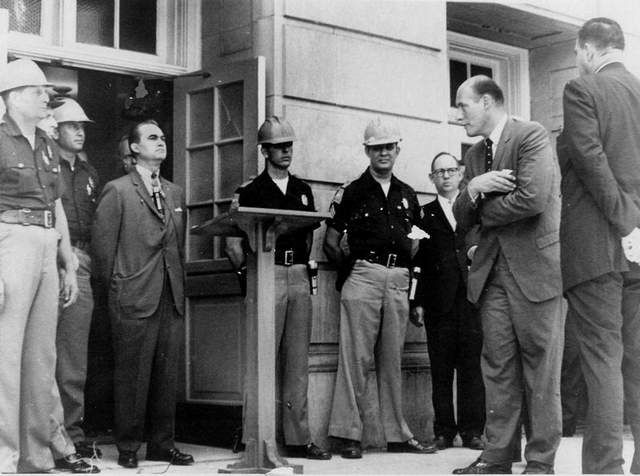 Five months later, Mr. Hood and Ms. Malone would force Wallace to eat those words in a very public way. But their decision, on June 11, 1963, to stand up for their rights by registering for classes, sparked Wallace's infamous declaration the he would "stand in the schoolhouse door" before he would allow African American students to enter.
As with Rosa Parks's ultimate refusal to surrender her seat on the bus, this was not a spur-of-the-moment decision. It was carefully planned, and Mr, Hood and Ms. Malone were accompanied to the University by Assistant Attorney General Nicholas Katzenbach, in an effort to ensure both their success and their safety.
When Katzenbach confronted him, Wallace refused to budge and began filibustering with all the racist rhetorical bluster he could summon. President Kennedy, in another act of heroism, federalized and then mobilized the Alabama National Guard, led by General Henry Graham, to escort Mr. Hood and Ms. Malone to register for classes. Upon finding Wallace still blocking the door, General Graham advised him: "Sir, it is my sad duty to ask you to step aside under the orders of the President of the United States." Wallace filibustered a while longer, but eventually stepped aside.
Mr. Hood and Ms. Malone crossed the threshold of the University of Alabama auditorium . . . and the rest is history.
Perhaps unsurprisingly, James Hood wound up leaving the university after two months, transferring to another university to earn his degree. The pressure must have been lethal.
However, he wound up proving that determination and moral justice are not bound by any schedule, and returned to the university in the late 1990s to earn a doctorate. Reportedly, George Wallace had planned to be the one to award that degree to Mr. Hood, but his ill health prevented him from doing so. Mr. Hood, however, made publicly clear that he was convinced of the truth and honesty of Wallace's conversion - and publicly forgave Wallace for his earlier actions, even attending his funeral.
On November 3, 2010, a dedication ceremony took place at the University of Alabama: the Autherine Lucy Clock Tower and Malone-Hood Plaza at the Foster Auditorium. At the dedication, a photojournalist captured the meeting of Mr. Hood and Attorney General Eric Holder: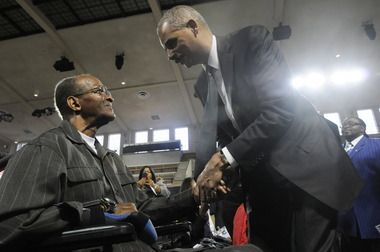 Photo credit: The Birmingham News file photo.
Today, on the wall of that auditorium, there hangs a plaque. Quoting James Hood, it says:

"One person can make a difference if that one person is committed to making a difference."
James Hood was an ordinary man, and a great man; he epitomized what it means to be a hero. His life was a testament to courage, and strength, and honor, and forgiveness. We are all poorer today for his loss . . . but we are all richer for having had him make such a seminal difference in our country and our society.
Diarist's Note: Oh, the irony: The first link I opened was from a Tennessee news site, News Channel 9. Prominently displayed in bright red and white on the left-hand sidebar next to the top of the main story, where it cannot be missed, is the title "Petition to Secede," followed by a link to "Tennessee" (asking that Tennessee be allowed to secede from the union and create its own government), and then a link to the main White House petition site. The more things change . . . .

Time for the people of Tennessee - and all the rest of us - to be committed to making a difference . . . and then to make that difference.