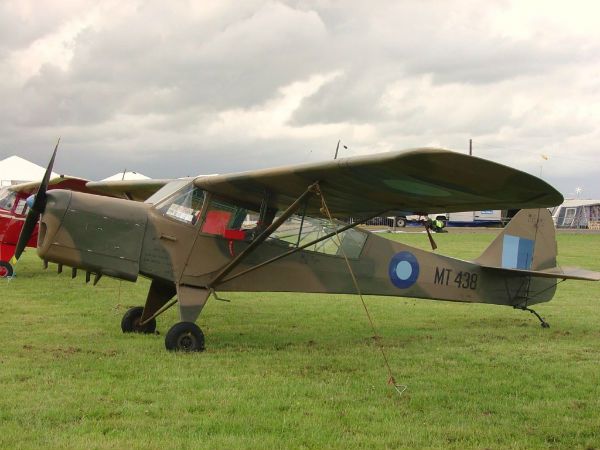 *
Taylorcraft Aeroplanes (England) Ltd was set up in 1938 by Alexander Wykes, who had acquired a license to build the popular US lightplane (designed by the Taylor brothers, originally from Nottingham), and set up a small manufacturing facility in a disused osier shed called the Britannia Works, Thurmaston. Completed airframes were taken to the airfield at Rearsby, Leicestershire and the Taylorcraft 'Plus C' began to be marketed to private owners and flying clubs around the UK. The steel-tube fuselage was relatively easy to produce (apart from a tricky weld near the front of the cockpit, where five tubes came together), and the wings and fuselage were then covered in the finest Irish linen and doped!
At the outbreak of WW2, private flying ceased, and many light aircraft were 'impressed' by the armed services, to help support the war effort. Taylorcraft were no exception, and it was realised that the high-wing design could well act as an 'Air Observation Post' aircraft. Some aircraft accompanied Royal Artillery units to France with the British Expeditionary Force, and further tests lead to an Air Ministry order for 100, as the Auster I (Latin for 'warm, southerly breeze').
RAF AOP Squadrons, (staffed by Royal Artillery officers as pilots) serviced the needs of the Royal Artillery, and spotted the fall of shot for every calibre of gun in service as well as being used for casualty evacuation and liaison. Various marks of Auster served with the RAF, RCAF and the RAAF in every major theatre of war (the Royal Australian Air Force No 16 and 17 AOP Flights served in the Pacific).
The Auster 3 was similar to the Auster I, except for the more powerful (130 hp) De H Gipsy Major engine, and was more suitable for 'hot and high' situations. No. 656 Squadron, RAF – motto "Volans et videns" , 'Flying and seeing' – was formed at RAF Westley, Suffolk on 31st December 1942 with the Auster 3, and it was decided to send the unit to India, where support for the Fourteenth Army, then commanded by Lieutenant-General William "Bill' Slim (later, Field Marshal William Joseph 'Bill' Slim, 1st Viscount Slim, KG, GCB, GCMG, GCVO, GBE, DSO, MC, KStJ) was desperately needed. The 14th Army was at the end of every priority list when it came to new equipment, and coverage of their huge theatre of war was incredible sparse in the European press. For example, in the air, the P-36 Mohawk (Jan. 1944) and Hawker Hurricane (end of hostilities) stayed in frontline action in this theatre far longer than they did elsewhere. A notable quote by General Slim was "When you go home don't worry about what to tell your loved ones and friends about service in Asia. No one will know where you were, or where it is if you do. You are, and will remain "The Forgotten Army."
No. 656 Squadron took ship on 12th August, 1943, and on arrival became part of South East Asia Command. The aircraft was a little short on range (about 220 miles) for this theater of operations with its immense stretches of jungle, but still did sterling work in both India and the savage fighting in Burma (the Squadron's official badge includes a Chinthe's head – the lion-like 'leogryph' of Burmese mythology).
Here we can see an excellent example of the Auster 3, MT 438, formerly of No. 656 Sqn., RAF; she is at the former RAF Hullavington, and is well secured with screw pickets under each wing, against the coming storm. MT438 is in typical SEAC camouflage scheme – Dark Earth/Dark Green on all surfaces, with roundels and fin flash being painted in Light Blue/Roundel Blue. This removal of all traces of red from the national markings was to prevent any confusion with the Japanese hinomaru (and thereby minimize 'friendly fire' incidents).
After the war, the aircraft was put onto the Malaysian Civil Register as 9M-ALB, and eventually recovered back to the UK in 1960, by the redoubtable Mike Somerton-Raynor. It would be almost impossible to list all of Mike's talents – Army Air Corps officer, inventor, record-breaking aviator, would be a sample, and I had the great privilege of meeting him on numerous occasions, particularly when I used to frequent the AAC Museum, Middle Wallop, Hampshire.
After a string of owners (which included the Laarbruch Flying Club, Germany) MT438 is now in the hands of Richard Webber, of Essex, and is often seen at fly-ins and air shows. A truly classic aircraft, and a living reminder of the 'Forgotten Army', and all who served in SEAC.