Welcome to the Forward on Climate blogathon on Daily Kos, a week of action diaries by an amazing lineup of Kossacks and a who's who of eco guest writers leading up to this Sunday's #ForwardOnClimate Rally in Washington, D.C., the largest climate rally in history.
Below you'll find all the information you'll need to become part of this exciting movement. If you can make it to the National Mall in Washington D.C. to urge President Obama to say no to the Keystone XL pipeline, great!
If you can't, there are many other opportunities to get involved. Below the orange squiggle you'll find an extensive list of solidarity rallies across the country, some of them attended by fellow Kossacks. If you can't make it to a rally, you can show your solidarity by supporting the diaries that will be posted throughout the week.
Without further ado, here is all the information you'll need, sprinkled with my personal story of how I convinced my inner gremlin that it's time to take a stand.
As wise Kossack WarrenS likes to point out: "Remember, if we fail on climate change, nothing else matters."
"Forward On Climate" Blogathon: February 11 - February 15, 2013
Diary Schedule - All Times Pacific
---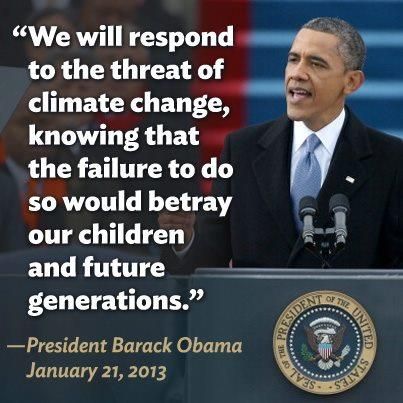 IT IS TIME TO TAKE A STAND
Please join tens of thousands of Americans on the National Mall in Washington, DC on Feb. 17 from 12:00 pm-4:00 pm to urge President Barack Obama to take immediate action on Climate Change.
President Obama has now listed Climate Change as an important part of his second term agenda. Legislative proposals and debate will occur in Congress. President Obama can take executive action to move Forward on Climate now; he can reject the toxic Keystone XL tar sands pipeline. A recent study in Canada has linked tar sands with cancer, something First Nations groups have reported for years - with the result being increased cancer rates, deformed wildlife, and a variety of other negative impacts. President Obama can also direct the Environmental Protection Agency to set carbon standards for power plants.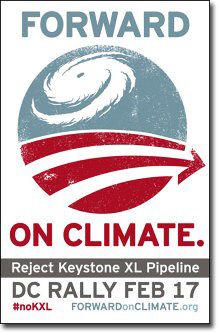 Let your voice be heard.
SIGN UP TO SUPPORT THE "FORWARD ON CLIMATE" RALLY IN WASHINGTON, DC ON FEBRUARY 17TH
Our Daily Kos community organizers (Patriot Daily News Clearinghouse, citisven, boatsie, JekyllnHyde, rb137, and peregrine kate) coordinated this blogathon with Bill McKibben of 350.org to help spread the word.
---
7:30 am: Keystone XL pipeline is not in the U.S. National Interest by A Siegel.
11:00 am: Forward on Climate: Time to Take a Stand! by citisven.
1:00 pm: Keystone XL Would Feed Superstorm Risk by Shaye Wolf, Climate Science Director for Center for Biological Diversity.
3:00 pm: Van Jones, President and Co-Founder of Rebuild the Dream. (will be rescheduled)
4:00 pm: Forward on Climate: 350 Silicon Valley...A Call to Action by Glen the Plumber.
5:00 pm: The Frog in the Boiling Water is Singing Outside My Window - Climate Change in a Microcosm by Kitsap River.
7:00 am: Climate Change SOS: Alberta Tar Sands: Canada dumped its Kyoto targets by Roger Fox.
11:00 am: Why We March by Allison Fisher, Outreach Director for Public Citizen's Energy Program.
1:00 pm: We Did Not Come This Far to Turn Around Now #ForwardOnClimate by Rev. Lennox Yearwood Jr., President of the Hip Hop Caucus.
3:00 pm: The Credibility of the Anti-Climate Change Science Industry by gregladen.
5:00 pm: Don't Date Denialists! — Relationship Advice From The Climate Letter Project (and more!) by WarrenS.
5:00 am: Tar Sands: Muskeg Destruction is more than a methane GHG bomb by Roger Fox.
5:00 am: BREAKING: WH arrests to come: Civil Disobedience Action on Keystone XL today by A Siegel.
7:00 am: What Obama can do on Climate Change without congress; because republicans by beach babe in fl.
1:00 pm: Forward on Climate: The Climate Cliff by Congressman Ed Markey, Democratic Candidate for 2013 United States Senate MA Special Election.
1:30 pm: Notes from the paddywagon: Keystone is the test by Bill McKibben.
2:00 pm: Tar Sands to consume all conventional natural gas reserves in Canada and Alaska by Roger Fox.
3:00 pm: The Gulf Stream Stalled, Sea Level Rose & the East Coast Flooded in November 2012 by FishOutofWater.
11:00 am: Canada's Tar Sands: All Dressed up and No Place to Go? by Kelly Rigg, Executive Director of the Global Campaign for Climate Action.
1:00 pm: Forward on Climate: The Problem with Novel Technologies by rb137.
3:00 pm: Forward on Climate: The Ringwraiths of Despair by James Wells.
5:00 pm: Forward on Climate: Divestment, Action, & Change by jlms qkw.
10:00 am: Why People of Color Should Care about the Keystone Pipeline by Phaedra Ellis-Lamkins, Chief Executive Officer of Green For All.
11:00 am: Forward on Climate: The Tar Sands Ecocide NEEDS the Keystone XL! by Agathena.
11:00 am: A Climate Crisis by Senator Bernie Sanders (D-VT), Member of the United States Senate Committee on Environment and Public Works.
12:00 pm: Marty Cobenais (Ojibwe), U.S. Pipeline & Heavy Haul Resistance Organizer for Indigenous Environmental Network. Liveblogging with Tom Goldtooth (Dine' and Dakota), Executive Director of IEN and Oglala Sioux Tribal Vice President Tom Poor Bear. (will be rescheduled)
1:00 pm: Climate Change is Here, Now by Senator Ben Cardin (D-MD), Member of the United States Senate Committee on Environment and Public Works.
3:00 pm: Forward on Climate: Canada's reckless environmental policies by DWG.
5:00 pm: Forward on Climate: Doing the Impossible by James Wells.
---
Please remember to republish these diaries to your Daily Kos Groups. You can also follow all postings by clicking this link for the Climate Change SOS Blogathon Group. Then, click 'Follow' and that will make all postings show up in 'My Stream' of your Daily Kos page.
Like many of the important issues of our time, climate change does not have one cause and one solution. What sets it apart though is the depth at which its roots are spread and the scale at which its effects are felt. The biosphere upon which all 7 billion of us humans and all other life forms on this planet depend on for survival has no boundaries, and while in the past human population and consumption levels were still small enough to enable us to deal with environmental impacts on a local scale, our current rate of growth and emissions no longer affords us the relative simplicity and luxury of localized remediation.
The overall picture, thus, is far from rocket science: We are all sitting in the same living room, with all our cars and planes and farms and factories blowing greenhouse gases at full steam, but there's no window to be opened or ventilation system to dilute the fumes to some other far away place. There's only one atmosphere surrounding us, and the only way to keep us all from roasting is to take our collective foot off the proverbial gas pedal. Dilution is no longer the solution to pollution.
Easier said than done, I know. Since the problem is on such a large scale and the causes so multitudinous, it's tempting to do nothing at all. Unlike most other natural systems on this planet, the human mind — at its most unrefined — can be a master of dualistic, reductive reasoning, thriving on juxtaposition and zero sums. "What good does it do to drive less if a single flight emits more carbon than my car does in an entire year?" the little voice in our head laments. "Why bother turning the lights off when I leave the house while a thousand new coal fired plants are going online in China every week?" the testy gremlin lodged inside the noggin kvetches.

It works the other way around, just as swimmingly. "It's hypocritical to blame oil companies and big polluters unless we first reduce our personal carbon footprint to zero," the strict accountant upstairs admonishes. Or the commonly heard "stopping the pipeline over
here
is only going to screw over other people over
there
." On and on it goes, our minds brilliantly unearthing a million logical reasons not to do
anything
because there is always
something
that might not fix
everything
. All too often we go on doing
nothing
, either paralyzed by the complexity of the situation or choosing the path of least resistance, whatever that is for each of us.
I myself am not immune to the temptations of this type of reductionism, generally retreating to my "be the change you wish to see" comfort zone when faced with taking a more confrontational stance against entities that constitute a significant institutionalized part of the problem.
There are a whole range of smack-talking gremlins in my head cautioning against hypocrisy and overreach. First and foremost, there's the old guilt monger grumbling "how can you tell Chevron to refrain from selling all the oil they're sitting on when you've just booked your flight to France?" Other favorites on the list of inaction excuses range from "I'm not angry enough to protest" and "it doesn't make a difference whether I'm there or not" to "I can be of better service working behind the scenes." And yes, there's even a John Lennon gremlin, slyly singing "you say you want a revolution, weheeell you knooow, you better free your mind instead." Om Shanti Shanti, all the way past 400 parts per million of atmospheric carbon dioxide.
It was Bill McKibben, who in his milestone Global Warming's Terrifying New Math article summed up our convulsive inertia when it comes to the biggest threat of our time. "Since all of us are in some way the beneficiaries of cheap fossil fuel," he wrote, "tackling climate change has been like trying to build a movement against yourself – it's as if the gay-rights movement had to be constructed entirely from evangelical preachers, or the abolition movement from slaveholders."
Following his own assessment, Bill could long ago have let himself be devoured by entire armies of naysaying critics, both in- and outside his head, and just stayed hunkered down at home, writing books about how screwed we are. You know the drill by now: "How can you justify burning fossil fuel traveling across the country while telling people to divest from fossil companies? Aren't these companies just giving us what we want? Why aren't you talking about [insert other important related issue]? Aren't you just pushing all the polluters to poor countries?"
Instead, he decided to mobilize people from around the world, educate the country about the math, take on the biggest fossil fuel producers, and organize the largest climate rally in American history to take place this Sunday, February 17th, at the National Mall in Washington D.C.
"Forward On Climate" Rally - February 17, 2013, 12:00 pm, Washington, DC

---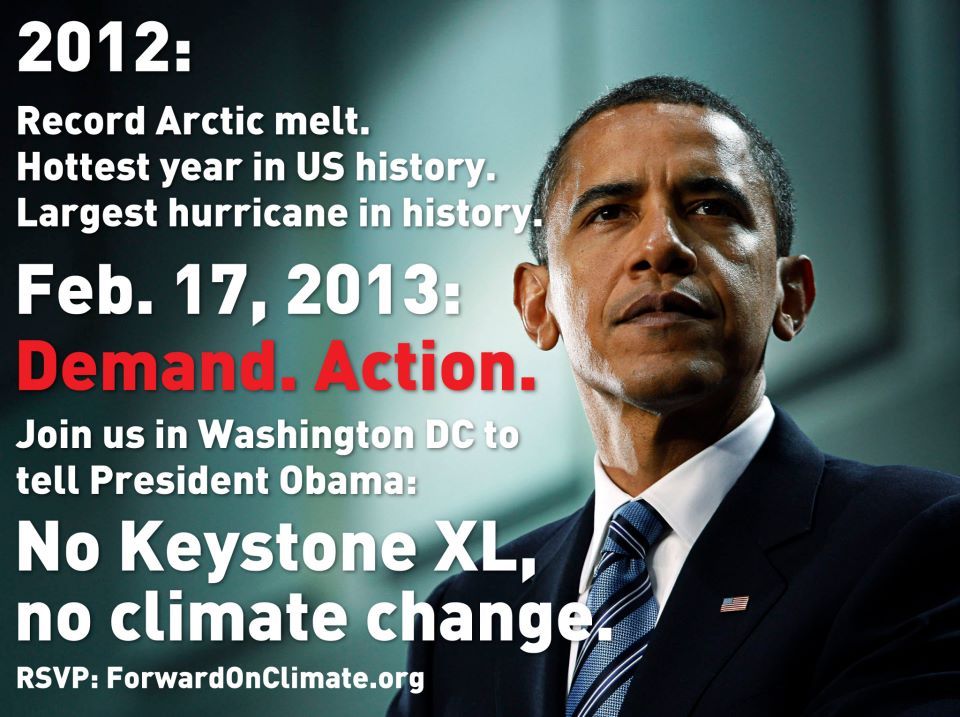 Link - feel free to post on your Facebook pages.
There are Kossack Meet-ups Coinciding with Forward on Climate Rally. Send eeff a kosmail if you're interested in connecting the night before or the night of the event. Check New Day diaries for the latest updates and RSVPs.
Also, if you're trying to hitch a ride to Washington D.C. from other places around the country, check the Sierra Club's excellent bus list.
Doing the Math with Bill.
What it comes down to is this: Yes, we are all hooked on this fossil drug that has gotten us so incredibly high so incredibly fast, but if we don't cut off or at least slow down the dealers right now we won't even get a
chance
at rehab.
When I interviewed Bill last November, I realized that the time had come to stop drowning in nuance and take a stand. I needed to get out of my comfort zone, defy myself and all my gremlins, because if we're serious about making the big changes needed to keep this planet from frying, the one thing we cannot do is stay the same, both in our head and in the world.
So I took Bill's challenge to get off my ass and do something beyond reducing my own ecological footprint and waxing poetic about it. I'm in the Bay Area, so one thing Bill said we could do here is to go to Chevron's shareholder meeting in San Ramon and tell them to become an energy company instead of an oil company. I had this idea for a Bike the Math action that I took to my local 350 group. They immediately jumped on it and we're going to make this happen in May.
But that's another diary. What happened through my engagement with 350bayarea.org is that I realized how many people there really are who are fired up and ready to go on a whole list of campaigns ranging from tar sands direct action to getting climate disruption warning labels on gas pumps. And the next big thing, of course, happens to be a Forward on Climate Solidarity Rally right in downtown San Francisco that has gone from a modest side event to over 70 organizations endorsing and over 1200 rsvps in just a couple of weeks.
So this is where I will be on Sunday, along with the 350 folks and a bunch of SF Kossacks, and I hope you will be able to join us or any of the other solidarity rallies listed below.




Forward on Climate Rally SF

WHEN: Sunday, February 17th, 1-3pm
WHERE: One Market Plaza, 1 Market St, San Francisco, CA 94105
WHAT: Join over 70 organizations and thousands of citizens to encircle the State Department Office at One Market Plaza. Demand that the Department reject the permit for Keystone XL.

Click here to RSVP: www.350bayarea.org/forward_on_climate_bay_area_rally

This will be the biggest climate march that we know of in Bay Area history, with folks coming from as far away as Sacramento and Santa Cruz. California has made extraordinary and bold progress toward halting the climate crisis, but if President Obama does not take similarly bold action, our state will suffer the consequences along with the rest of the world.

To connect with other SFKossacks, send navajo a kosmail or check New Day diaries for the latest updates and RSVPs.
So there it is. Time to tell all the big guns — the big fossil fuel companies, their powerful lobbies, and our influential politicians — that We the People are no longer going to be sedated by the dangling carrots of (artificially) cheap oil, short-term profits, and perceived convenience, at the expense of our children's and the planet's future.
It doesn't mean we're blameless in this mess we've made. It doesn't mean we can't also continue to work on making personal changes. It doesn't mean we can't work for the kind of infrastructure we'll need to live in a less fossil-fueled world. It doesn't mean we can't be sensitive to the contradictions inherent in the out-of-balance-with-nature's-systems civilization we've created.
It just means that we're ready to stop the madness of burning every last drop of oil we know of, so that we can at least have a chance to be the change we wish to see in the world.
Time to take a Stand!
The action isn't all in DC.
It's true that tens of thousands of people will converge in Washington, DC for the largest action against climate change in US history, but we understand that not everyone can make the trip.
In fact, there's important work to be done all across the country -- from divesting our schools and cities from fossil fuels, to keeping the pressure on politicians who want to build Keystone XL no matter what President Obama says.
That's why there's a solidarity rally being organized in your area on the 17th, and we hope you can join. Here are the details:
California
Los Angeles

When: Sunday, February 17, 1:00 p.m.
Where: Start at the South-West Side of Paseo De La Plaza in Olvera St. (Between North Los Angeles St. & Main St.)
Destination: South side steps of City Hall, 200 North Spring Street, Los Angeles, CA
What: City Hall events include Prayer for the Earth, songs, dance, speakers, and closing ceremony
Sponsored by: Sierra Club Beyond Coal Campaign, Tar Sands Action Southern California, Food and Water Watch, and other organizations

To RSVP or for more information: https://www.facebook.com/...
Monterey

When: Sunday, February 17, 12-2 p.m.
Where: Window on the Bay Park, Del Monte Ave. at Camino El Estero

To RSVP or for more information: https://www.facebook.com/...
San Diego

When: Sunday, February 17, 1-3 p.m.
Where: Mission Bay Park Visitors Center, 2688 East Mission Bay Drive, San Diego, CA 921095 and I-5 overpass
What: Rally with speakers, giant banners, singing telegram for President Obama, and more.
Sponsored by: SanDiego350.org, Citizens Climate Lobby, Sierra Club San Diego, and other organizations.

To RSVP or for more information: http://sandiego350.org/...
San Francisco

When: Sunday, February 17, 1-3 p.m.
Where: One Market Plaza, 1 Market St., San Francisco, CA 94105
Sponsored by: Local Bay Area 350 organizations, chapters of The Sierra Club, NRDC, and dozens of other Bay Area organizations.

To RSVP or for more information: http://www.350bayarea.org/...
Colorado
Denver

When: Sunday, February 17, 11:30 a.m.
Where: March from Auraria Campus (900 Auraria Parkway) to Civic Center Parkway
What: Student-led march and human oil spill (please wear all black!)
Sponsored by: Go Fossil Free Campaigns, 350 Colorado, Sierra Club Beyond Coal Campaign, Greenpeace, Environment Colorado, Conservation Colorado, Protect Our Colorado, and other organizations

To RSVP or for more information: https://www.facebook.com/...
Illinois
Chicago

When: Sunday, February 17, 11:00 a.m.
Where: Grant Park (Michigan and Congress)
What: Chicagoans will gather in Grant Park to celebrate and display the growth of sustainable communities in our city and reject the authority of governments to destroy the future of our home.
Sponsored by: Chicago Youth Climate Coalition - CYCC

To RSVP or for more information: https://www.facebook.com/...
Iowa
Ames

When: Sunday, February 17, 1 - 2 p.m.
Where: Brookside Park
What: This is a family-friendly event. There will be a 10 minute talk about why we owe it to our children to address climate change now, and there will be a petition to sign asking President Obama not to approve the pipeline. There will also be a letter for kids to sign.

To RSVP or for more information: https://www.facebook.com/...
Des Moines, Cedar Rapids, Waterloo, Iowa City, Davenport, and Dubuque

When: Friday, February 15
What: Iowans across the state are asking our Congressional representatives and senators for climate action by delivering letters and postcards to their offices supporting climate action.
Sponsored by: Iowa Climate Advocates

To RSVP or for more information: http://www.iowaclimateadvocates.org/...
Missouri
Fenton, St. Louis area

When: Sunday, February 17, 12:30 p.m. - 4 p.m.
What: Coalition teach-in on climate change in solidarity with the Forward on Climate Rally in DC.
Sponsored by: Interfaith Committee on Latin America, Joining Hands Action Team of the Presbytery of Giddings-Lovejoy, Missouri Coalition for the Environment, Climate Action Saint Louis, Sierra Club, Missourians Organizing for Reform and Empowerment, and the Gateway Green Alliance

To RSVP or for more information: https://docs.google.com/...
Montana
Bozeman

When: Sunday, February 17, 1 p.m.
Where: The library at 626 E. Main St.
What: We will hold signs at 1 p.m., then watch a live feed of the Forward on Climate Rally in D.C. from the library. We will hear from speaker Kristi Chester Vance of Forest Ethics.
Missoula
When: Sunday, February 17, Noon - 1 p.m.
Where: N. Higgins St. Circle, at the XXXs
What: Missoulians will rally at the downtown red XXXs then march to the Higgins Street bridge to call on our leaders to take decisive action to solve the climate crisis. Speakers will include Mayor John Engen, Beth Schenk, RN at Providence St. Patrick Hospital, and Jan Hoem with Montana Elders for a Livable Tomorrow.
Sponsored by: Sierra Club, National Wildlife Federation, Montana Elders for a Livable Tomorrow, Transition Missoula, Blue Skies Campaign, University of Montana Climate Action Now, Montana Audubon, Montana Conservation Voters Education Fund, and AERO

To RSVP or for more information: https://www.facebook.com/...
Oregon
Medford

When: Sunday, February 17, 1:00 p.m.
Where: 1 p.m. at the Medford Public Library (205 South Central Ave.) and 2:30 p.m. outside Porters Restaurant (147 N Front St.)
What: Art activities, rogue climate education, speakers, and taking a giant salmon photo with a crane!
Sponsored by: Southern Oregon Climate Action Network

To RSVP or for more information: https://www.facebook.com/...
Texas
Austin

When: Sunday, February 17, 2 p.m.
Where: 5th and Lamar, in front of Whole Foods
What: Rally to show our support of the D.C. Forward on Climate Rally and raise climate change awareness here in Austin. Please wear a blue shirt (or a No KXL shirt if you have one) and bring an anti Keystone XL/climate change awareness sign.

To RSVP or for more information: https://www.facebook.com/...
Washington
Olympia

When: Sunday, February 17, 3: p.m.
Where: Heritage Park
What: Open rally with speakers, tabling and general merriment
Sponsored by: Olympia Fellowship of Reconciliation, Sierra Club, and other organizations.

To RSVP or for more information: https://www.facebook.com/...
Seattle

When: Sunday, February 17, 11:30 a.m.
Where: Golden Gardens Park (8498 Seaview Pl. NW)
What: We will take a crowd picture with our NO Fossil Fuel Exports signs and send to Gov. Inslee and Pres. Obama. At noon we will form a walking train and walk along the beach, wearing red no coal export t-shirts. Along the way we will learn about the dangers of exporting fossil fuels to our climate, waterways and local economy. Wear Red and bring something to make some noise -- kazoos, tambourines, whistles, harmonicas, whatever you want!

We will joined by a special guest speaker, Seattle Mayor Mike McGinn.

To RSVP or for more information: https://www.facebook.com/...
Green For All Press Teleconference

on Communities of Color & Climate Change
Tuesday, February 12, 2013 - 11:00 am EST
---
With President Obama's inaugural speech renewing America's commitment to combating climate change and the expectation that the President will reveal more details about his plans on the issue in the State of the Union this Tuesday, Green for All is hosting a press teleconference to highlight why communities of color should care about climate change and what they can do to take action.
The press teleconference will feature Rep. Barbara Lee (D-Calif.), Green for All CEO Phaedra Ellis-Lamkins, MSNBC political analyst and Politic365 Executive Editor Jeff Johnson, Superstorm Sandy survivor and environmental activist Tanya Fields, and African-American solar panel manufacturer Mark Davis. Q&A session with participants to immediately follow.
To receive call-in information, please RSVP via email alyssa@greenforall.org to Alyssa Cocchi.
---
Green For All is a national organization dedicated to improving the lives of all Americans through a clean energy economy. The organization works in collaboration with the business, government, labor, and grassroots communities to create and implement programs that increase quality jobs and opportunities in green industry – all while holding the most vulnerable people at the center of its agenda. For more information, please visit www.greenforall.org.