Welcome to the 2/8/2013 Post Game Blizzard Show for Mojo Friday!
Today's Mojo Friday diary is Mojo Friday - Blizzard - Edition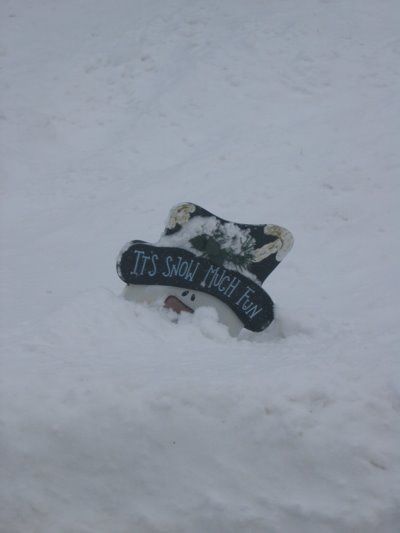 We're supposed to get over 2' of snow here in Massachusetts, by the time this storm ends Saturday afternoon. Our poll today will ask what you're supposed to get, or think about the Blizzard of 2013 - Finding Nemo!
That little guy to the right is from a storm 8 years ago ... he stood about 3' tall.
The Mojo Friday Postgame is a statistical analysis of the Mojo Friday diary that is posted every Friday morning at 10:30 a.m. ET. For further info please check out Jez's 'Official' "Mojo Friday Snecktionary" MKinTN posted a diary to help everyone achieve greater success called How to Succeed at Mojo Friday Without Really Trying.
Congratulations to:
Participation-est:
bjedward, barefoot coyote, bsegel, VClib
Chattiest:
bjedward
Generous-est:
MKinTN
Snecksiest (2):
Captain C
Thanks to our most excellent host, TexDem!
Stats will be updated Sunday afternoon. Final stats will be published a week later.

First round stats, as of 4:06PM Eastern, are:
78 participants
538 comments
6.9 average comments per participant
14394 total mojo exchanged
35.6% average participation rate
Individual performances:
Participation-est: bjedward,barefoot coyote,bsegel,VClib
Chattiest: bjedward
Generous-est: MKinTN
Snecksiest (2): Captain C
Snecker-tracker:
100 : Senor Unoball
200 : Eddie L
300 : Captain C
400 : phonegery
500 : Captain C

| | | | | | | |
| --- | --- | --- | --- | --- | --- | --- |
| username | comments | mojogiven | comments + mojogiven | partic% | mojorecd | recd diary? |
| bjedward | 85 | 453 | 538 | 100.00% | 2472 | Yes |
| barefoot coyote | 1 | 537 | 538 | 100.00% | 35 | Yes |
| bsegel | 3 | 535 | 538 | 100.00% | 77 | Yes |
| VClib | 22 | 516 | 538 | 100.00% | 590 | Yes |
| Ex Con | 3 | 534 | 537 | 99.81% | 118 | Yes |
| Eddie L | 8 | 529 | 537 | 99.81% | 200 | Yes |
| chimene | 12 | 525 | 537 | 99.81% | 220 | Yes |
| Senor Unoball | 40 | 496 | 536 | 99.63% | 1120 | Yes |
| schnecke21 | 4 | 532 | 536 | 99.63% | 102 | Yes |
| MKinTN | 0 | 536 | 536 | 99.63% | 0 | Yes |
| David PA | 0 | 530 | 530 | 98.51% | 0 | Yes |
| sviscusi | 0 | 530 | 530 | 98.51% | 0 | Yes |
| jennyp | 29 | 500 | 529 | 98.33% | 745 | Yes |
| Check077 | 18 | 508 | 526 | 97.77% | 266 | No |
| annecros | 5 | 517 | 522 | 97.03% | 151 | Yes |
| Captain C | 69 | 445 | 514 | 95.54% | 1620 | Yes |
| TexDem | 48 | 442 | 490 | 91.08% | 1436 | Author |
| mjbleo | 10 | 466 | 476 | 88.48% | 230 | Yes |
| AllanTBG | 2 | 469 | 471 | 87.55% | 56 | Yes |
| NoMoJoe | 5 | 461 | 466 | 86.62% | 140 | Yes |
| phonegery | 9 | 435 | 444 | 82.53% | 191 | Yes |
| FlyingToaster | 3 | 356 | 359 | 66.73% | 98 | Yes |
| sheiladeedee | 5 | 330 | 335 | 62.27% | 112 | Yes |
| politik | 0 | 324 | 324 | 60.22% | 0 | Yes |
| DeathDlr73 | 2 | 285 | 287 | 53.35% | 56 | Yes |
| hopeful | 6 | 272 | 278 | 51.67% | 129 | Yes |
| 4Freedom | 11 | 245 | 256 | 47.58% | 213 | Yes |
| smileycreek | 1 | 246 | 247 | 45.91% | 32 | Yes |
| blue aardvark | 4 | 174 | 178 | 33.09% | 114 | Yes |
| mungley | 21 | 148 | 169 | 31.41% | 538 | Yes |
| ER Doc | 6 | 133 | 139 | 25.84% | 203 | Yes |
| Texnance | 10 | 129 | 139 | 25.84% | 325 | Yes |
| newinfluence | 10 | 122 | 132 | 24.54% | 266 | Yes |
| Korkenzieher | 3 | 124 | 127 | 23.61% | 68 | Yes |
| Allogenes | 12 | 113 | 125 | 23.23% | 430 | No |
| Debbie in ME | 5 | 112 | 117 | 21.75% | 198 | Yes |
| lotac | 4 | 104 | 108 | 20.07% | 140 | No |
| flitedocnm | 3 | 88 | 91 | 16.91% | 86 | Yes |
| BayAreaKen | 4 | 84 | 88 | 16.36% | 98 | Yes |
| carver | 1 | 59 | 60 | 11.15% | 31 | No |
| wdrath | 2 | 48 | 50 | 9.29% | 61 | Yes |
| CanadaGoose | 0 | 49 | 49 | 9.11% | 0 | Yes |
| PinHole | 3 | 35 | 38 | 7.06% | 83 | Yes |
| Reetz | 1 | 35 | 36 | 6.69% | 41 | Yes |
| roonie | 1 | 33 | 34 | 6.32% | 30 | Yes |
| vigilant meerkat | 6 | 28 | 34 | 6.32% | 176 | Yes |
| Blackacre | 0 | 30 | 30 | 5.58% | 0 | Yes |
| Future Gazer | 3 | 26 | 29 | 5.39% | 109 | No |
| VeloVixen | 2 | 27 | 29 | 5.39% | 59 | Yes |
| BlueInARedState | 3 | 22 | 25 | 4.65% | 75 | Yes |
| raboof | 6 | 13 | 19 | 3.53% | 166 | No |
| tekno2600 | 4 | 12 | 16 | 2.97% | 112 | No |
| oceanview | 1 | 14 | 15 | 2.79% | 17 | Yes |
| lina | 2 | 13 | 15 | 2.79% | 39 | Yes |
| Laughing Vergil | 2 | 12 | 14 | 2.60% | 46 | No |
| Common Sense Mainer | 0 | 10 | 10 | 1.86% | 0 | Yes |
| thomask | 0 | 8 | 8 | 1.49% | 0 | Yes |
| hnichols | 0 | 7 | 7 | 1.30% | 0 | Yes |
| tommyfocus2003 | 3 | 2 | 5 | 0.93% | 73 | Yes |
| global citizen | 1 | 3 | 4 | 0.74% | 36 | Yes |
| blue drop | 2 | 2 | 4 | 0.74% | 41 | No |
| Melanie in IA | 1 | 3 | 4 | 0.74% | 34 | Yes |
| cactusgal | 1 | 2 | 3 | 0.56% | 29 | Yes |
| JohnnySacks | 0 | 3 | 3 | 0.56% | 0 | No |
| Ralphdog | 3 | 0 | 3 | 0.56% | 86 | No |
| MT Spaces | 1 | 2 | 3 | 0.56% | 31 | Yes |
| catlover40 | 2 | 1 | 3 | 0.56% | 37 | No |
| hester | 0 | 2 | 2 | 0.37% | 0 | No |
| JupiterSurf | 0 | 2 | 2 | 0.37% | 0 | Yes |
| rktect | 1 | 1 | 2 | 0.37% | 27 | No |
| Ottawa Guy | 1 | 0 | 1 | 0.19% | 28 | No |
| VA Breeze | 0 | 1 | 1 | 0.19% | 0 | No |
| Brinnon | 0 | 1 | 1 | 0.19% | 0 | No |
| Omir the Storyteller | 0 | 1 | 1 | 0.19% | 0 | No |
| vgranucci | 1 | 0 | 1 | 0.19% | 30 | Yes |
| msdobie | 0 | 1 | 1 | 0.19% | 0 | No |
| tom 47 | 1 | 0 | 1 | 0.19% | 22 | No |
| One Pissed Off Liberal | 0 | 1 | 1 | 0.19% | 0 | Yes |