At Casey's Irish Pub on 6th and Grand at 2PM. It's easy to get to by metro and there is relatively cheap parking on Pershing Square and nearby.
It's also a much better food place than I originaly thought. This is is a photo from the last meeting.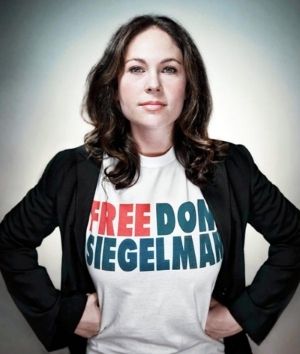 Our guest speaker is Dana Siegelman, daughter of Don Siegelman imprisoned ex-Governor of Alabama who was railroaded into jail by Karl Rove.
I met her recently at a Great Minds meeting and she impressed me with her eloquence. She has a website that ponts to a petiotion that you can sign even if you can't attend.
She will give us the details of the case and she will tell us how we can help.
BTW, I a have submitted a panel for NN about the Don Siegelman case. Dana will be part of the panel. In addition, the panel will also include;
Scott Horton, Columbia law professor and Harper's contributor who has been called the leading legal expert on the Siegelman case. He wrote this Harper's article; Boss Rove's Justice
Mimi Kennedy, actress, celebrity activist and National Chairwoman of the Progressive Democrats of America. She may talk about her Huffington Post piece 'The Curious Case of Don Siegelman,' stolen elections and false democracy under the Bush Administration. She said in a separate post, "A pardon would be a step towards justice - for Don and for the country. Otherwise, we live in a lawless land, with justice only for some - and the rest of us are sitting ducks if we try to get involved in politics that anger certain rich and powerful people."
Parker Griffith, former Republican Congressman from the 5th congressional district in Alabama on Rove's work in the South, the judge's corruption, and what he called a "political assassination of one of the finest governors we've ever had in the South." (Yes a Republican at NN)
Hopefully the panel will get approved.
Speaking of NN, one thing I will propose at the meeting is the possibility of pulling LA Kossacks together to get a bus to go to San Jose. So we can save some dough and have fun on the way to San Jose.
In addition, during the meeting next Saturday, I'll try to Skype in OPOL on one of the big screens. He has diaried about the Don Siegelman case several times and knows Don.
And please RSVP by messaging me or joining the LA Kossacks group.
I had dinner with Dionne once, but that is another story.