Well Weatherdude was right! We got snow and a lot of it!
Also notice I didn't use a fictitious name of a storm invented by a useless weather channel on cable.
Was the Northeast Blizzard 2013 the "Snow Storm of the Century?" MEH...
But still it wasn't anything that deserved panicing about, it was just snow and that happens in winter in the northeast. Just do all the usual be ready stuff and you'll be fine. No I didn't buy any bread, bottled water or, D-cell batteries, I had plenty of bread already, I have better emergency lighting that doesn't use D-cells, and I fill my own water bottles. Just regular common sense stuff.
Almost everything went okay...
The snow started covering the bare ground early Friday morning shortly after sunrise.
It was light at first with only an inch or two on the road by noon when it was starting to get worse. My wife came home from attending to her last minute details (regular shopping not emergency shopping) and parked in front of the house to unload, then I was running out to get gasoline completing our full storm readiness.
I'd have gotten gas earlier but the lines were unbelievable, better to wait until it gets ugly and the amateurs go home. No traffic and no lines, a good set of snow tires gives you that level of confidence.
As we finished carrying in the groceries the phone rang and I was on it a little while, but way too long. As I came out of the house to go get gas the car was nowhere to be seen...
OMG!!! PANIC!!! IT'S BEEN TOWED!!! WE'RE DOOMED!!!!
A quick phone call to the local police says come on down to the station with $110 CASH, then to the place where it was towed to about 2 miles away. and I'd have a car again. No cabs or, buses are running as it was starting to come down heavy, but the next door neighbor with a 4WD truck gives me a ride to the ATM, Police Station, and the Impound Yard where I finally have a car again...
Got my gas and went home to hibernate through the storm...
Here are some pictures from the storm and afterwards: Under the orange doodle...
Snow fell heavily through the afternoon and into the night. My car is safely parked in the driveway next to the van. Soon not to be seen for a while.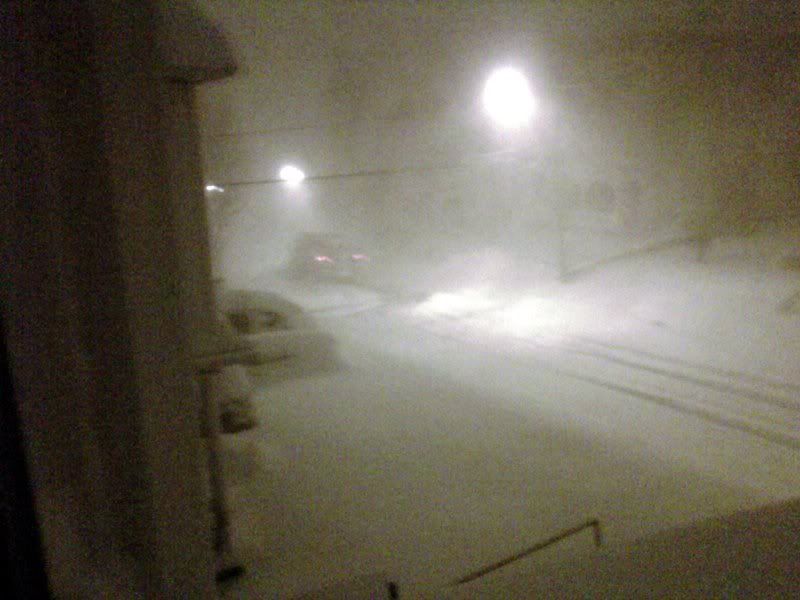 Friday night about 10 PM the plow truck made its 1st and last trip near my house until late Sunday afternoon. Good thing they had gotten my car towed so quickly so they could plow the roads clear!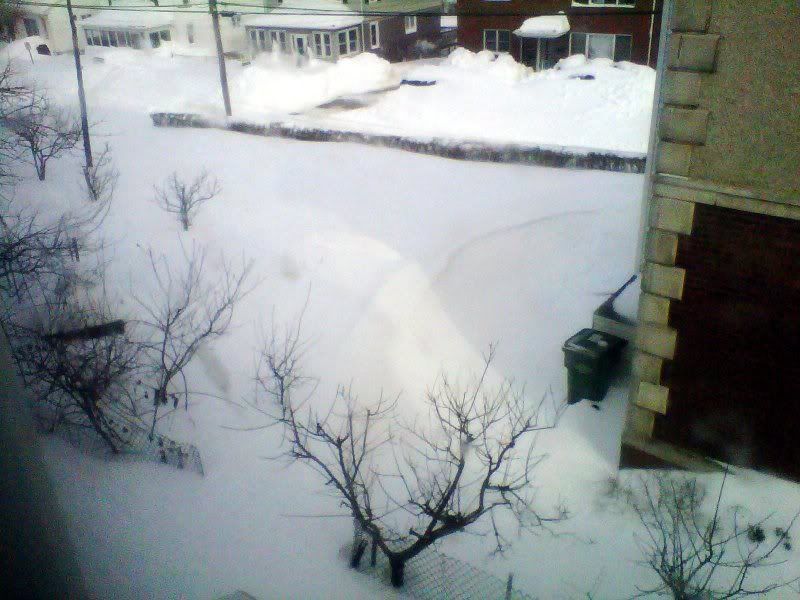 The snow had tapered off by daybreak, and a plow truck came near my house making a single pass evidently to collect a neighbor who is a city employee to get him in to work. In this picture there is a picnic table and two cars, I'll give the proceeds from the sale of my 401K Stocks in a Bain Victim Company, to anyone who can correctly identify all 3 objects in the picture. I read somewhere that we had gotten 26 or, was it 28" of snow in Middletown, CT. But, does it really matter when you have to dig through a 6' high drift?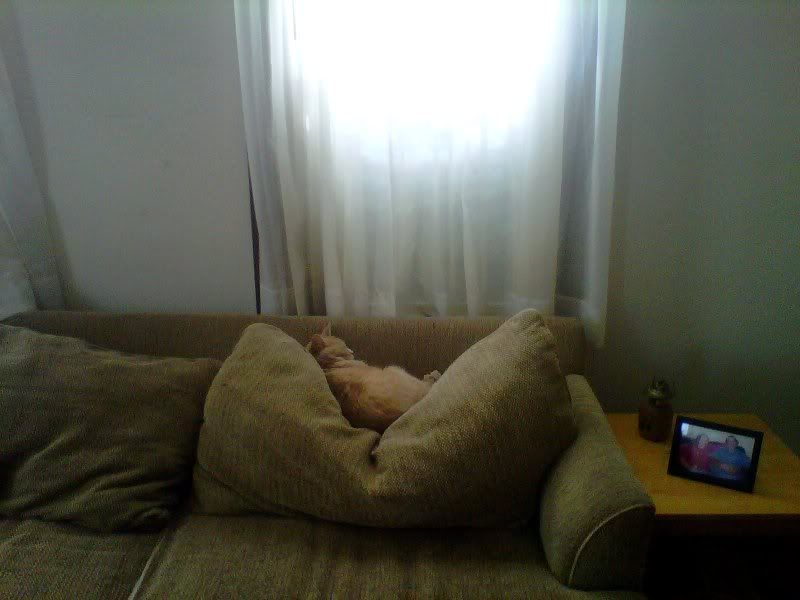 This is my thoroughly depressed cat, Ichabod, who really wishes he could be outside. But in the mean time he'll just sleep on the couch. Notice the snow covering the lower 1/3 of the window. No, it's not really that deep its just on the porch roof, I live on the second floor.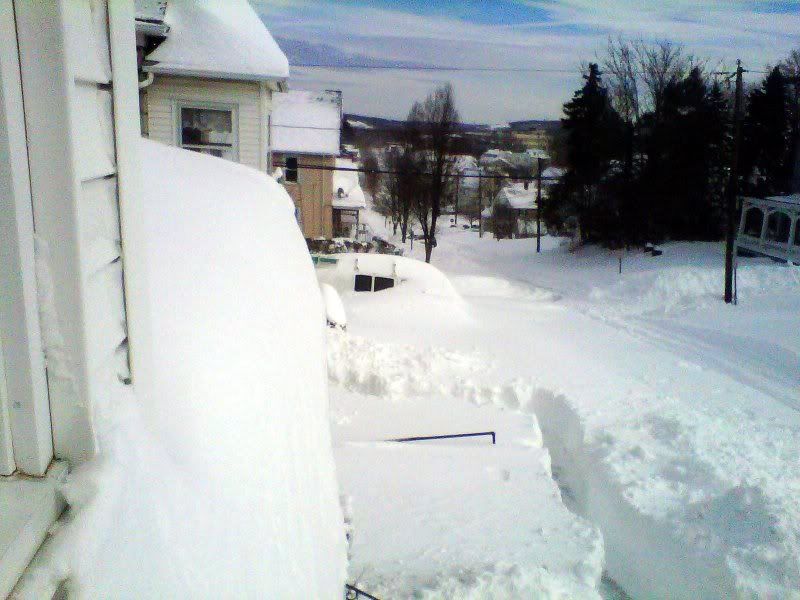 Here we are the road still not plowed, digging some narrow paths through the snow to start getting out. Do you see the car next to the van? I don't!
Some 4WD trucks have been by but still no city plows. Like I said they came near my house not by it. Rusty, my downstairs neighbor Olivia's dog is out exploring and marking his greatly reduced territory, "Don't eat yellow snow."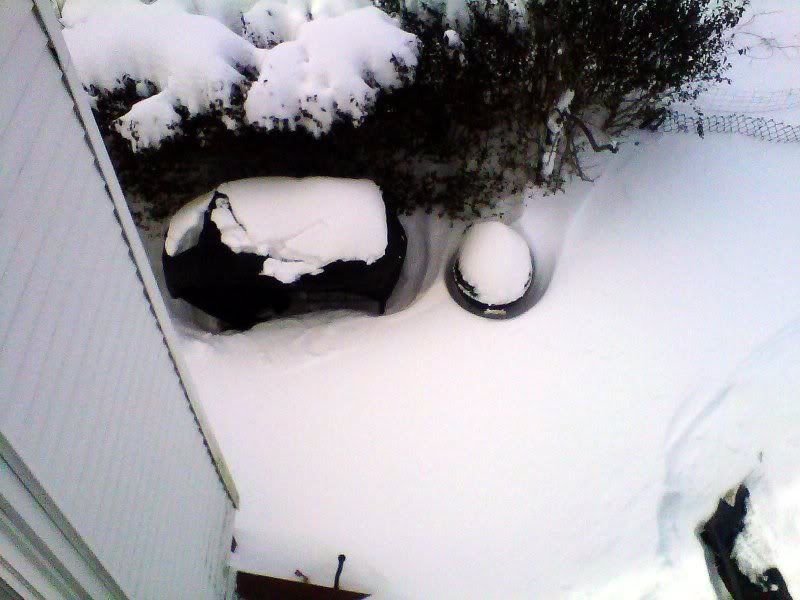 I know Weatherdude said "No Indoor BBQing but with my Weber Grill sitting in a hole in a snow drift is there really another choice? Trust me it's safe to BBQ Ribs Indoors. All you have to do is drench them in BBQ Sauce, then wrap them in foil pinching all the sides closed to seal the package, do this at least 3 times then place them in the oven on the warm setting 1st thing in the morning, and by suppertime you'll have some of the best meat falling off the bone ribs you've ever had.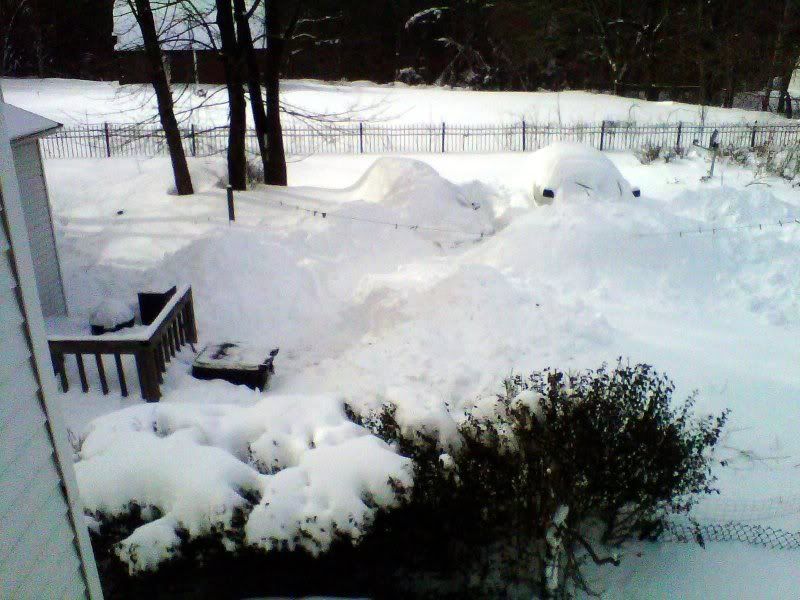 My neighbor who gave me the ride to get my car out of jail has some serious digging to get his truck out. He's on that corner pictured earlier and he's in the pile high zone when they finally plow.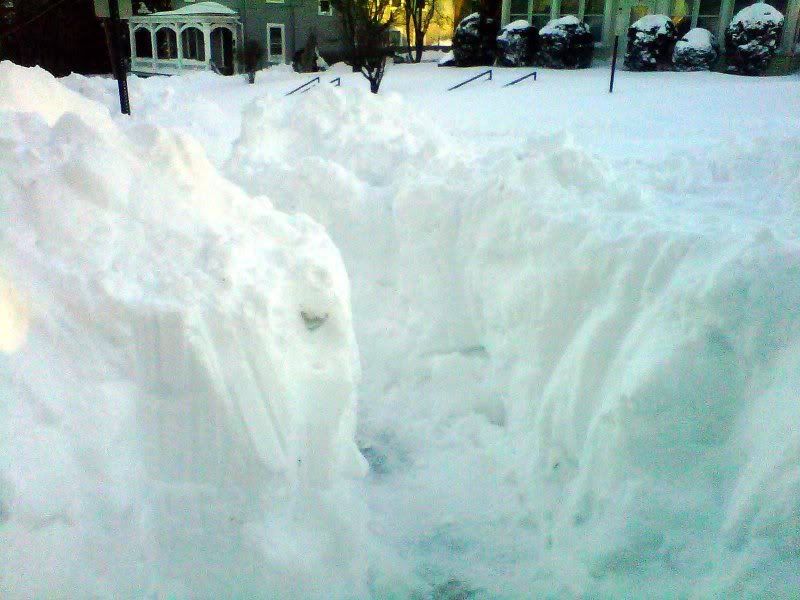 Our trench out of the house completed late Saturday with the help of Olivia our neighbor downstairs, we took a walk to the neighborhood store 2 blocks away afterwards. I've got a bad back that says, "Dont dig much or, you'll pay the price." Olivia was a Godsend for her help.
I'd have taken the car except the road still wasn't plowed, and well, do you see my car next to the van? I wasn't feeling "That" ambitious yet.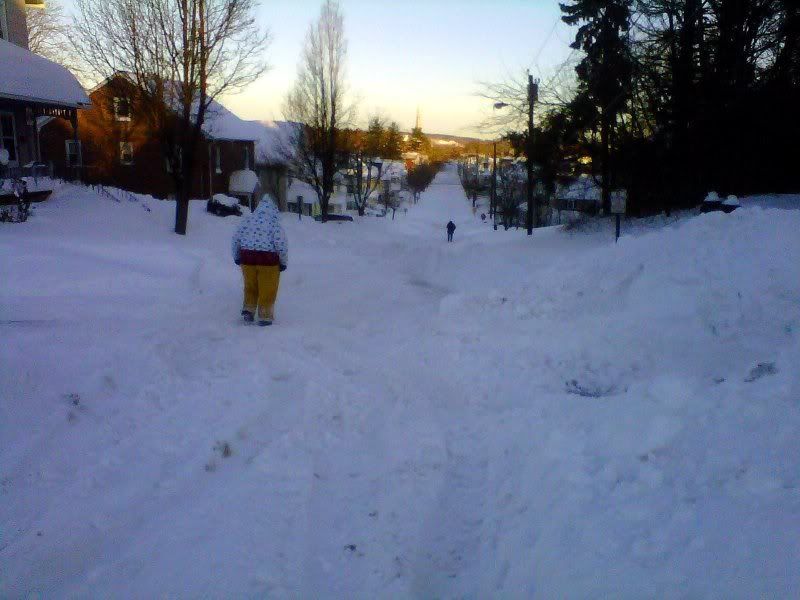 I took a walk to the store with my downstairs neighbor Olivia down the unplowed road.
One of the 3 streets we walked on had been plowed to a single lane, and here someone had cut a walking path down a side street with their snowblower from their house down to the opened street.
Sunday was pretty much a dig out the cars day for everyone, and the plows finally came by first a single pass then only slightly widening it to about 1 1/2 lanes wide. I guess their plan is to eventually come by with the pay-loader and a large snowblower putting the snow in trucks to haul away. At least I hope they aren't going to push it onto our paths and driveways.
Here is some pictures from Monday, its raining and the snow is getting heavy. This is probably where roofs start caving in and buildings start collapsing like in 2011. Oh Joy!
The car is out! Thanks to my son for walking over from his house and helping out...
Our next door neighbor dug out their driveway through the piled up snow, quite a formidable task indeed. Those piles of snow are close to 6' high and 15' wide, it's the road!
Here is our 1 1/2 lane road. Two cars meet and someone will be backing up! It's just wide on the curve.
I guess we have a lot of this extreme weather to look forward to as we go though this climate change. All of our storms Winter, Summer, Spring or, Fall will still have the usual snow or, rain, but the intensity will be something else. We've still got 87 years to go for the "Storm of the Century."