There is a fascinating story in The Globe and Mail about how the Canadian government is trying to sell the Keystone XL pipeline project, which will bring tar sands bitumen from terminals in Alberta to refineries in Texas. In addition to their tired schtick about how the pipeline will give the US energy security, they are now claiming to care about climate change. Now that is an extraordinary claim.
The newfound climate concern by Prime Minister Stephen Harper and the Tories is understandable, even if unbelievable. They need greenwashing to appear less radical and reckless. Harper once called the Kyoto Protocol "a socialist scheme to suck money out of wealth-producing nations." Since taking office in 2006, Harper's economic platform has been centered around rapidly expanding tar sands extraction and exports. His plans to ramp up tar sands production have been thwarted in part by President Obama's decision to put the Keystone XL pipeline project on hold in 2011 and re-election in 2012. No doubt Obama's recent statements on climate change have the Canadian conservatives further on edge.

Mr. Obama raised alarms in Ottawa and in Alberta about the fate of the pipeline when he pledged in his inauguration speech to aggressively tackle climate change, and then appointed as secretary of state Senator John Kerry – a known climate hawk – to oversee the approval process. Pipeline proponents will be watching closely Tuesday night when Mr. Obama lays out his agenda in the State of the Union address, looking for hints as to whether his climate activism leaves room for more imported bitumen from Canada.
Since the Canadian government
wants the American people to believe
that it is "serious about fighting climate change" and "not cavalier about the environment," it seems only fair to examine their record in some detail.
Remember 2012 as the year the Canadian government surrendered to the oil and gas industry. The year started with secret meetings (e.g., a, b) between government officials and industry representatives to determine what agencies and regulations to gut. By July, Harper and friends had passed draconian new laws that dismantled environmental protections and attempted to silence critics, including scientists. Let's look at a few highlights.
The Harper government claims to be "serious" about climate change. They demonstrated that commitment by formally withdrawing from the 1998 Kyoto Protocol. Amidst the excuses there was a kernel of truth. They did not want to pay penalties because little had been done to cut greenhouse gas emissions.
Canada's commitment to the 2009 Copenhagen accord is equally tenuous with little chance of achieving a 17% reduction from 2005 emission levels by 2020. Government measures on the books in 2011 are expected to result in a net increase in emissions by 2020, roughly 243 megatons above their target.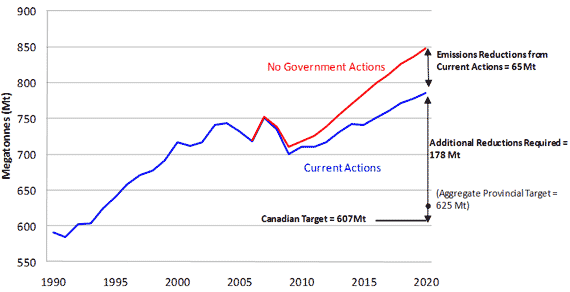 The only commitments made by the Harper government to reduce emissions are to raise vehicle fuel efficiency standards and phase out some older coal-fired power plants by 2020. These changes will be offset by rapid expansion of tar sands extraction, missing the emissions target by 178 megatons.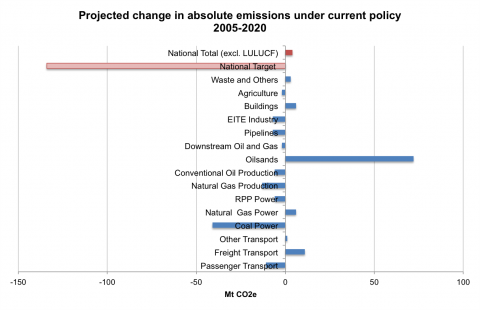 If you go through the numbers, the government is projecting that tar sands production will triple from 2005 to 2020, but greenhouse gas emissions from this production will only double. How that miracle will be accomplished is not spelled out. You can find a detailed, independent analysis of carbon emissions trends in Canada here.

"There is only one sector that matters most for Canada when it comes to getting emissions down: the oilsands. If oilsands emissions go down, we meet our national carbon-reduction targets. If not, we don't."

David McLaughlin, former president and CEO of the National Round Table on the Environment and the Economy
There is one innovative approach to cutting greenhouse gas emissions that deserves special attention. One of the most carbon intensive processes related to tar sands is
transforming bitumen into refined petroleum products
. Virtually all the current and proposed pipelines will take diluted bitumen to refineries in the US and other countries. That means all that carbon pollution from refining tar sands oil will be someone else's problem. Add this to the
reasons listed by A Siegel
for why the Keystone XL pipeline in not in our national interest. The refinery emissions from tar sands oil will come out of our carbon budget, not Canada's.
When it comes to climate science, the Harper government mantra has become see no evil, hear no evil, and speak no evil. After several years of drastic cuts, the 2012 Omnibus Budget (C-38) virtually eliminates federal funding for climate science in Canada. Andrew Weaver, a climate scientist and Intergovernmental Panel on Climate Change lead author, described the drowning of climate science in the budgetary bathtub this way.

"They've closed virtually every funding avenue for climate and atmospheric science. They are deceiving the Canadian public."
The cuts will effectively shutter research labs across Canada. Here is a country with a front row seat to some of the most dramatic climate and ecosystem changes taking place around the Arctic circle. Their response is to profess uncertainty about the implications of climate change while ending systemic scientific study.
For over 25 years, one of the most important voices for sustainable development in Canada has been the National Roundtable on the Environment and Economy. Think of it as a government-funded think tank for research and policy analysis, with climate change as a major focus. The steady stream of reports documenting potential benefits of an early transition to a low carbon economy and the lack of progress on greenhouse gas reductions were not popular with the Harper government and the black gold rush crowd. Funding has now been eliminated and the lights go out in March. There is no room for any discussion of sustainability in a resource extraction frenzy.

"This government is not going to let anything get in the way of resource development."

Dr. David Schindler, co-founder of the Experimental Lakes Project
Climate science was just one casualty of the Tories assault on the environment. With the stroke of a pen,
funding was slashed for every program
protecting air quality, water quality, wildlife, public land use, and toxic waste disposal. Major environmental laws, including the Canada Environmental Assessment Act, were repealed.
Nearly 3000 environmental impact assessments were immediately cancelled
, many related to oil and gas wells and pipelines. More than 1200 staff positions were cut, limiting the ability of key agencies to enforce environmental laws. The list goes on and on and on.
"These cuts represent a real and present danger to community health, ecosystem function and our economic future. In effect these cuts may represent a significant form of downloading, as problems ignored today will only manifest in our communities tomorrow – with local and provincial governments needing to step in and do the heavy lifting at potentially massive future costs."

Oliver M. Brandes, co-director of the University of Victoria's POLIS Project on Ecological Governance.
The Harper government has also steamrolled civil liberties along with environmental regulations. One major target has been First Nations peoples that oppose pipeline and extraction projects on tribal lands. With the passage of C-45 in December, indigenous peoples
lost the power
to stop development. This assault on tribal territorial control
helped catalyze
the "Idle No More" movement. The conservatives
claim
they have only made it easier to lease tribal lands and the amendments do not change title. The reality is that it is now possible for a tribal leader to cut a development deal over the objection of most tribe members or even behind their backs.
The scientific community has been another target of the Tory authoritarians. Scientists receiving federal funds are now prohibited from talking to the press without prior authorization. Even when access is granted, a government official may have to be present. For the moment, scientists are still allowed to publish in scientific journals, but cannot publicize findings in the mass media that run counter to the Harper-approved narrative. No more press releases or interviews without government permission.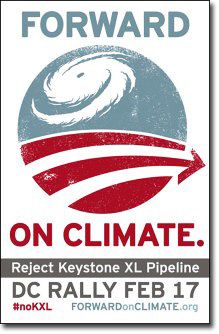 President Obama has repeatedly stated that addressing climate change is a major objective of his second term. Approving the Keystone XL pipeline project is incompatible with that objective as it will facilitate expansion of the tar sands. It also cannot be reconciled with the Canadian government's decision to abandon environmental regulation and any attempt to limit greenhouse gas emissions in favor of oil and gas development. Stephen Harper and the Tories have made it crystal clear that they have no interest in responsible resource development or cross-border cooperation to limit carbon pollution. As Bill McKibben put it, "Keystone is the test."
Keystone is a test for all of us, not just the Obama administration. It is a wake-up call. Conservatives in Canada have done what Tea Party Republicans have been itching to do in America, namely get rid of environmental protections and open up federal lands to fossil fuels extraction. Approving the Keystone XL pipeline rewards the Canadian government for reckless endangerment. It is time to go forward on climate and just say no to fuels with high carbon footprints. Environmental, social, and economic justice all go hand-in-hand.
"Forward On Climate" Blogathon: February 11 - February 15, 2013
Diary Schedule - All Times Pacific
---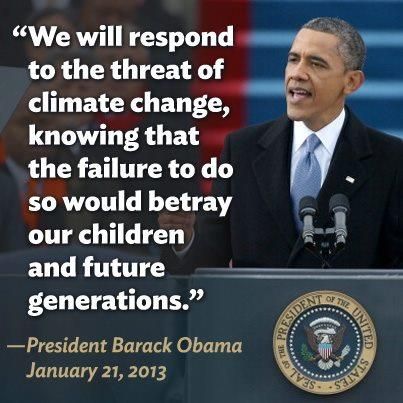 IT IS TIME TO TAKE A STAND
Please join tens of thousands of Americans on the National Mall in Washington, DC on Feb. 17 from 12:00 pm-4:00 pm to urge President Barack Obama to take immediate action on Climate Change.
President Obama has now listed Climate Change as an important part of his second term agenda. Legislative proposals and debate will occur in Congress. President Obama can take executive action to move Forward on Climate now; he can reject the toxic Keystone XL tar sands pipeline. A recent study in Canada has linked tar sands with cancer, something First Nations groups have reported for years - with the result being increased cancer rates, deformed wildlife, and a variety of other negative impacts. President Obama can also direct the Environmental Protection Agency to set carbon standards for power plants.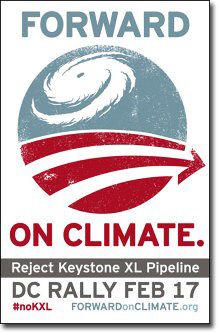 Let your voice be heard.
SIGN UP TO SUPPORT THE "FORWARD ON CLIMATE" RALLY IN WASHINGTON, DC ON FEBRUARY 17TH
Our Daily Kos community organizers (Patriot Daily News Clearinghouse, citisven, boatsie, JekyllnHyde, rb137, and peregrine kate) coordinated this blogathon with Bill McKibben of 350.org to help spread the word.
---
7:30 am: Keystone XL pipeline is not in the U.S. National Interest by A Siegel.
11:00 am: Forward on Climate: Time to Take a Stand! by citisven.
1:00 pm: Keystone XL Would Feed Superstorm Risk by Shaye Wolf, Climate Science Director for Center for Biological Diversity.
3:00 pm: Van Jones, President and Co-Founder of Rebuild the Dream. (will be rescheduled)
4:00 pm: Forward on Climate: 350 Silicon Valley...A Call to Action by Glen the Plumber.
5:00 pm: The Frog in the Boiling Water is Singing Outside My Window - Climate Change in a Microcosm by Kitsap River.
7:00 am: Climate Change SOS: Alberta Tar Sands: Canada dumped its Kyoto targets by Roger Fox.
11:00 am: Why We March by Allison Fisher, Outreach Director for Public Citizen's Energy Program.
1:00 pm: We Did Not Come This Far to Turn Around Now #ForwardOnClimate by Rev. Lennox Yearwood Jr., President of the Hip Hop Caucus.
3:00 pm: The Credibility of the Anti-Climate Change Science Industry by gregladen.
5:00 pm: Don't Date Denialists! — Relationship Advice From The Climate Letter Project (and more!) by WarrenS.
5:00 am: Tar Sands: Muskeg Destruction is more than a methane GHG bomb by Roger Fox.
5:00 am: BREAKING: WH arrests to come: Civil Disobedience Action on Keystone XL today by A Siegel.
7:00 am: What Obama can do on Climate Change without congress; because republicans by beach babe in fl.
1:00 pm: Forward on Climate: The Climate Cliff by Congressman Ed Markey, Democratic Candidate for 2013 United States Senate MA Special Election.
1:30 pm: Notes from the paddywagon: Keystone is the test by Bill McKibben.
2:00 pm: Tar Sands to consume all conventional natural gas reserves in Canada and Alaska by Roger Fox.
3:00 pm: The Gulf Stream Stalled, Sea Level Rose & the East Coast Flooded in November 2012 by FishOutofWater.
11:00 am: Canada's Tar Sands: All Dressed up and No Place to Go? by Kelly Rigg, Executive Director of the Global Campaign for Climate Action.
1:00 pm: Forward on Climate: The Problem with Novel Technologies by rb137.
3:00 pm: Forward on Climate: The Ringwraiths of Despair by James Wells.
5:00 pm: Forward on Climate: Divestment, Action, & Change by jlms qkw.
10:00 am: Phaedra Ellis-Lamkins, Chief Executive Officer of Green For All.
11:00 am: Agathena.
12:00 pm: Marty Cobenais (Ojibwe), U.S. Pipeline & Heavy Haul Resistance Organizer for Indigenous Environmental Network. Liveblogging with Tom Goldtooth (Dine' and Dakota), Executive Director of IEN and Oglala Sioux Tribal Vice President Tom Poor Bear.
1:00 pm: Senator Ben Cardin (D-MD), Member of the United States Senate Committee on Environment and Public Works.
3:00 pm: DWG.
---
Please remember to republish these diaries to your Daily Kos Groups. You can also follow all postings by clicking this link for the Climate Change SOS Blogathon Group. Then, click 'Follow' and that will make all postings show up in 'My Stream' of your Daily Kos page.