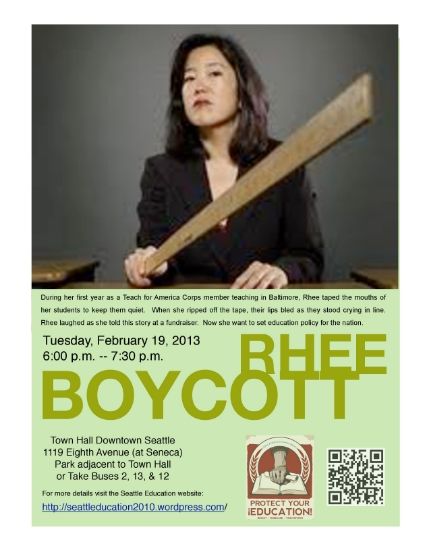 There will be a protest at 6:00 PM on February 19th in front of Town Hall where Michelle Rhee will be talking about her latest fundraising effort, her book. Join us. We will have signs…and tape.
Seattle Education posts a comprehensive, up-to-date review of Rhee -- from her Teach for America days terrorizing little children to her scandal-ridden days as Chancellor of Washington, D.C. Public Schools, to her newest nonprofit venture (from which she will profit handsomely), Students First.
"Most of Rhee's agenda runs counter to what parents identify as their top priorities, including small class sizes, less high-stakes testing, improving neighborhood schools, recruiting and retaining strong and experienced teachers, and giving parents a real voice in governing schools."
It won't be the first time teachers, parents, and teachers have boycotted Rhee. Last year at this time East Bay CTA & CFT Teachers Picketed Michelle Rhee chanting "We Are, We Teach The 99%."

Originally posted at Great Schools for America.