Obviously there are real advantages to going away to school. If you can afford it, through scholarships, parental contribution, or relatives, not living at home and changing the environment you are in can be a life-changing experience. If you come from a small town, suddenly being in a place where people look different from you, speak different languages, where you can see a concert by someone who has only existed on your radio or ipod, where you can hear a full orchestra of world-class quality, watching a television program or a movie film down the street from your dorm or apartment, can be incredibly exciting. You suddenly feel like you are part of a world that hasn't existed outside of your imagination, and it is exciting.
I was thinking about this last weekend as I went with a couple of colleagues and a couple of students to a major disciplinary conference in New York. The students came from St. Louis, and both had been in New York for a day or so before, but they had not spent a whole week there and it was exciting for them. In addition to the conference, where they spent much or their days, they visited museums and important architectural buildings (such as Grand Central Station and the Empire State Building; the Guggenheim Museum hit both categories with aplomb!). One of them interviewed in person for a graduate school place while she was there. Oh, and one evening we went for a walk and ended up (on purpose) at Dylan's Candy Bar, where we saw dresses from the last round of Project Runway (original flavour).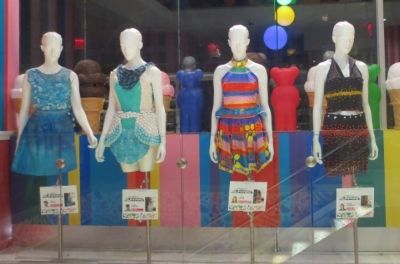 Needless to say, it was exciting for them, and they saw lots they had never seen before. So did I. I like visiting large cities and in New York I do feel as if I am in the center of the U.S. even though where I come from is much closer to the geographic center than anywhere on the East Coast.
So with all of that, why would I argue that they were better off coming to a small town to go to a small university? When going to New York provides as great a contrast with St. Louis as does a town of 17,000? Why would I say we, with our limitations (not much in the way of public transportation, no large department stores, no art museums or natural history museums, not much in the way of celebrity sightings or restaurants, certainly no "Project Runway" or "Amazing Race" locales), can offer a superior experience to what these students might get in NY?
Our state legislature would argue it is cost. It is cheap to come here, and that has been recognized nationally by many rankings where my university comes in as a "best buy" and is almost always tops among midwestern publics. But the best students can often get scholarships for private universities, even on the coasts. Yes, there is not much here to distract students or for them to spend their money on, and the concerts and plays and lectures are all free for them, so the living expenses are less, even aside from the actual cost of tuition and room and board. But there is more than that.
It does, essentially, come down to the students themselves, and their interaction with faculty and other students. I once was asked by a prospective student's father "Can you honestly say that my daughter can get as good an education at this university as you did when you were an undergraduate at Bryn Mawr?" (He had asked where I had done my undergraduate degree so I answered him, and this was the next question). My answer was quite honest: "There are people who went through Bryn Mawr with me who didn't get as good an education as I did at Bryn Mawr." It does depend very much on the student. I know that a student who works hard, goes above and beyond the assigned minimum, and gets excited by the material will do well. And they would do that here or elsewhere, at Harvard or at any big or small regional university they could choose. Even the weaker, non-major students in my large lecture classes do not slip through the cracks here. My large classes are 45; my small ones are under 20. I can take the time to work one-on-one on a student's writing, and I have office hours (and outside of office hour times) that are accessible to students. The university I teach at says that teaching is the top priority and so, while it does "applaud" research (sometimes not enough emphasis is on that, many faculty would argue), it does give us time in building our promotion portfolios to talk about teaching. If you don't focus on teaching here, you won't be happy and your evaluations will be really low -- not just those from students, but those from faculty review committees. Our research is often in tandem with undergraduates. In our labs, we have very few graduate students and undergrads do original research, present at national conferences, and often are co-authors of published works before they graduate. One of my students last week was asked (by a grad student from a big city university) if she had ever presented her research. The answer was that she had already (she is a junior) presented at three conferences. The questioner said in response "Oh, I meant have you ever presented in class?" Almost all disciplines at our university have extensive capstone projects through which students demonstrate their individual research and creative abilities. That is the advantage of a small university where teaching is a priority.
No, we don't have medieval tapestries and Renaissance paintings in our collections. We don't have buildings over 5 or 6 stories in town, and those are (frankly) pretty boring buildings. But when I was just outside Philly I went to one concert and two plays off campus, went to a couple of museums a year, and traveled to other cities a couple of times. I didn't take advantage of the location too terribly much. I focused on classes, and research. What I got there I try to provide my students here. Close reading of their writing, challenging questions in class, an introduction to methodology and history of the discipline.
So if you can get it there, why get it here? Wouldn't those museums make the difference, provide the inspiration? Well, maybe. But my students last week went to New York and had an intense week. And now they are back in an environment where they don't have to worry about a daily commute (they all live within a couple of blocks of campus and there is a grocery store in walking distance as well as doctors' offices and hospital and other types of stores), a meal out doesn't have to be McDonald's to come in under $10, and they don't need cars. In addition, I don't have a long commute -- when we had 8 inches of snow, I could walk to campus and the classes were not cancelled. Some faculty didn't make it in (those who live in the country) but they were the exception. Even if you couldn't get your own car out of the garage, if you lived in town, someone could come and give you a lift and you could make it in to work. That is the advantage for a faculty member of living in a small town -- out of your way is ten minutes' drive in my village.
It is a quiet place, but you get to know the community in ways that are more challenging in a larger city. The town/gown thing, while it is as much of an issue here as anywhere, is easier to break through. You volunteer at the schools or humane society, or work at the swimming pool or the movie theatre, or go to auctions for kitchen material, or sell baked goods at the farmers' market in the summer, or are a server in one of the restaurants, and you become a part of the community. Students often spend a summer here, and one studying abroad, and find they like both opportunities for different reasons. We provide them with real options.
And because we are not in a larger community, we do not have a pool of educated underemployed faculty in town and the staff at the university are about 90% full time permanent employees; almost all of our classes are taught by tenured faculty. So the horror stories you hear about adjuncts don't apply here (which means we are not as flexible as sometimes we need to be, but no matter). Faculty come back to campus in the evenings for lectures, student groups' meetings, the "Stitch and Bitch" club, etc. When the campus was yarn bombed last year there were a couple of faculty in on the event. I have had student groups over to my house several times this past year, and I will have the final exam for one of my classes held here because the exam falls over the lunch hour and we are studying London, so a luncheon of English food sounds like a good experiential opportunity for the end of the course.
So yes, there are opportunities in a big city, but the students who come here are well-prepared to go out and compete in graduate school and professional settings. They have had extensive feedback in writing, challenging research experiences, and opportunities to work closely with faculty in a variety of disciplines. You can get that at any good university that values undergraduate teaching. But there are intangible benefits to being a part of a community where you can talk to the mayor at the local coffee shop, tutor foreign languages at the schools and teach English in the community, walk to and from the grocery store, and still have money saved up to do a trip to a really big city once a year.
I had a great time last week in New York. I saw colleagues at the conference and at the big museums. One of my friends from undergrad with whom I had lunch at the Met told me "You have always struck me as the happiest Egyptologist I know." That was nice. And I am happy. I like my job, and I like my students, and although I don't have access to a teaching collection of stelae and wall paintings, or statues to use in my classes, I do have access to online databases and creative ways of communicating such things as size of tomb walls.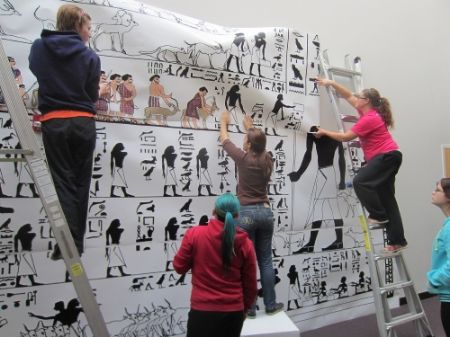 I like my job (of course I wish I were paid closer to the national average for someone of my rank and experience). I like my students (most of them, the vast majority of them). I like my town (the area is really red, but they are generally nice people anyway). I am really really really lucky. I think my students generally are too.
Those are my thoughts from a week at a conference. The papers? I didn't hear a bad one, and some of the best of them have got me thinking about really exciting things. But I am still processing those, and catching up on grading is occupying my time. Next week, maybe, I will have a more pedagogically-thoughtful essay. At the moment, though, I had a lovely time in New York, and now I am glad to be back home.