The Daily Bucket is a regular feature of the Backyard Science group. It is a place to note any observations you have made of the world around you. Insects, weather, fish, climate, birds and/or flowers. All are worthy additions to the bucket. Please let us know what is going on around you in a comment. Include, as close as is comfortable for you, where you are located.
The migration is definitely going on. We have been seeing intermittent flocks of Snows fly over on their way north for a couple weeks now and we started off this week with the first male Redwing of the year at the feeder. Then this morning we had a mixed flock of blackbirds in the backyard that consisted of both male and female Redwings plus both male and female Brewers. Yesterday we had a lone Field sparrow show up here which I very rarely see any time of time of the year.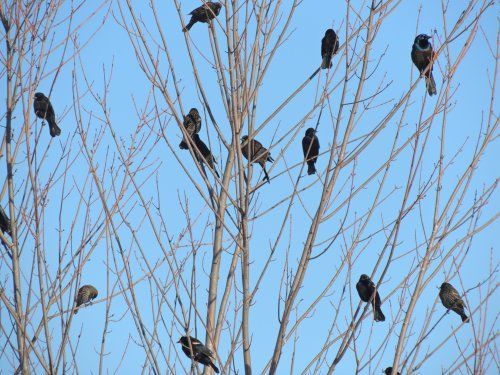 Not the most exciting birds I suppose but a definite sign that spring is on the way.
I won't be around to monitor the bucket but I'm sure you'll have no trouble carrying on without me so tell us of any signs of spring in your backyard.