I'd like to tell you about a favorite show of mine as a child: a space adventure series that was first shown fifty years ago that used actors, animation, ... marionettes ..... after the jump ....
But first: Top Comments appears nightly, as a round-up of the best comments on Daily Kos. Surely you come across comments daily that are perceptive, apropos and .. well, perhaps even humorous. But they are more meaningful if they're well-known ... which is where you come in (especially in diaries/stories receiving little attention).

Send your nominations to TopComments at gmail dot com by 9:30 PM Eastern Time nightly, or by our KosMail message board. Please indicate (a) why you liked the comment, and (b) your Dkos user name (to properly credit you) as well as a link to the comment itself.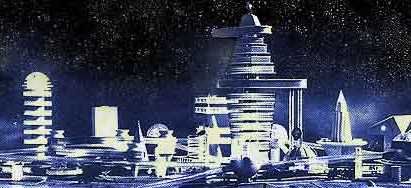 "This ...... is Earth: the year, 2100. This is the headquarters of Space Patrol .... and men from Earth, Mars and Venus ... live and work there as guardians of peace".
And so began a typical 1/2 hour episode of
Space Patrol
- which for a series filmed in 1962, had a less-than-shoestring budget ... yet created a 39-episode (in three series) program that many people of a certain age (
harrumph
) still recall fondly. Interestingly, it was only years later that I learned that the series was filmed in Great Britain ..... because nearly all of the voices were in North American accents (even once or twice from the South). It was shown in Canada and Australia ... and in the US under the name "Planet Patrol" (so as not to be confused with a 1950's TV show with the same name) as late as 1967.
By 1968, with shows such as "Star Trek" coming into vogue: a black-and-white series with marionettes must have seemed downright ... well, antediluvian (goodness, in wide-angle shots you could see the strings above the marionettes) .... and it disappeared from sight. Until a boxed set release a few years ago in Britain.
The series was the brainchild - uncommon for its time - of a woman: children's author Roberta Leigh ....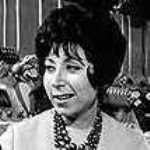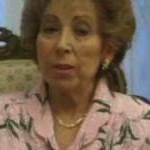 .... who is still alive at age 86 today. One feature of this series is that the "music" used in the opening sequence (and also throughout the show) may be the first TV theme made entirely through electronic means (as Space Patrol was introduced a few months before the BBC's "Doctor Who" came out). This was again due to the low budget: as Roberta Leigh herself used electronic equipment she bought from a local store, after asking an assistant for anything that made interesting noises.
She recorded a short video about the series in 1998.
Space Patrol is part of the United Galactic Organisation, a federation consisting of the planets Earth, Venus and Mars, keeping the peace between the worlds (in a similar fashion to the United Nations of today).
The head of Space Patrol was Colonel Raeburn - whose voice was supplied by the Canadian actor Murray Kash (1923-2009) - a tough yet fair man who oversaw a fleet of spaceships called Galaspheres ... which I fell in love with as a child.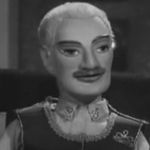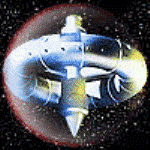 Although there were other crews at his disposal: just like on "Mission Impossible", Col. Raeburn's go-to-guys were the crew of Galasphere 347 - who would always save-the-day ........ comprised of men from all three planets in Space Patrol.
Their skipper was the Earthling captain Larry Dart - voiced by the American actor Dick Vosburgh (1929-2007) - and Dart didn't look like the typical pilot/astronaut of the day (having a Van Dyke beard). Vosburgh had studied in Britain and was recommended to Roberta Leigh due to his experience in voice-overs .... and she was pleased to note his beard, believing it to be an omen for someone who would become the voice of Dart.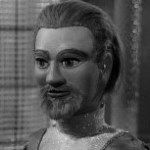 Larry Dart's two crew members were from the other two planets: Husky the Martian (image left, below) had a gravelly, gargle-with-razor-blades voice, and prone to malapropisms (such as referring to a narrow escape as a "close haircut"). He had an perpetually-hungry food obsession (especially Martian sausages) that Sergeant Schultz would understand, just a few years later. His tag-line (during the pre-liftoff checklist) included his words, "Gamma rays: on ... Yobba rays: on".
By contrast, Slim the Venusian (image right, below) was indeed thin, fastidious in his language skills (always correcting Husky) and his high-pitched words about something being "not logical" you'd think were copied by Mr. Spock just a few years later. Interestingly, both were voiced (center photo) by the English actor Ronnie Stevens (1925-2006) - yes, the budget was tight - which required skill (as the two character's voices were quite different).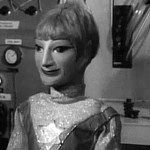 The other voicing that Ronnie Stevens did was for the most colorful human character in the script: Professor Haggerty (full name Aloysius O'Brian O'Rourke Haggerty) with a "Begorra!"-style Irish brogue ... and who was half-mad and half-genius (with inventions that often save-the-day) .... toiling away in his laboratory.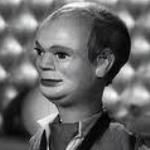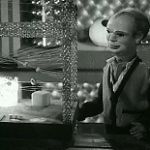 Two particular female recurring roles were that of Colonel Raeburn's secretary; a Venusian named Marla (image below left) - if you recall the secretary on the TV show "Mannix" (named Peggy), then you will have an idea of how efficient Marla is. She also runs down the lift-off checklist with the crew before take-off.
And also there was Professor Haggerty's daughter Cassiopeia (or Cassie for short, image below right). She works with her father in his lab, yet always calls him by a certain diminutive .... causing him to angrily respond, "And don't call me Pop!!" ..... oh, just about every other episode. Both characters were voiced by the Canadian-born Libby Morris - the wife of (the late) Murray Kash, and who is still alive at age 86. (In the final thirteen episodes, these characters were voiced by Englishwoman Ysanne Churchman - still alive at age 87).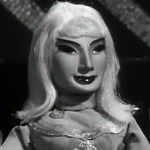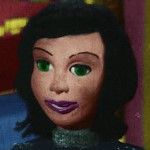 Although the series did not last long - and had been off-the-air until 16-mm prints was discovered in the loft at Roberta Leigh's home, leading to the 2003 DVD release release mentioned earlier - it did have fans. Babylon 5 creator J. Michael Straczynski stating that it was his favorite TV show as a child, as did the English musician Andy Partridge of the band "XTC".
Some of the language is dated (including some early 1960's sexist language, despite a female creator/writer) and a series website's episode guide takes the show to task when deserved. As mentioned, a black-and-white series from fifty years ago with marionettes may not be your speed .... especially if you are not a ten-year-old watching them.
But it is something I am glad I have been able to re-discover. Here are a few episodes that are among my favorites (both clock-in at around twenty-four minutes) and are ones you just might enjoy:
From the final series (of thirteen episodes) my favorite episode: ForceField X sees Larry Dart and his crew battling against one of their old nemeses, the evil Neptunians .... who are always pestering Space Patrol for human slaves, as they have an aversion (like Maynard G. Krebs) to ...... ummm ...... work.
And finally, from the first series: the episode Volcanos of Venus - where the loyalty of Slim the Venusian is in doubt, as the capital of Venus (Cresta) is under a grave threat from Slim's uncle .... is blood thicker than water?
Now, on to Top Comments:
-------------------------------------
From Mindful Nature:
In the diary by TomP about the president declaring that deficits are not our biggest problem - skrp23 gives us a short, simple statement of a core argument.
And from
Ed Tracey
, your faithful correspondent this evening ........
In the diary by TolerantLiberal about last night's coming-forward of the man who took the 47% Mitt Romney video, Scott Prouty on "The Ed Show" - HarpLady makes a comparison of Prouty to James O'Keefe that is quite telling.

In the front-page story by Hunter who is bravely attending CPAC - msmacgyver begins a thread by seeking updates on the John Birch Society while NeverThere is curious as to whether a certain UN field guide has been updated?

In the diary by jojogogo about the upcoming move to prime-time for Chris Hayes - as Ed Schultz moves to a weekend time-slot - figbash probably speaks for many people in that - while they're happy for Chris Hayes - they worry if his show will lose its uniqueness?

In the diary by Crystal Ray about things you may not know about 21st Century Ireland - Laurence Lewis offers some sightseeing advice and Bob Johnson chimes-in with memories of his first visit there.
TOP PHOTOS
March 14, 2013
Next - enjoy jotter's wonderful PictureQuilt below. Just click on the picture and it will magically take you to the comment that features that photo.


(NOTE: Any missing images in the Quilt were removed because (a) they were from an unapproved source that somehow snuck through in the comments, or (b) it was an image from the DailyKos Image Library which didn't have permissions set to allow others to use it.)
And lastly: yesterday's Top Mojo - mega-mojo to the intrepid mik ...... who rescued this feature from oblivion:

1) Third hand story, by Loge — 149
2) federal case? by jfromga — 143
3) Let there come a day ... by fromchicago — 140
4) Somebody made the comment tonight that by Mother Mags — 132
5) It's part of a bigger story, by karmsy — 126
6) That's how Clinton is. by Rich in PA — 121
7) Just devastating by Joan McCarter — 112
8) My senator Sherrod Brown by anastasia p — 109
9) How one treats servers is a key character trait by Timothy J — 107
10) Yes it is by Puddytat — 100
11) But the decision to stay OUT of the story by dalemac — 100
12) While well-intentioned... by Lasgalen Lothir — 96
13) This is a joint IRS and Secret Service by JaxDem — 85
14) Watch it online if you can. by smileycreek — 82
15) Imagine by elmo — 80
16) Yeah, you're right, not that I want to see it by blueoregon — 76
17) t.s. eliot got this one wrong by rasfrome — 71
18) Maddow has a shot. by Eileen B — 71
19) The thing that stood out for me by gulfgal98 — 70
20) so many of these good people died unnecessarily by Statusquomustgo — 69
21) Scott Prouty is an American Hero! by Carbon — 68
22) She figured Scott got away with taking by immigradvocate — 66
23) Yes, here by Catte Nappe — 66
24) Taking the name Francis could be by NorthlandLiberal — 65
25) I look forward to the very last by gchaucer2 — 64
26) Adverse inference by GeoffT — 63
27) I'm so proud of her. by Shrew in Shrewsbury — 63
28) What kind country do we have .... by Joy of Fishes — 61
29) Republicans have zero by gchaucer2 — 60
30) additionally, the beauty of how it happened is by jplanner — 60