This aired on Thursday in lead up to the burial ceremonies yesterday, Friday:
Honoring fallen Civil War heroes 140 years later
March 7, 2013 - America is about to pay final respects to two of its fallen heroes more than a century after they lost their lives. But we can't tell you who they were and we may never know.

It is a solemn fact that the remains of Americans killed in conflicts dating back to World War II keep coming home from distant battlefields.

But Thursday was different, as flag draped caskets held unidentified sailors from the Civil War.

"Two human beings buried under there for 140 years or so," explained Joe Hoyt. He was one of the divers who discovered the remains in 240 feet of water off Cape Hatteras, North Carolina, where they had gone down with one of the Navy's most famous ships -- the USS Monitor.

"Arguably more significant than almost any shipwreck certainly in U.S. history," said Hoyt, "and to get down there and actually see it -- there's really nothing else like it." read more>>>
And yesterday, 8 March 2013, these unknown sailors were laid to rest in Arlington Cemetery with Full Honors and a headstone monument that will Honor the whole crew of the USS Monitor and all the Civil War soldiers: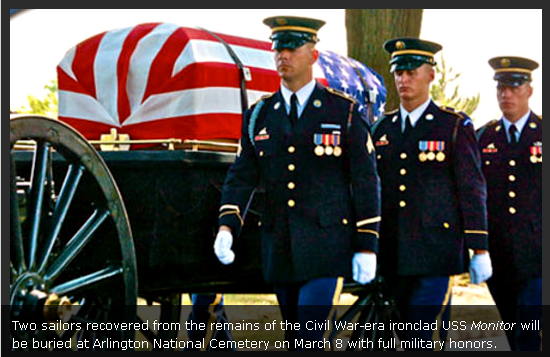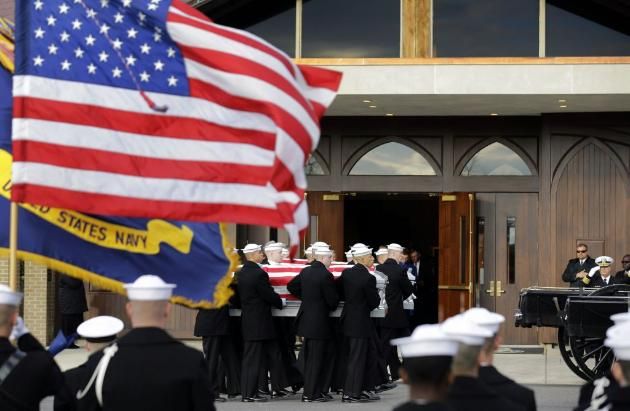 Two Navy Honor Guard teams load two caskets of remains during services to honor two sailors from the Civil War ship, the USS Monitor, as they depart Fort Meyer Memorial Chapel, Friday, March 8, 2013 in Arlington, Va. A century and a half after the Civil War ship the USS Monitor sank, two unknown crewmen found in the ironclad's turret were buried at Arlington National Cemetery. Friday's burial may be the last time Civil War soldiers are buried at the cemetery.
Monitor Sailors' remains arrive for Arlington burial
Civil War soldiers laid to rest
The remains of two unknown Civil War soldiers discovered in a 150 year old shipwreck were buried at Arlington National Cemetery.