I post a weekly diary of the historical notes, arts & science items, foreign news (often receiving little notice in the US) and whimsical pieces from the outside world that I featured this past week in "Cheers & Jeers". For example .....
OK, you've been warned - here is this week's tomfoolery material that I posted.
ART NOTES - the first of three separate collections (to be shown over the next three years) of the artworks of North American birds by John James Audubon is at the New York Historical Society through May 19th.
LATER THIS MONTH a safe with the belongings of the late Yugoslav communist president Josip Tito will be opened (for the first time since his death in 1980).
TUESDAY's CHILD #1 is is the late Alfie the Cat - a Welsh kitteh beloved by his neighbors, as he would seek pets from nearly everyone who passed him by.
GLAD to see the actor Hugh Grant - one of the heroes, in my opinion, in uncovering the Murdoch phone tapping scandal - publicly call upon prime minister David Cameron not to bungle implementing the recommendations of a press complaints commission ... instead of sucking up to the press barons, as usual.
WEDNESDAY's CHILD is Jackson the Cat - saved from abuse by the intervention of a North Carolina child, who has been recognized for his efforts.
YUK for today - in wrapping-up this past weekend's extravaganza: have a look at this year's CPAC pick-up lines that were ... (apparently) ... unsuccessful.
CHEERS to the founder of Motown Records, Berry Gordy - first due to a successful new Broadway play about his life that opened this week, and now at this year's Songwriters Hall of Fame gala is due to receive a Pioneer Award: which honors not songwriters themselves, but those who influenced/hired them.
ART NOTES - works by Michele Feder-Nadoff in an exhibition entitled Between Heaven & Earth are at the Rockford, Illinois Art Museum through April 14th.
SCIENCE NOTES - after a two-year absence, the new Montreal Planetarium - the final piece of the largest concentration of natural science museums in Canada, and aiming for LEED Platinum certification - hopes to attract quadruple the attendance of the old planetarium when it opens on April 6th.
TRANSIT NOTES - after a frustrating trip around Berlin on public transport, a British psychologist has re-designed the city's subway map in a way he hopes is more clear to the city's visitors.
THURSDAY's CHILD is Gungo the Cat - an English kitteh who went missing for months, causing all sorts of consternation in his neighborhood .... but who was finally located, and has returned home.
ART NOTES #2 - Norway's government said it would help finance a new museum (in its capital city of Oslo) to house the works of Edvard Munch - in a bid to put an end to a long political squabble that has paralyzed the project.
HAVING ACHIEVED FAME by his portrayal (late in the film "Downfall") of Adolf Hitler breaking-down after being told the war is lost - with countless internet parodies following, having subtitles saying he was upset about Kanye West/other current celebrities - the veteran Swiss actor Bruno Ganz will now portray a fictional Pope in an upcoming US television drama. Speaking of Popes ...
By Request SEPARATED at BIRTH from Remediator - the former Pope Benedict and the late Italian actor Adolfo Celli - who portrayed the villain in the 007 flick "Thunderball". Whaddya think?
HAIL and FAREWELL to the British clarinetist/bandleader Terry Lightfoot who has died at the age of 77. In 1957, his 'trad jazz' (Dixieland) band included a 17 year-old Ginger Baker - yes, the future star drummer of Cream.
BRAIN TEASER - try this Quiz of the Week's News from the BBC.
FRIDAY's CHILD is Kallie the Cat - a Michigan kitteh rescued after four days in a tree (with snow on her) after a tree-service firm read of her plight on Facebook.
......and finally, for a song of the week ............... if all they had done was act as the house band at the Memphis soul music Stax/Volt record label, Booker T. and the MG's would have merited a significant place in history. After all: if your label has singers such as Rufus and Carla Thomas, Eddie Floyd, Otis Redding, Albert King, Isaac Hayes, Wilson Pickett, Don Covay and the Staples Singers recording for it .... well, the MG's thus appear on many soul music classics. But they also had their time in the limelight, with several instrumental hit singles in the 1960's, plus a level of respect from the rock music world-at-large. Not for nothing did John Lennon refer to them as "Book a Table and the Maitre D's".
The original quartet was made up of organist Booker T. Jones as well as Al Jackson, Jr. on drums, Lewie Steinberg on bass ... and the only non-Memphis native, guitarist Steve Cropper whose family moved there from Missouri when he was age nine. Booker T. had been hanging out at the Stax studios in his youth, and was hired as a session man, where he met-up with Cropper, who had already been performing in a band called the Mar-Keys - and after leaving them, he became the Stax label's de facto A& R man and engineer.
In 1962, they were paired up with drummer Jackson and bassist Steinberg, to back-up a rockabilly singer who left after finishing the session. Stax founder Jim Stewart left a tape in while the four musicians started jamming on a blues in F that became the band's signature tune, Green Onions - which reached #3 in the pop charts, and was eventually named by Rolling Stone as #183 in its 500 Greatest Songs of All Time list.
In 1965, Steve Cropper felt that the sound of the band wasn't quite right .... at which time he asked an old Mar-Keys bandmate to replace bassist Lewie Steinberg .... and so Donald Duck Dunn joined and helped establish the "classic line-up" of the band (in 1st photo, below left: clockwise from lower left are Jones, Jackson, Cropper and Dunn ... second photo L-to-R are Jackson, Jones, Dunn and Cropper).
Some notes about the band: (a) about the name "Booker T. and the MG's" - for years the band denied that the "MG's" portion came from the British sports car (fearful of a lawsuit) ... instead, they maintained that the acronym was short for "Memphis Group". (b) Duck Dunn noted that when the band was driving through Memphis, they might be stopped by the police, asking Dunn "if he was OK" ..... riding with two black men, apparently. (c) Many guitarists, who are criticized about playing "too many notes", are often recommended to listen to Steve Cropper (known for his economical yet edgy playing, (d) Cropper also co-wrote several of Stax's hit records: Knock on Wood by Eddie Floyd, Dock of the Bay by Otis Redding and In the Midnight Hour by Wilson Pickett, and (e) after the shooting of Martin Luther King in 1968, the band-members said the vibes at Stax were no longer as warm.
But the band backed-up Otis Redding at the 1967 Monterey Pop Festival, and would have performed on their own at Woodstock in 1969 ... except that Al Jackson was fearful of boarding the necessary helicopter to do so. They had other hits such as 1967's "Hip Hug-Her" (#37 in the pop charts), "Groovin" (#21) and three in the Top Twenty during 1968: "Soul-Limbo" (#17), "Hang Em High" (#9), and their highest-charting hit in six years, Time is Tight (at #6).
In 1971, they released their most critically-acclaimed album Melting Pot - although its most popular tune "Kinda Easy Like" only reached #45 in the pop charts. The band, though, had started to disintegrate (slowly) since 1968. Not due to any dislike or major policy differences: just that the members had other works they wanted to pursue. Jones had gone to study at Indiana University's noted music program, Steve Cropper became a producer in Los Angeles and Al Jackson became Al Green's regular drummer. They still did session work in Memphis, but little as a band after 1971.
They planned to reunite in 1975 ... which was derailed when Al Jackson, Jr. was murdered in his home (which is still considered mysterious to this day). Steve Cropper and Duck Dunn went on to appear in the "Blues Brothers" film (and tour with the band) which helped remind people of the MG's legacy.
The surviving members (last photo: Dunn, Jones and Cropper) reunited from time-to-time: In 1992, they were the main back-up band for the 1992 Bob Dylan 30th Anniversary concert, and in 1998 for the Atlantic Records 40th Anniversary concert. In 1994, they released a comeback album - their first in seventeen years - that included cover versions of "Gotta Serve Somebody", "Just My Imagination" and U-2's "I Still Haven't Found What I'm Looking For". In 2002, the band backed Neil Young on his "Are You Passionate?" album (as well as on tour) and in 2004 served as a house band for Eric Clapton's Crossroads Guitar Festival in Dallas.
The death last year of Duck Dunn at age 70 (and for whom a tribute concert took place earlier this month) may well have been the final chapter of the MG's story. But wotta book it was: appearing on more than 600 Stax/Volt recordings (including many hit singles), were inducted into the Rock & Roll Hall of Fame in 1992 and were named by Rolling Stone as #93 on its 100 Greatest Artists of All Time list.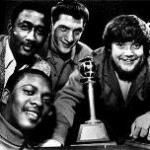 One of their works was a tribute to the Beatles: John Lennon always wanted to write an instrumental for the band, and so the band responded in 1970 with an instrumental version of "Abbey Road", which Booker T and Duck Dunn had adored. So much so, they named the album McLemore Avenue (as Stax was located at 926 East McLemore Avenue at the corner of College Street) and the cover photo showed the four crossing the street (albeit not in a zebra-stripe lane).
Here is their version of You Never Give Me Your Money .....
.... and an earlier version of Green Onions (with Duck Dunn on bass, as he was not on the original recording) on a 1967 European TV show.