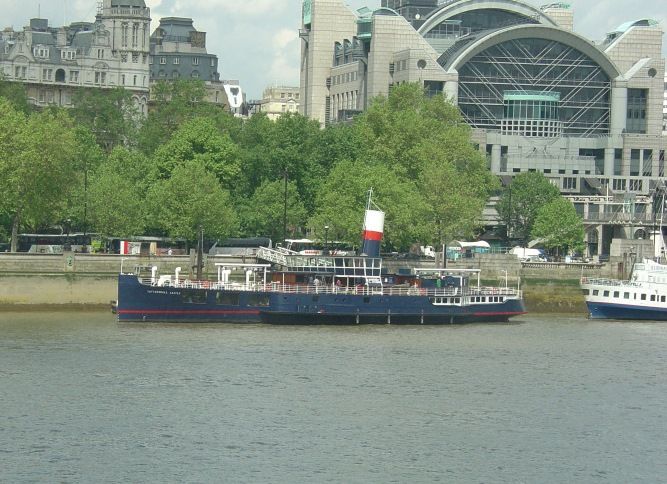 PS Tattershall Castle, London
Viewed from the south bank of the Thames, here we can see today's mystery object. A paddle steamer? A ferry? An art gallery? A wartime transport? A conference centre? A nightclub? A pub? A railway company asset? Well, yes, just select the box that says, 'all of the above'.
Built in 1934, to the order of the London and North Eastern Railway Co., the PS Tattershall Castle (the PS stands for 'Paddle Steamer') was used as a ferry on the LNER route across the Humber Estuary from Hull to New Holland – a journey of approximately 4 miles. She did this about 8 times a day, carrying up to 1,000 passengers, freight and some vehicles. The Second World War saw her take on wartime duties, ferrying troops and supplies all over the estuary. Demobilised at the end of the war, along with her two sisters, she went back to the ferrying work, along with a series of pleasure charters. In 1973, she was retired, having reached the end of her useful life. It is likely that when the Humber Bridge was finally finished in 1981, it would have spelt the end for the ferry service anyway. The scrapyard did NOT beckon, however, as she was snapped up by a London businessman who wanted to open a floating art gallery in the centre of London, on King's Reach in the City of Westminster. That venture, unlike the PS Tattershall Castle, foundered after a few years and she was taken over by a pub chain. After restoration, modifications (her paddles were removed, and the paddle box space utilized) and repairs, she was towed back up the Thames to her present postion. If you fancy a really spectacular river-side venue for a meal, then you could do much worse than the Tattershall Castle. By the way, by an amazing stroke of good fortune, both of the other 'paddlers' on this ferry route, Wingfield Castle and Lincoln Castle survived and are in preservation!