The Faces of Anti-Affirmative Action, commentary by Black Kos Editor Denise Oliver Velez.
Oh the irony!
As the Supreme Court announced that it is going to place a second affirmative action case on its calendar, a review of Michigan's Prop 2 affirmative action ban, which will join the case already before them (Fisher v. University of Texas at Austin), I thought I'd go back and review the right wing's media presentation of all of this, and look at just who are the poster faces for the movement to eradicate programs in universities that help gain more access to higher education for those who are not privileged—blacks, latinos and native americans.
Two white women and a black man are ostensibly leading the charge. I say ostensibly since the two women are named in legal cases and the third, the black man, claims to be a crusader for civil rights, but it only took a few moments to figure out that the same old right wing wrong-headed big money supporters of bigotry are forking over the green-backs to roll-back gains we've made since the 60's.
Those of us (of all colors and genders) who have been long-term supporters of, and fighters for civil rights, need to pay closer attention to the cynical manipulation of the goals, aims and images of our movement.
What was voted on in Michigan and passed back in 2006 was called the "Michigan Civil Rights Initiative".

The Michigan Civil Rights Initiative (MCRI), or Proposal 2 (Michigan 06-2), was a ballot initiative in the U.S. state of Michigan that passed into Michigan Constitutional law by a 58% to 42% margin on November 7, 2006, according to results officially certified by the Michigan Secretary of State. By Michigan law, the Proposal became law on December 22, 2006. MCRI was legislation aimed at stopping the preferential treatment of minorities (by race, color, sex, or religion) in getting admission to colleges, jobs, and other publicly funded institutions. It was decried by some opponents as a repeal of the 1964 civil rights act.

The United States Court of Appeals for the Sixth Circuit overturned MCRI on July 1, 2011.[2] Judges R. Guy Cole Jr. and Martha Craig Daughtrey said that "Proposal 2 reorders the political process in Michigan to place special burdens on minority interests." Michigan Attorney General Bill Schuette said he will appeal the court ruling.

Bill Schutte, Attorney General for the State of Michigan announced his appeal of the Sixth Circuit's decision on July 28, 2011. The MCRI stands in effect until this appeal is complete.

On November 16, 2012, the Sixth Circuit Court of Appeals, sitting en banc, upheld the earlier ruling that the MCRI is unconstitutional. Schuette announced his intention to appeal to the Supreme Court. The Supreme Court of the United States granted certiorari in Schuette v. Coalition to Defend Affirmative Action on March 25, 2013.
The face associated as the poster gal for this reactionary Prop, and its supporters is that of Jennifer Gratz.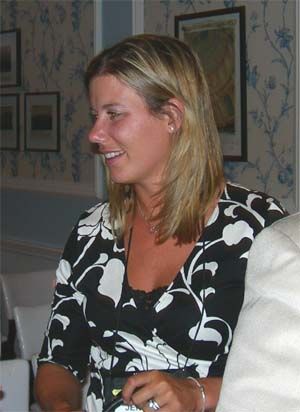 Gratz is being cheered on by the right-wing National Review, who have announced her new foundation "to help in the fight against racial preferences" and they have dubbed her "a national treasure".
Oh she is truly a bigots civil rights fighter's delight.
Her crime partner um..co-defender of civil liberties (though they seem to be at odds these days) is Ward Connerly. He is well-paid (too well paid according to recent investigations of hanky panky) head honcho of the "American Civil Rights Institute" which is described as "a national non-profit organization in opposition to racial and gender preferences".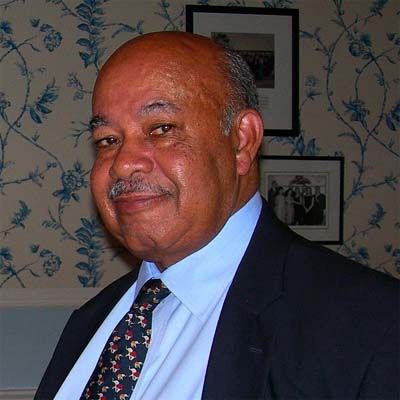 Back in 2006, Right Wing Watch posted a piece on his agenda:

Ward Connerly – who ten years ago spearheaded California's successful ballot initiative to end affirmative action in education, two years later worked to end it in Washington state, and this year joined the effort in Michigan, where a ban on affirmative action also passed – announced today that he is exploring nine more states: Arizona, Colorado, Missouri, Nebraska, Nevada, Oregon, South Dakota, Wyoming, and Utah. "Three down and 20 to go," he said in a conference call this morning, referring to the number of states that have ballot initiative procedures.

Connerly was joined by Jennifer Gratz, a white student who sued the University of Michigan after being rejected for admission and who later led the ballot initiative to ban affirmative action outright. Gratz will join Connerly's American Civil Rights Institute to work on the expansion of these bans. "We've always felt that if we could win in Michigan, we could win anywhere," she said.

Despite the name of Connerly's group, efforts like the Michigan ban have been opposed by major civil rights organizations. Connerly did pick up support from one major group: "If the Ku Klux Klan thinks equality is right, God bless them," he said.
The third face is that of poor, discriminated against Abigail Fisher, who because of preferences given to those privileged colored folks, didn't get accepted into the Univ of Texas.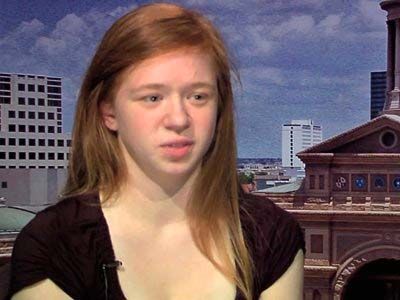 Oh...wait...hold the presses, seems like po' little discriminated against Miz Fisher wasn't denied a place because of her race.
Imagine that?
Pro-publica has exposed the flaws in her case.
Why am I not surprised.
And then we find out more about her knight in shining hood armor, attorney Edward Blum, who Salon has dubbed "The right wing's Supreme Court Whisperer".
They point out:

"The bulk of his money comes from a group called Donors Trust, which is a basically a clearing house that funds front groups to push a whole bunch of right-wing policy goals, from tort reform to climate change denial to school choice to voter rights challenges."

Indeed, Donors Trust provides the legal fees Blum pays to lawyers who take up his cases — "millions" over the years. The organization is sort of like the United Way of conservative political philanthropy in that big donors can funnel money to the group, which then distributes it to friendly organizations.

On its website, the group says it is "explicitly devoted to supporting organizations that promote liberty" and calls itself "an innovative charitable vehicle for donors who wish to safeguard their charitable intent to fund organizations that undergird America's founding principles." Liberals have called it a "an anonymous tax-deductible policy slush fund" that's "almost a laundering operation" for wealthy donors."
All snarkiness aside, rather than allow the right-wing to frame the arguments, take the time to listen to the attorney
for
protecting affirmative action, George B. Washington, who is one of the lead lawyers for
BAMN
, which stands for "By Any Means Necessary".
He give the history, makes the links between cases and points to the use of the term "preferences" as right-wing framing of the issue of affirmative action.
The dismantling of affirmative action is having negative results in California, which Erica Perez discusses in "Despite diversity efforts, UC minority enrollment down since Prop. 209"

More than a decade after California law banned race-conscious admissions, outreach and financial aid at public universities, the state's most selective public university system has seen a significant impact on its ability to increase enrollments of African American, Latino and American Indian students.

A ruling by the Supreme Court ending race-based preferences in college admissions would have a limited effect in California because state law already prohibits it. But as other states consider the effects of a Supreme Court ruling on their own college populations, they might observe what's happened in the Golden State.
The University of California Board of Regents in 1995 passed a resolution that eliminated race, religion, sex, color, ethnicity or national origin as criteria for admission to the university. The following year, California voters approved Proposition 209, which went further by also prohibiting race-conscious outreach and financial aid.
The percentage of underrepresented minority students admitted to the UC system dropped significantly as soon as Prop. 209 passed. Today, despite a number of policies and strategies employed by the university to diversify its student population, these groups remain a substantially smaller proportion of those admitted to and enrolled at the university's most selective campuses – UC Berkeley and UCLA – than they were before the elimination of race-conscious policies.

What's more, the gap between the percentage of underrepresented minority students graduating from California high schools and the percentage enrolling at UC has widened
I echo the sentiments of Pamela Newkirk, journalism professor at NYU who wrote last year:
On Wednesday the U.S. Supreme Court will once again consider the merits of affirmative action and the plight of purportedly victimized whites, ripping the scab from a deep and scarcely healed American wound.

The ever-contentious debate sparked anew by Fisher v. University of Texas at Austin is likely to overshadow recent figures showing the widening household-income gap between non-Hispanic whites and African-Americans and the stubbornly low black and Latino high-school graduation rates that persistently keep higher education out of the reach of millions. A new study from the Schott Foundation for Public Education found that just 52 percent of black and 58 percent of Latino males graduate from high school in four years, compared with 78 percent of non-Latino whites.

In 2011 the median household income of African-Americans was $32,229, compared with $55,412 for non-Hispanic whites. The median black household income dropped from 2010 by 2.7 percent, twice the percentage for non-Hispanic whites. Furthermore, the latest census figures show that 27.6 percent of all blacks lived below the official poverty threshold, nearly three times the rate for non-Hispanic whites. And while the percentage of whites living in poverty slightly declined in 2011, the percentage of blacks slightly increased.

Against this backdrop of pain, inequality, and upheaval, fear of white disenfranchisement seems oddly out of place. The cold numbers do little to illuminate the suffering of many people across the country who have the misfortune of being born into underresourced and woefully neglected school districts. Those districts remain overwhelmingly populated by blacks and Latinos. In my home state of New York, just 37 percent of black and Latino males graduate from high school in four years, a jaw-dropping figure that is rivaled only by the rate in the nation's capital.

So, as much of the blogger and media attention is riveted on Prop 8, and marriage equality at SCOTUS, don't forget to consider, and pay close attention to what is part of a concerted effort to roll-back the clock on civil rights and education.
The struggle continues...
~~~~~~~~~~~~~~~~~~~~~~~~~~~~~~~~~~~~~~~~~~~~~~~~~~~
News by dopper0189, Black Kos Managing Editor
~~~~~~~~~~~~~~~~~~~~~~~~~~~~~~~~~~~~~~~~~~~~~~~~~~~


~~~~~~~~~~~~~~~~~~~~~~~~~~~~~~~~~~~~~~~~~~~~~~~~~~~~~
While Panama city is thriving, just an hour's drive away, in the city of Colón, rotting buildings collapse, sewage runs in alleyways and racial discrimination is pervasive. New York Times: A Once-Vibrant City Struggles as Panama Races Ahead on a Wave of Prosperity.
~~~~~~~~~~~~~~~~~~~~~~~~~~~~~~~~~~~~~~~~~~~~~~~~~~~~
Panama is booming, with an average economic growth of 9 percent in the past five years, the highest in Latin America. Banking and financial services and big public works projects like the subway and multibillion-dollar expansion of the canal have fed the good fortune.
Panama City, the capital, has the tallest building in Latin America, a 70-story Trump hotel and condo tower, and its skyscraper forest reflects the rush of foreign investment, real estate speculation, well-heeled foreign transplants and, American officials have said, some measure of drug money.
But Panama can also lay claim to some of the starkest disparities of wealth in Latin America, according to the World Bank, and the persistent poverty in Colón, an hour's drive from the symbols of wealth in Panama City, remains a glaring, festering example inflaming friction here.
Colón, wedged between a busy port and a handsome cruise ship terminal, is a crowded, cacophonous city of 220,000, with street after street of faded colonial facades and concrete-block buildings with peeling paint and weeds growing out of some upper floors.
"There are hardly any jobs here," said Orlando Ayaza, 29, who works occasionally at the dock. "Not ones with regular salary and benefits that we need here." He has a two-inch scar on his face that he attributes to a policeman's baton during unrest here last year.
When asked why he does not move to Panama City, he touched the dark skin on his arm. "They see this, and you say you are from Colón, and they say, no way," he said. "They think we are all thieves there."
Colón is predominantly black, whereas Panama City's population is more of European descent, and many residents and analysts say they believe that racial discrimination has contributed to Colón's stagnation.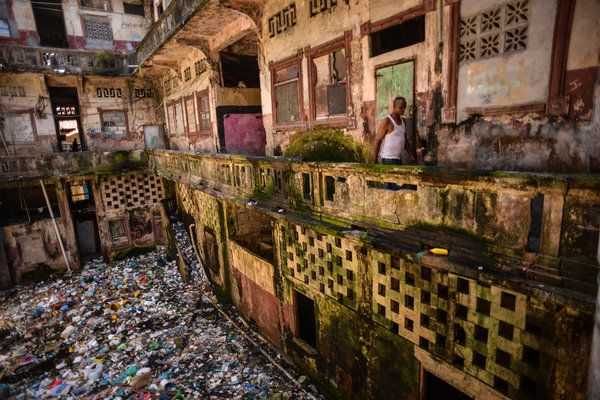 Meridith Kohut for The New York Times
The Wilcox building, once an architectural landmark in Colón, Panama, is now condemned.


~~~~~~~~~~~~~~~~~~~~~~~~~~~~~~~~~~~~~~~~~~~~~~~~~~~~~
Similar issues as seen in Panama are happening in the "new" Cuba. New York Times: Despite Change in Cuba, Racism Still Looms Large.
~~~~~~~~~~~~~~~~~~~~~~~~~~~~~~~~~~~~~~~~~~~~~~~~~~~~~
It's true that Cubans still have a strong safety net: most do not pay rent, and education and health care are free. But the economic divergence created two contrasting realities that persist today. The first is that of white Cubans, who have leveraged their resources to enter the new market-driven economy and reap the benefits of a supposedly more open socialism. The other reality is that of the black plurality, which witnessed the demise of the socialist utopia from the island's least comfortable quarters.
Most remittances from abroad — mainly the Miami area, the nerve center of the mostly white exile community — go to white Cubans. They tend to live in more upscale houses, which can easily be converted into restaurants or bed-and-breakfasts — the most common kind of private business in Cuba. Black Cubans have less property and money, and also have to contend with pervasive racism. Not long ago it was common for hotel managers, for example, to hire only white staff members, so as not to offend the supposed sensibilities of their European clientele.
That type of blatant racism has become less socially acceptable, but blacks are still woefully underrepresented in tourism — probably the economy's most lucrative sector — and are far less likely than whites to own their own businesses. Raúl Castro has recognized the persistence of racism and has been successful in some areas (there are more black teachers and representatives in the National Assembly), but much remains to be done to address the structural inequality and racial prejudice that continue to exclude Afro-Cubans from the benefits of liberalization.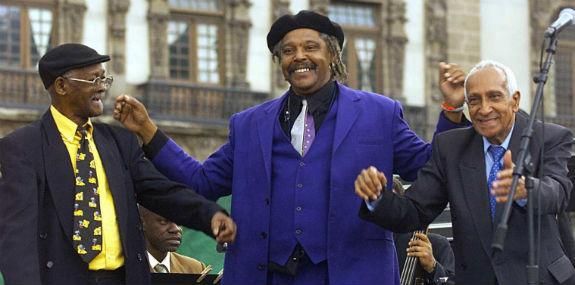 Afro Cuban All Star musicians Ibrahim Ferrer, Juan de Marco and Ruben Gonzalez perform in Mexico in 1999. (STR/AFP/Getty


~~~~~~~~~~~~~~~~~~~~~~~~~~~~~~~~~~~~~~~~~~~~~~~~~~~~~
Albert Chinualumogu Achebe a giant of world literature passed away last week. Slate: Chinua Achebe, Writer Widely Seen as the Father of African Literature, Dies at 82.
~~~~~~~~~~~~~~~~~~~~~~~~~~~~~~~~~~~~~~~~~~~~~~~~~~~~~
If things had worked out a little differently, Albert Chinualumogu Achebe's first book could have been lost to history. A London typing service "dismissed the handwritten manuscript—sent from Africa—as a joke," notes the Wall Street Journal. Little did they know Things Fall Apart would eventually be seen as the foundation stone for African literature. When it was finally published in 1958, the book became a huge hit, propelling the Nigerian author to an unlikely fame and going on to selling 10 million copies in 50 languages.
"It literally invented African literature," says Simon Gikandi, Kenyan author of Reading Chinua Achebe. The 82-year-old Nigerian, who had been living in the United States since a 1990 car accident left him paralyzed from the waist down, died Friday morning following a brief illness, his agent told the Associated Press.
Achebe first focused on the effects of colonialism in Africa, and then went on to harshly criticize the way the continent was being devastated by its own corrupt leaders with constant military coups and entrenched dictatorships, points out Reuters. Achebe won't just be remembered for his own work, but also for being an early champion of several notable African writers, including Kenya's Ngugi wa Thiong'o.
In 2004 and 2011 Achebe rejected two efforts by the Nigerian government to name him a Commander of the Federal Republic, a national honor, saying the country's rulers seemed "determined to turn my homeland into a bankrupt and lawless fiefdom," notes the Guardian.




Chinua Achebe addresses the Steve Biko memorial ceremony in Cape Town on the 25th anniversary of the activist's death in police custody, Sept. 12, 2002


~~~~~~~~~~~~~~~~~~~~~~~~~~~~~~~~~~~~~~~~~~~~~~~~~~
Chinese trade with Africa keeps growing; fears of neocolonialism are overdone. The Economist: More than minerals
~~~~~~~~~~~~~~~~~~~~~~~~~~~~~~~~~~~~~~~~~~~~~~~~~~
The origin of China's fascination with Africa is easy to see. Between the Sahara and the Kalahari deserts lie many of the raw materials desired by its industries. China recently overtook America as the world's largest net importer of oil. Almost 80% of Chinese imports from Africa are mineral products. China is Africa's top business partner, with trade exceeding $166 billion. But it is not all minerals. Exports to Africa are a mixed bag (see chart). Machinery makes up 29%.
The size of China's direct investment in Africa is harder to measure than trade. Last summer China's commerce minister, Chen Deming, said the number "exceeded $14.7 billion, up 60% from 2009". Around the same time the Chinese ambassador to South Africa, Tian Xuejun, said: "China's investment in Africa of various kinds exceeds $40 billion." Apparently, the first figure is for African investments reported to the government. The second includes estimates of Chinese funds flowing in from tax shelters around the world.
Sino-African links have broadened in the past few years. The relationship is now almost as diverse as Africa itself. But Mr Xi will search in vain for the e-mail address of a single African leader who can speak for the rest, rather as Henry Kissinger legendarily struggled to find a single phone number for Europe.
Until recently China concentrated on a few big resource-rich countries, including Algeria, Nigeria, South Africa, Sudan and Zambia. But places like Ethiopia and Congo, where minerals are scarce or hard to extract, are now getting more attention, not least as more Chinese businesses branch out into non-resource sectors. State-owned companies compete with private firms—both tempted by margins often far higher than at home. Young Chinese private-equity funds are also coming to Africa.
Africans are far from being steamrollered. Their governments have shown a surprising assertiveness. The first person to be expelled from Africa's youngest country, South Sudan, was a Chinese: Liu Yingcai, the local head of Petrodar, a Chinese-Malaysian oil company and the government's biggest customer, in connection with an alleged $815m oil "theft". Congo kicked out two rogue commodities traders in the Kivu region. Algerian courts have banned two Chinese firms from participating in a public tender, alleging corruption. Gabonese officials ditched an unfavourable resource deal. Kenyan and South African conservationists are asking China to stop the trade in ivory and rhino horn.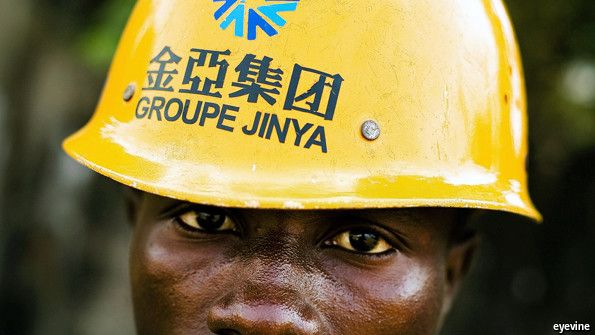 ~~~~~~~~~~~~~~~~~~~~~~~~~~~~~~~~~~~~~~~~~~~~~~~~~~~

~~~~~~~~~~~~~~~~~~~~~~~~~~~~~~~~~~~~~~~~~~~~~~~~~~~~~
The US Capitol's Statuary Hall honors some of the America's most notorious figures—and covers up their crimes. MotherJones: The US Capitol Is Full of White Supremacists.
~~~~~~~~~~~~~~~~~~~~~~~~~~~~~~~~~~~~~~~~~~~~~~~~~~~~
When a statue of civil rights icon Rosa Parks was unveiled in the Capitol's Statuary Hall in late February, it joined an exclusive club. The collection includes generals and statesmen, inventors and priests—as well as some of the most notorious leaders of a five-year armed insurrection that left 600,000 people dead in the name of protecting white Americans' rights to own black Americans as slaves. What all the people portrayed in Statuary Hall have in common, with few exceptions, are two things: They are white, and they are men.
There is one Latino represented in the collection today. There are six American Indians, one Hawaiian, and zero African Americans. (Parks and Martin Luther King Jr. are both featured as part of a separate collection.) If it were any less diverse it would look like the Senate. But if the Architect of the Capitol is uncomfortable with the composition of its collection, it has an odd way of showing it. The biographies of the collection's most notorious members make no mention of their hard-earned legacies perpetuating and reinforcing a culture of white supremacy.
According to Hilary Shelton, the Washington director of the NAACP, the collection's biographies amount to a "whitewash" of history.
"It becomes revisionist when they don't talk about the real context in which these struggles that are going on," Shelton told Mother Jones. "We would not want to see them edit it out either. But we would like to make sure that there is a clear understanding of what was going on in the country at those times."
Alexander Stephens, the vice president of the Confederacy and one of two Georgians in the collection, is described in his official bio as "a dedicated statesman, an effective leader, and a powerful orator." But his most famous oration, the 1861 speech in which he explained that that the South's "foundations are laid, its cornerstone rests, upon the great truth that the negro is not equal to the white man," goes unmentioned—as do all of the blemishes on his record. The biography make no effort to explain how someone whose singular legacy split the country in half might be considered a statesman.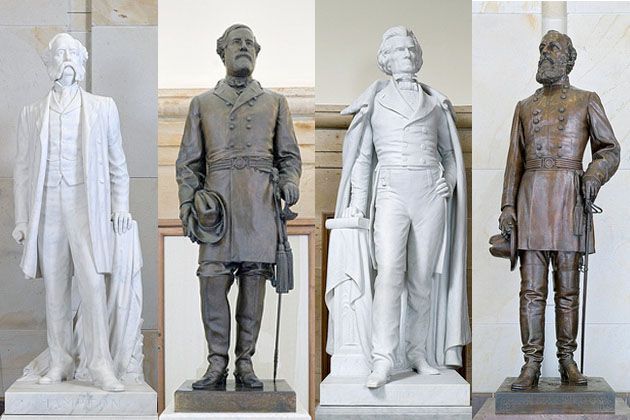 Wade Hampton, Robert E. Lee, John C. Calhoun, and Kirby Smith Architect of the Capitol/Flickr


~~~~~~~~~~~~~~~~~~~~~~~~~~~~~~~~~~~~~~~~~~~~~~~~~~~


~~~~~~~~~~~~~~~~~~~~~~~~~~~~~~~~~~~~~~~~~~~~~~~~~~~
In the last 11 years, the NYC Police have conducted 5 million stop-and-frisks. Of those who were stopped and frisked for "seeming suspicious," 86% were black or Latino. In 2012 alone, police made 533,042 of these stops with 89 percent resulting in no arrest or ticket. ColorLines: Video Exclusive: David Floyd on Why He Sued NYPD.
~~~~~~~~~~~~~~~~~~~~~~~~~~~~~~~~~~~~~~~~~~~~~~~~~~~~
The city insists that the policy keeps guns off the streets. But young black and Latino men describe scenes of fear and toxic stress, of always wondering if the cops are going to throw them up against a wall, strike them, and arrest them.
Claiming that the stop-and-frisk program feeds on racial profiling and violates the constitutional rights of New Yorkers, the legal advocacy group Center for Constitutional Rights filed Floyd, et al v. City of New York, et al, a federal class action suit that seeks to stop the abuses plaintiffs say are built into the program.
The Floyd hearings began last Monday and are expected to continue for weeks or months. As is often the case in legal proceedings, the hearings will stay mostly in the legal weeds. That can make it easy to forget that this is about the day-to-day lives of millions.
One of those is the man the case is named for, David Floyd, a 33-year-old medical student.




~~~~~~~~~~~~~~~~~~~~~~~~~~~~~~~~~~~~~~~~~~~~~~~~~~~~~~~~~~
Voices and Soul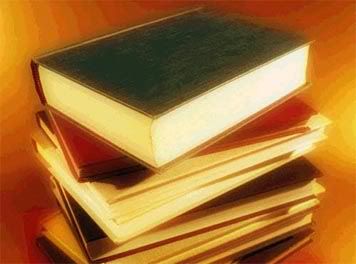 by Justice Putnam
Black Kos Poetry Editor
When I was in my mid-twenties and a young family man, I began teaching High School History and English. To make ends meet, since teaching has never paid enough, especially for those starting out in the profession; I worked part-time as an ER/ICU orderly at St Jude's Hospital in Fullerton, California.
I didn't have the constitution that my sister, Zona had, who put in 25 years as an RN in pediatric oncology at Children's Hospital in Orange, California. The devastated, broken bodies; the wailing of family members who learned of their loved one's prognosis of a short but painful demise as the result of their injuries was bad enough. What proved too much for me to handle was seeing the many young men and women of color dying on the gurneys I pushed; the young mexican farm-worker knifed in the jugular from a drunken brawl; the young black kid, his arm blown off from the blast of a 12-gauge; the young American Indian girl bleeding from a botched, self-induced abortion; all that weighed heavily on me and for my own psychological well-being, I quit after six months of employment there.
I ended up giving up my teaching "career" as well, because of the notorious low pay; and went on to work many jobs in many fields since. But my time at St Jude's has haunted me and will continue to haunt me, until my own lonely demise.
So it goes.
ICU

Those mornings I traveled north on I91,
passing below the basalt cliff of East Rock
where the elms discussed their genealogies.
I was a chaplain at Hartford Hospital,
took the Myers-Briggs with Sister Margaret,
learned I was an I drawn to Es.
In small group I said, "I do not like it—
the way so many young black men die here
unrecognized, their gurneys stripped,
their belongings catalogued and unclaimed."
On the neonatal ICU, newborns breathed,
blue, spider-delicate in a nest of tubes.
A Sunday of themselves, their tissue purpled,
their eyelids the film on old water in a well,
their faces resigned in their see-through attics,
their skin mottled mildewed wallpaper.
It is correct to love even at the wrong time.
On rounds, the newborns eyed me, each one
like Orpheus in his dark hallway, saying:
I knew I would find you, I knew I would lose you.
~~~~~~~~~~~~~~~~~~~~~~~~~~~~~~~~~~~~~~~~~~~~~~~~~~~~~~~~~~
Welcome to the Front Porch