When applied to the Earned Income Tax Credit (EITC), the Chained CPI would lower the maximum credit and reduce the number of people that will qualify for the EITC. And of course the effect compounds over time.
The Chained CPI would also reduce access to dozens of other government programs that use federal poverty guidelines. Its pulling the rug out from underneath working class families who've been roughed up over the last 25 years, and got assaulted in 2009 with a recession that's still with us.
Chained CPI would also be used to adjust income tax brackets, and since wage growth is higher than Chained CPI many families and individuals would find themselves in a higher income tax bracket. Single workers will be bumped from the 15% bracket to the 25% bracket, which starts at $36,250. Median income for males working full time, year round is 36k. So a lot of single guys making decent money that see their wages grow, say from 34k to 37k will find themselves in the 25% bracket. And deductions will be linked to the Chained CPI, so over time they will not keep up with inflation.
Chained CPI could also be used for Federal Poverty guidelines, so a senior collecting Social Security benefits at a level above the Federal Poverty guidelines would find their benefits staying above the guidelines. Whereas if Chained CPI is applied to only Social Security benefits, that senior would find themselves falling below the guidelines over time.
The Arc of New York City has a great fact sheet on the over reaching effects of Chained CPI.
Chained CPI can save $390 billion over next decade & reduce deficit by $1 trillion+ in the decade after: ow.ly/jO7yC

— Fix the Debt (@FixtheDebt) April 6, 2013
Fix the Debt gets about 5% of its deficit savings from Refundable Tax Credits: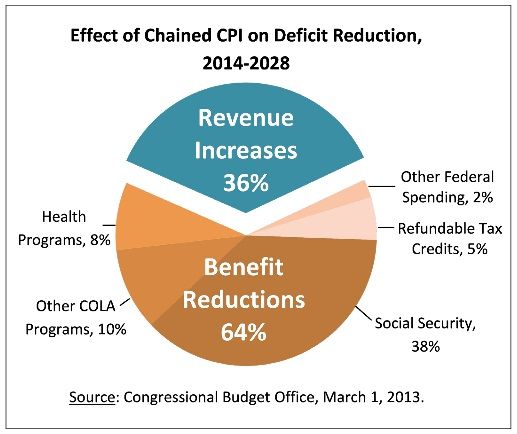 Please share all graphics, which are perfectly square (suitable for FB).
Chained CPI isn't just about Seniors and Veterans, its about working families, families making $80,000 and less will be hurt. Pick up the phone, make the call:
DailyKos Blogathon -- Week of April 8th



(All times are Eastern, diaries published by the Pushing back at the Grand Bargain group)
Monday, April 8
10:00 a.m. Roger Fox
12:00 noon eXtina
2:00 p.m. joanneleon (An Yves Smith article republished with permission)
4:00 p.m. Horace Boothroyd III
6:00 p.m. slinkerwink
8:00 p.m. joedemocrat

Tuesday, April 9
10:00 a.m. bobswern (A Michael Hudson article republished with permission)
12:00 noon
2:00 p.m. joe shikspack
4:00 p.m.
6:00 p.m.
8:00 p.m. TomP

Wednesday, April 10
10:00 a.m.
12:00 noon Words in Action
2:00 p.m.
4:00 p.m.
6:00 p.m.
8:00 p.m.

Thursday, April 11
10:00 a.m.
12:00 noon
2:00 p.m.
4:00 p.m.
6:00 p.m.
8:00 p.m. angelajean

Friday April 12
10:00 a.m. Reserved
12:00 noon Reserved
2:00 p.m. Reserved
4:00 p.m. Reserved
6:00 p.m. Reserved
8:00 p.m. Reserved






1. Call your senators and representatives and tell them "Hell No!" with a priority on contacting senators. U.S. Capitol Switchboard at (202) 224-3121. You can find email contact information here

2. Contact the White House and tell them "Hell No!". Switchboard: 202-456-1414. Email contact page is here.

3. Petitions. There are a number of petitions available. Choose from the following or preferably sign them all.

a. White House petition calling for no cuts to Social Security.
b. AFL-CIO petition calling for no cuts to Social Security, Medicare, Medicaid and calling for more jobs, repealing the sequester and ending tax loopholes for the wealthiest individuals and corporations.

4. Social Media. Share this diary and promote this blogathon on Facebook and Google+ using the buttons at the top of the diary. Send this out on Twitter and add the hashtags #HellNo and #NoGrandBargain.
11:42 AM PT: Deans Bakers CEPR claims that Chained CPI would eliminate 17.9 billion from EITC and other refundable tax credits.