Good Morning All. I am James, also known as exlrrp
this is the Saturday Morning Home Repair Blog where the Dailykos community gets together to talk about all things construction and repair. Our genial and expert staff stand ready to aid you on your every problem
well, I didn't get s much done on this as I thought I might due to going to Chile to see my granddaughters and then having to race back to Oakland to be at my dying mom's bedside. Ah, family life!
But I did manage to move some boards around and nail some stuff together.
I finished the front reading room, or as much as I need to. I'm focusing on just getting the things done I need to in order to get the carpet down ASAP. I can come back and do some of the trim later.
I got the baseboard down and most of the casing. There will be casing on the inset shelves, the skylight and the two windows, still to do. I cut the two closet doors down from normal size and installed them. Still need to install doorknobs. You can see the prior before pictures from last months diary here
I finished this computer desk for mrs e but this is turning into such a nice room I may have to commandeer it and see if I can fob off one of the lofts on her and make this the library. It has the best view in the house and a skylight too, southside facing. Perfect for sitting in the morning with laptop on knee as the sun rises, cuppa coffee by my side reading the Dailykos
Anyhoo, I finished the computer desk for whoever. There'll be a pullout shelf for the keyboard and a shelf way underneath the desk (to make it easier to clean and cut down the amount of carpet.)
Here's how it looks now
compare to last months. (Thats not the ultimate chair, just a temp)

Check the view from that computer desk

Here's the wall on the other side. this will be nice place for a futon. I may put inset shelves here too. Again, you can see the Before on the last months diary referenced above.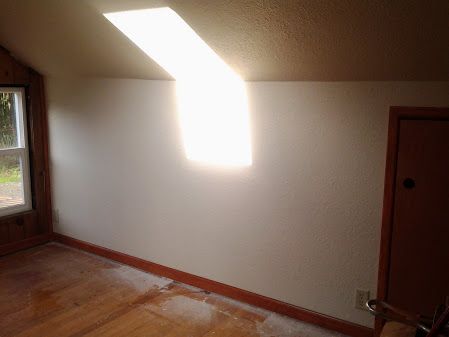 So anyway, here's The Room With A View, ready for carpet, still some trim left to do.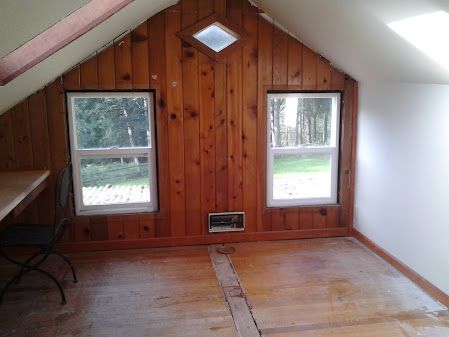 So.......what are you working on?